EL MUNDO EN LAS MANOS
 - CREADORES MEXICANOS EN EL EXTRANJERO - 03.15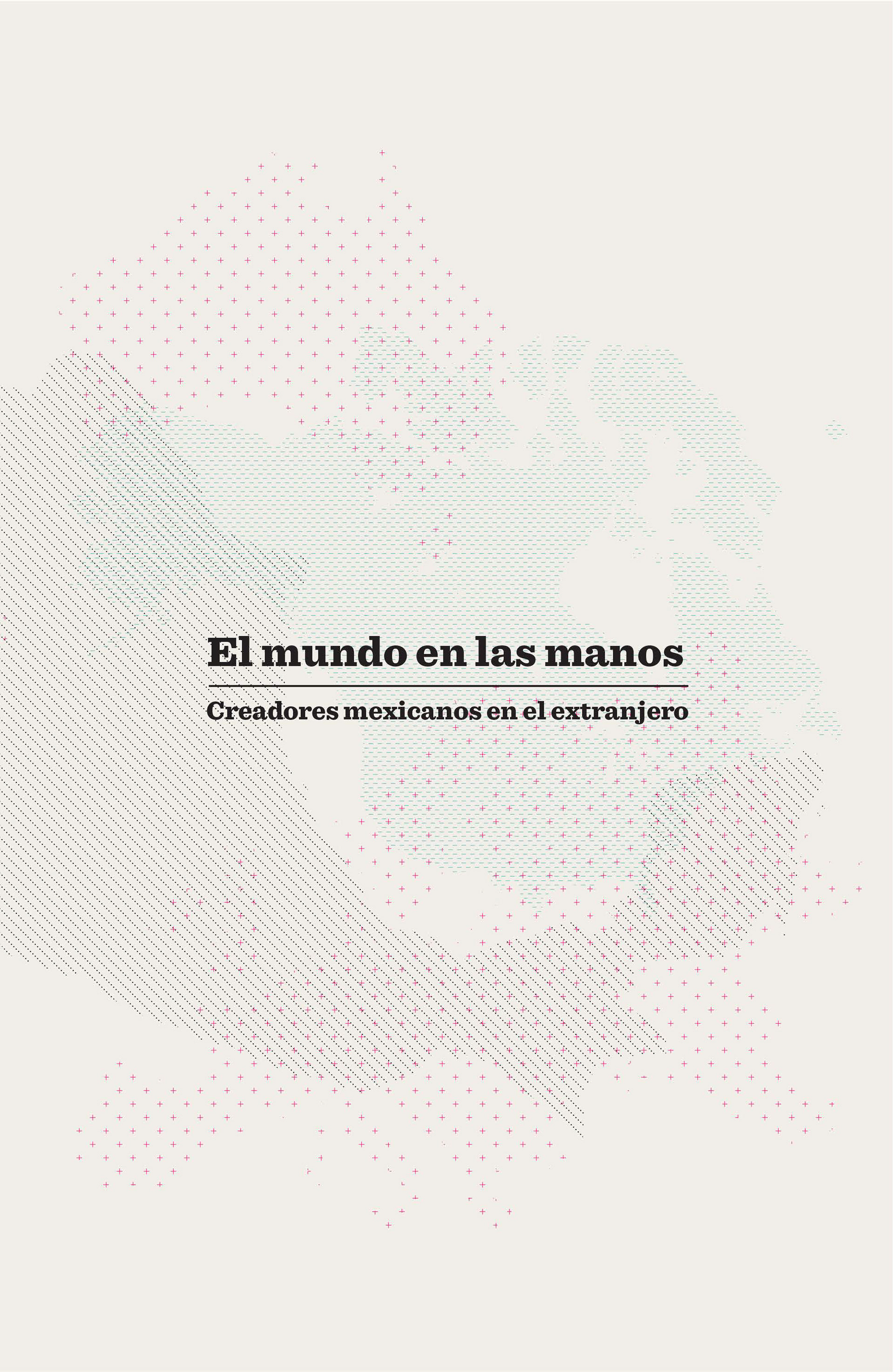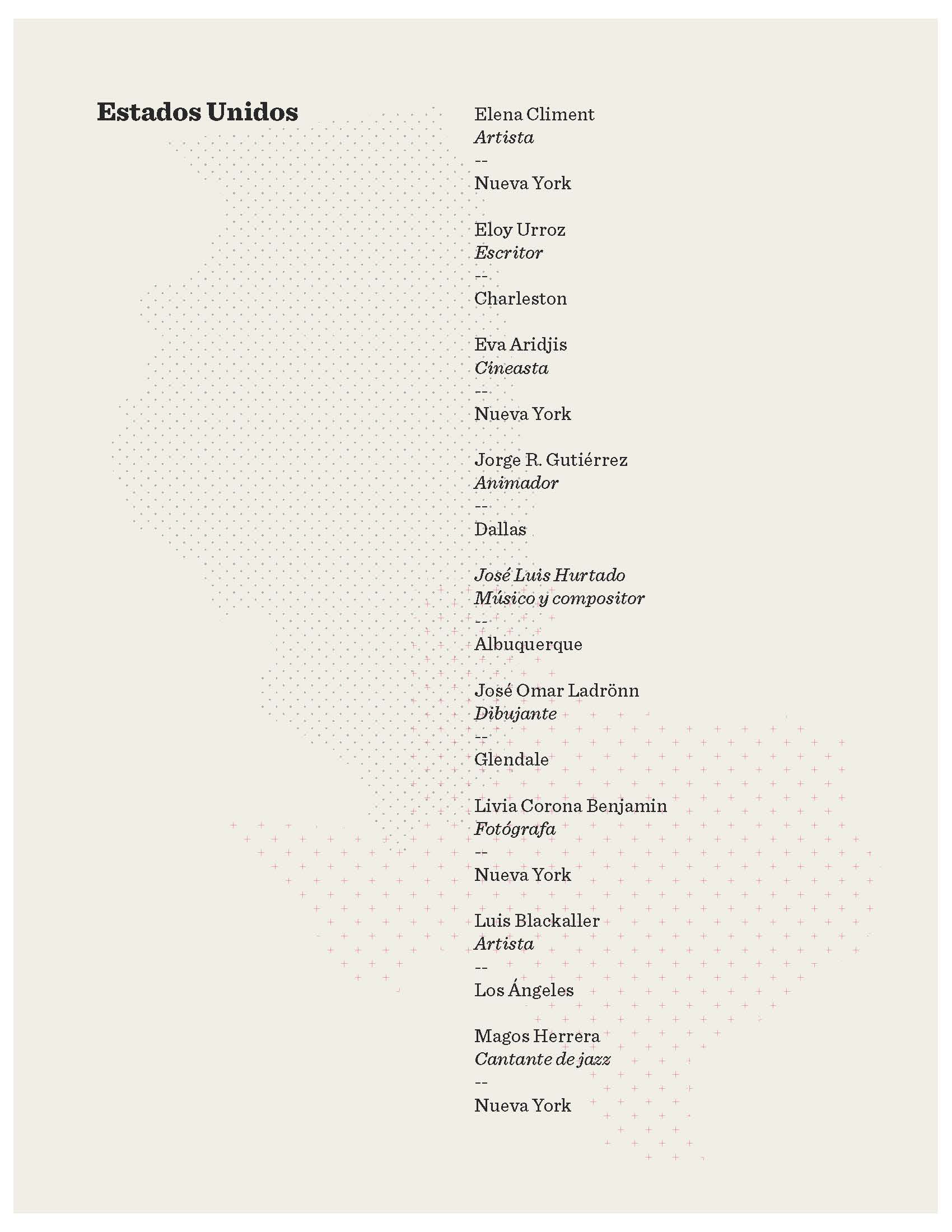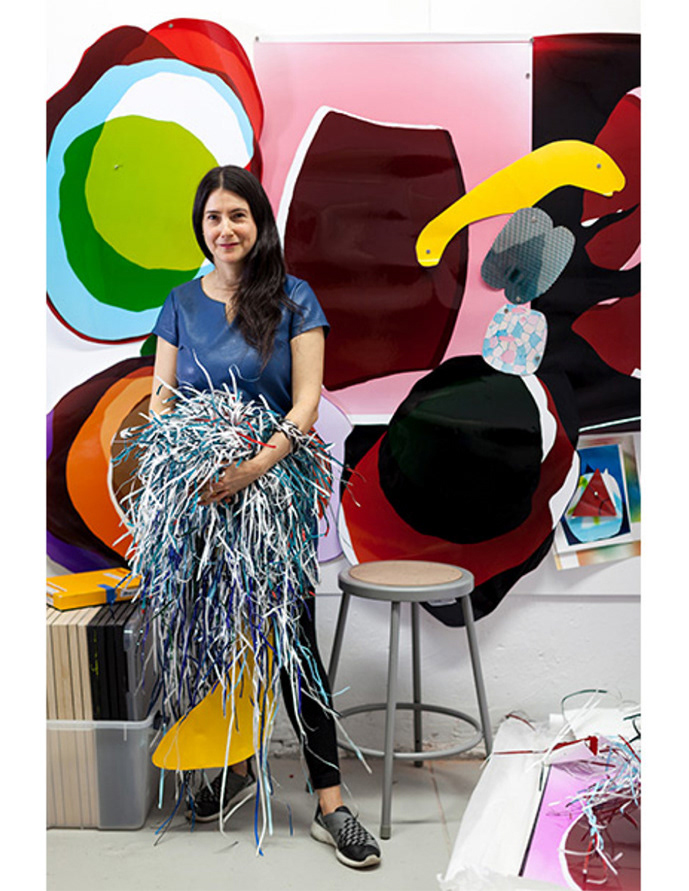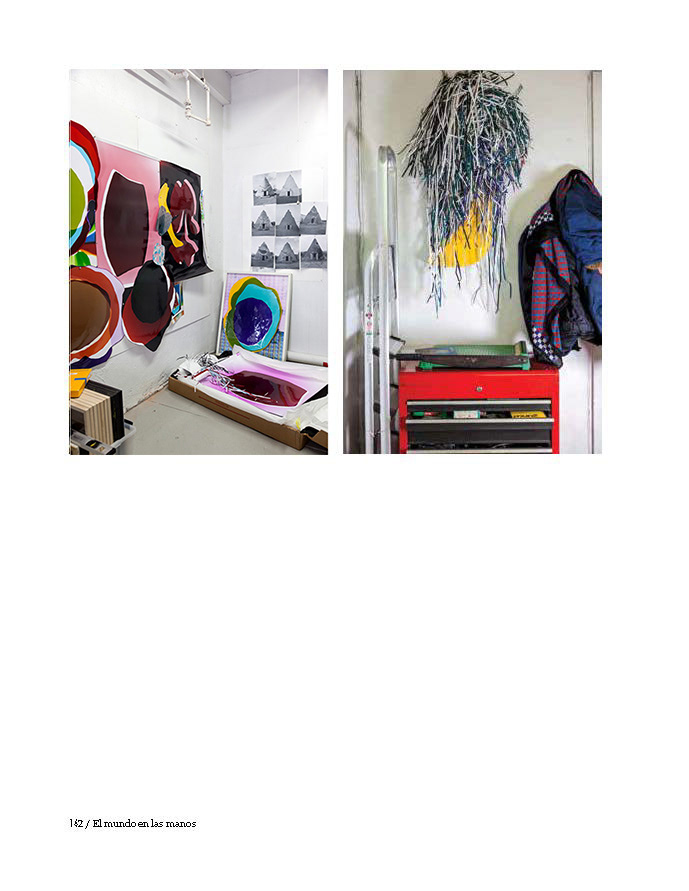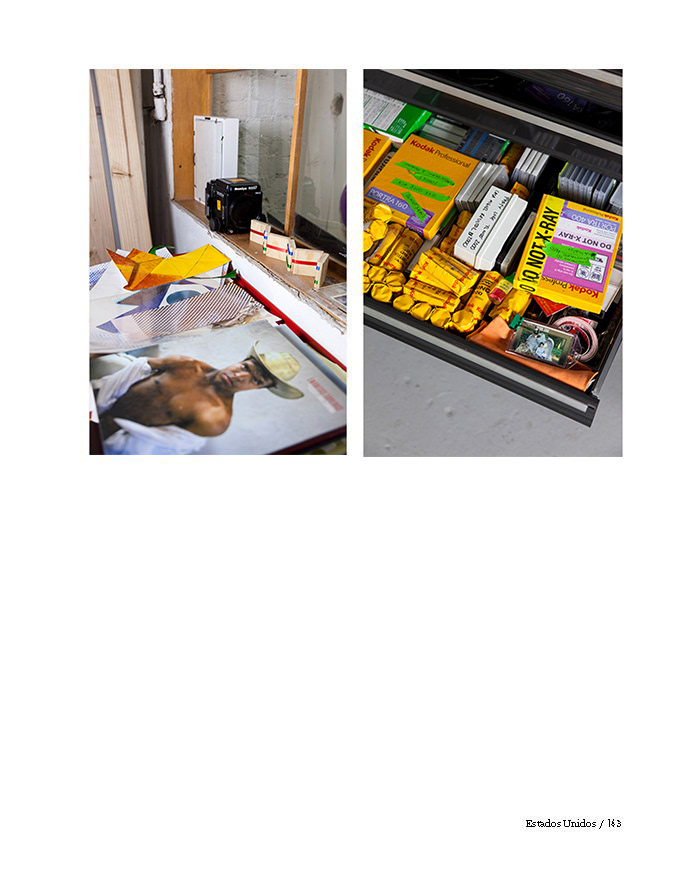 LOS ANGELES COUNTY MUSEUM (LACMA)
 - HOME -- SO DIFFERENT, SO APPEALING - JANUARY 2018
Home - signaling a dwelling, residence or place of origin - embodies one of the most basic concepts for understanding an individual or group within a larger physical and social environment. Yet home has been a little noted, although prevalent, feature in art since the 1950s, a period in which artists challenged the traditional "object" of the visual arts through the use of material and media culture, new forms, and performative actions and processes. This volume explores works by diverse U.S. Latino and Latin American artists whose engagement with the concept of "home" provides the basis for an alternative narrative of post-war art. Their work brings together an impressive array of formal languages, conceptual strategies, and art historical references with the varied social concerns characterizing both the postwar period in the Americas and an emerging global economy impacting day-to-day life.

The artists featured in this volume engage home as both concept and artifact. This can be seen in the use of building fragments or excisions (Gordon Matta-Clark, Gabriel de la Mora, and Leyla Cárdenas), household furniture (Raphael Montañez Ortiz, Beatriz González, Doris Salcedo, Amalia Mesa-Bains, Guillermo Kuitca), and personal possessions (Carmen Argote, María Teresa Hincapié, Camilo Ontiveros), and also in the use of coca leaves as a material base of the American Dream and its economic exchange with Colombia (Miguel Angel Rojas). Within more representational work, home is the re-creation of fraught domiciles (Abraham Cruzvillegas, Pepón Osorio, Daniel J. Martinez), a collage of spaces, styles, and materials (Antonio Berni, Andrés Asturias, Jorge Pedro Nuñez, Miguel Angel Ríos, Juan Sanchez), and a juxtaposition of bodies and place (Laura Aguilar, Myrna Báez, Johanna Calle, Perla de León, Ramiro Gomez, Jessica Kairé, Vincent Valdez). In more conceptual work, home is all these things reduced to form-a floor plan (Luis Camnitzer, León Ferrari, María Elena González, Guillermo Kuitca), a catalog of objects (Antonio Martorell, Hincapié), or a housing development plan (Livia Corona Benjamin, Martinez). In the end, home is a journey without arrival (Allora y Calzadilla, Luis Cruz Azaceta, Christina Fernandez, Felix Gonzalez-Torres, Julio César Morales, Teresa Serrano). 

Home-So Different, So Appealing reveals the departures and confluences that continue to shape US Latino and Latin American art and expands our appreciation of these artists and their work.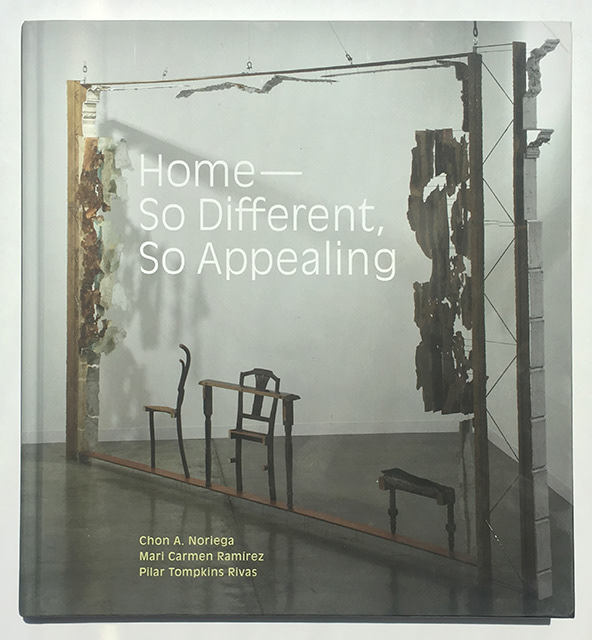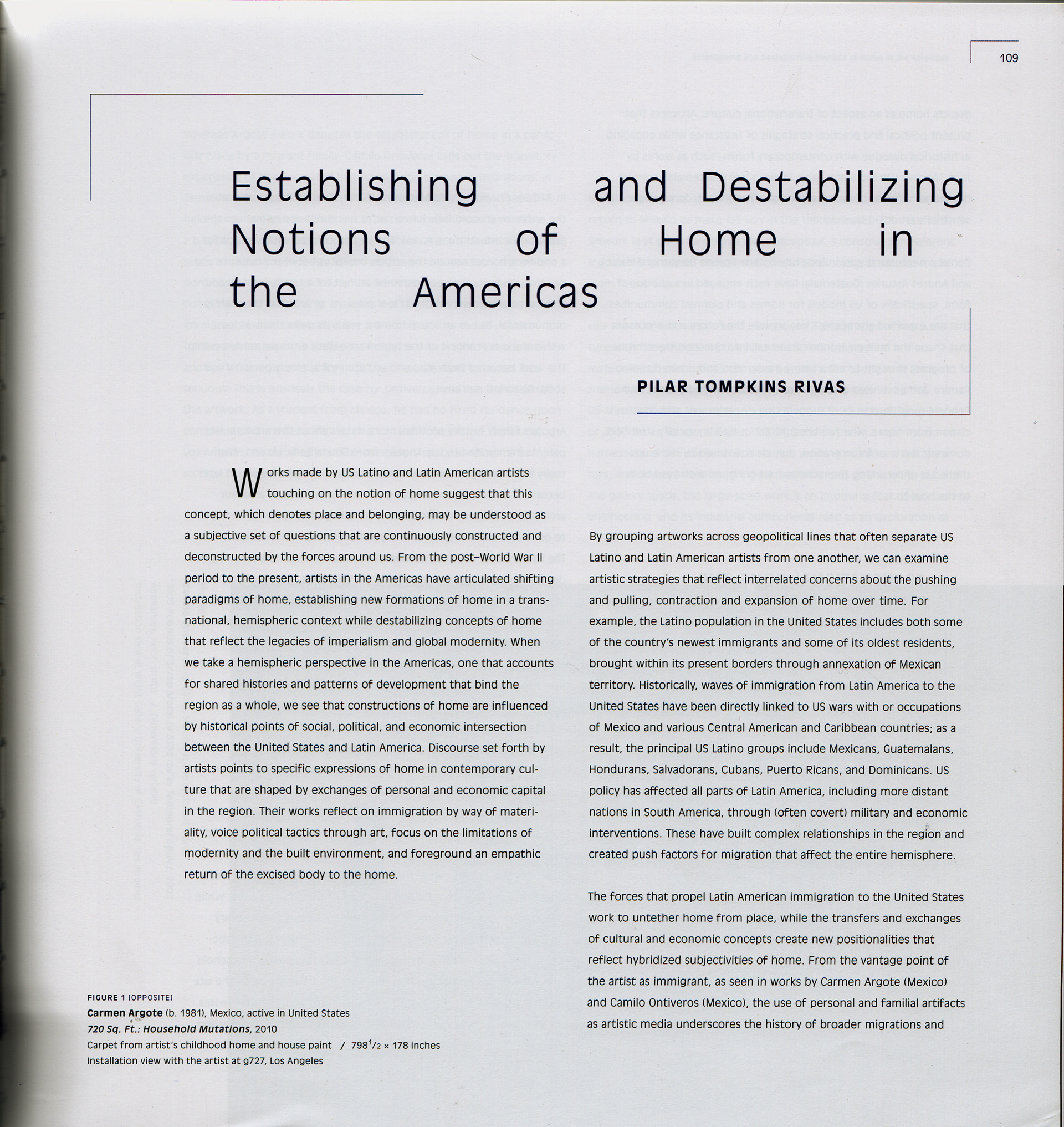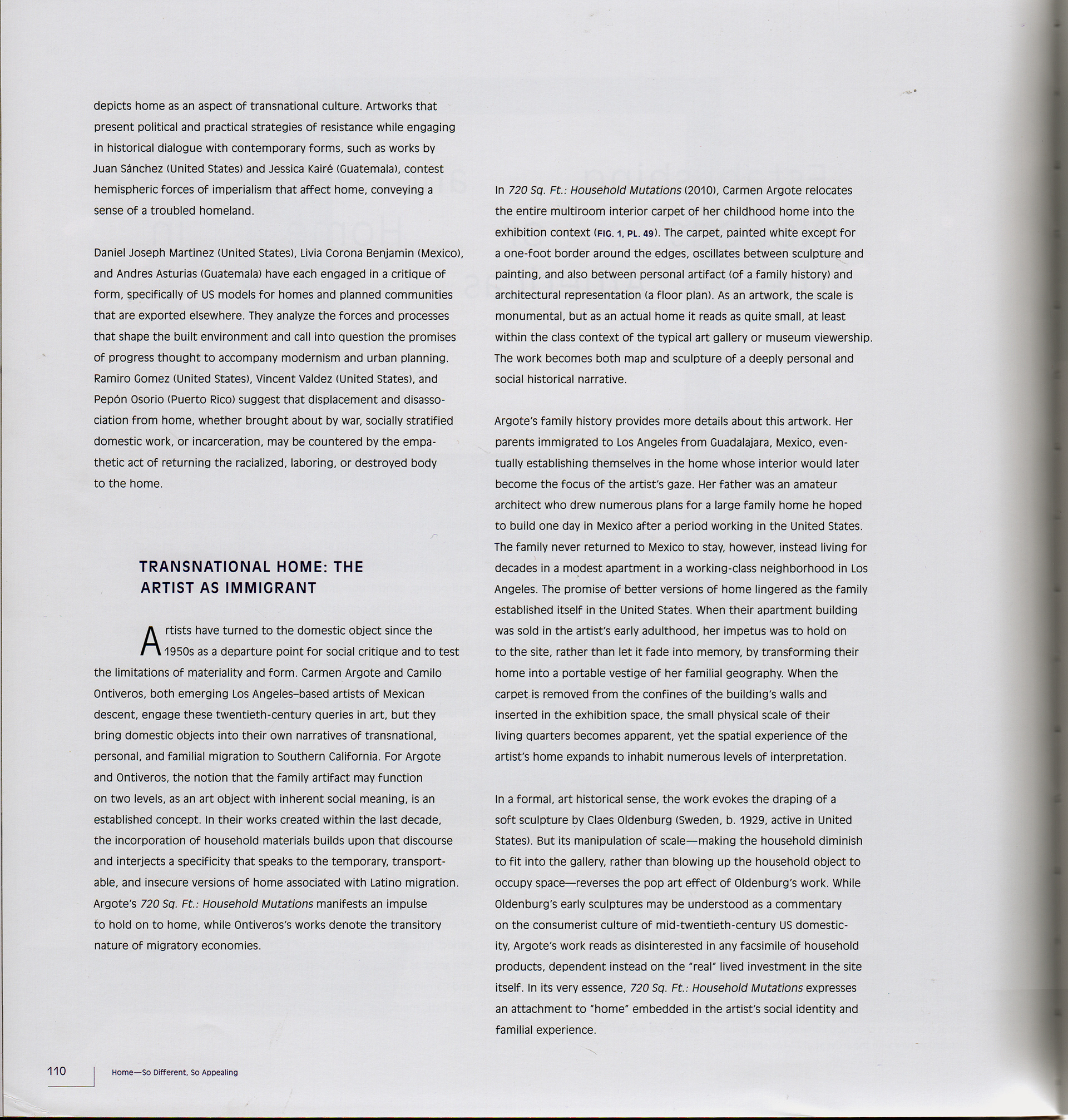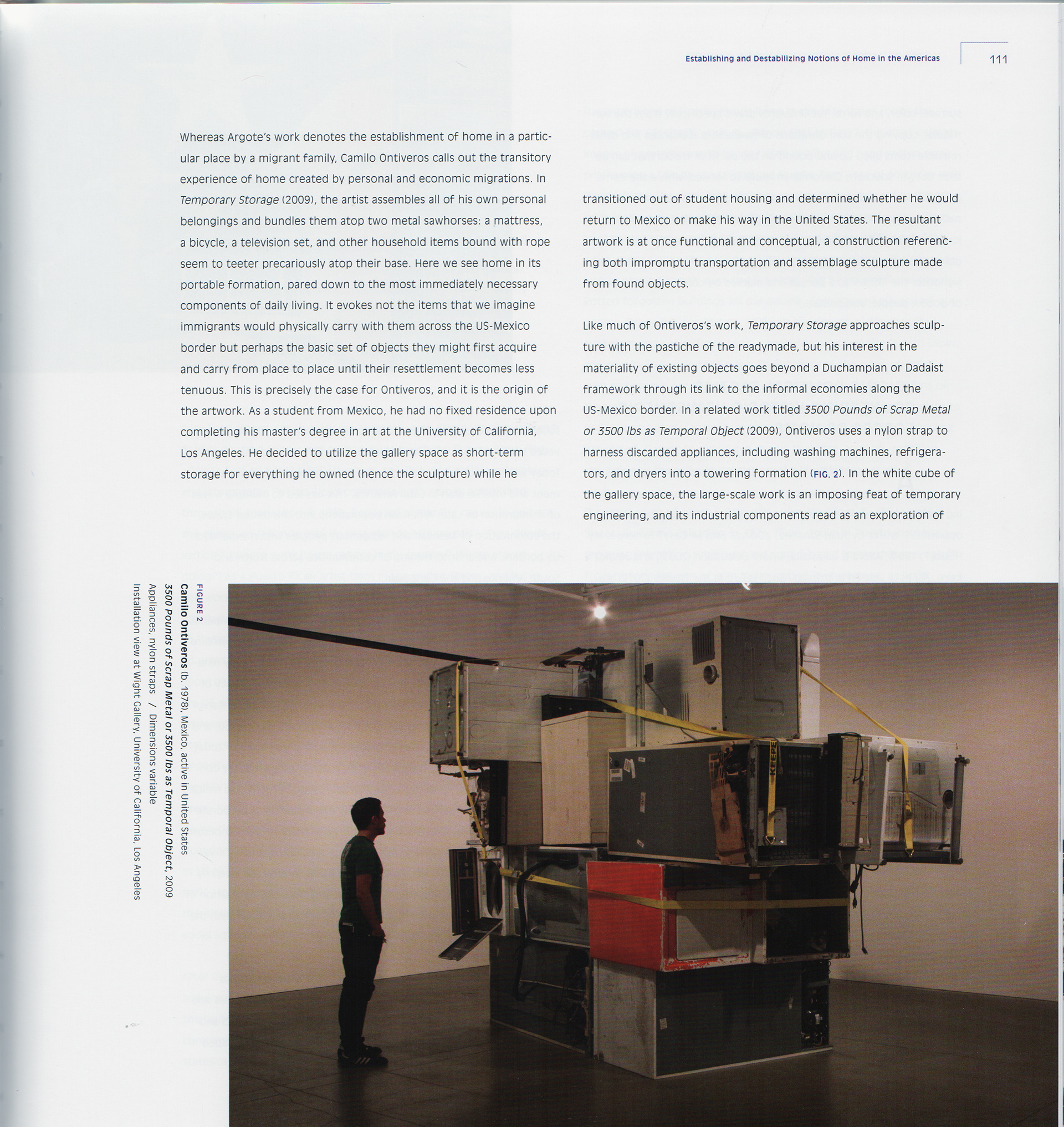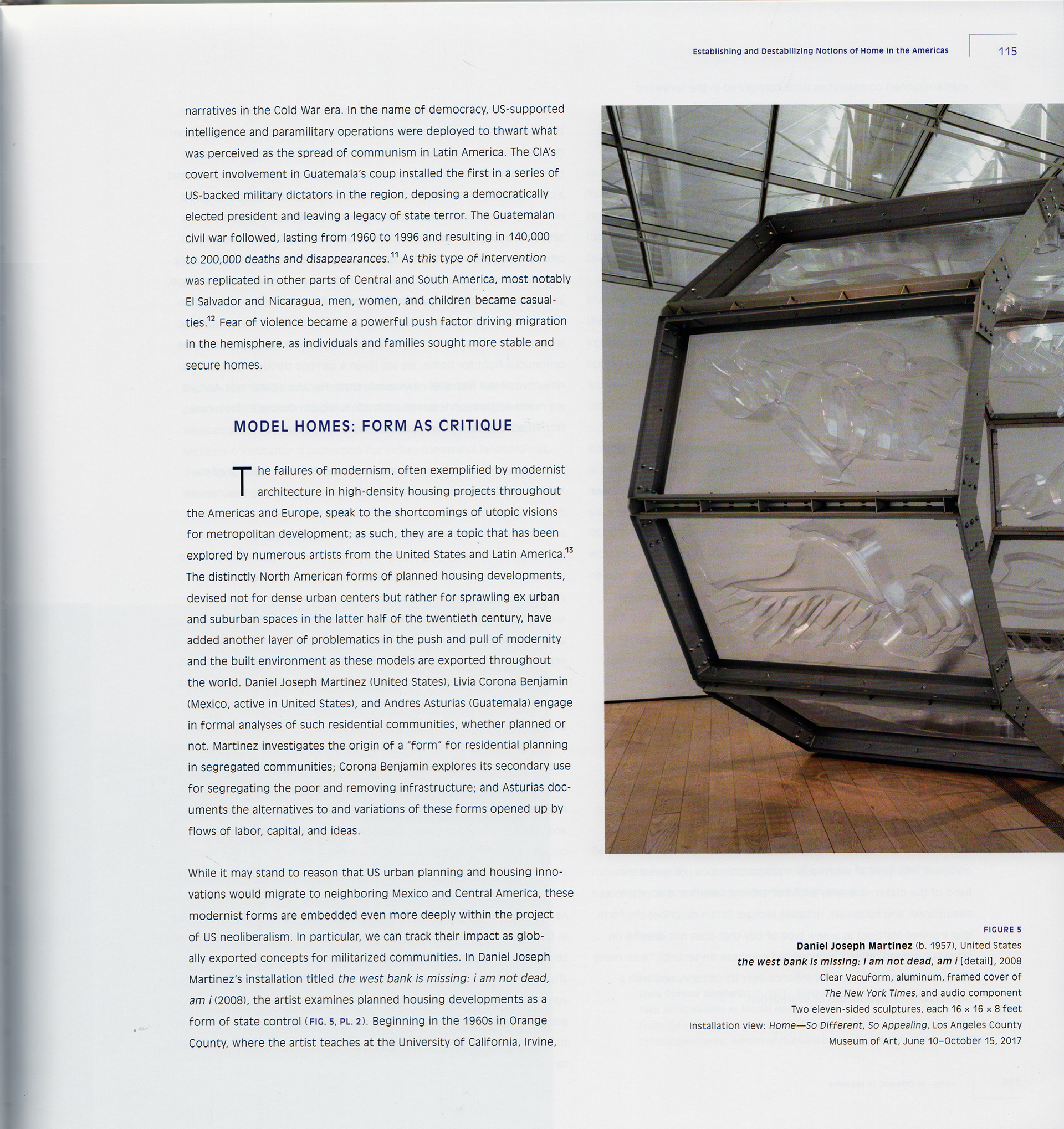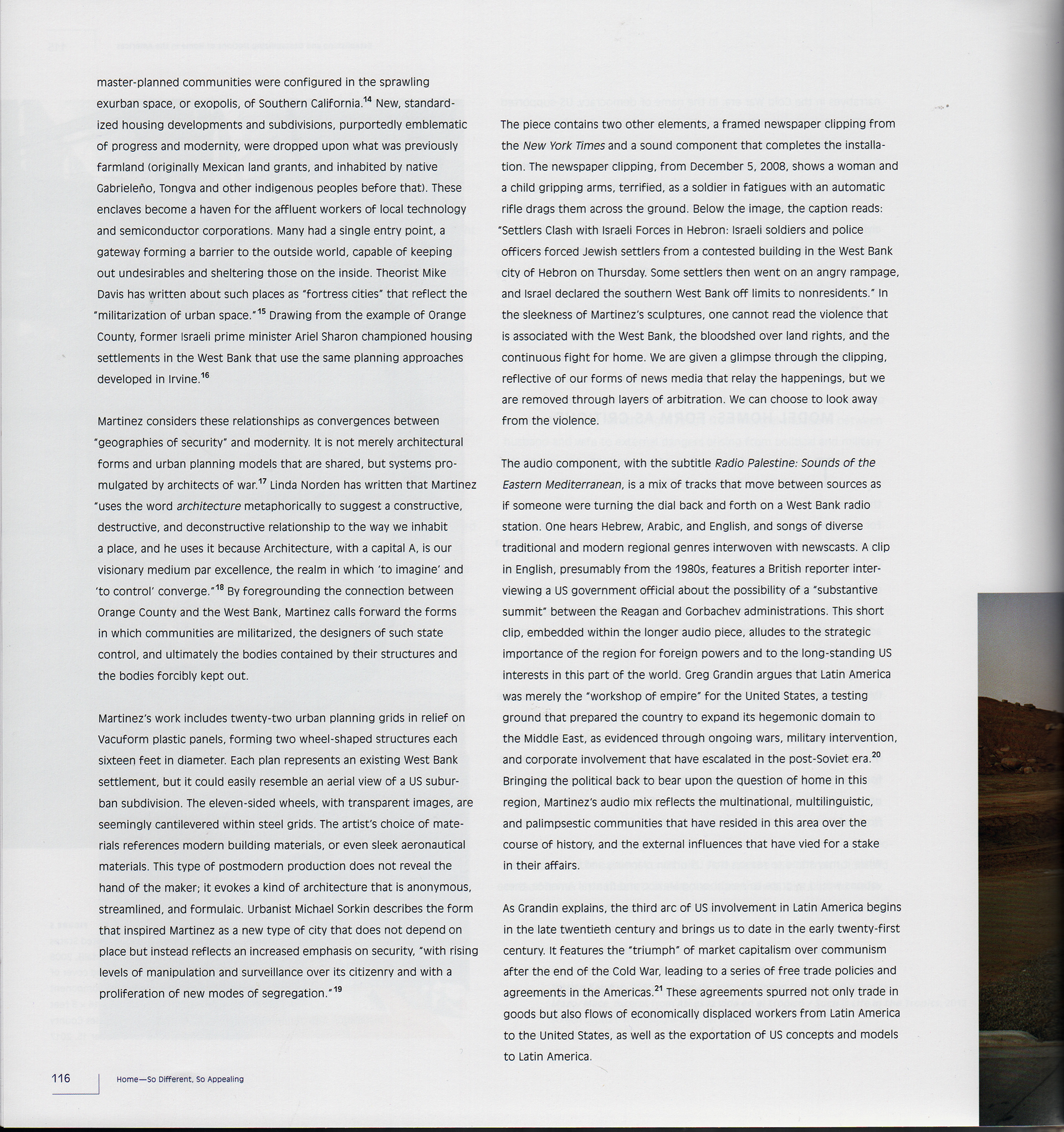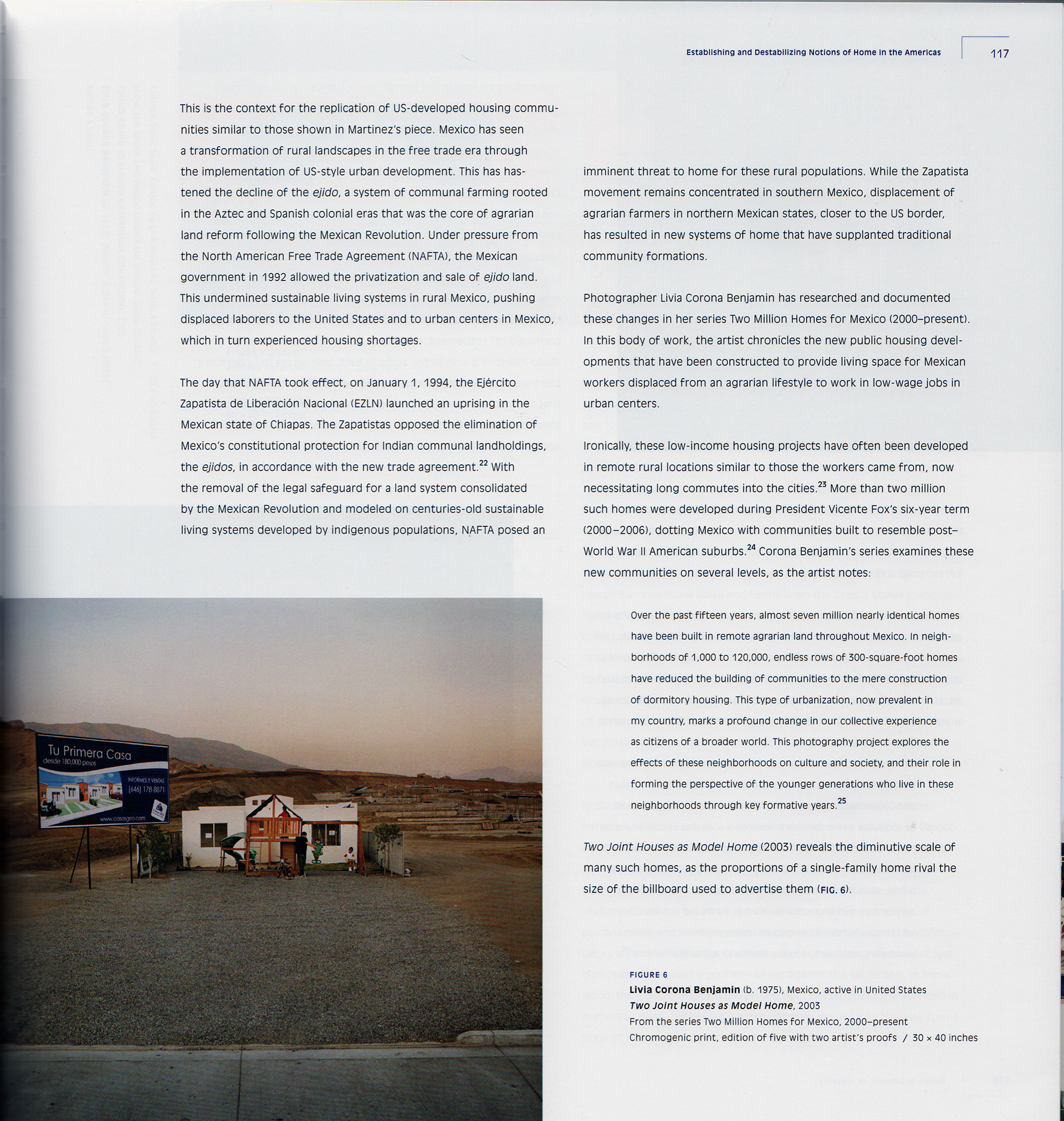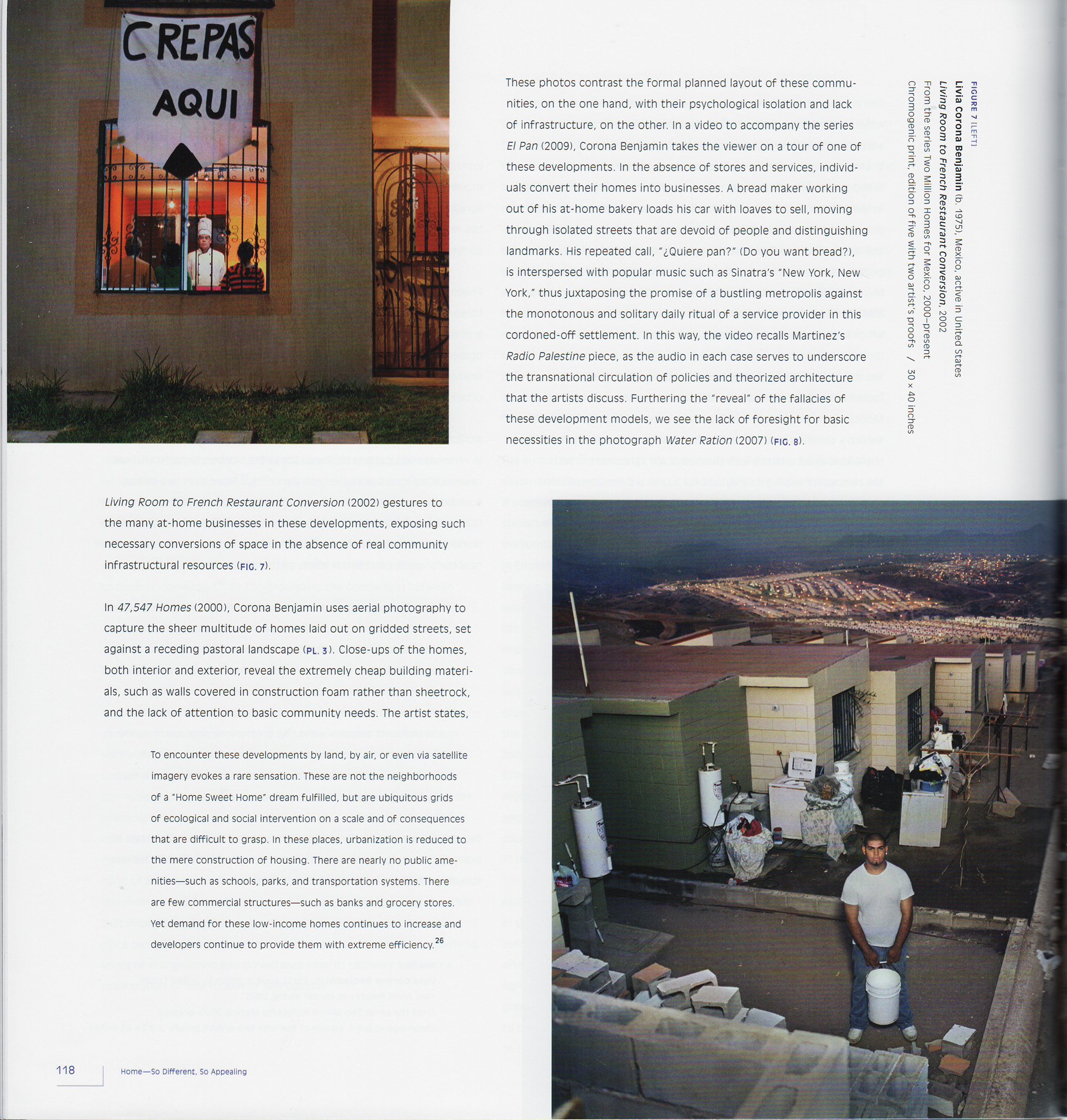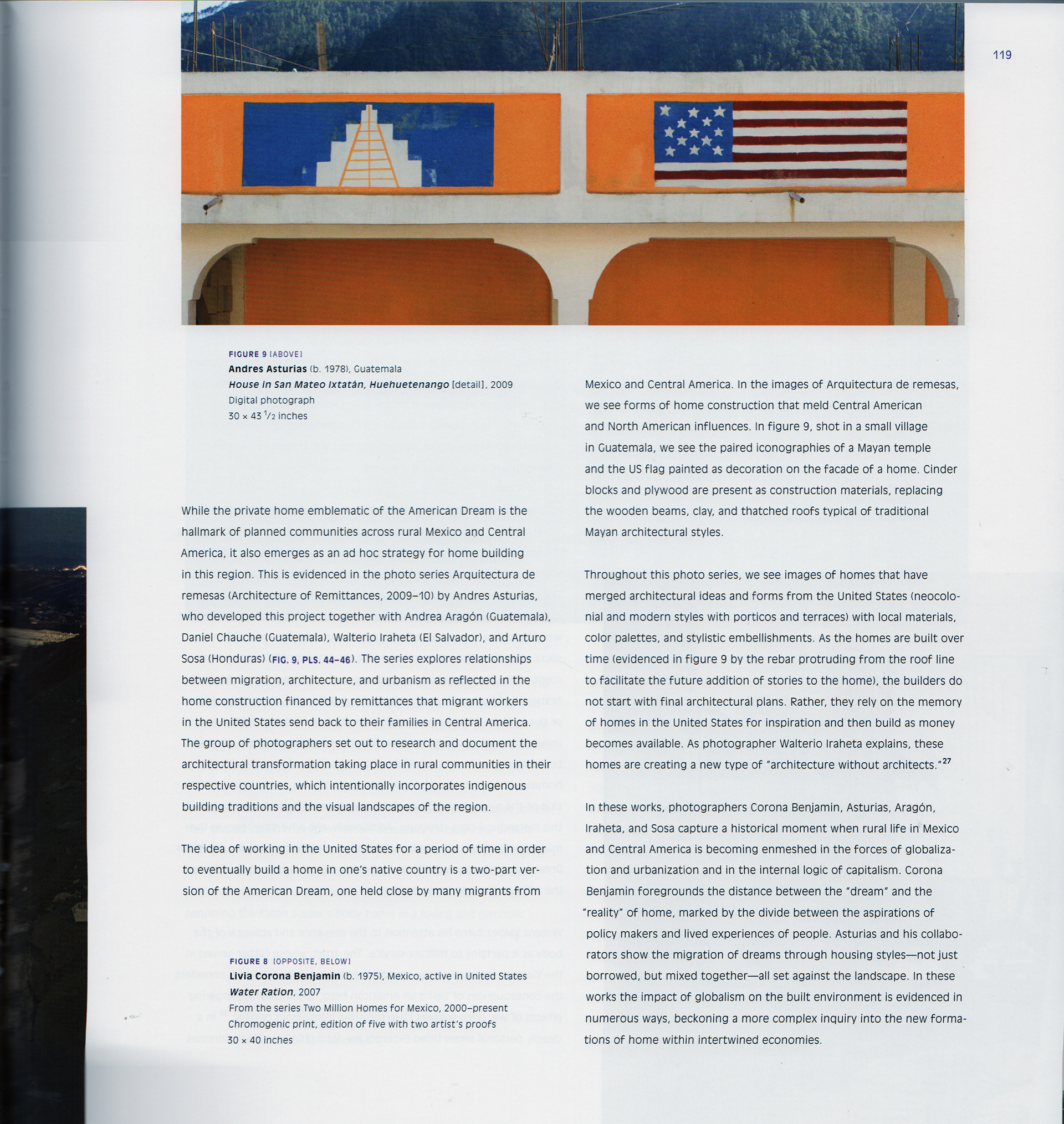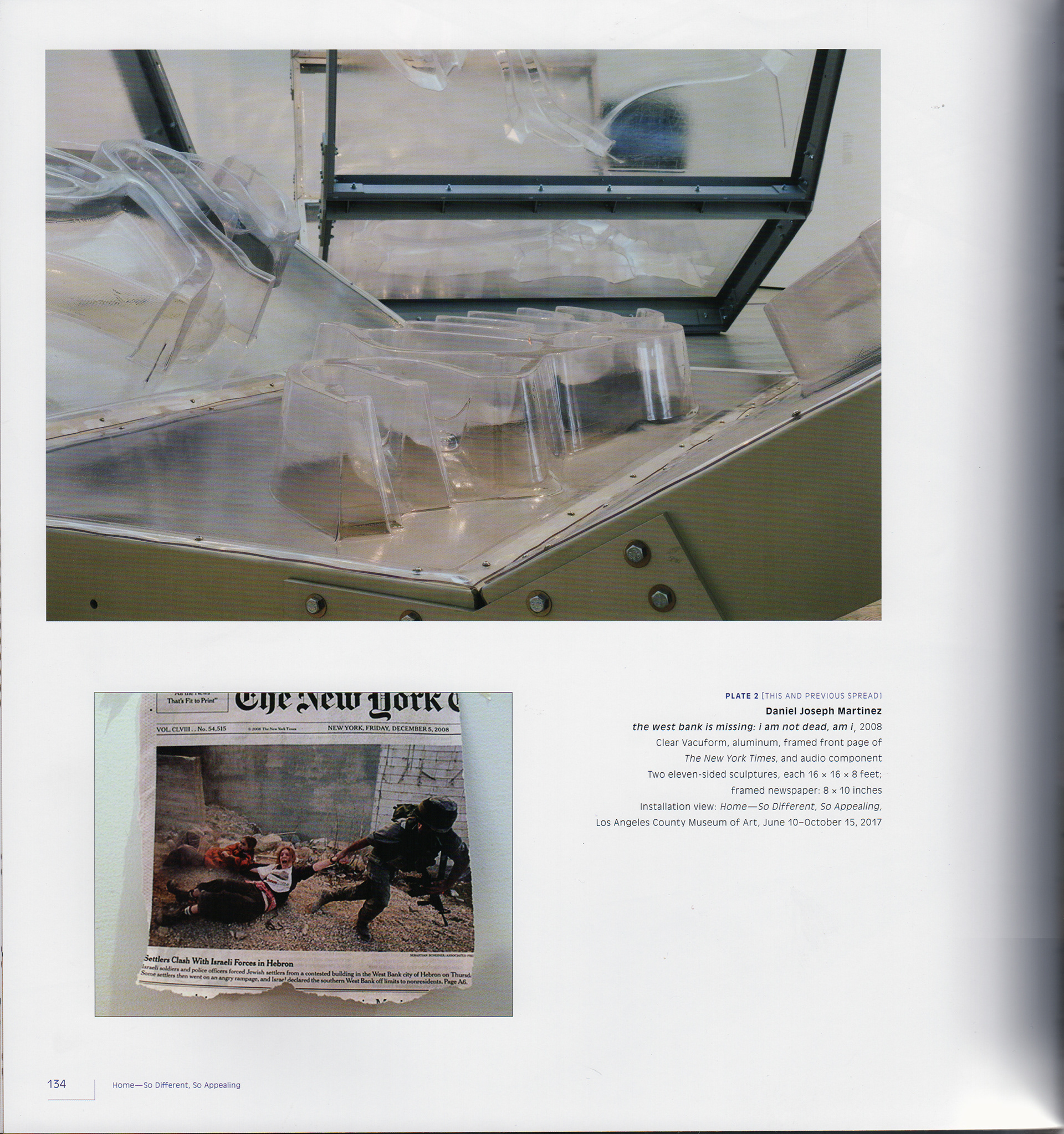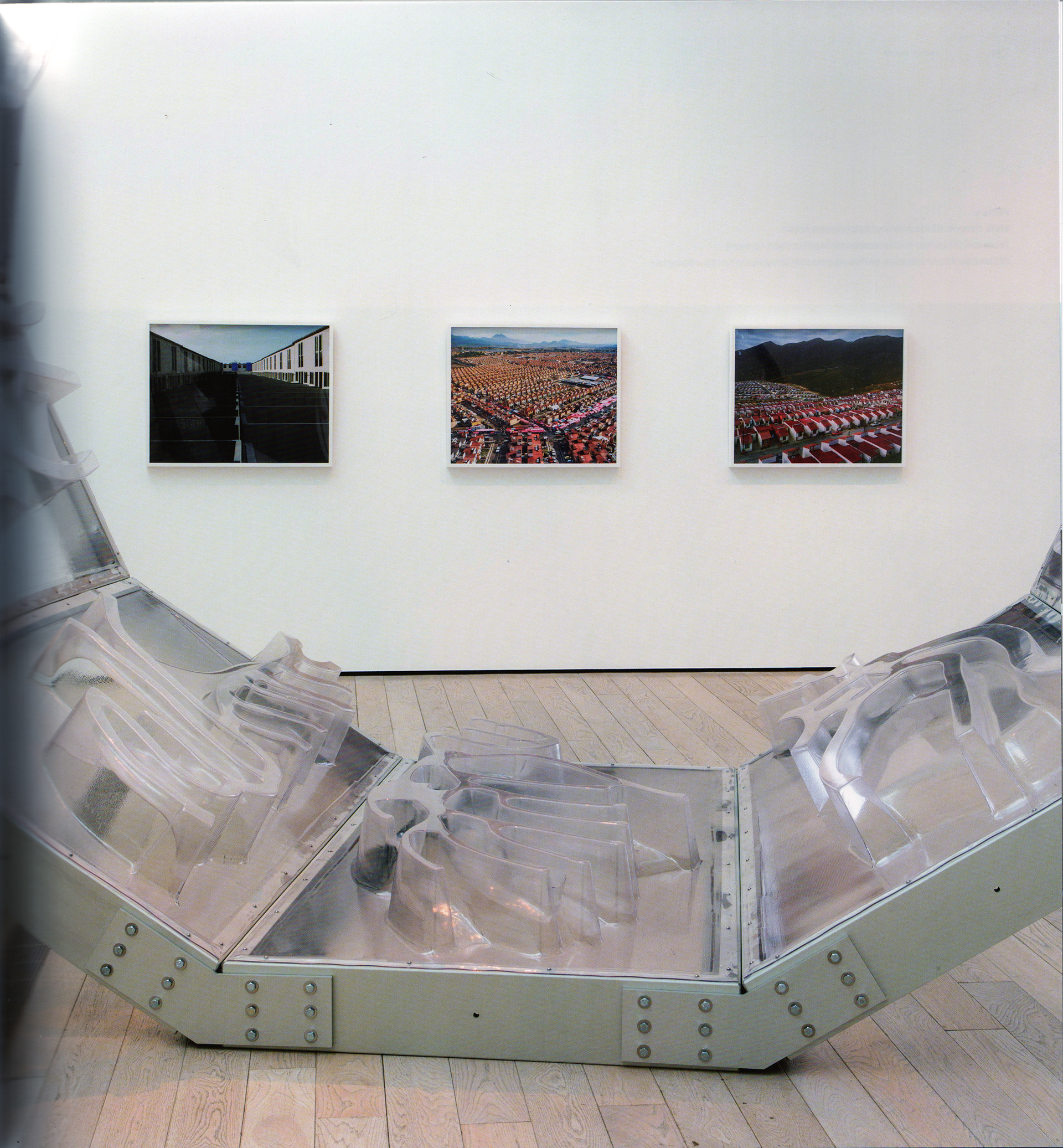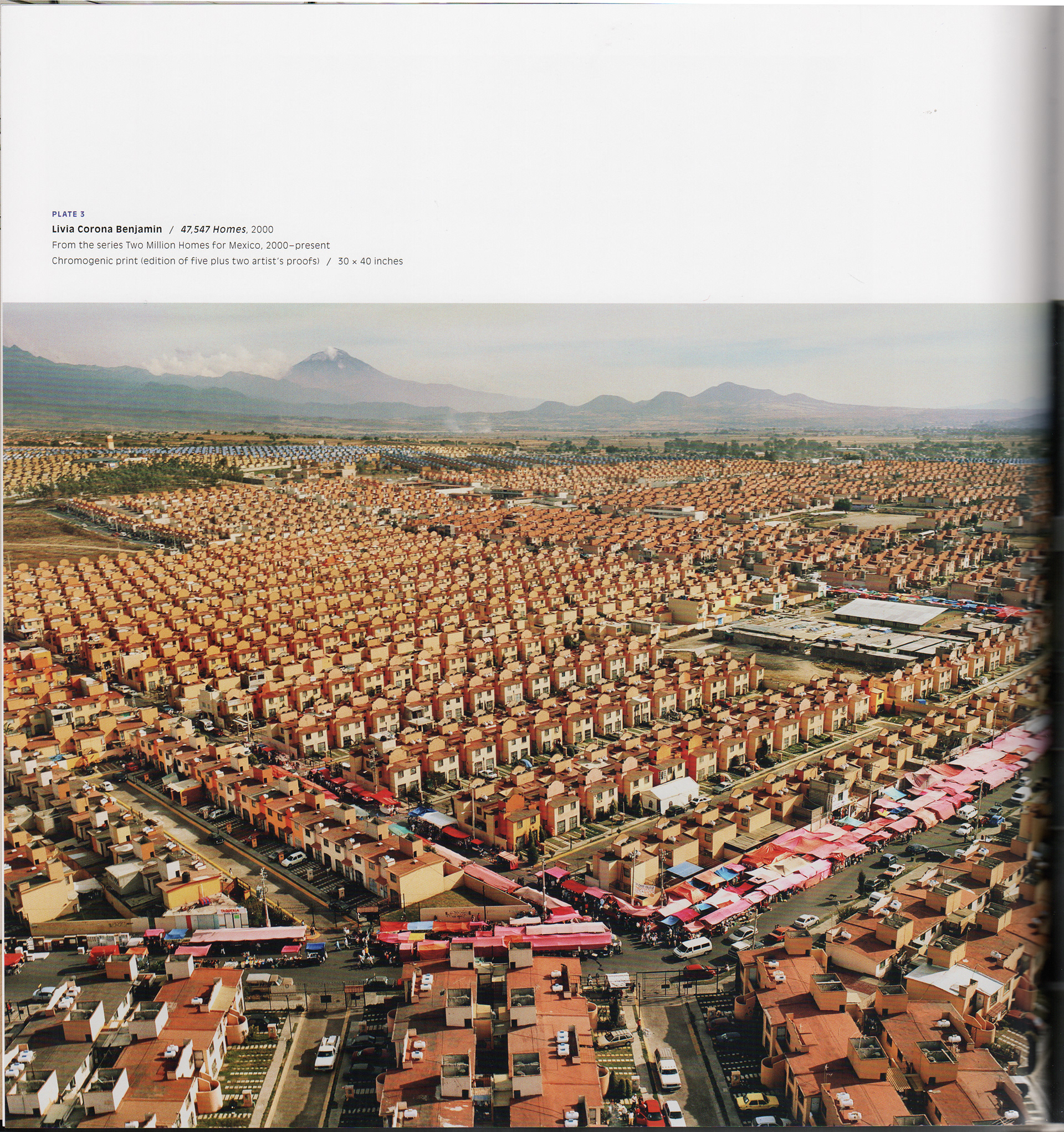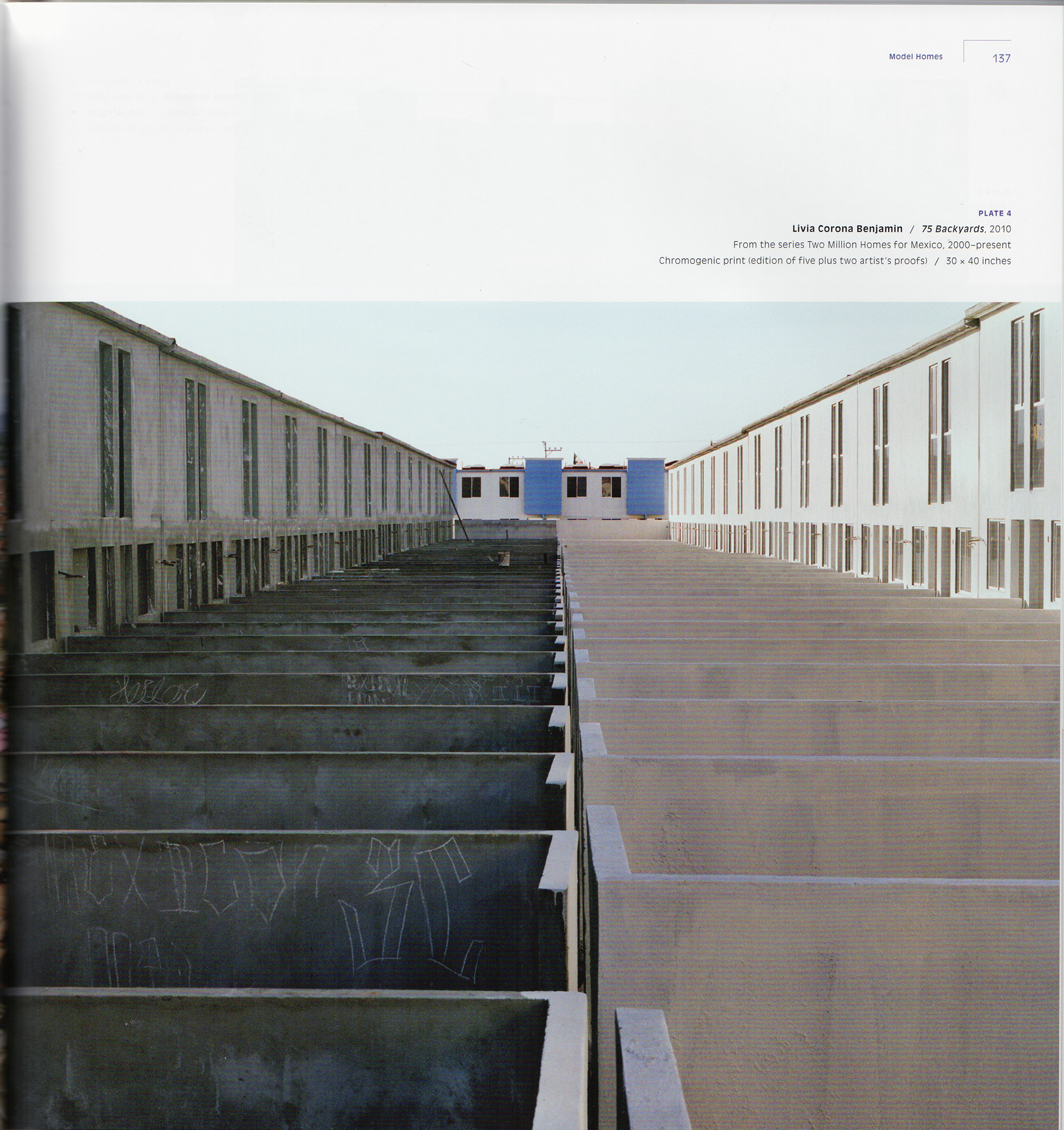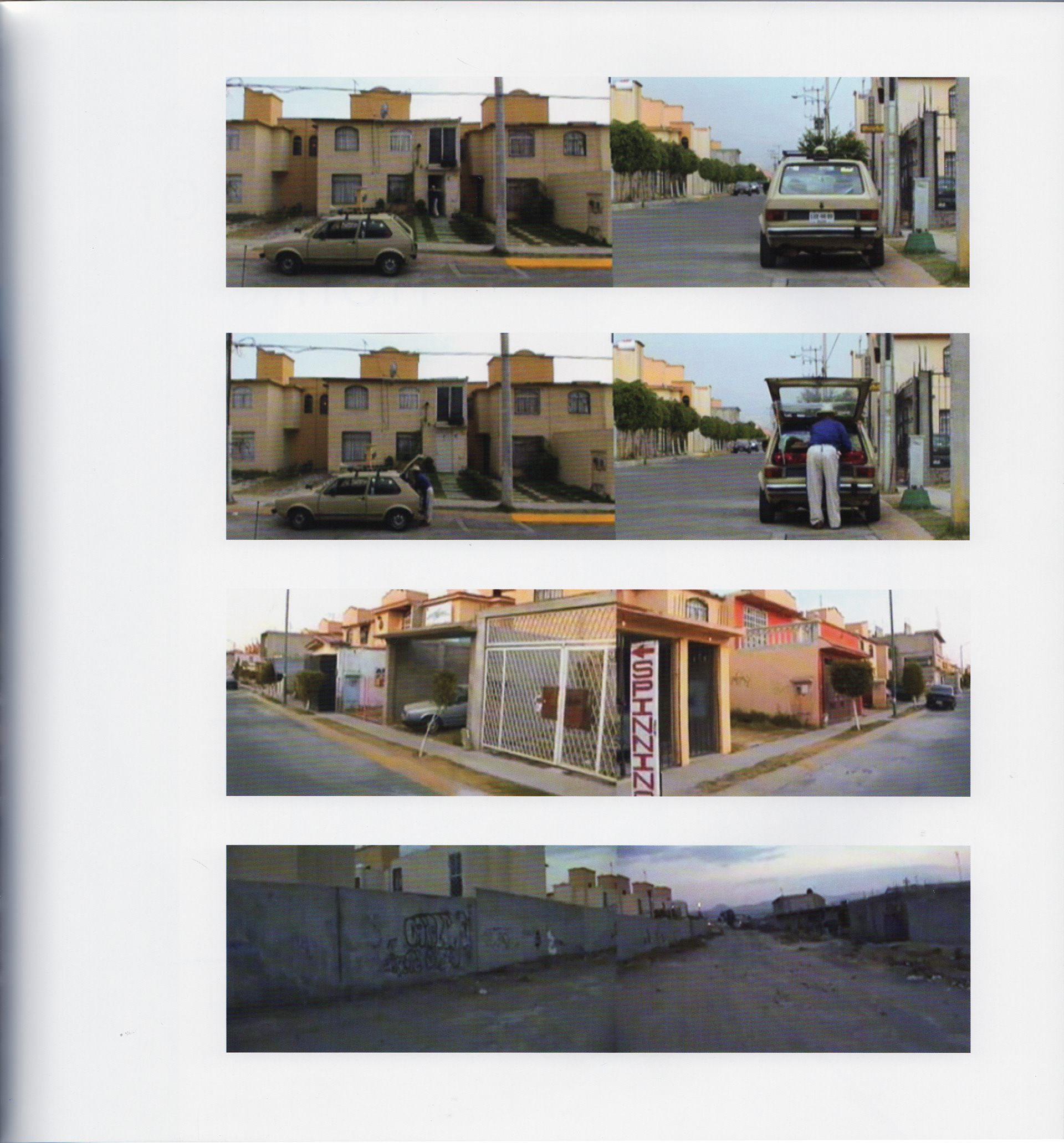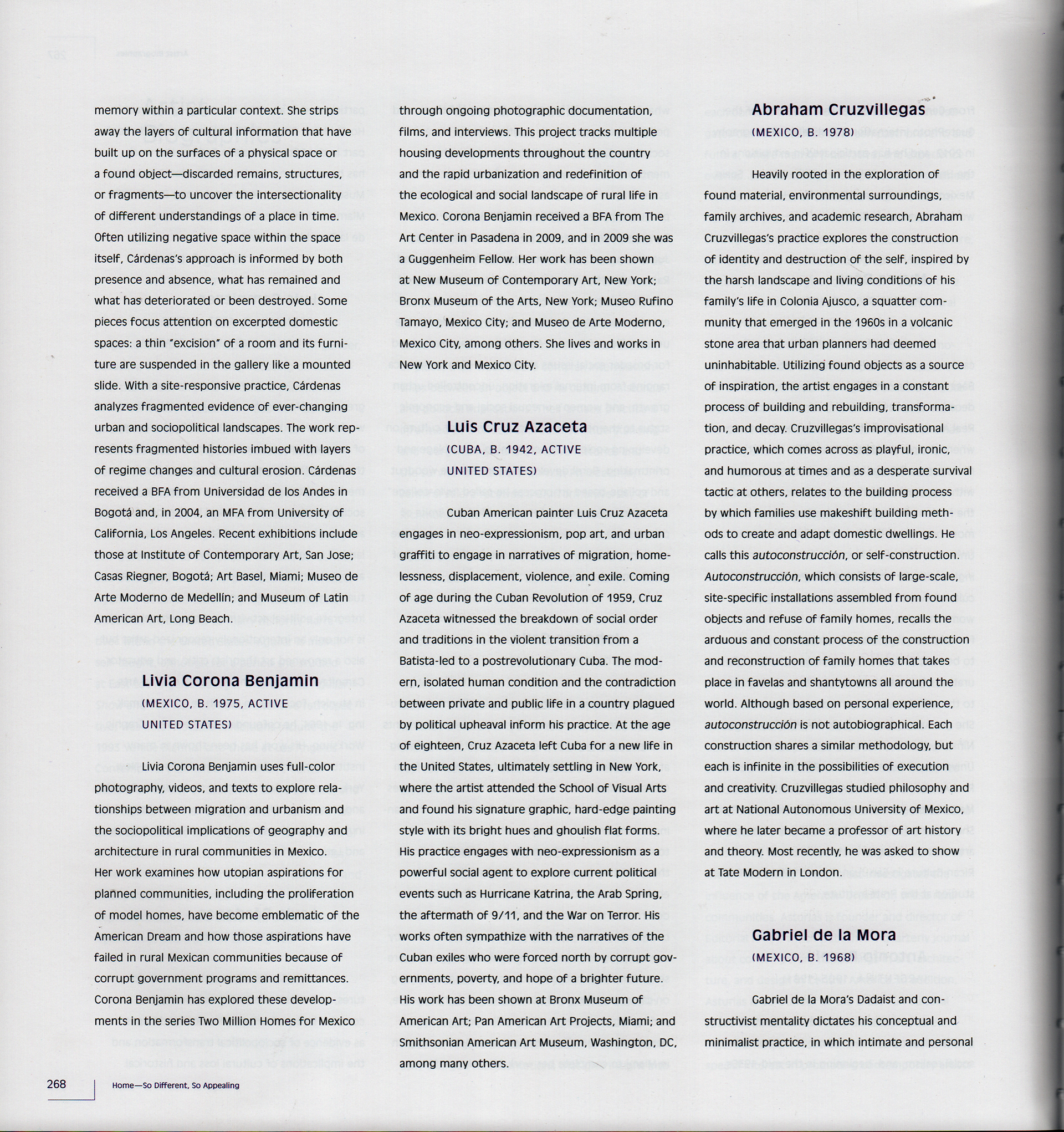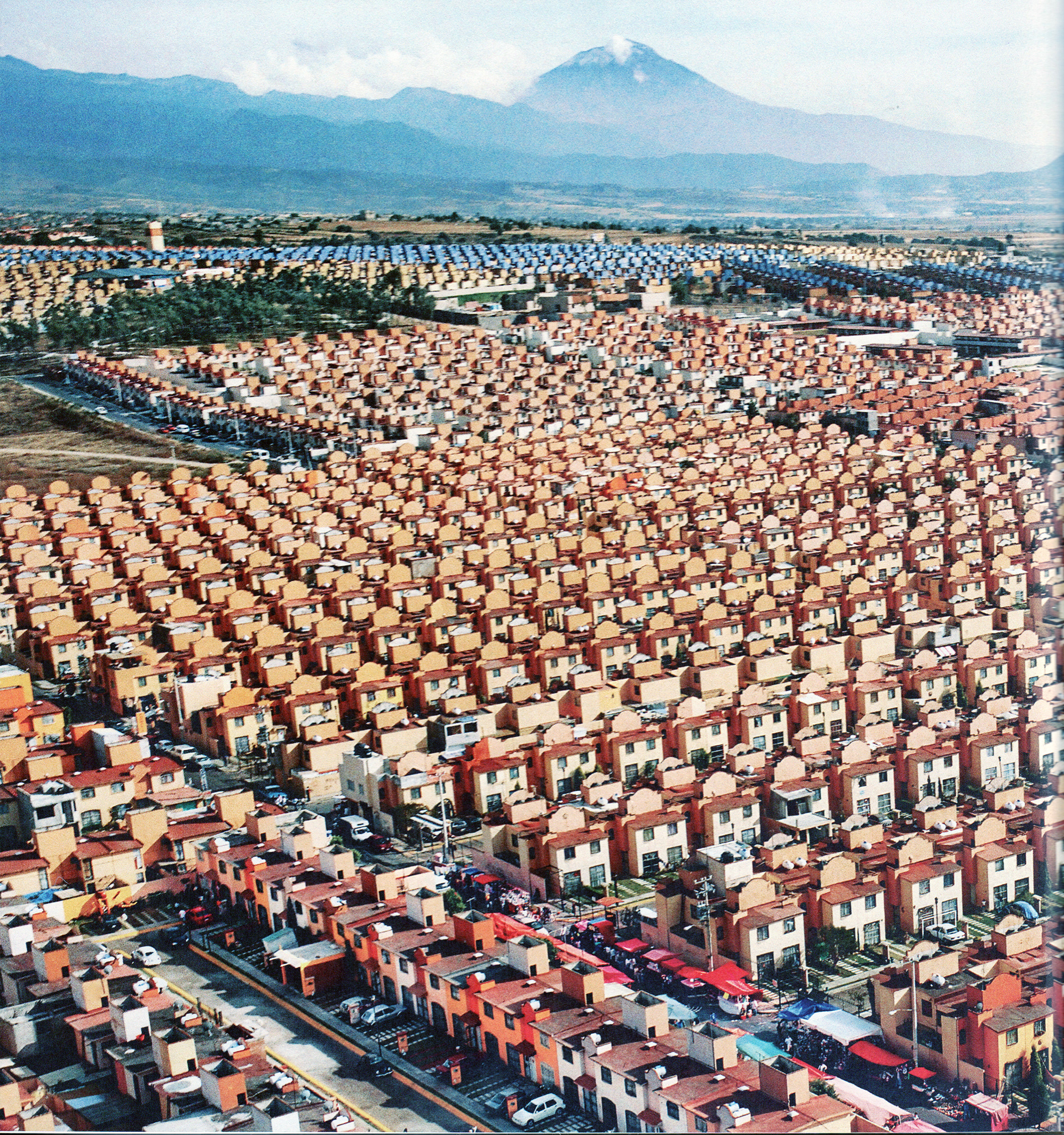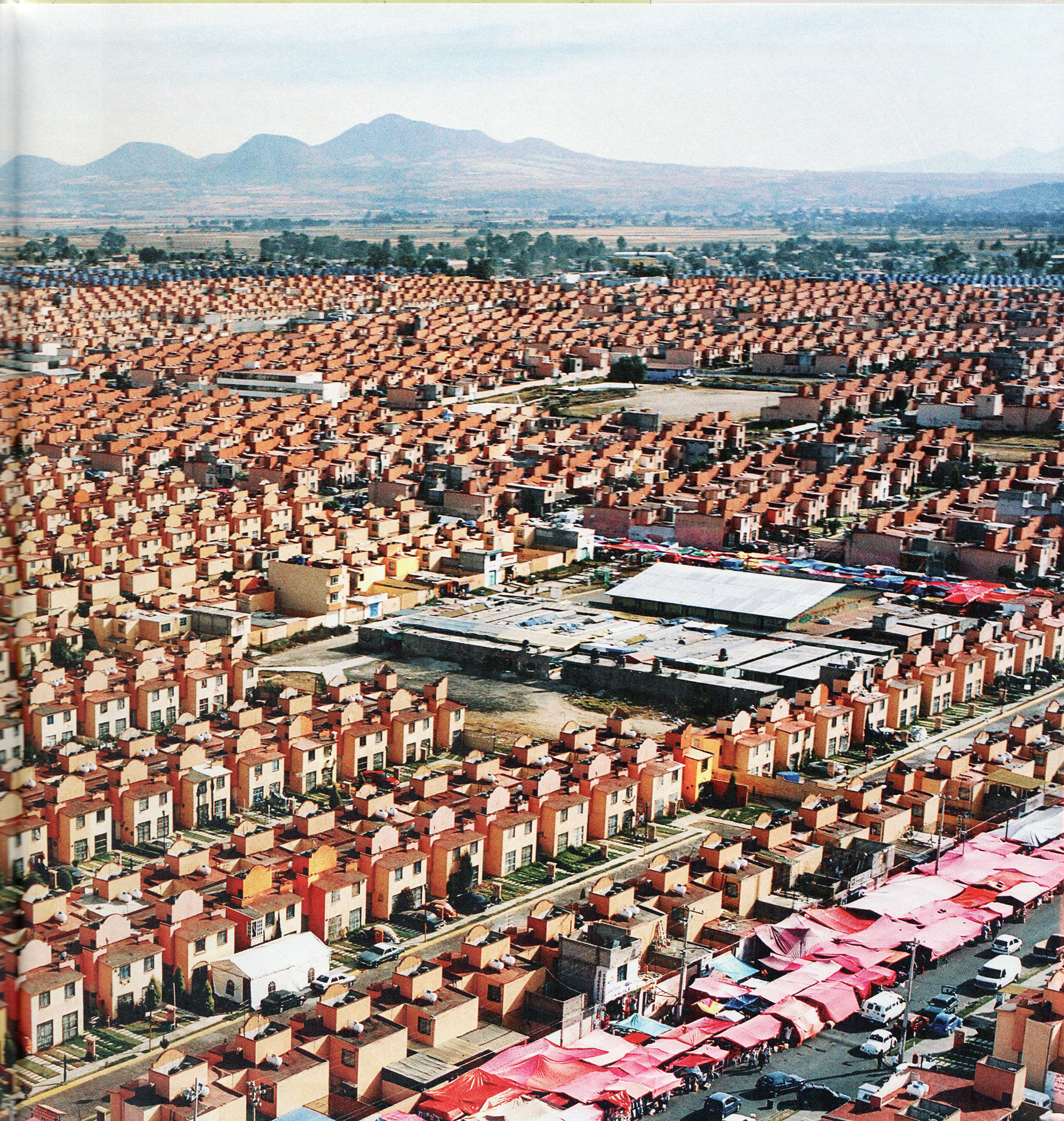 MUSEO TAMAYO
- 
THE THEATER OF THE WORLD - 2014
Edited by Andrea Torreblanca. With texts by Alexander Apóstol, Yto Barrada, Marcelo Cidade, Nathan Coley, Livia Corona Benjamin, José Dávila, Marjolijn Dikman, Gardar Eide Einarsson, Ángela Ferreira, Andrea Fogarasi, Meschac Gaba, Carlos Garaicoa, Terence Gower / Pedro Reyes, Pablo Hare, Heidrun Holzfeind / Christoph Draeser, David Maljkovic, Olivia Plender, Anri Sala and Kostis Velonis. Published by Museo Tamayo, 2014
The Theater of the World examines the work of different artists interested in architecture as a place of political and social representation. In the midst of the theatricality and propaganda, each city is reimagined and reconstructed as a result of a show. Whether it is promoting tourism, fulfilling political promises or promoting nationalism, the architecture of a city is often adorned to show progress. From the representation of nations in nineteenth-century world fairs to post-war urban renewal projects, buildings are constructed as artificial monuments that later become obsolete despite disguising the urban reality. More than revealing the failed utopias of the past, this exhibition reflects on the world as a scenario, where monuments, palaces, ruins and social housing projects coexist and are renewed under the same facade of nation and apparent development. 
In 1787, when Grigory Potemkin and Queen Catherine II toured the lands recently conquered by Russia in the Crimea, Potemkin had built fake facades that simulated villages, imported livestock and designated people (actors) to pose as locals. Legend has it that these "villages" were dismantled and rebuilt several times along the route as the carriage or barge moved forward, to demonstrate the supposed prosperity of the region. It is not difficult to imagine that, if true, this artifice would have fulfilled its purpose; It was too early to think that political theatrics could be instituted through this kind of deception. However, over the years, the Potemkin villages became the paradigm of political propaganda. Queen Catherine's convoy not only resembles the assembled representations for triumphal entries from the fifteenth century, when all the people acted for royalty in tableaux vivants, but it remains a current strategy to create the illusory image of a city . 
The "theater of the world" has been used continuously as a metaphor of the idea that, in society in general, every individual has a pre-established script that he must follow and the world is the scenario where he interprets it. Ornament is also a rhetorical figure and has less to do with architectural styles and more with how authority, the concept of nation and ideology are filtered by facades, monuments and urban decoration. Thus, the architectural framework of the city is an extended scenario where the actors, the individuals and the spectators change the show from time to time. The script of social life implies that each civilization rewrites, corrects, improves or repeats the script of the past. However, in the world as in the theater, the dilemma of how to overcome amnesia is always sabotaged by nostalgia vis-à-vis the everlasting end of utopia and, consequently, we continue to build castles in the air.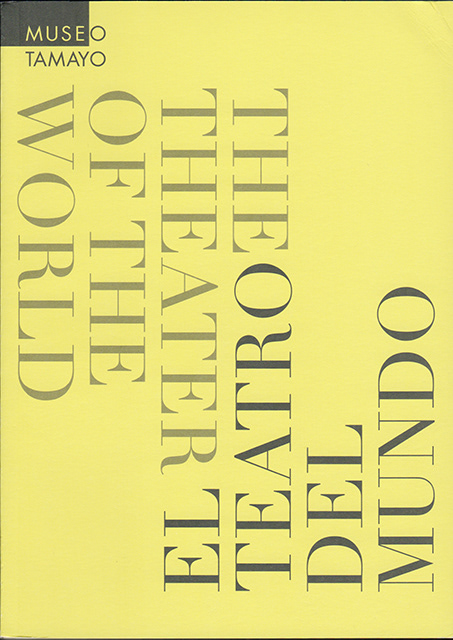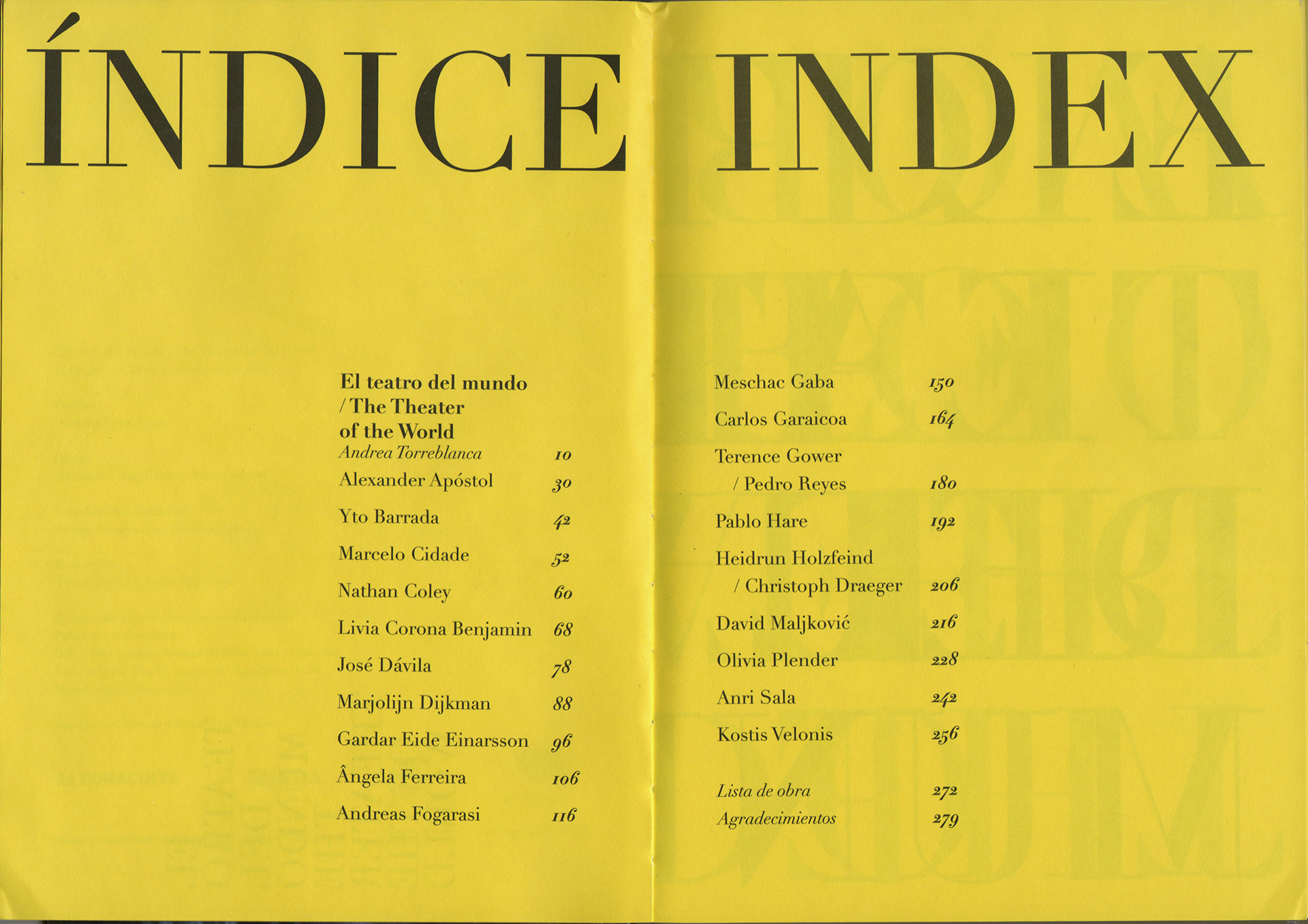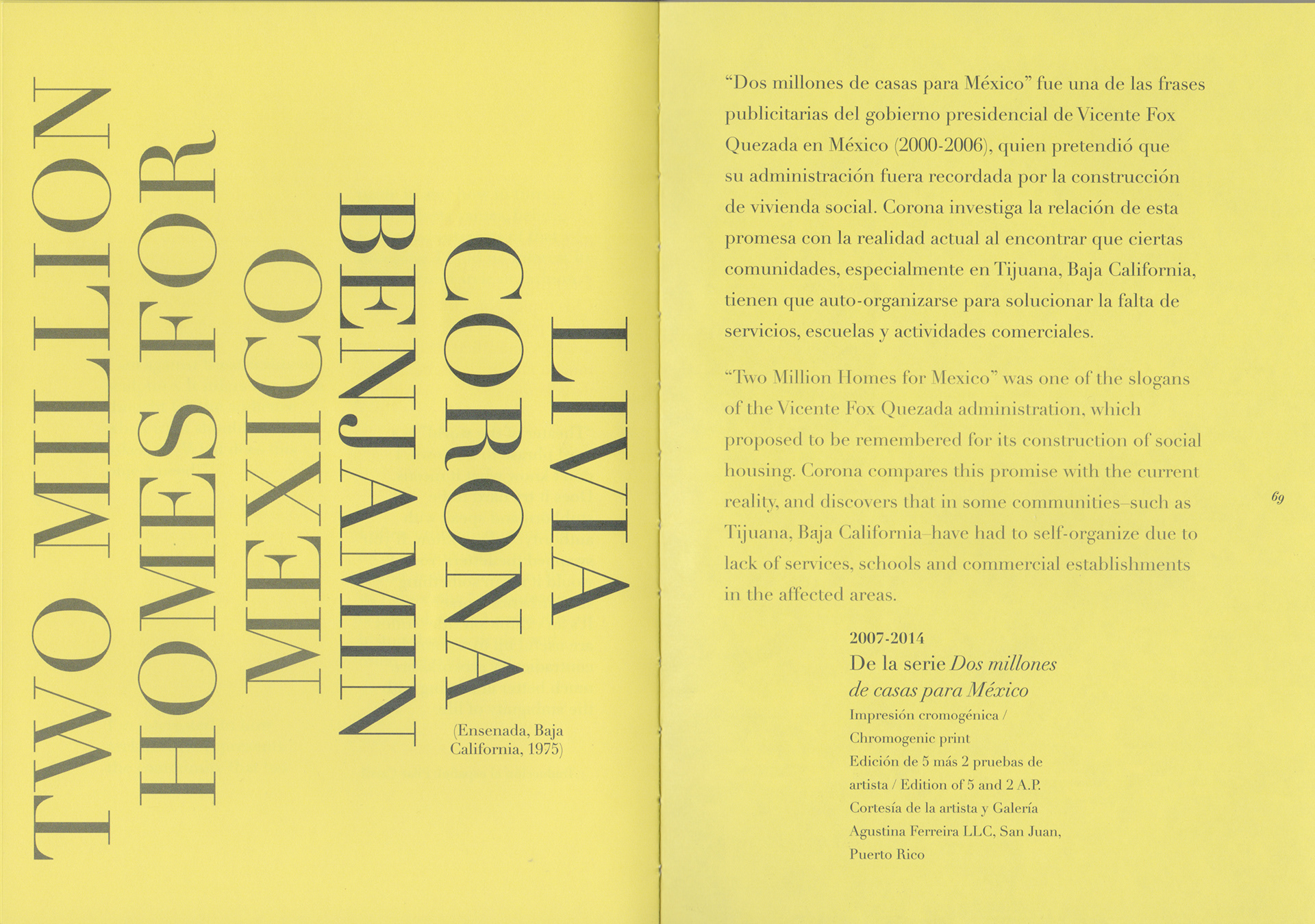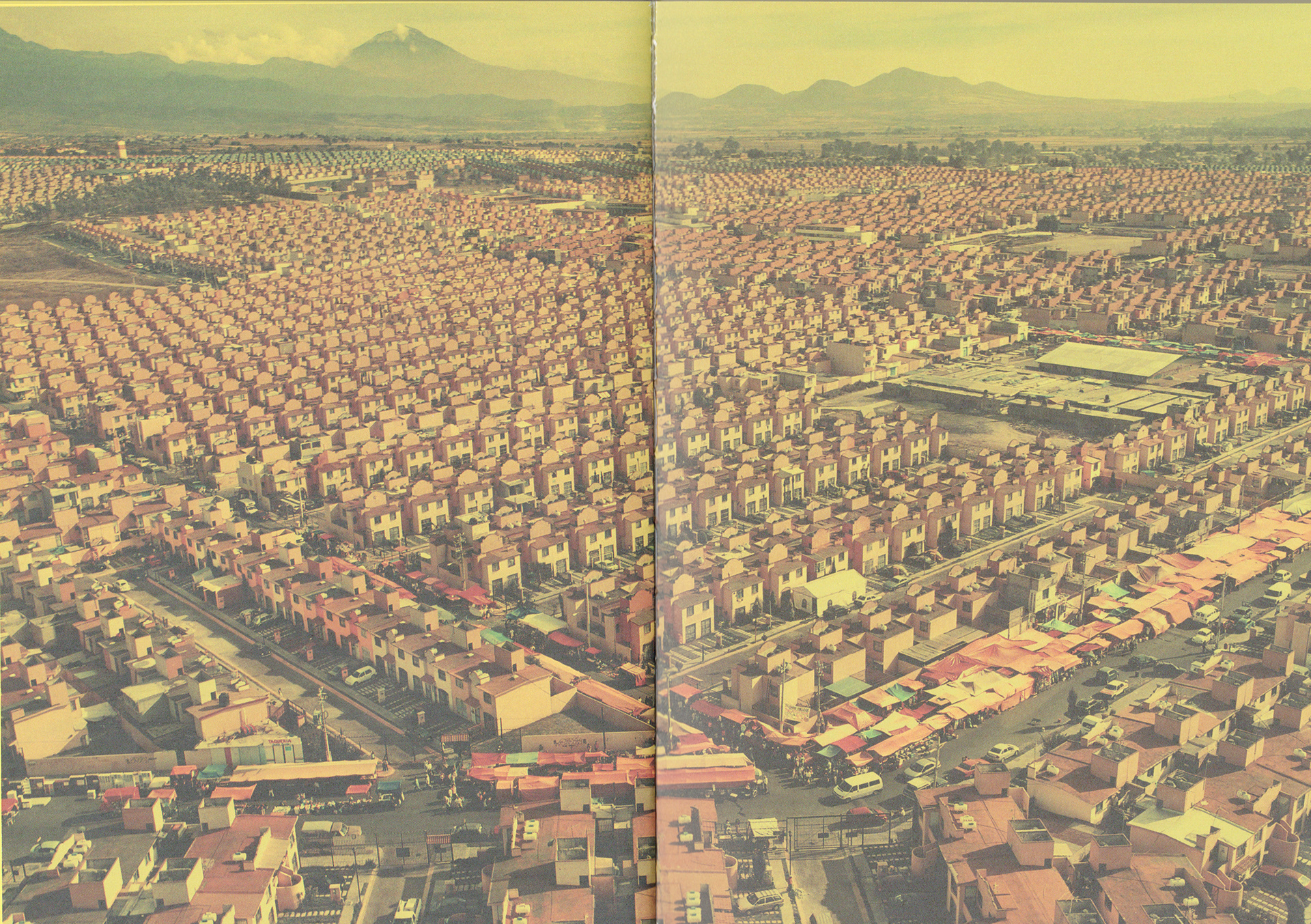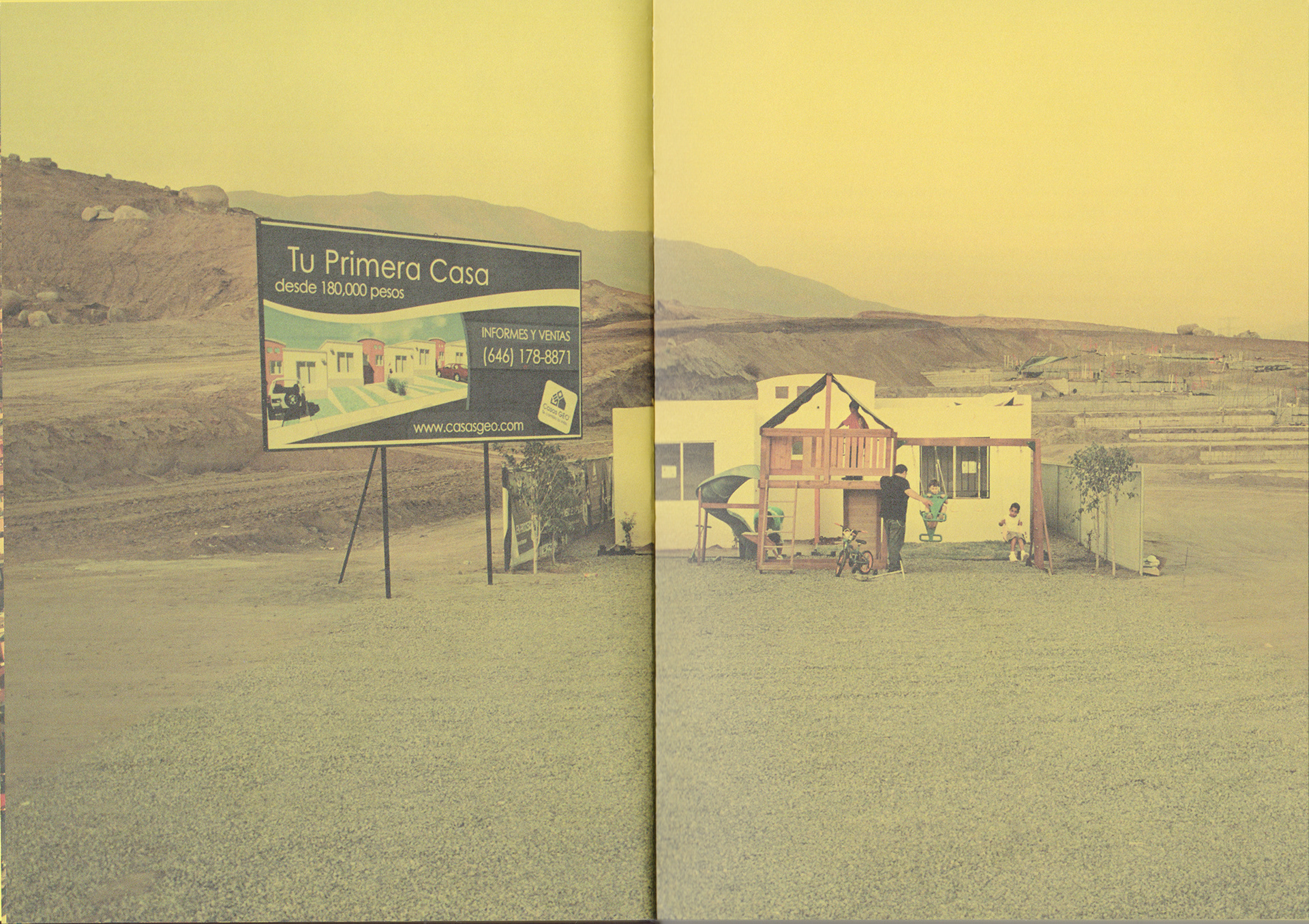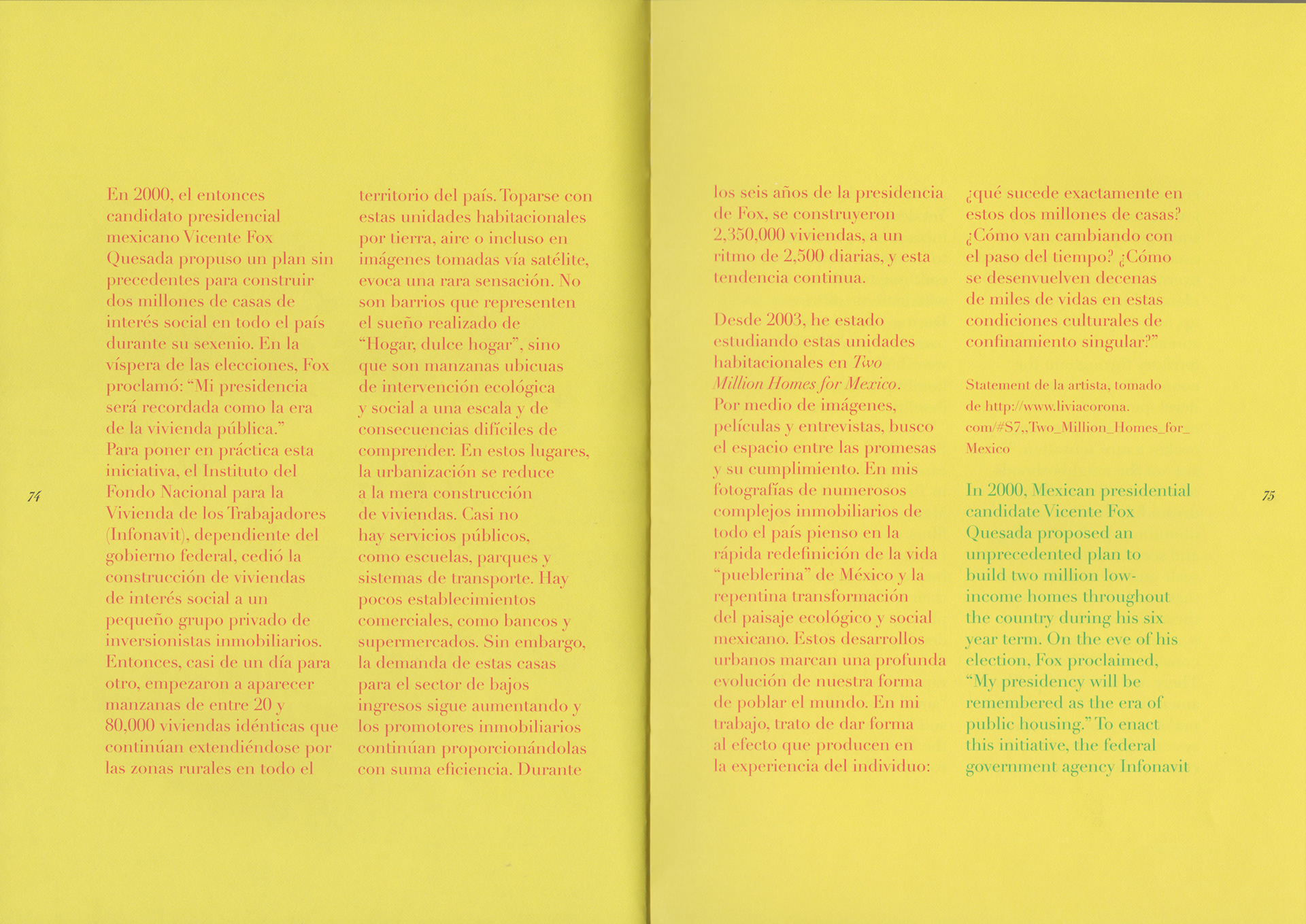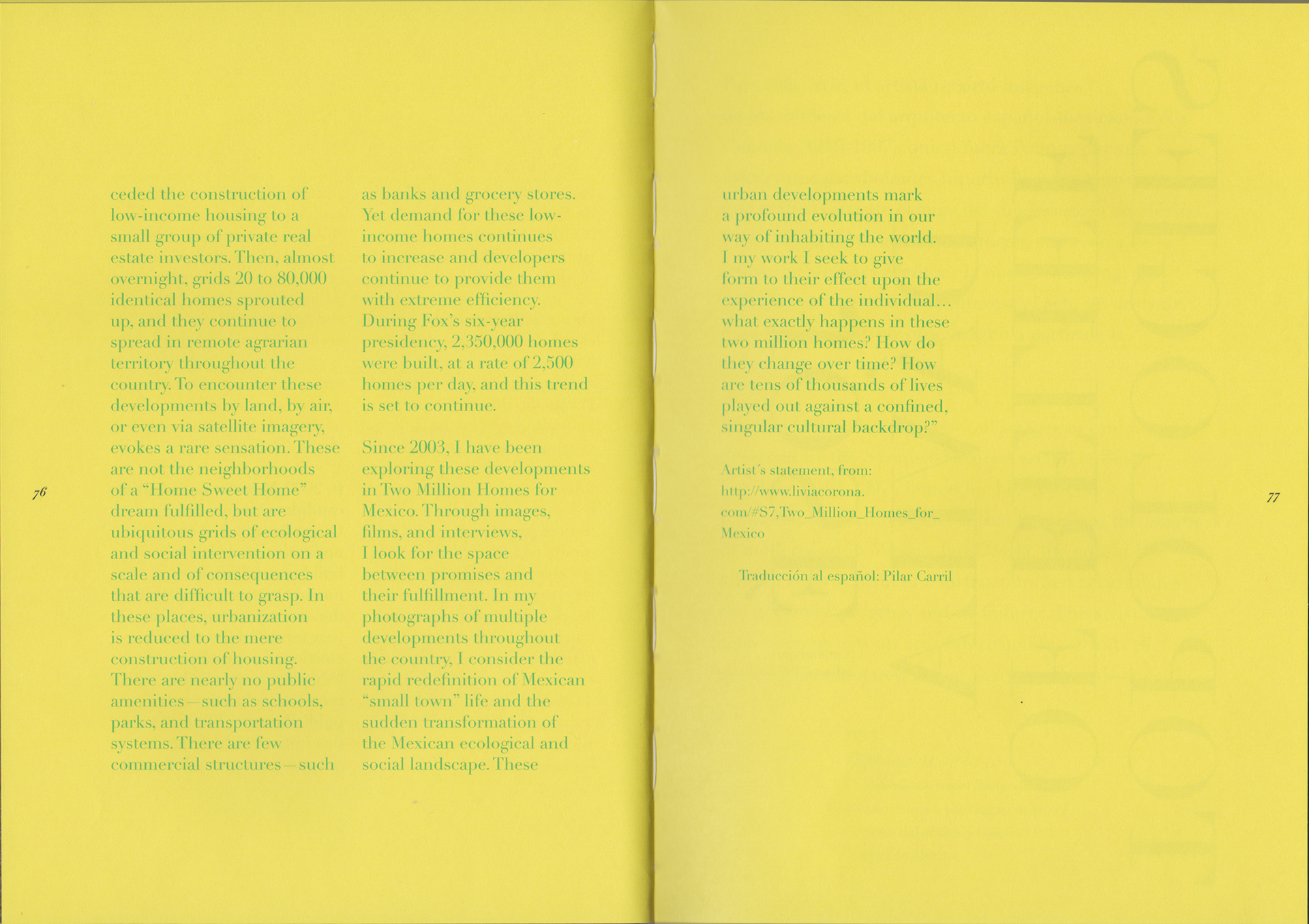 AI-AP -
LATIN AMERICAN FOTOGRAFÍA AND ILUSTRACIÓN COLLECTION - VOL 1  - 2012
AI - AP, well-known for 30 years as a respected resource for art directors, designers, photo editors, art buyers and publishers, presents established, emerging and student Latino illustrators and photographers to the North American market - and vice versa - in a global, multi-cultural exchange of art and ideas.
This exhibition catalogue presents the work of the selected winners of the Latin American Fotografía and Ilustración 1.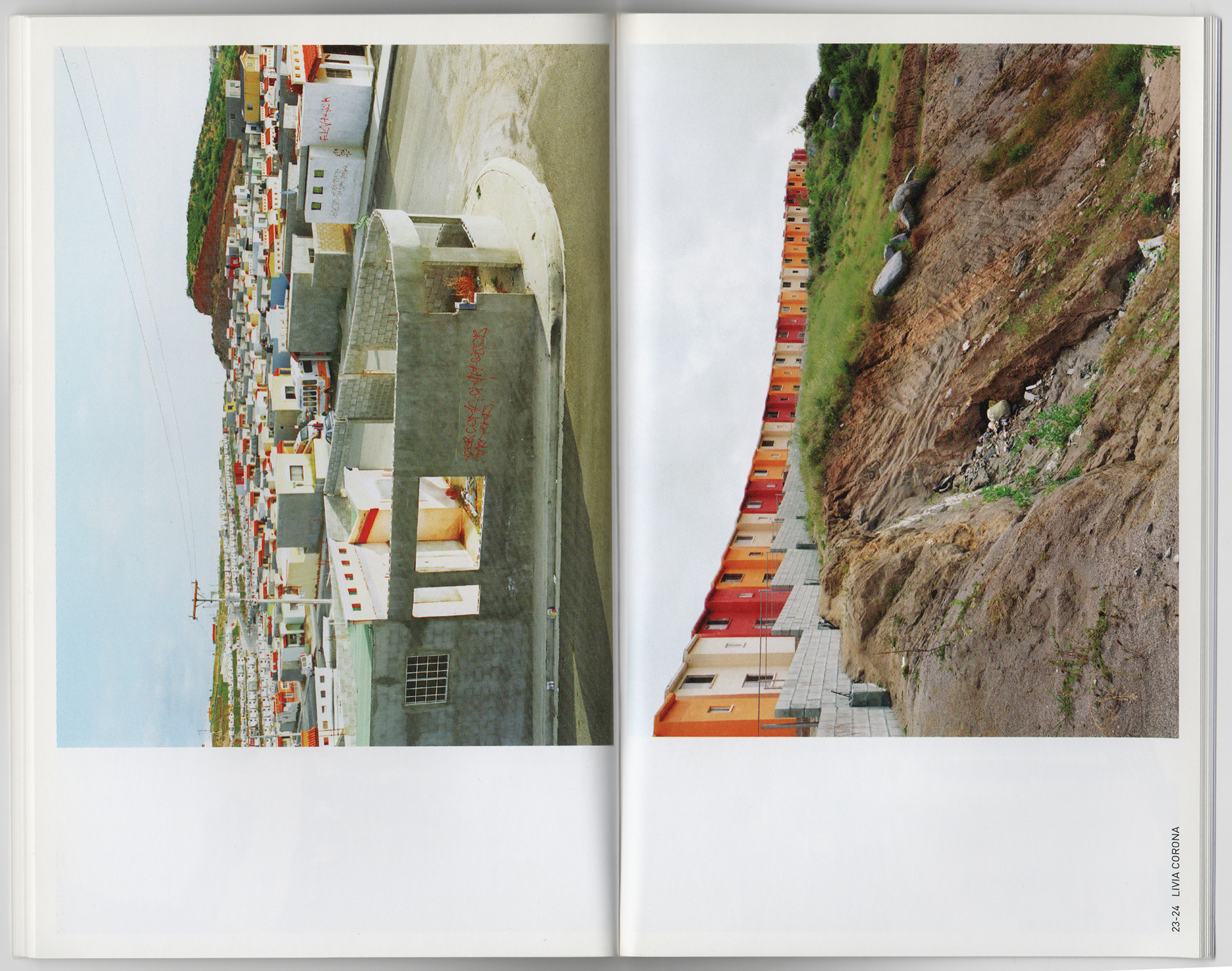 CULTUURCENTRUM KNOKKE-HEIST
- MEXICO MEGALOPOLIS: PICTURING MEXICO TODAY - 2016
The catalogue Mexico Megalopolis provides an image of Mexico City and contextualizes this megacity in the reality of a country that continues to expand but still faces many challenges. A century ago, just 10 per cent of the world lived in cities; by 2050, as many as 75 per cent of us will. The prospect of such an enormous urban boom in just a few generations offers a critical opportunity: to create cities that will improve, not diminish, standards of living for millions of new city dwellers. This catalogue offers the perspective of many contemporary photographers on demographic, sociopolitical and cultural topics that relate to the profound urban transformations that Mexico and its capital city have undergone over the last three decades. 
More than once Mexico has been represented in Europe as a violent, socially unstable and economically unpredictable country. Indeed, many works in the exhibition deal with sensitive topics such as violence, migration, urbanization, social polarization and spatial segregation. At the same time, however, through the texts and the work of the photographers the reader will discover the resilience and sustainability of this marvelous country and its energetic citizens. Whoever sets foot in Latin America today understands that this continent has travelled an impressive route in terms of democratic participation, good governance, the economy, gender rights, ecology, education and urban development. Latin America is not only innovative; it is also visionary and pragmatic, optimistic and future-oriented.
                                                                                                                                                                                                                 - Lode Delputte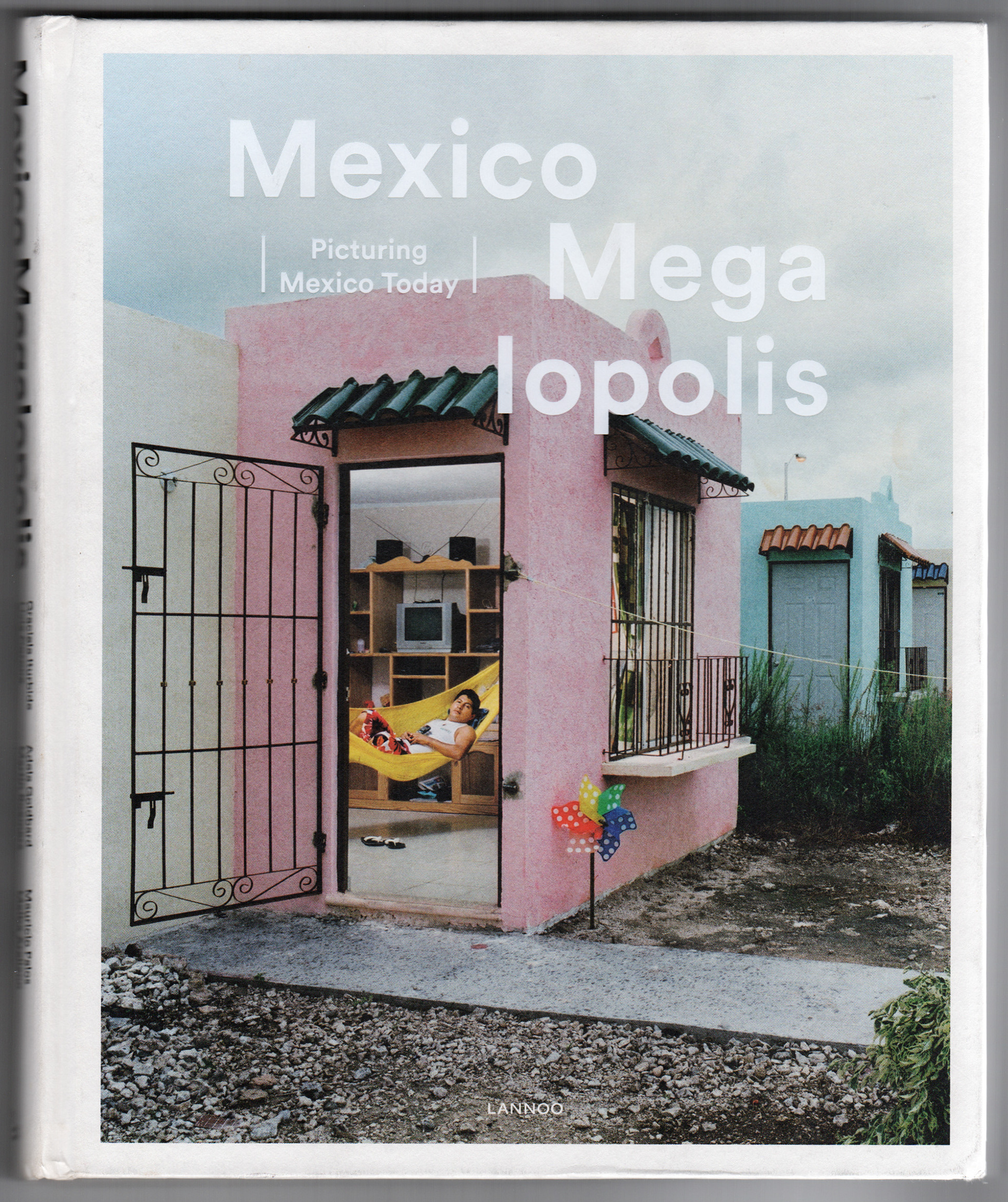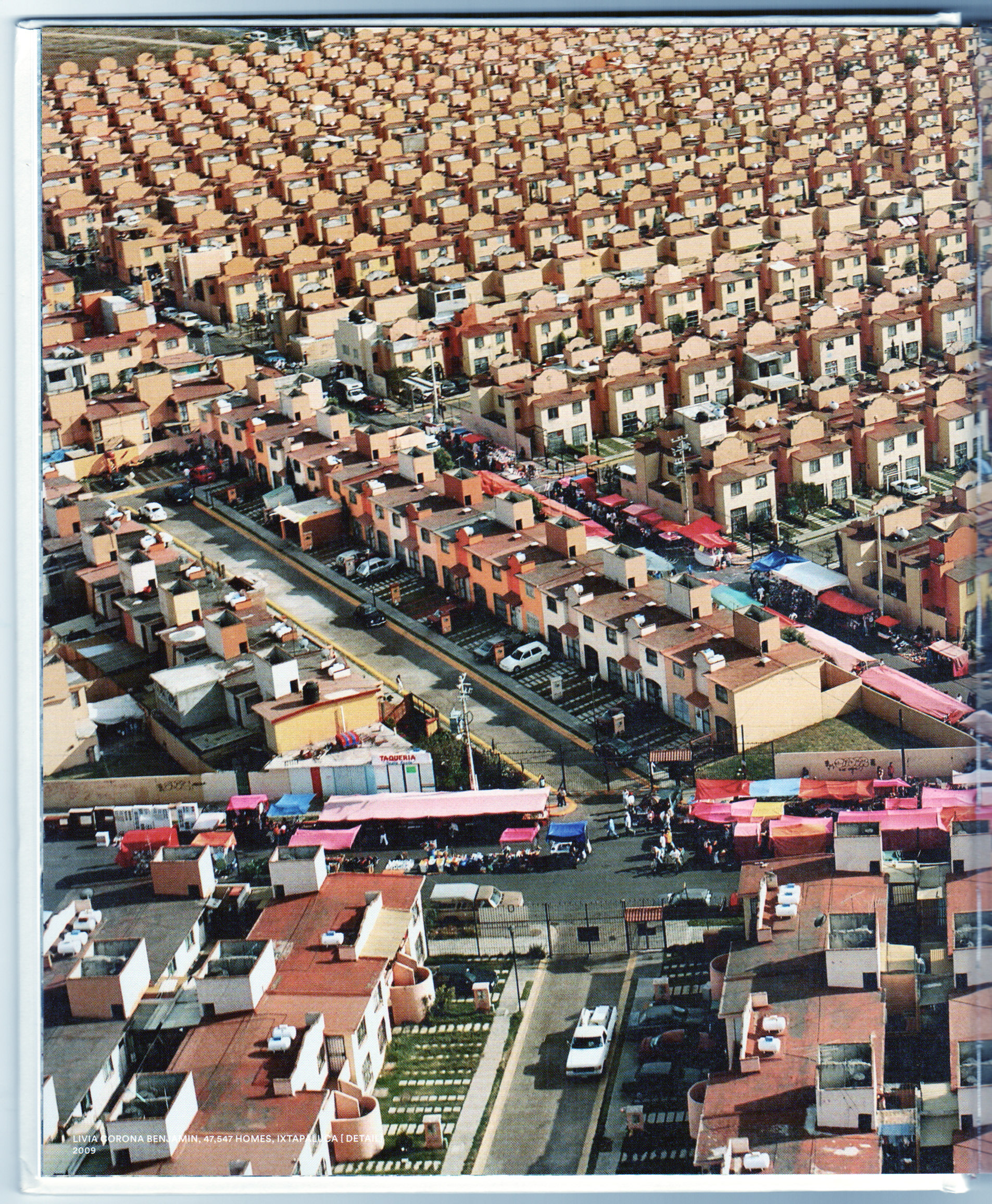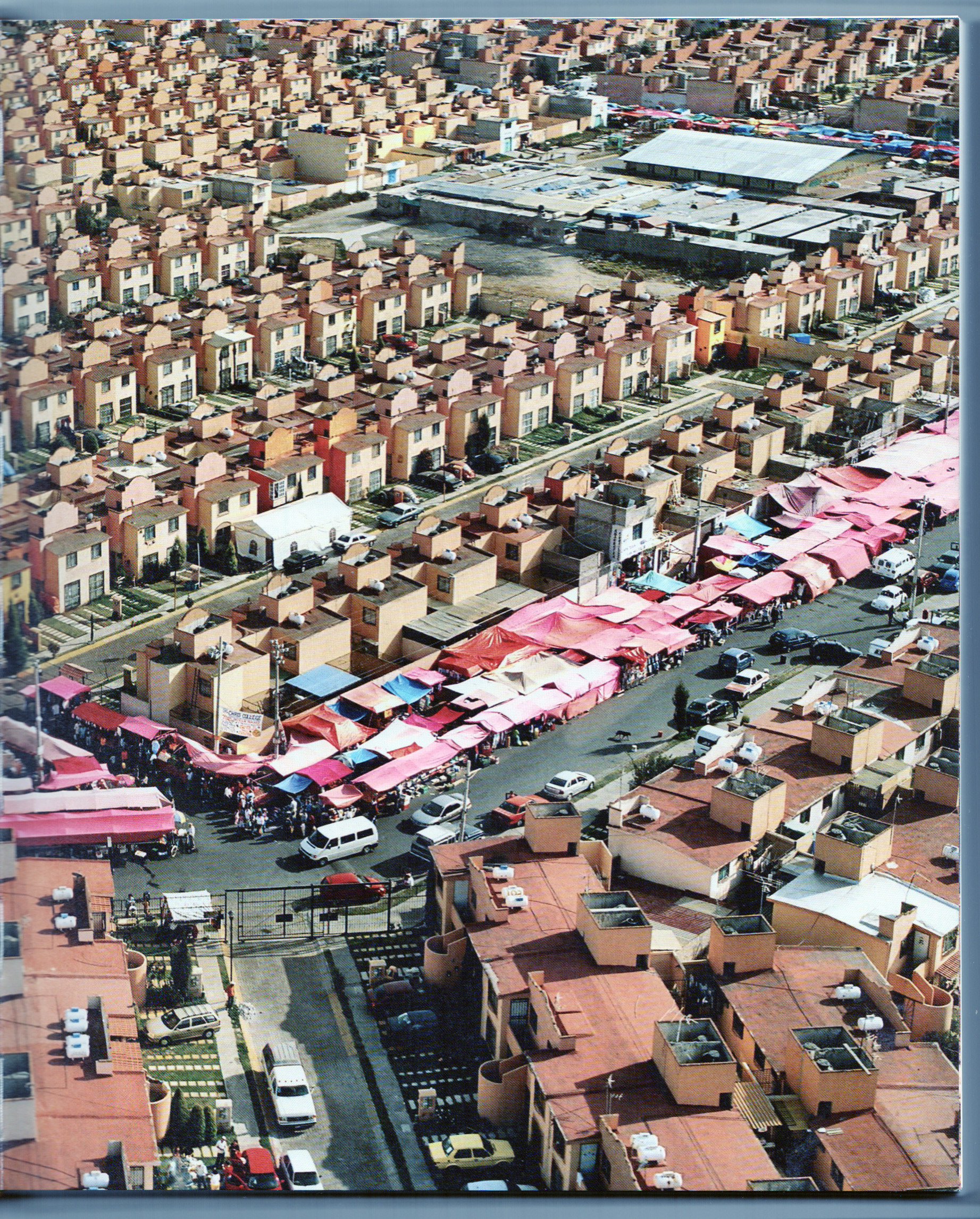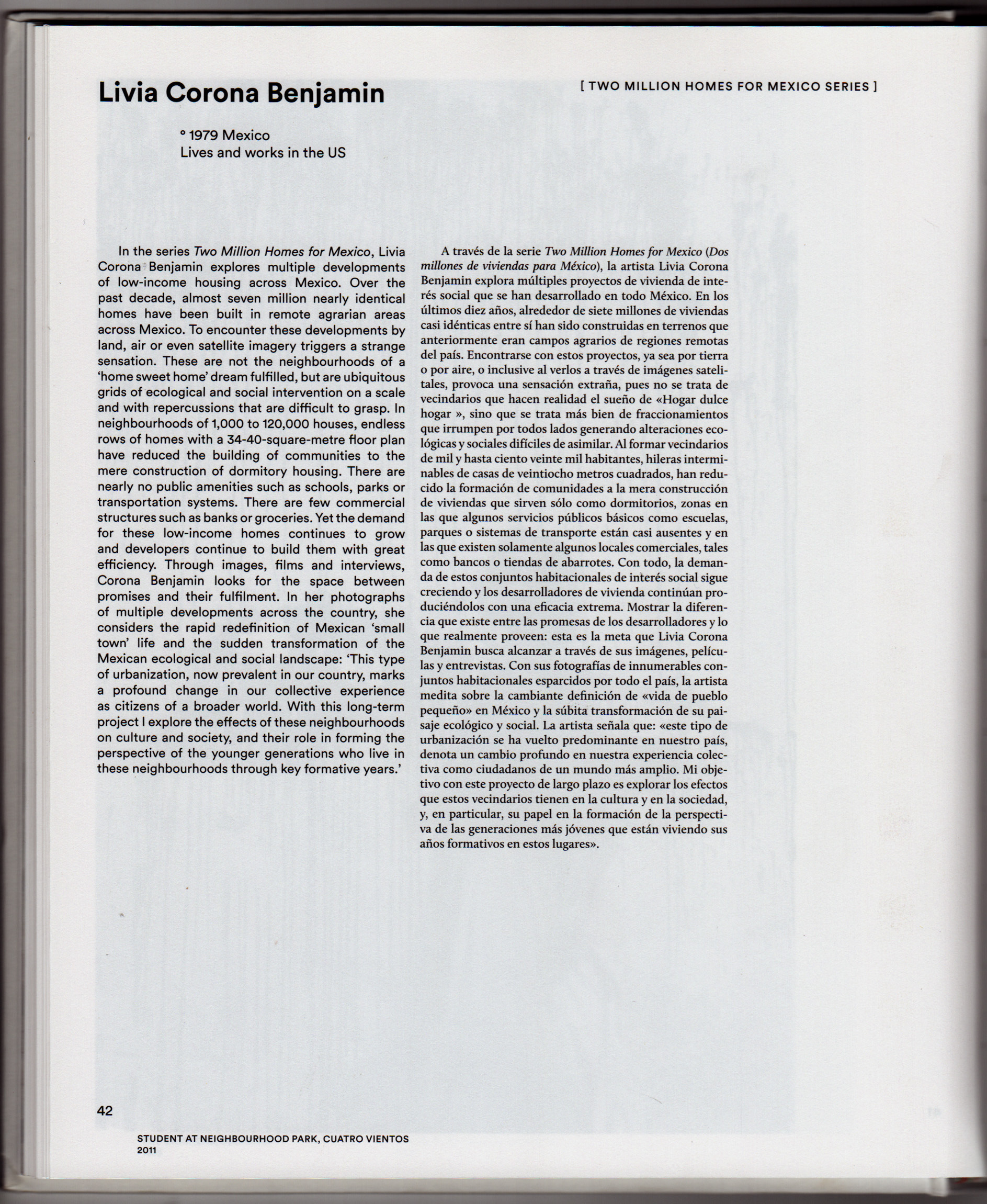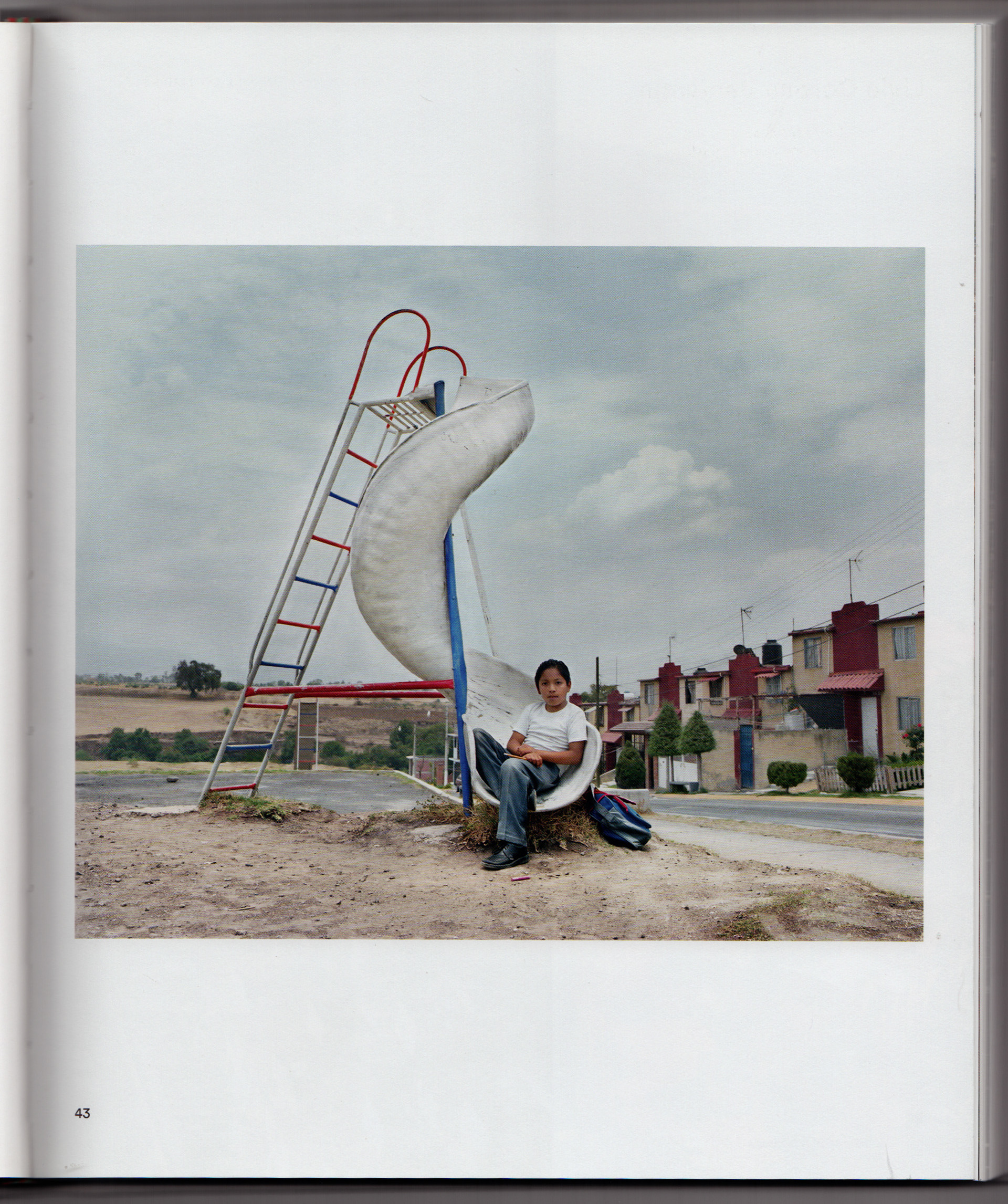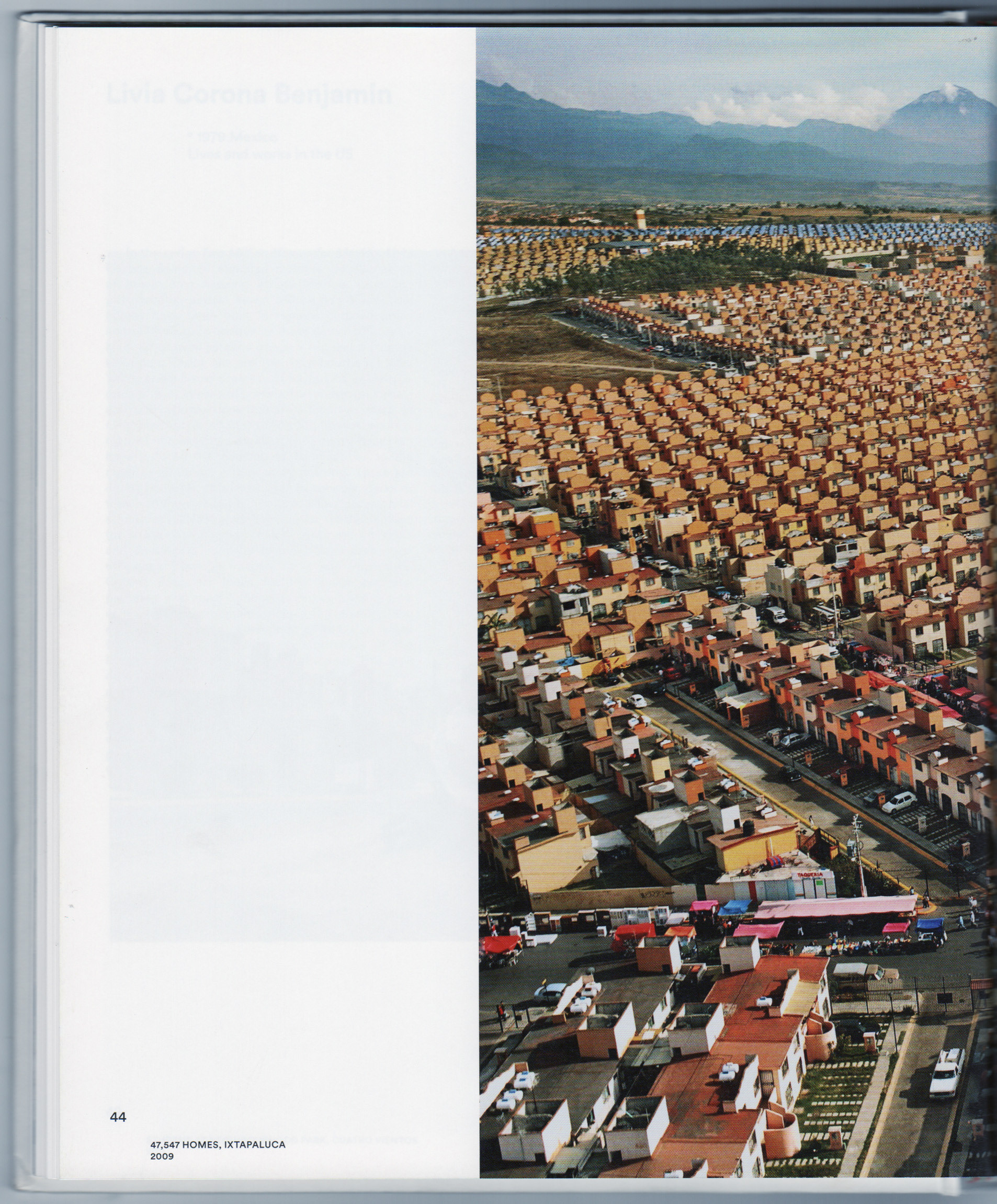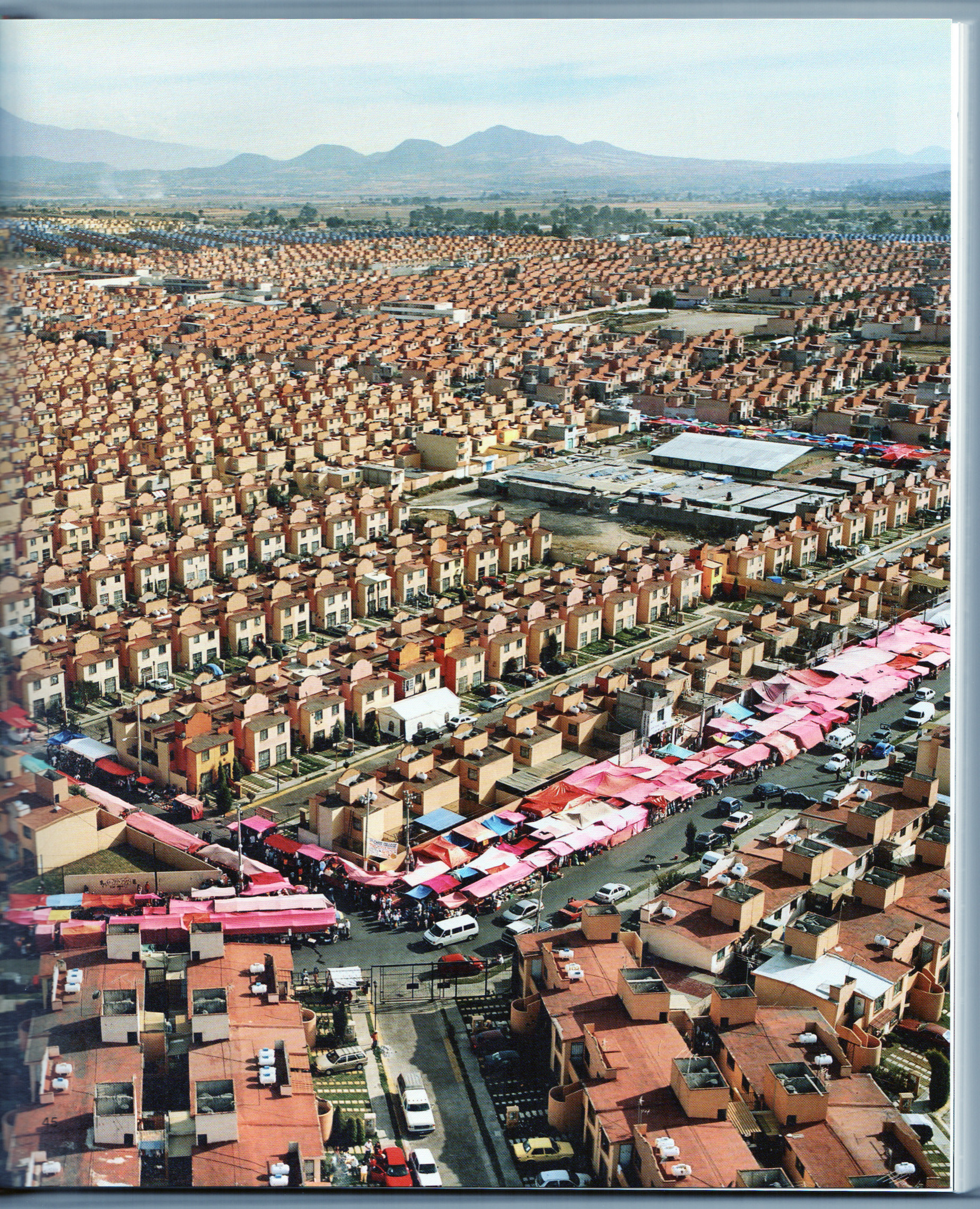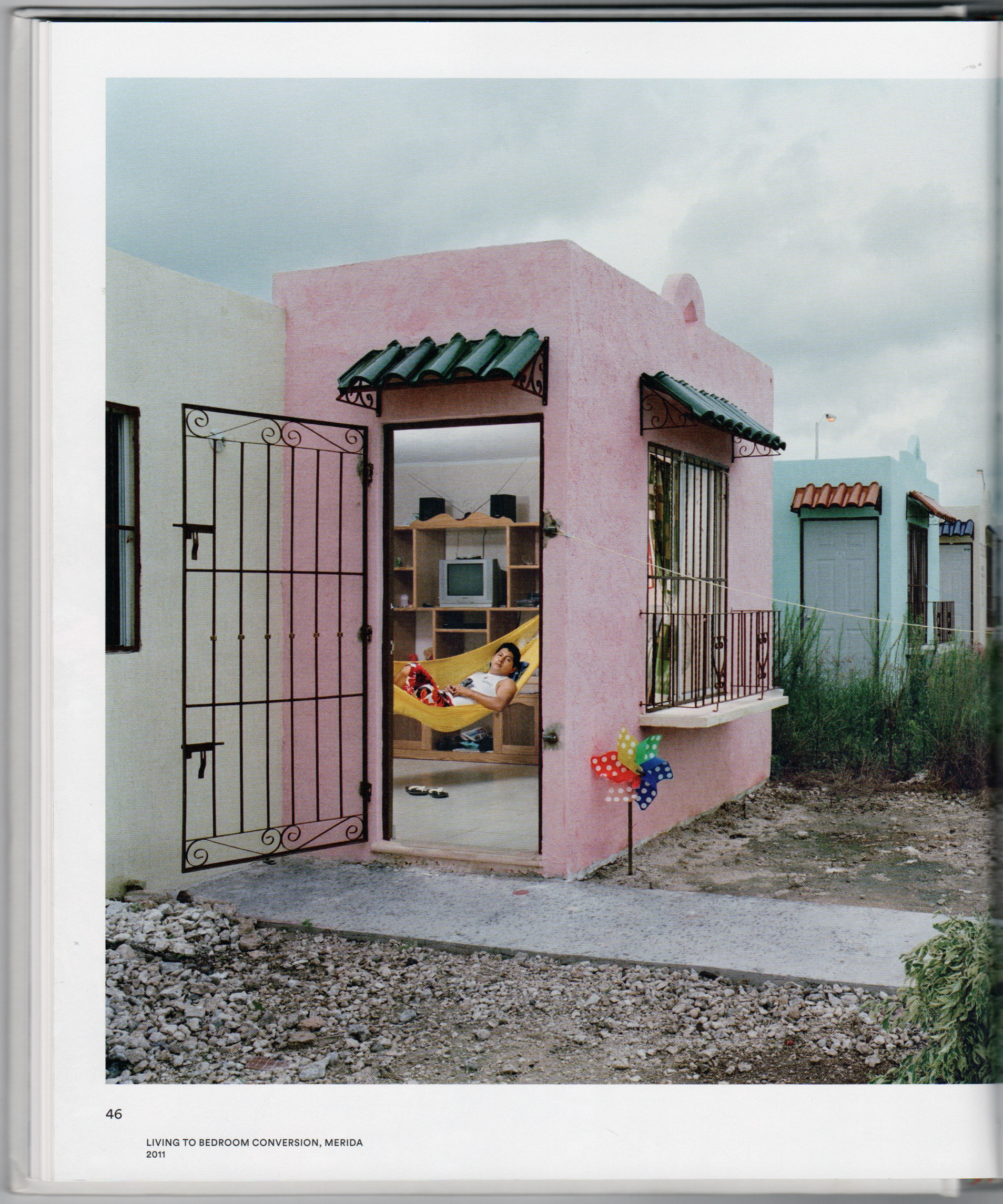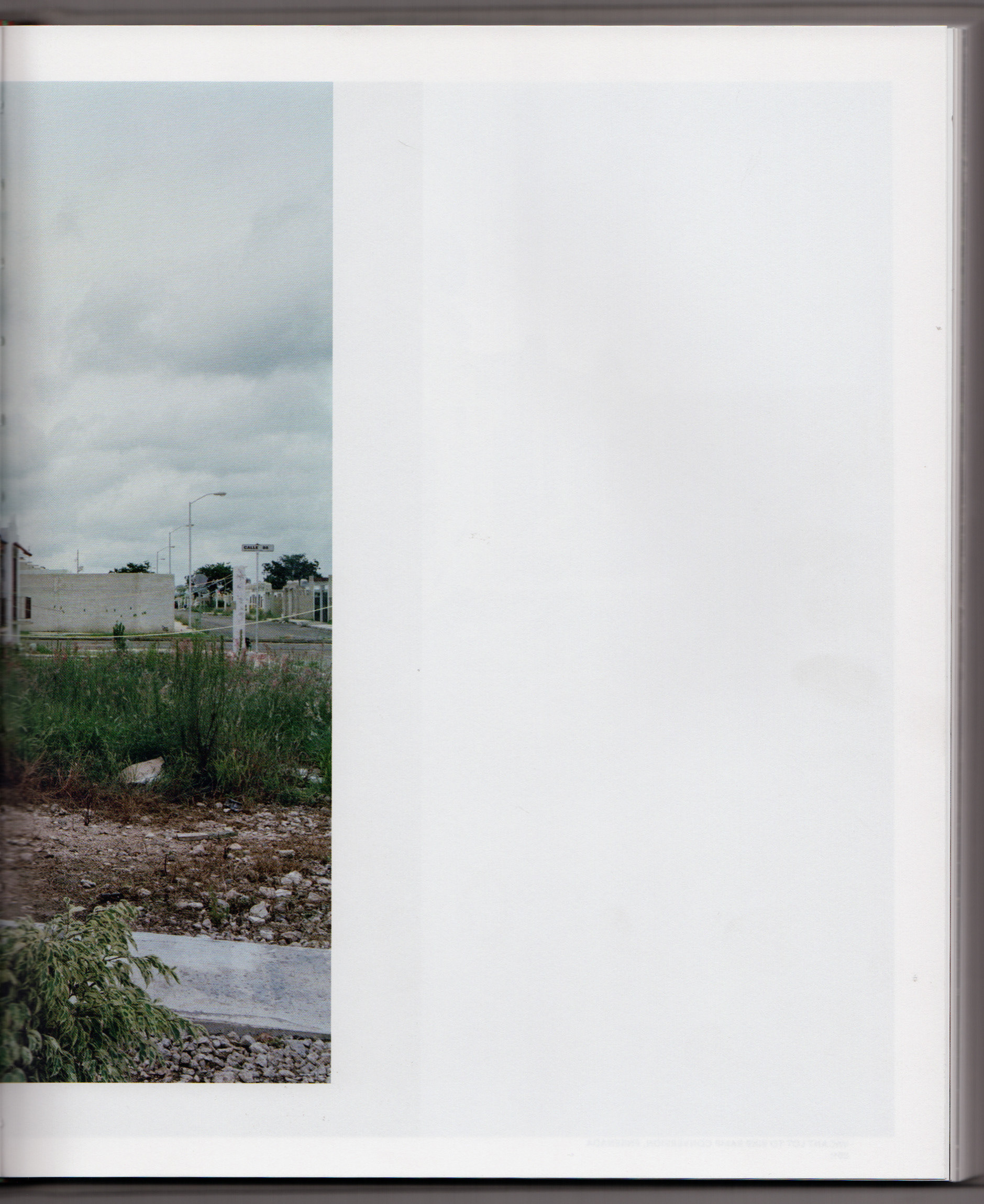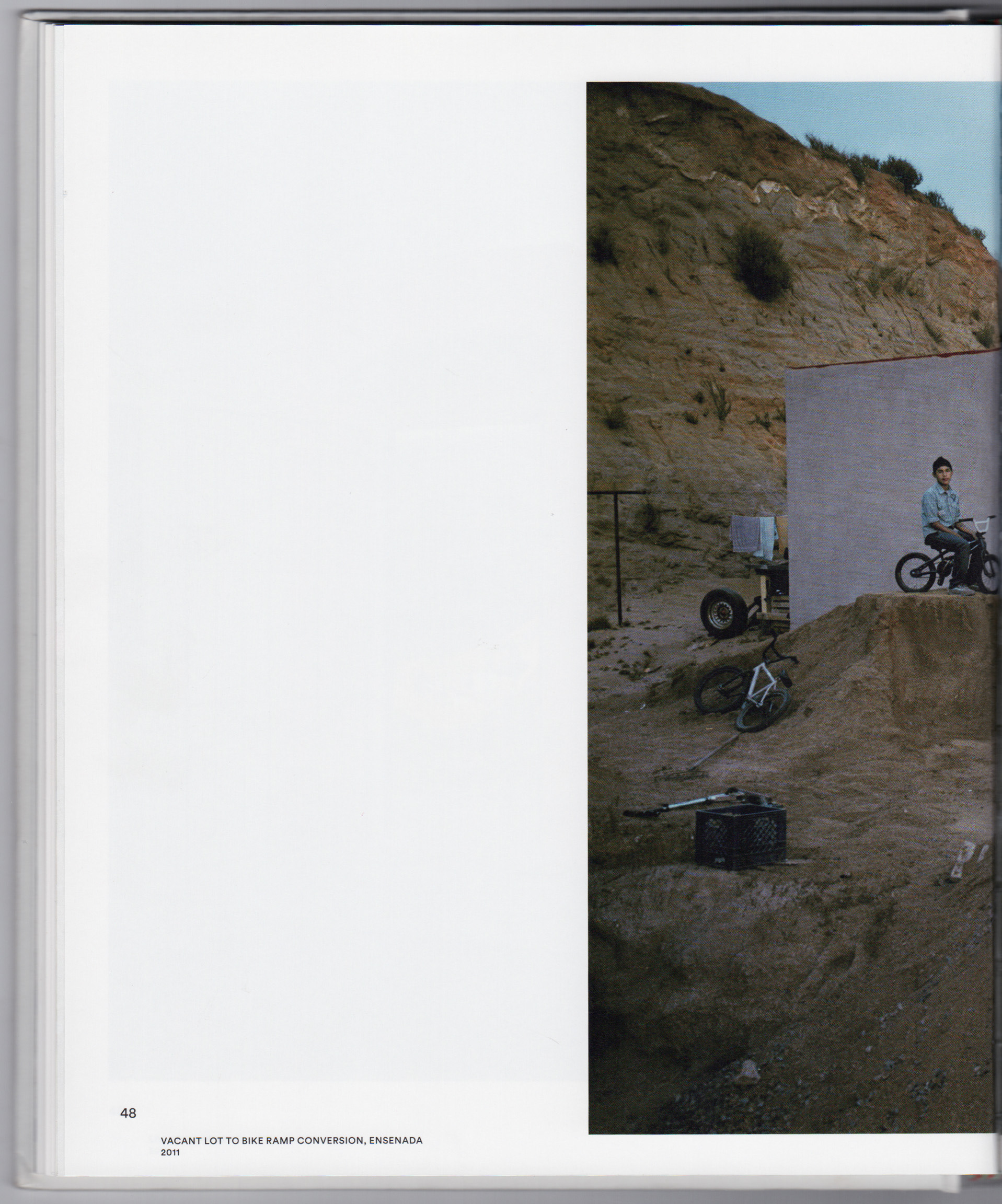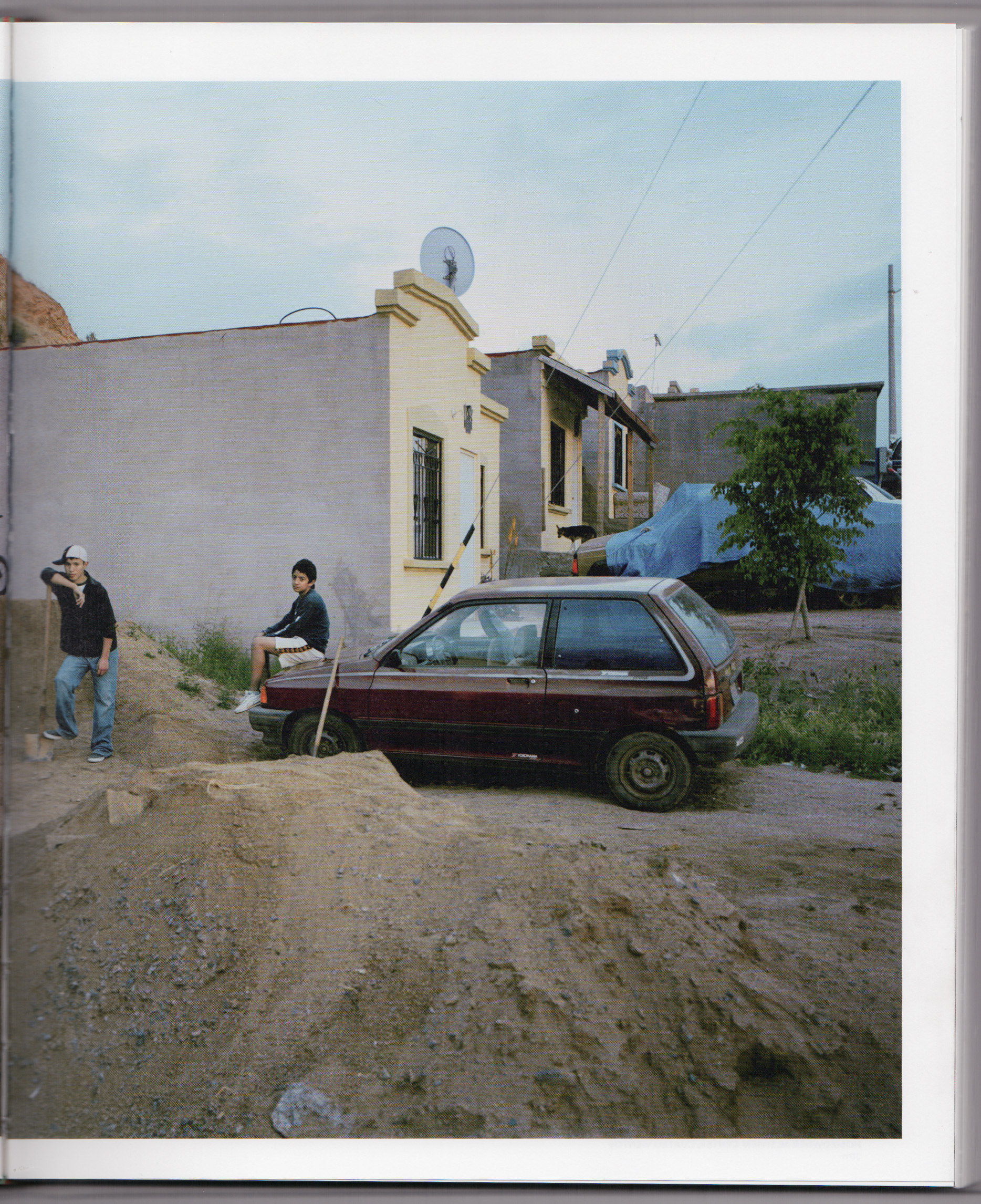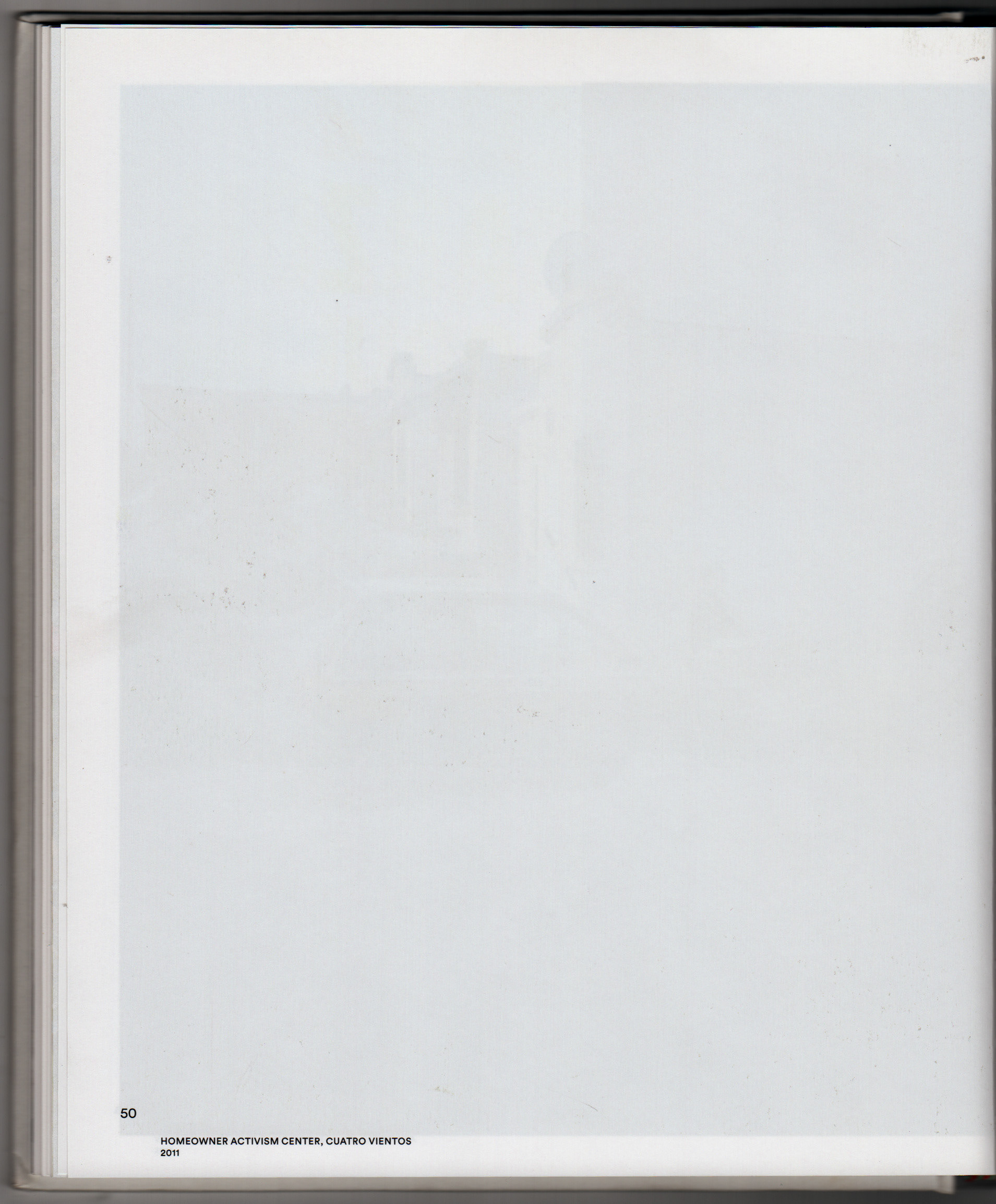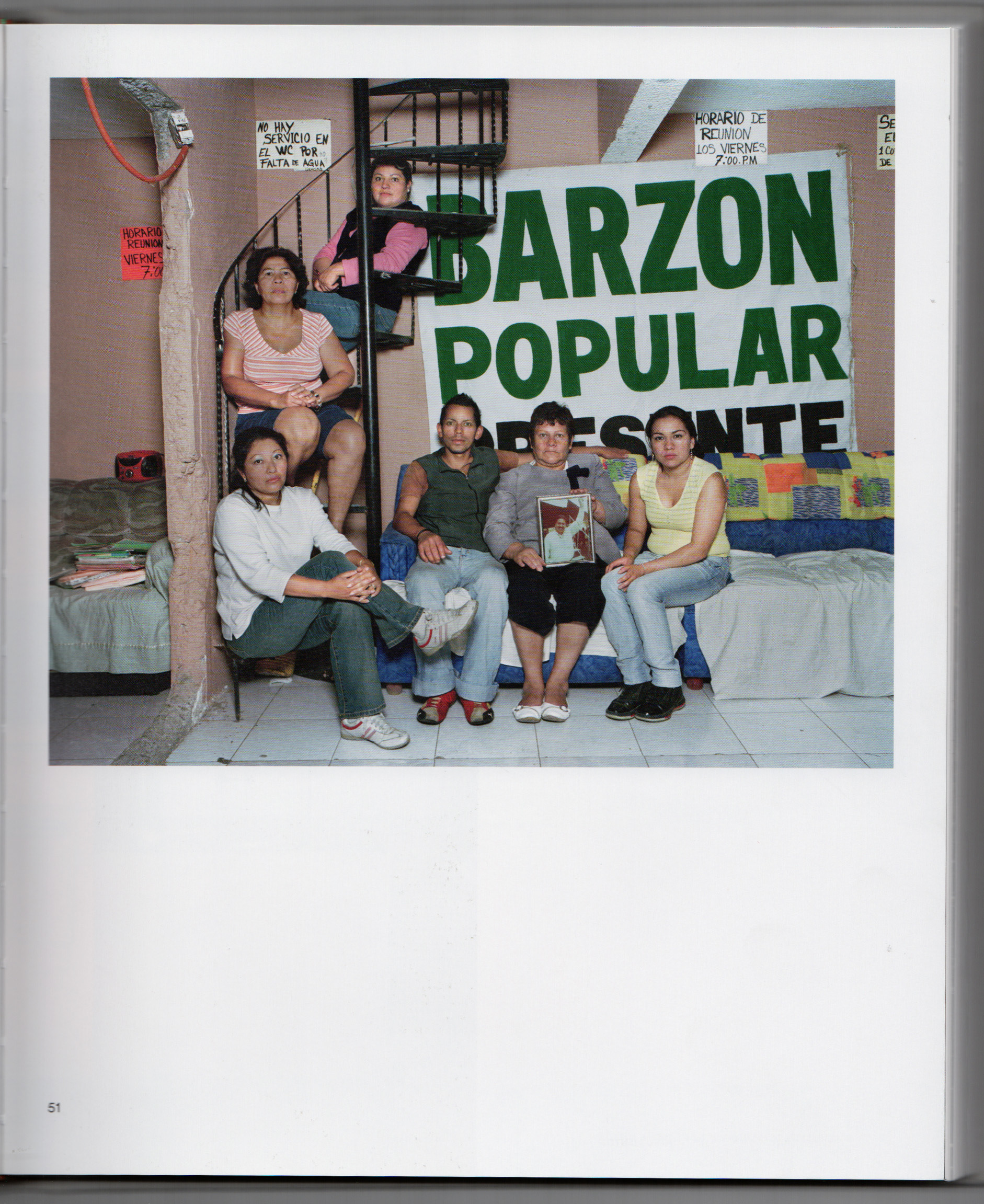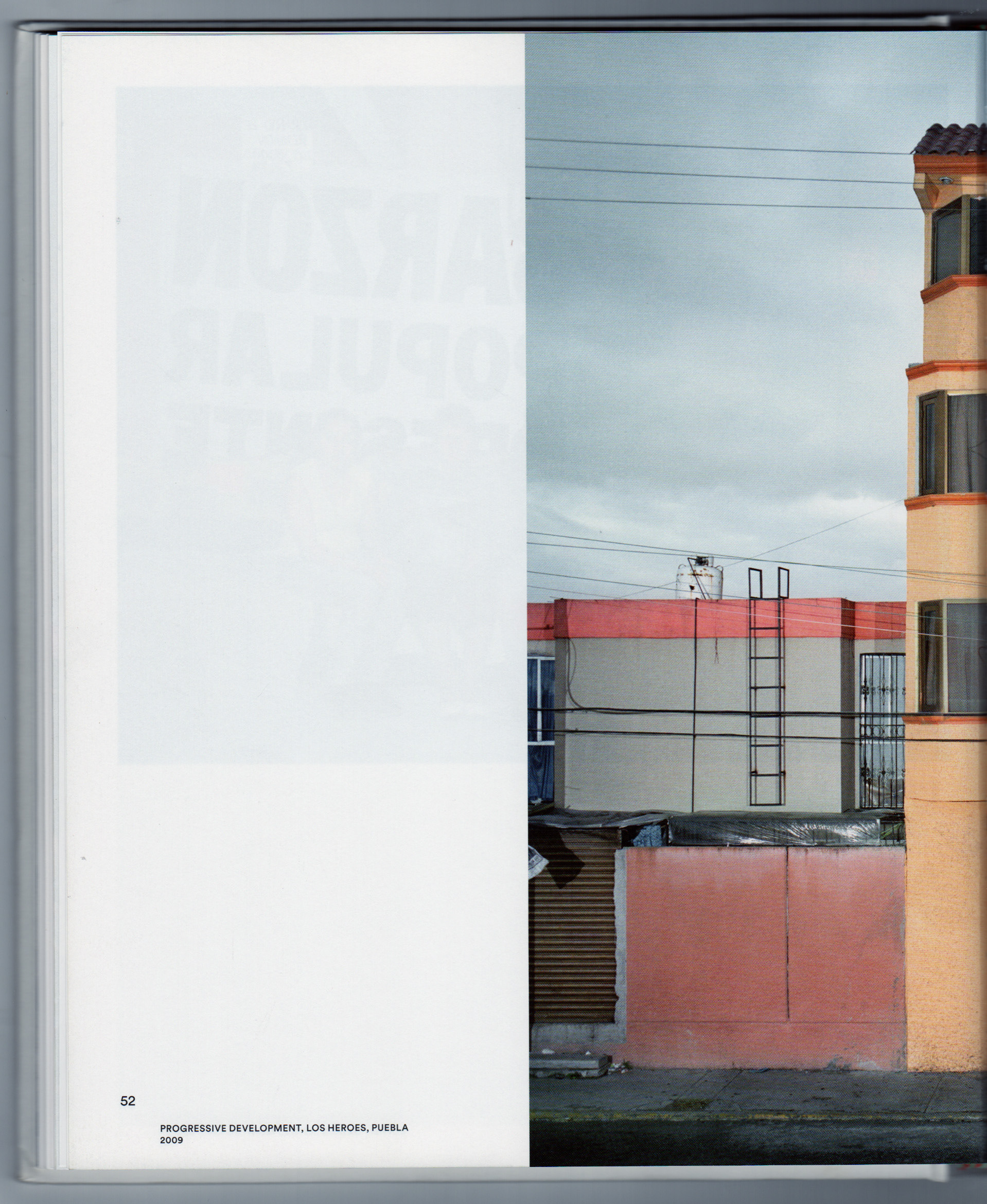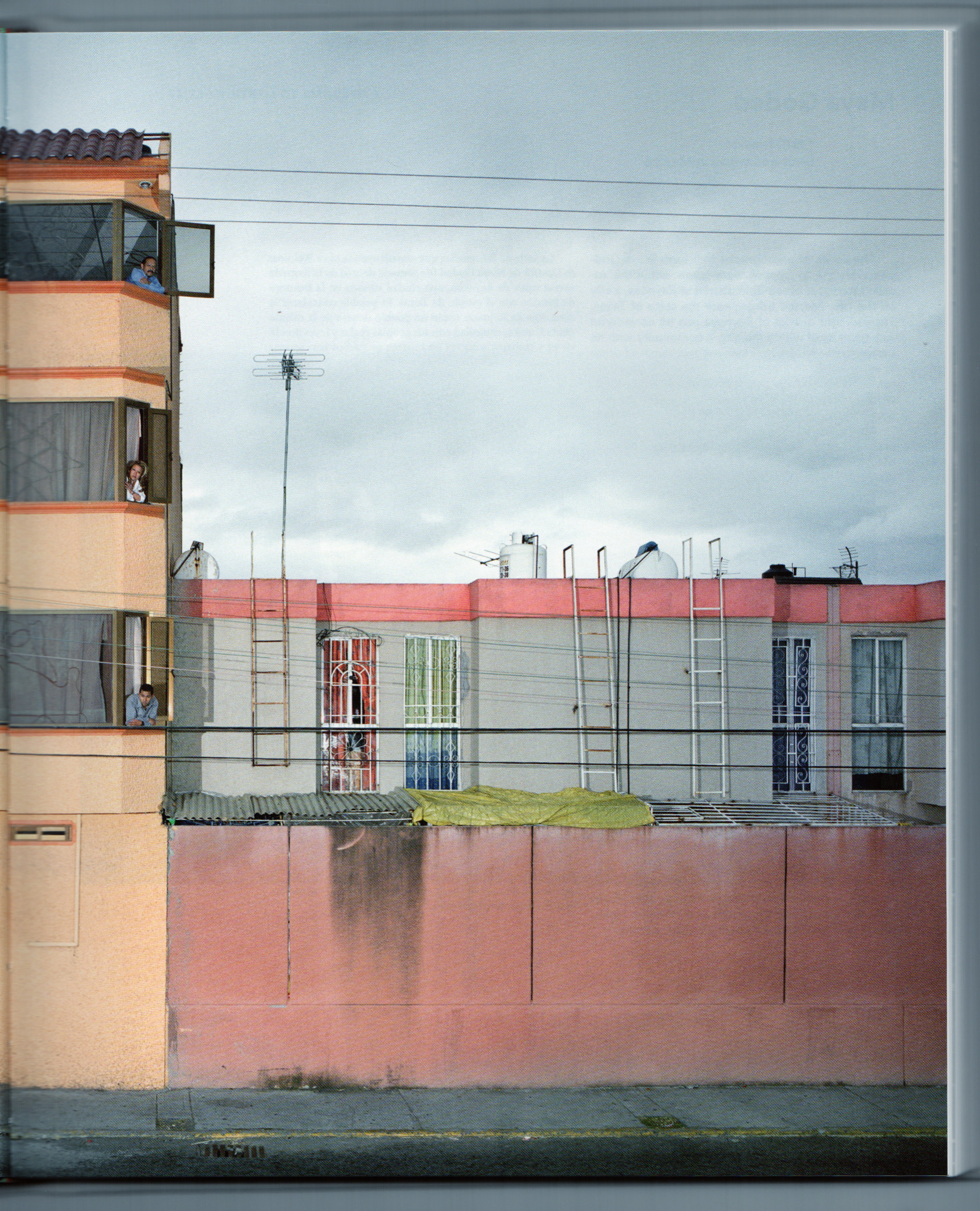 PINAKOTHEK DER MODERNE
 -
ZOOM! PICTURING ARCHITECTURE AND THE CITY - 2015
This catalogue features image series by 18 photographers whose oeuvres focus on forms of architectural photography that are situated beyond the architecture and art markets. Instead, they thematize the social, economic, and political framing conditions of global society and the constructed spaces it inhabits. From depictions of rural idylls in the Upper Palatinate all the way to international megacities, these "to some extent ironic and critical images quite clearly" underscore "the degree of divergence that exists between built reality and the conventional photography of architecture as seen in glossy magazines. The result is an enthralling panopticon that documents the architectural outcomes of political systems and social deficits on the basis of striking image series from around the world." (Margareth Otti in Fotogeschichte 138/2015)
Photographers: Iwan Baan, Roman Bezjak, Peter Bialobrzeski, Lard Buurman, Stefan Canham and Rufina Wu, Nuno Cera, Livia Corona, Nicoló Degiorgis, Jörg Koopmann, Eva Leitolf, Myrzik and Jarisch, Stefan Olàh, Julian Röder, Simona Rota, Andreas Seibert, Wolfgang Tillmans, Fabian Vogl and Tobias Zielony. Edited by: Andres Lepik and Hilde Strobl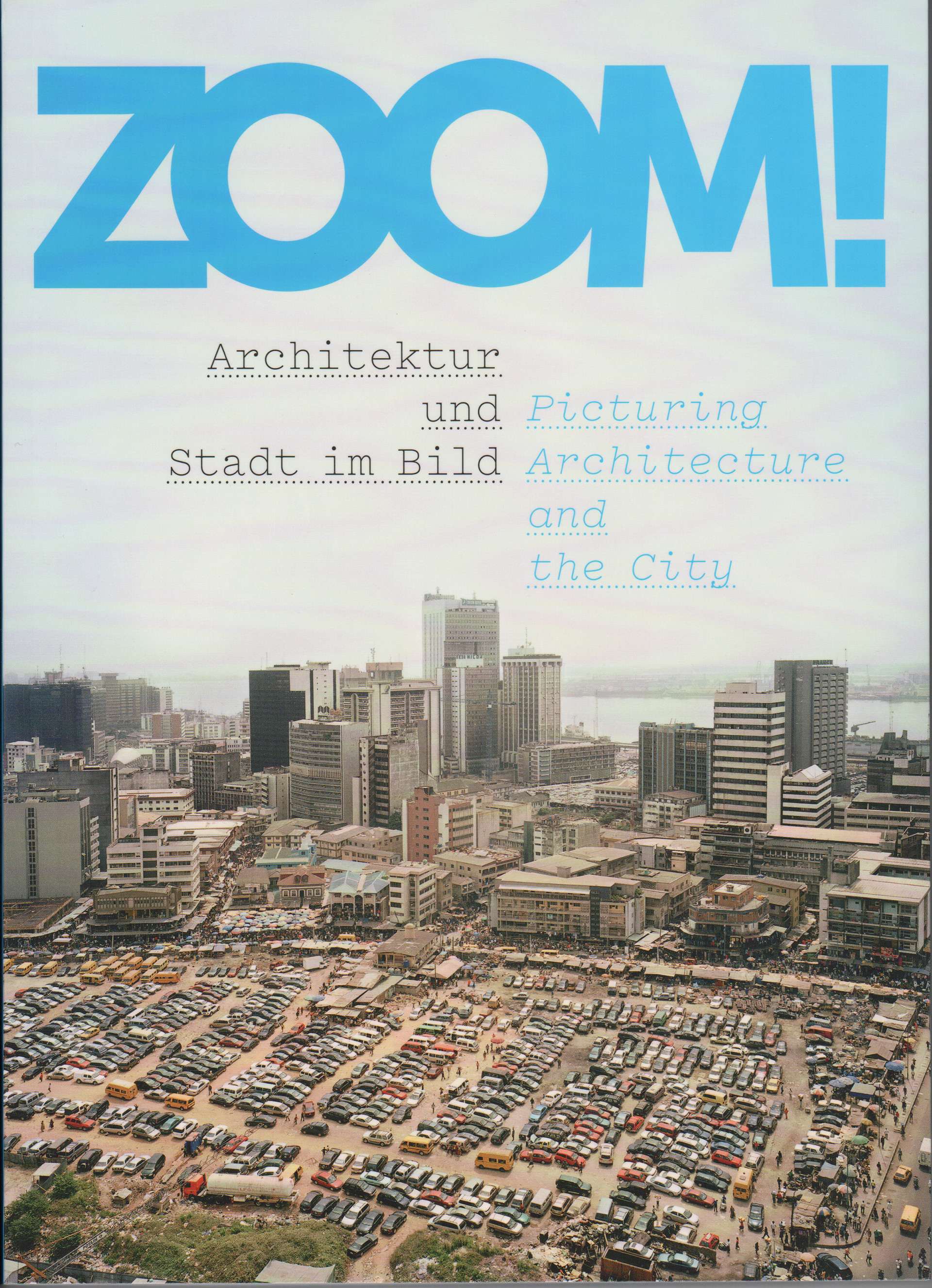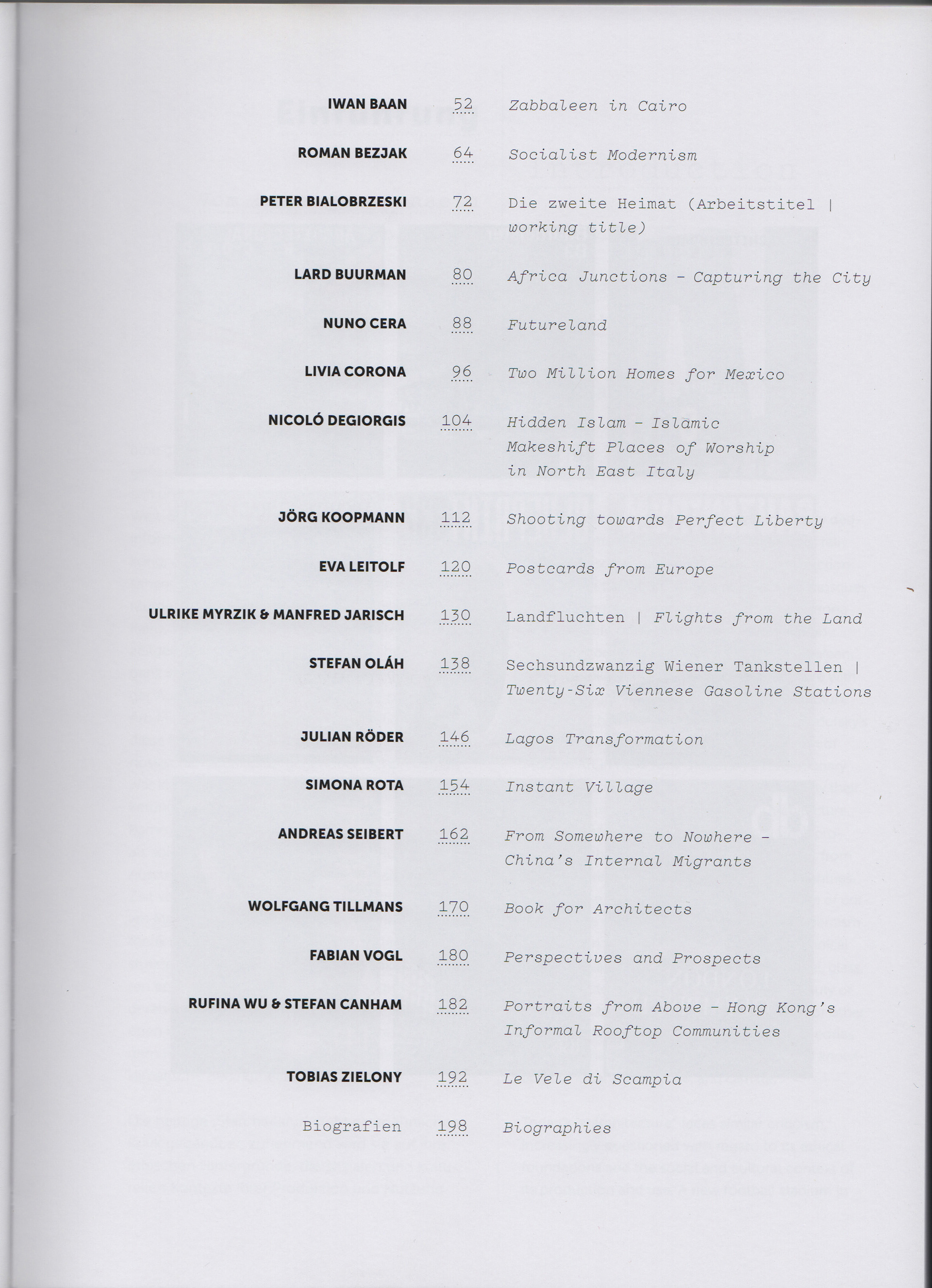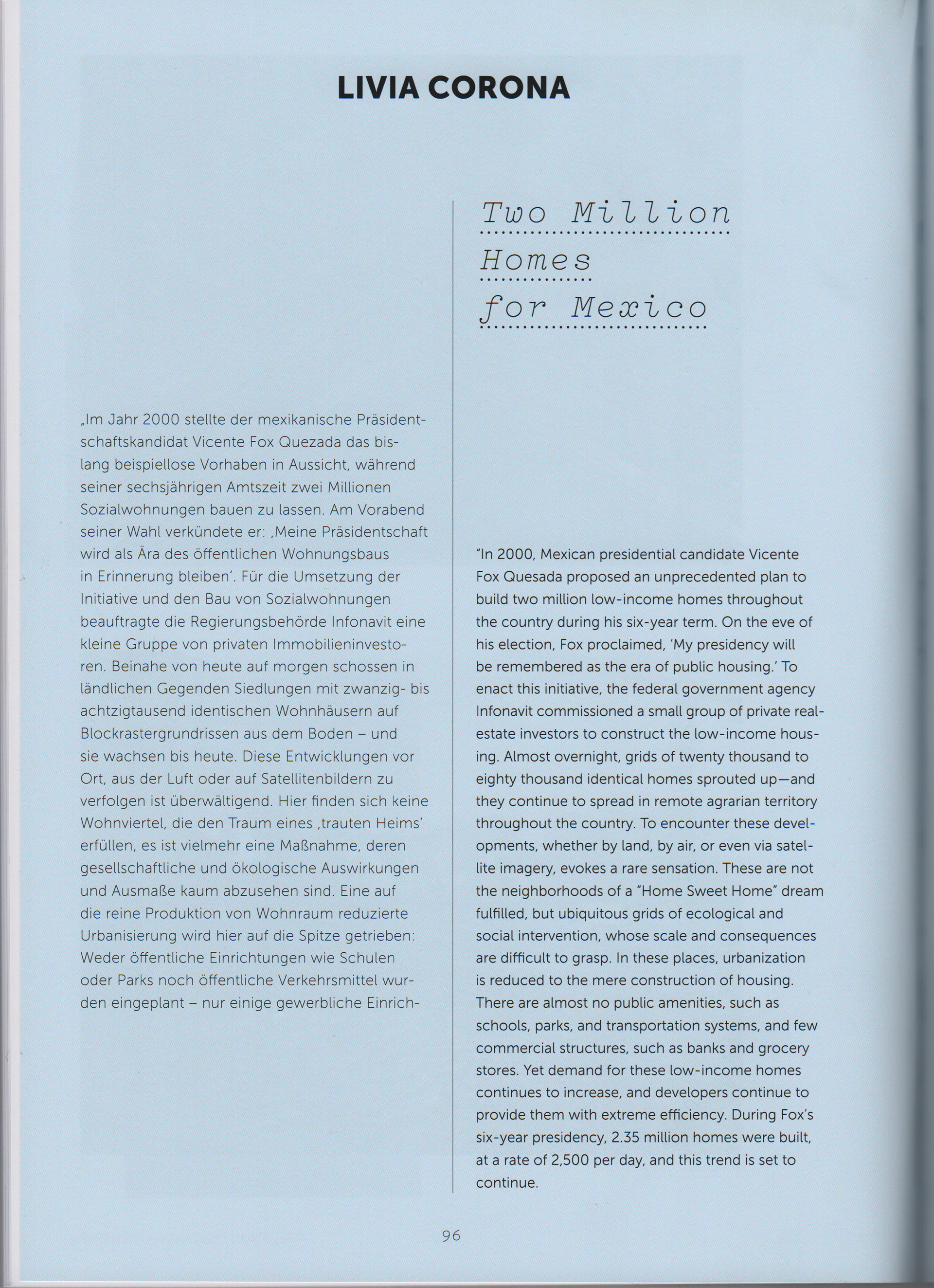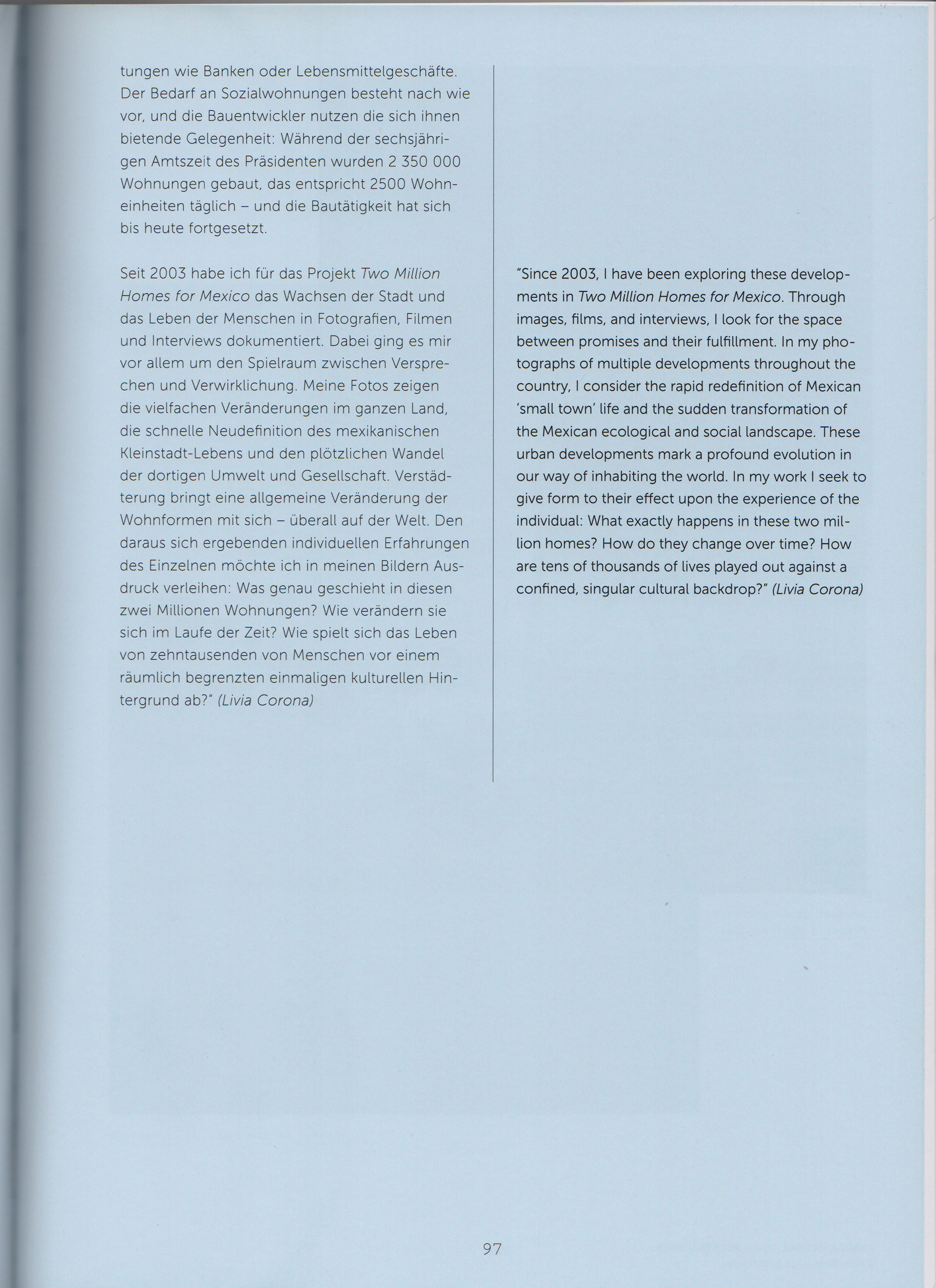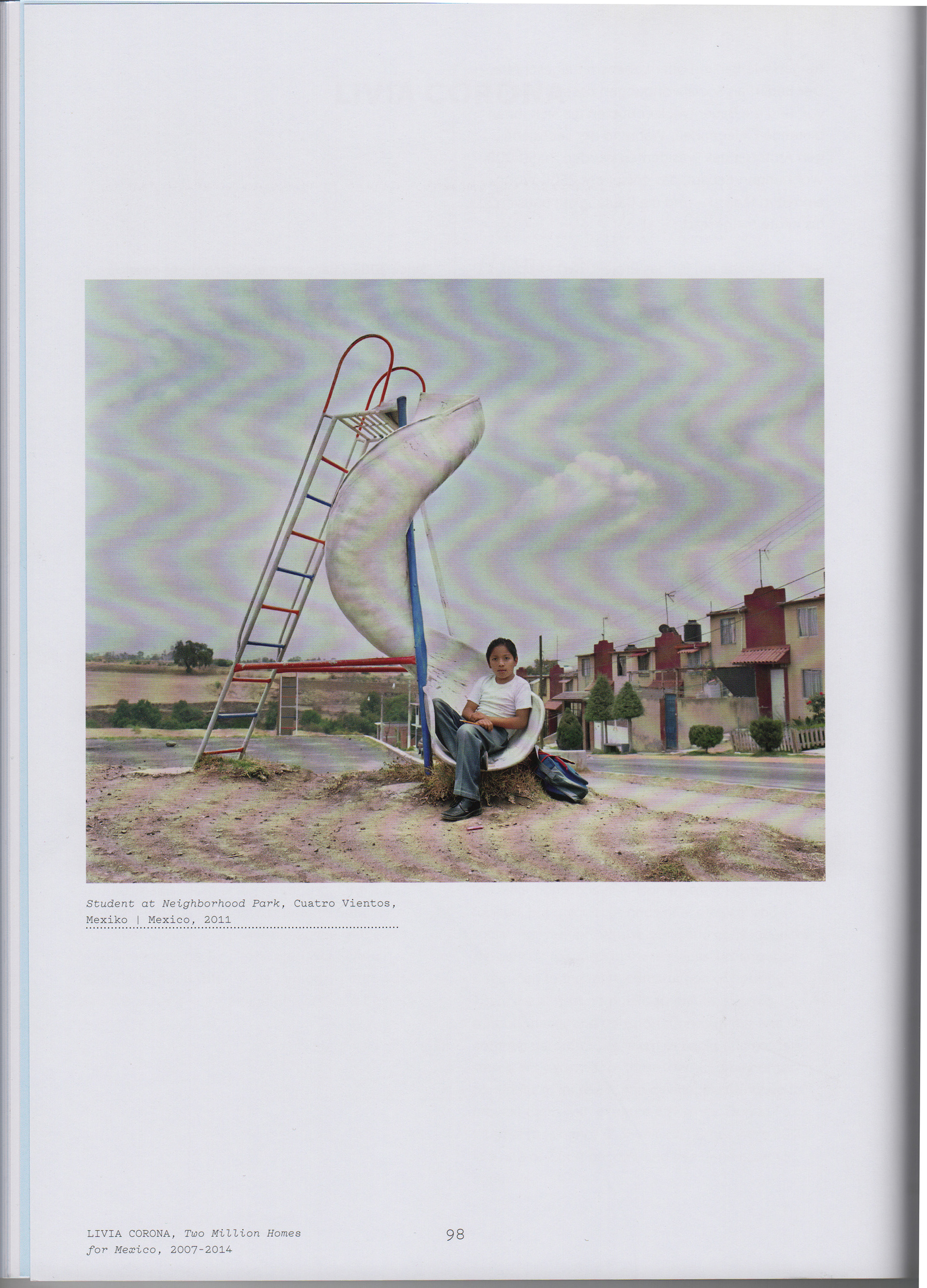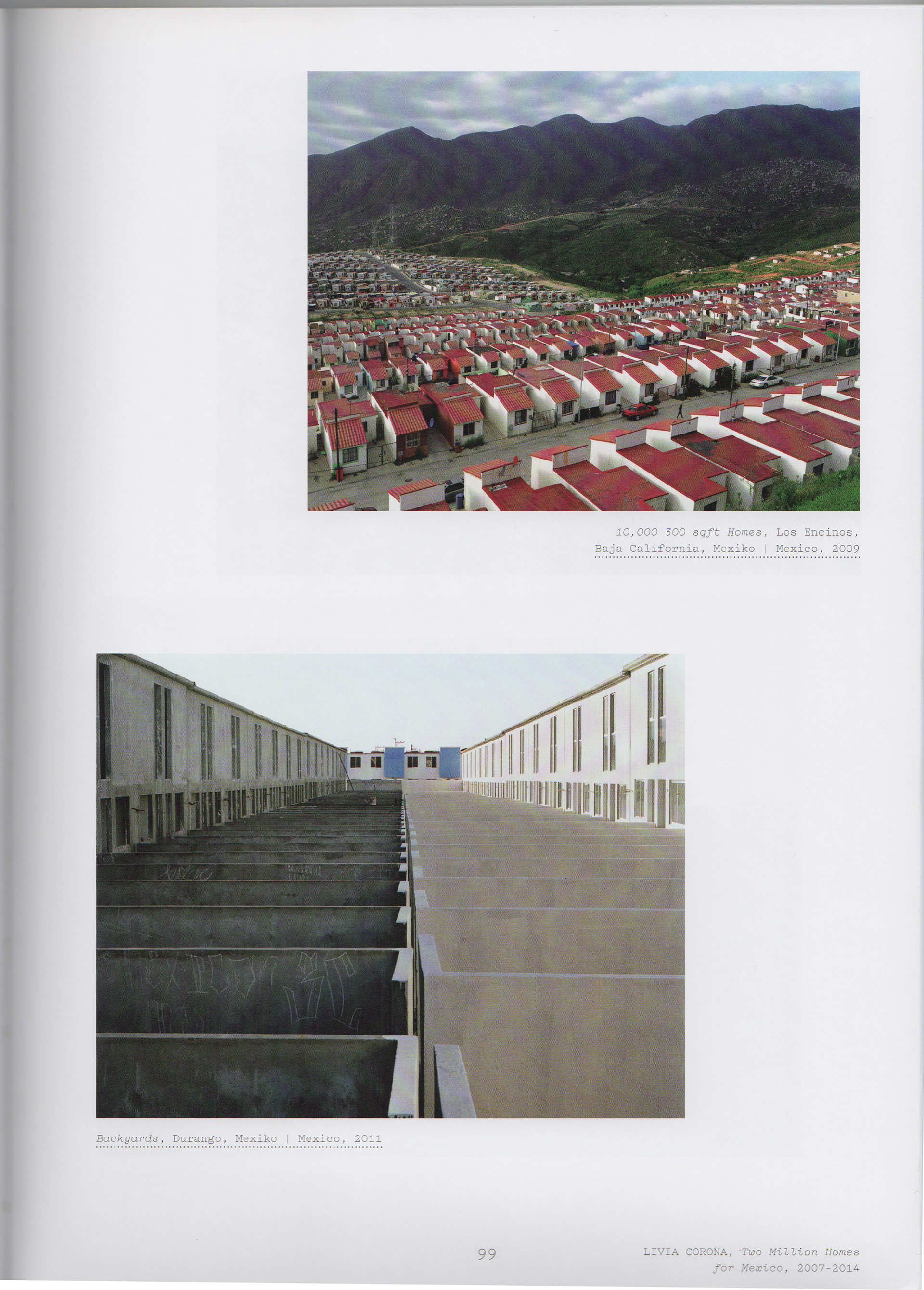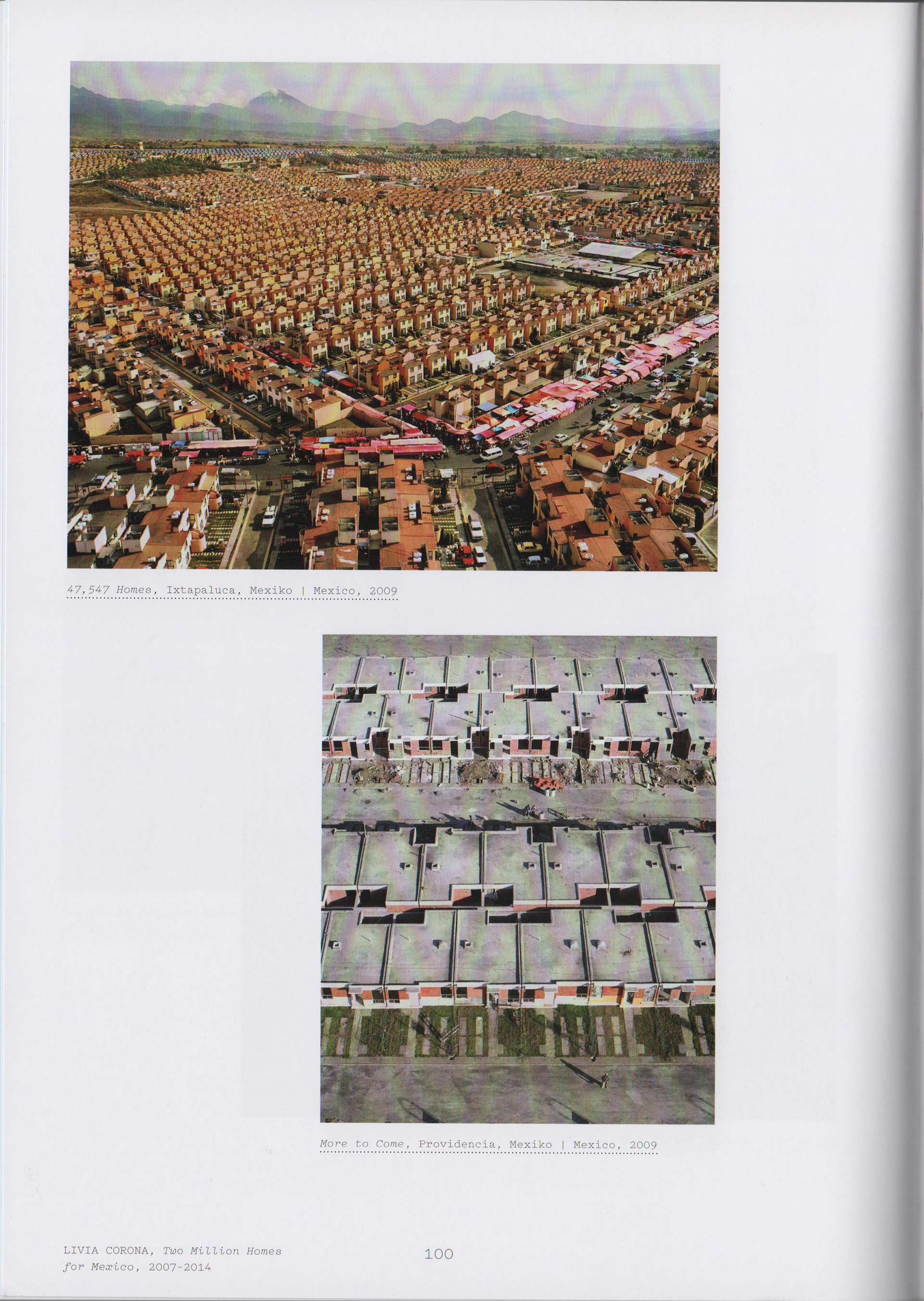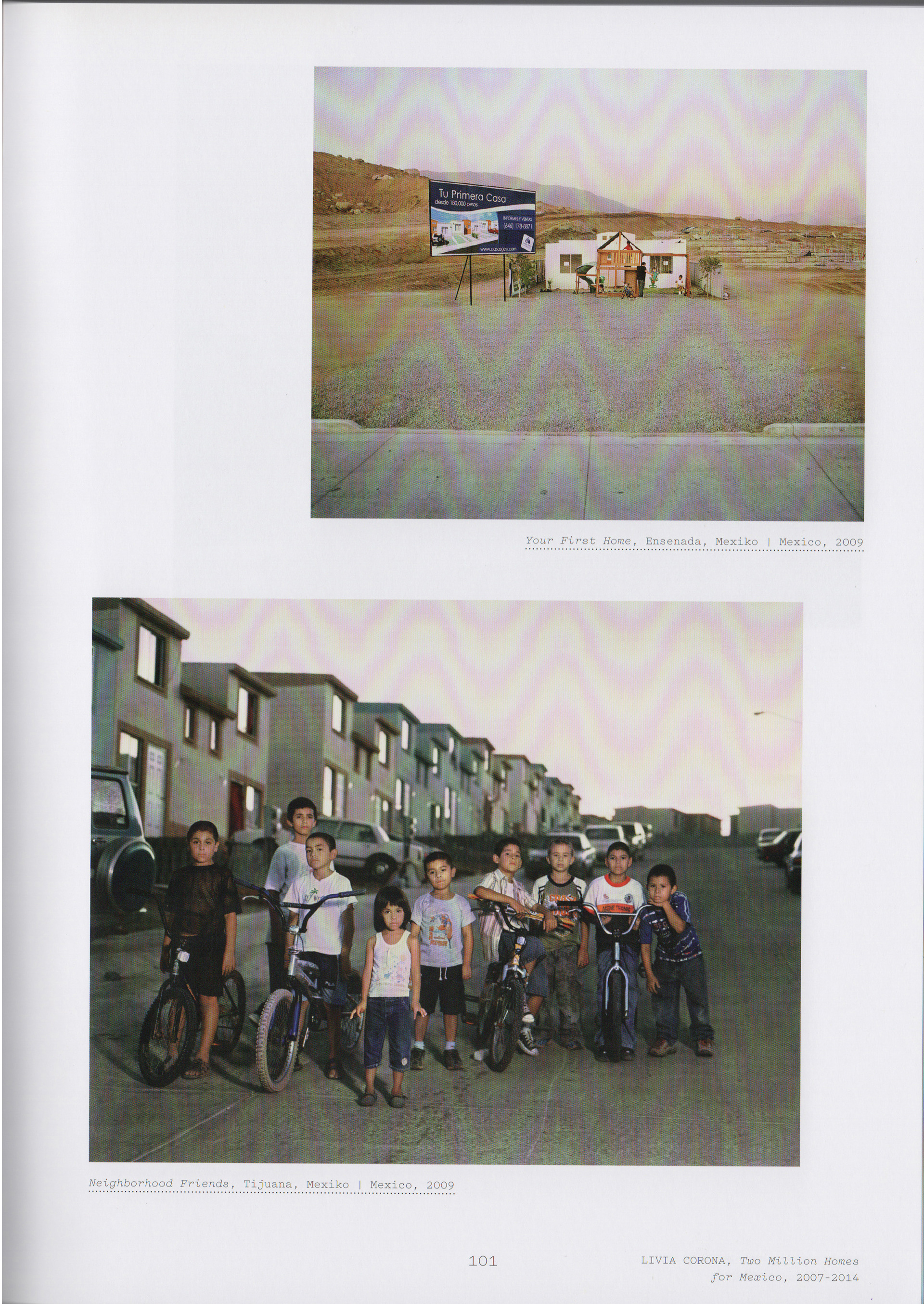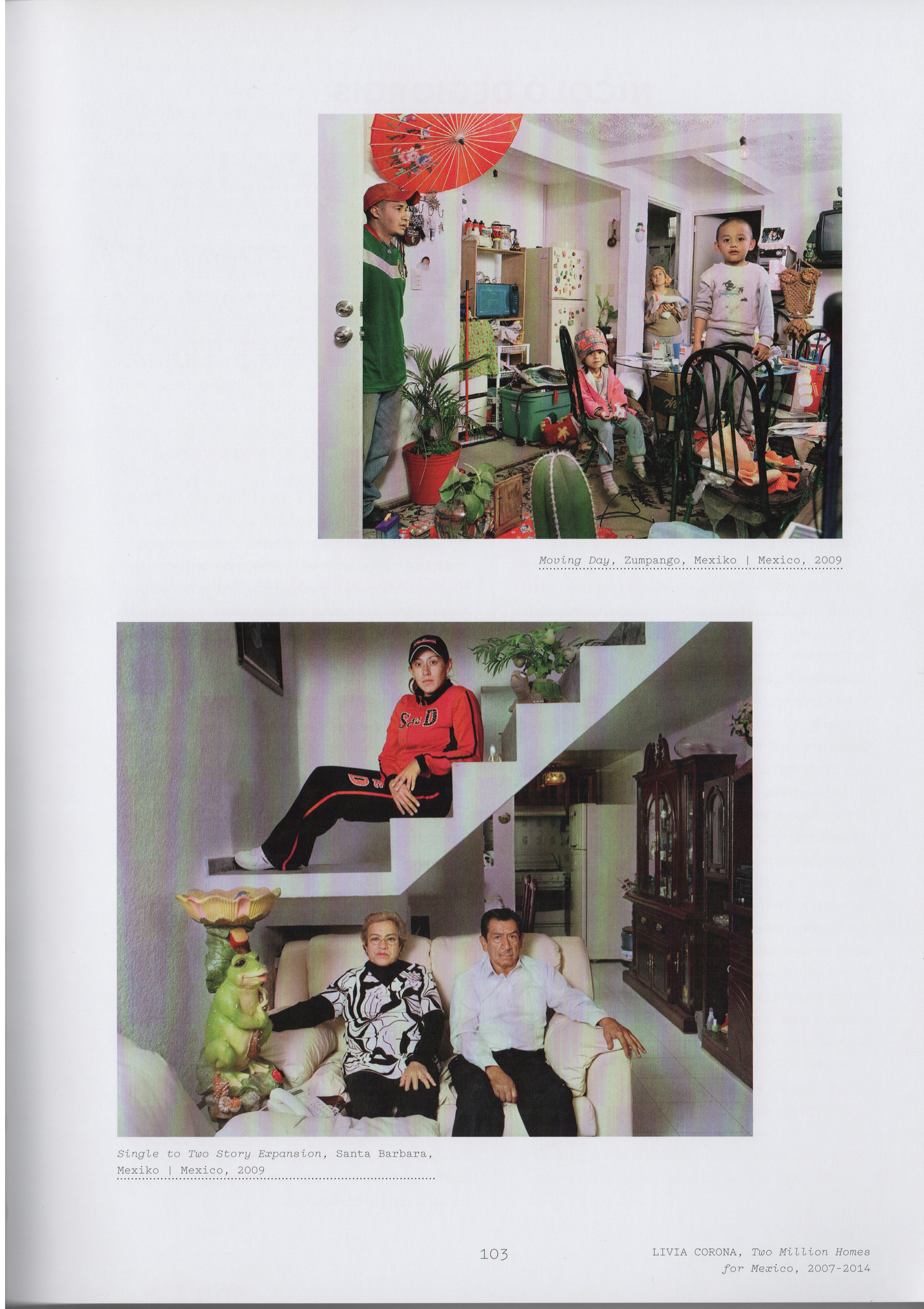 HOUSE IS A HOUSE IS A HOUSE IS A HOUSE IS A HOUSE
- 2016
This is the first book to document the work of Los Angeles-based architects Johnston Marklee. Created in dialog with a group of international artists and architectural critics, this collection of five thematic conversations and residential projects reflects over a decade of Johnston Marklee's architectural explorations and their singular position within the field.
With contributions by: Walead Beshty, BLESS, Livia Corona, Veronika Kellndorfer, Luisa Lambri, Sylvia Lavin, Mark Lee, Marianne Mueller, Jack Pierson, Raymund Ryan, Philip Ursprung, Nicolas Valentini, James Welling, and Sarah Whiting.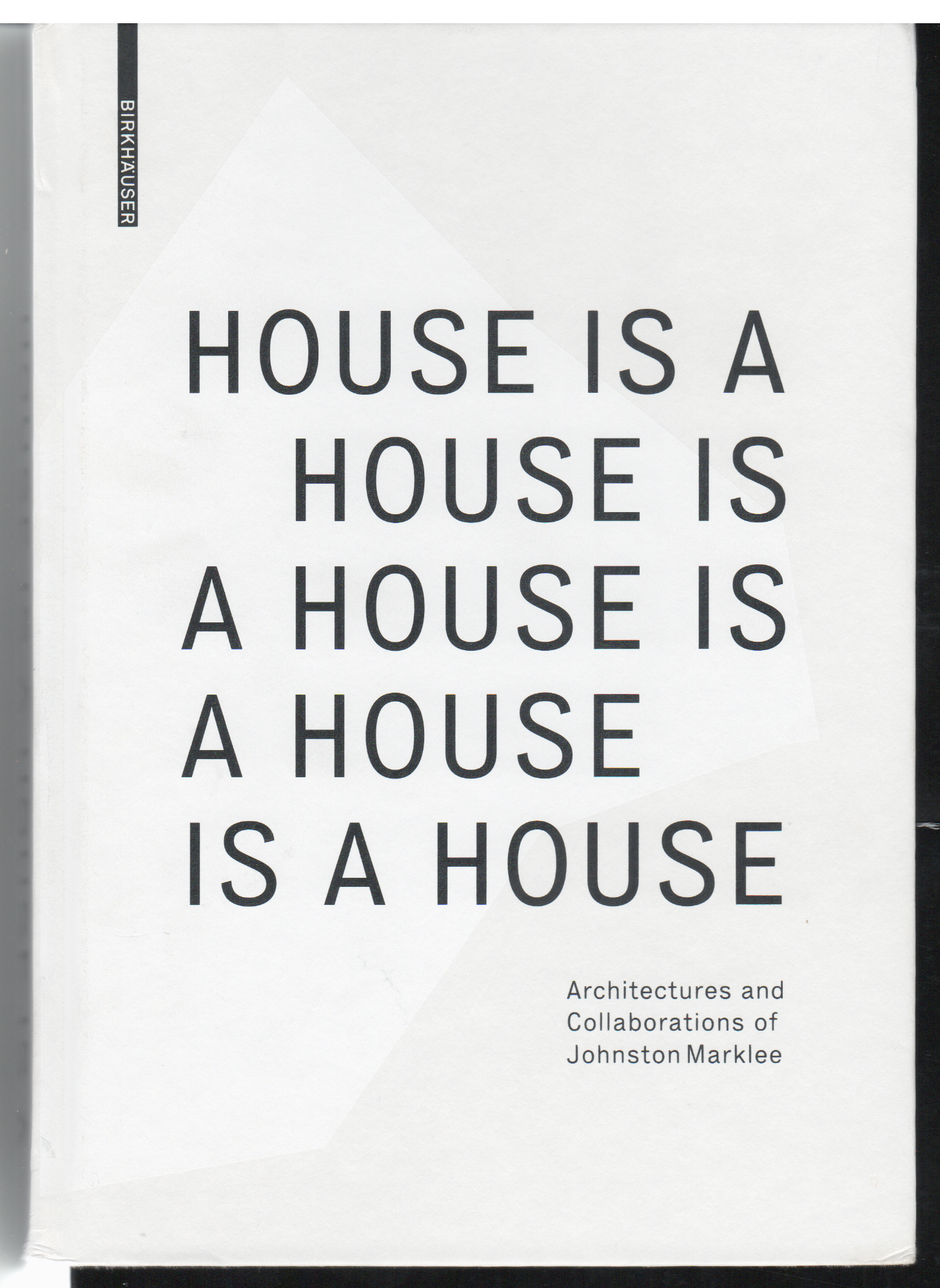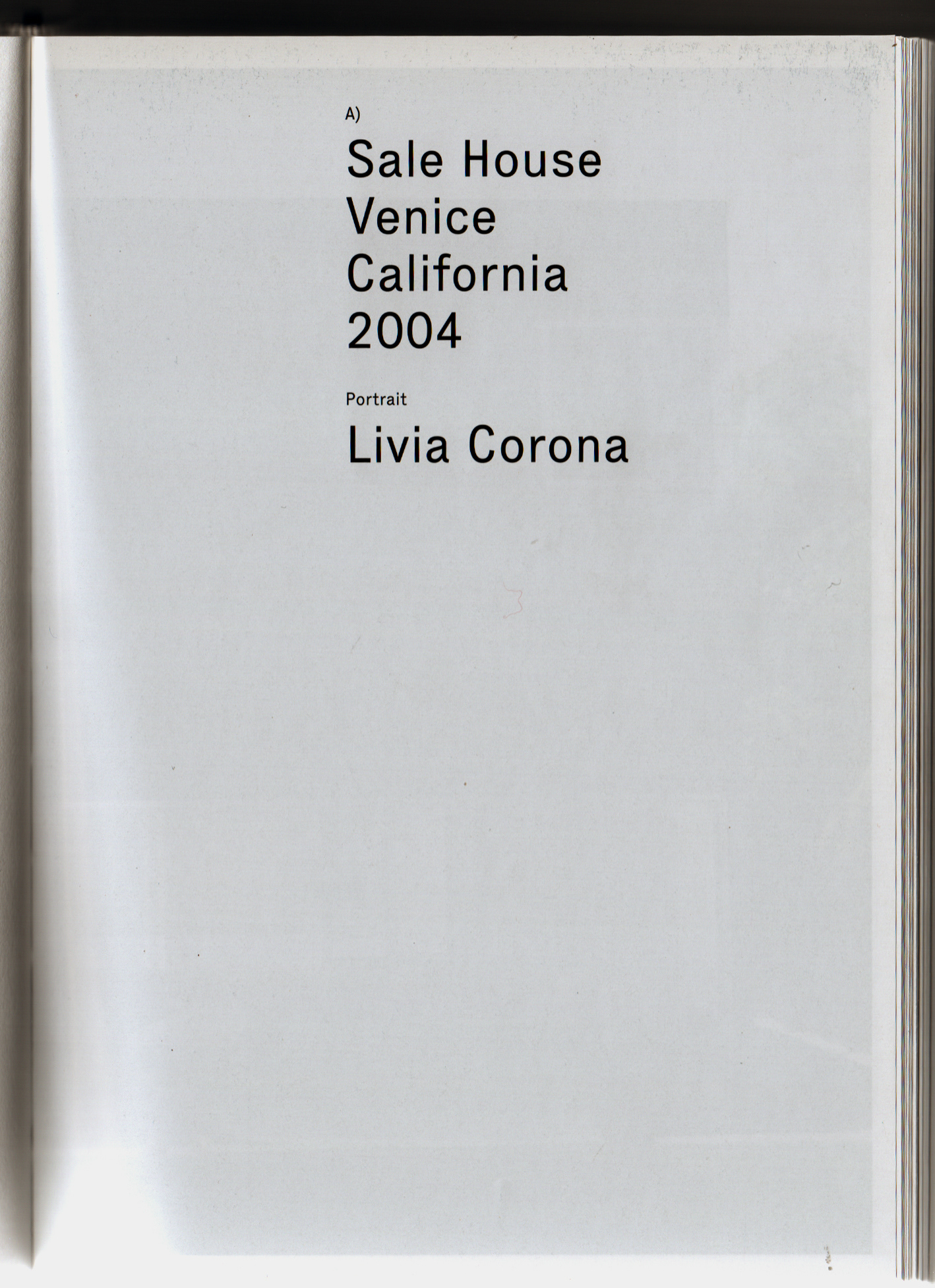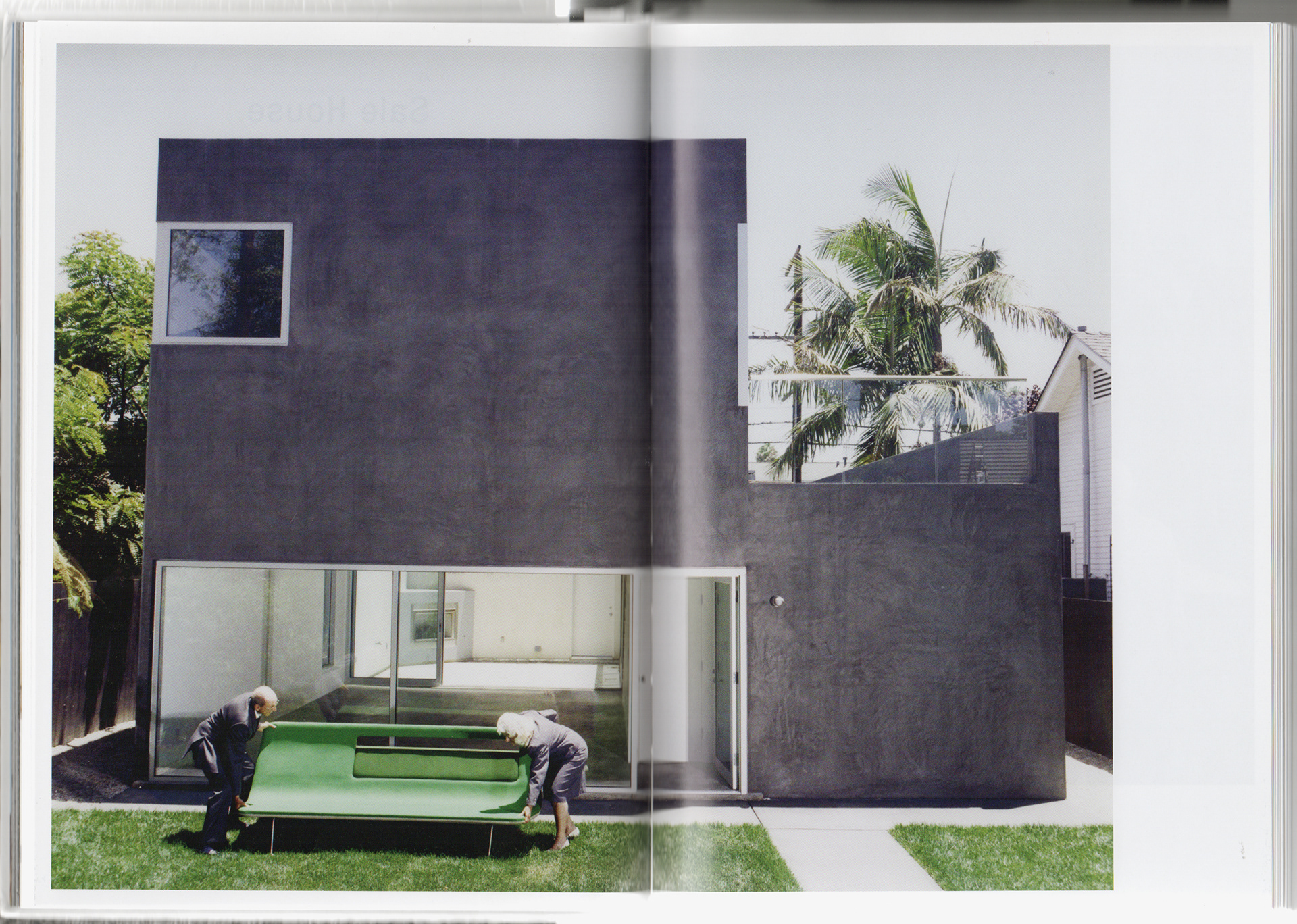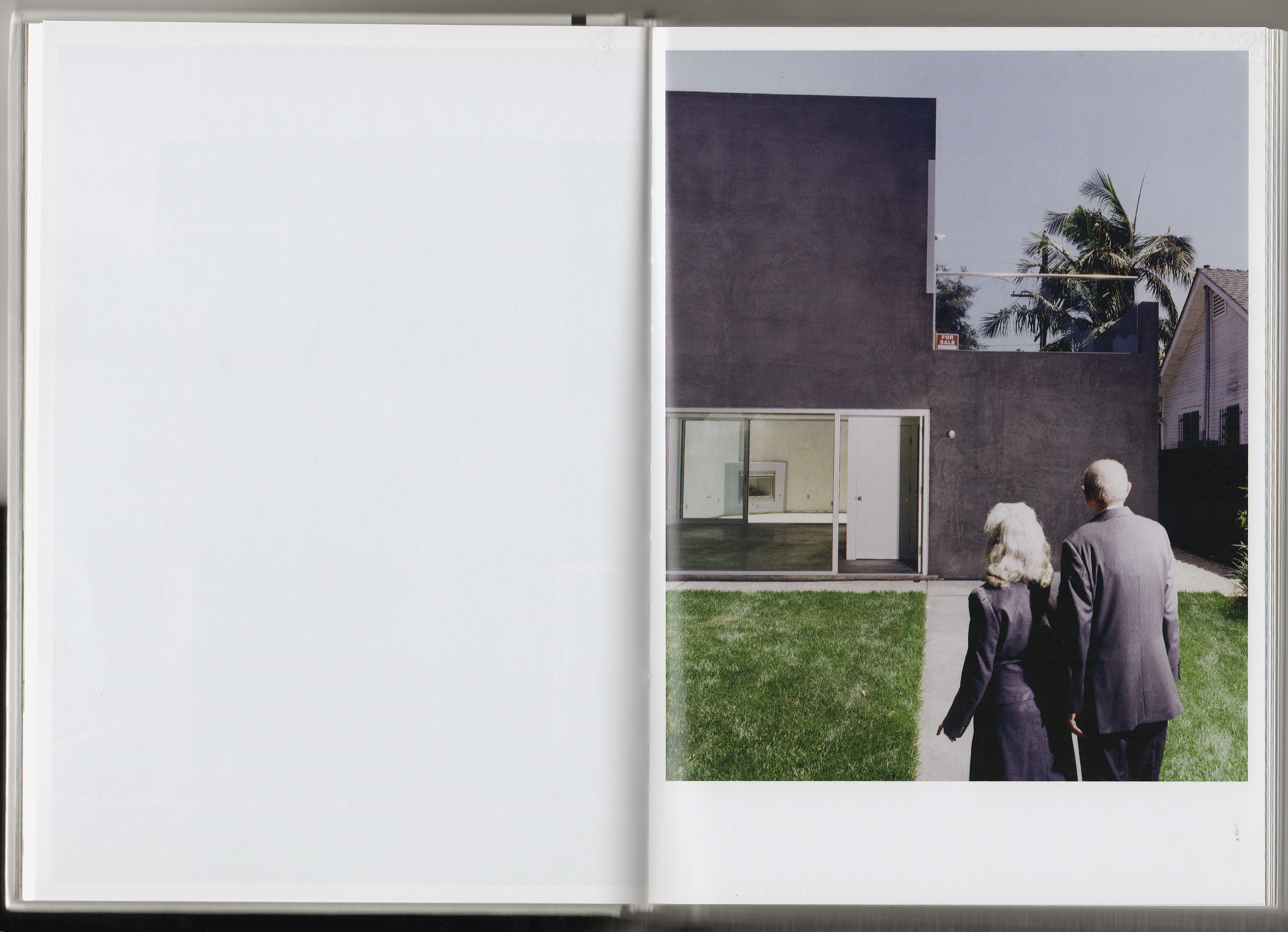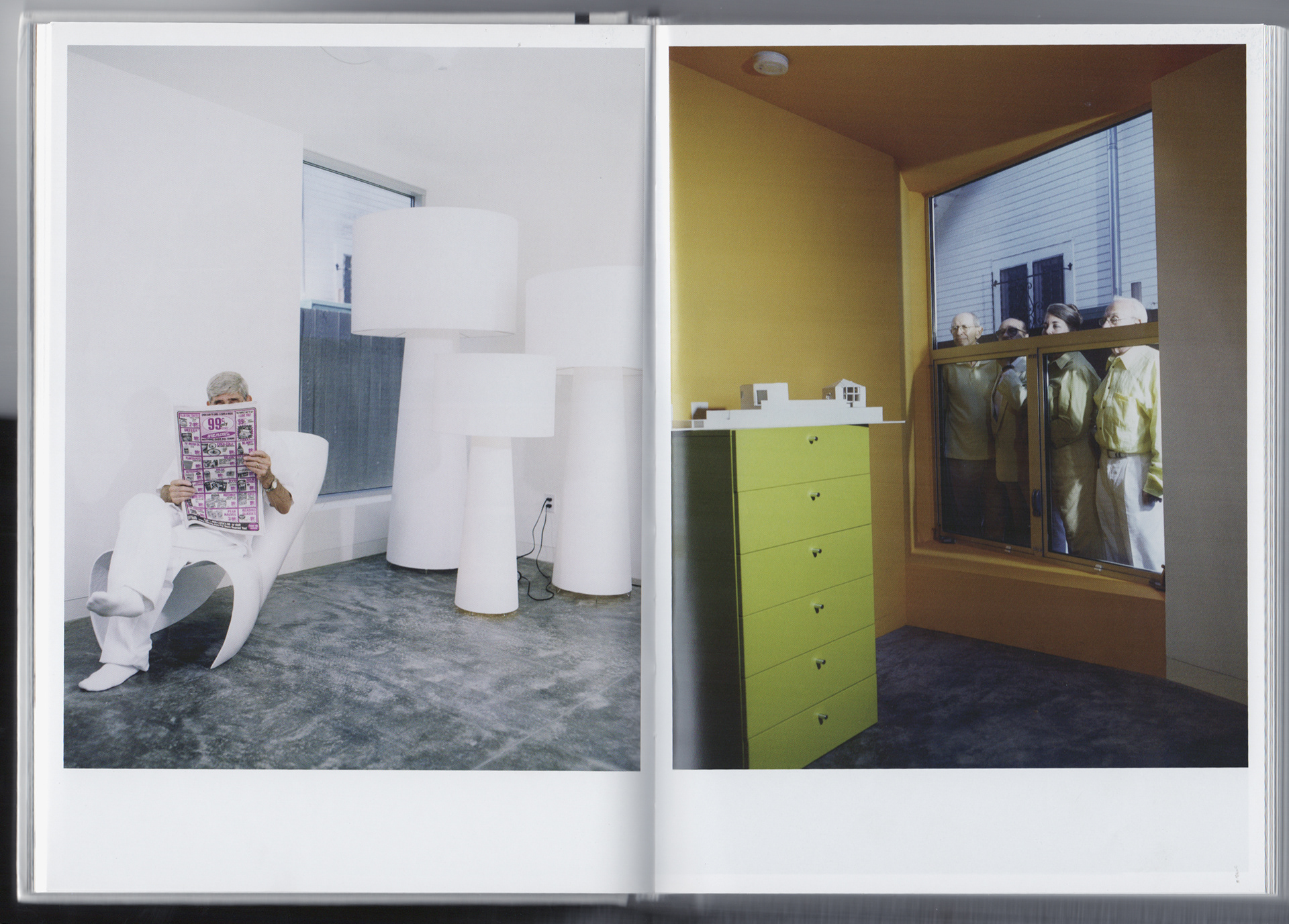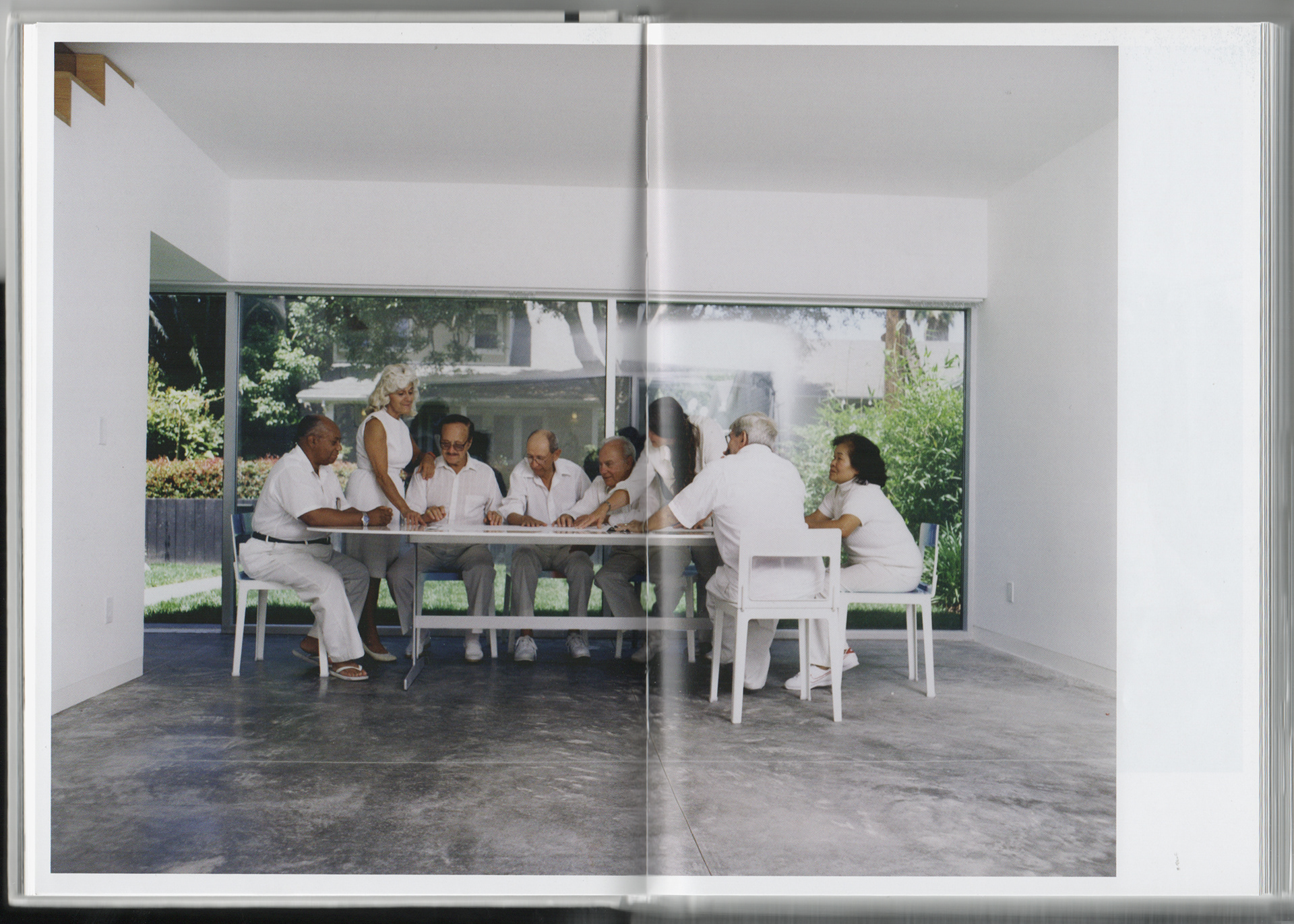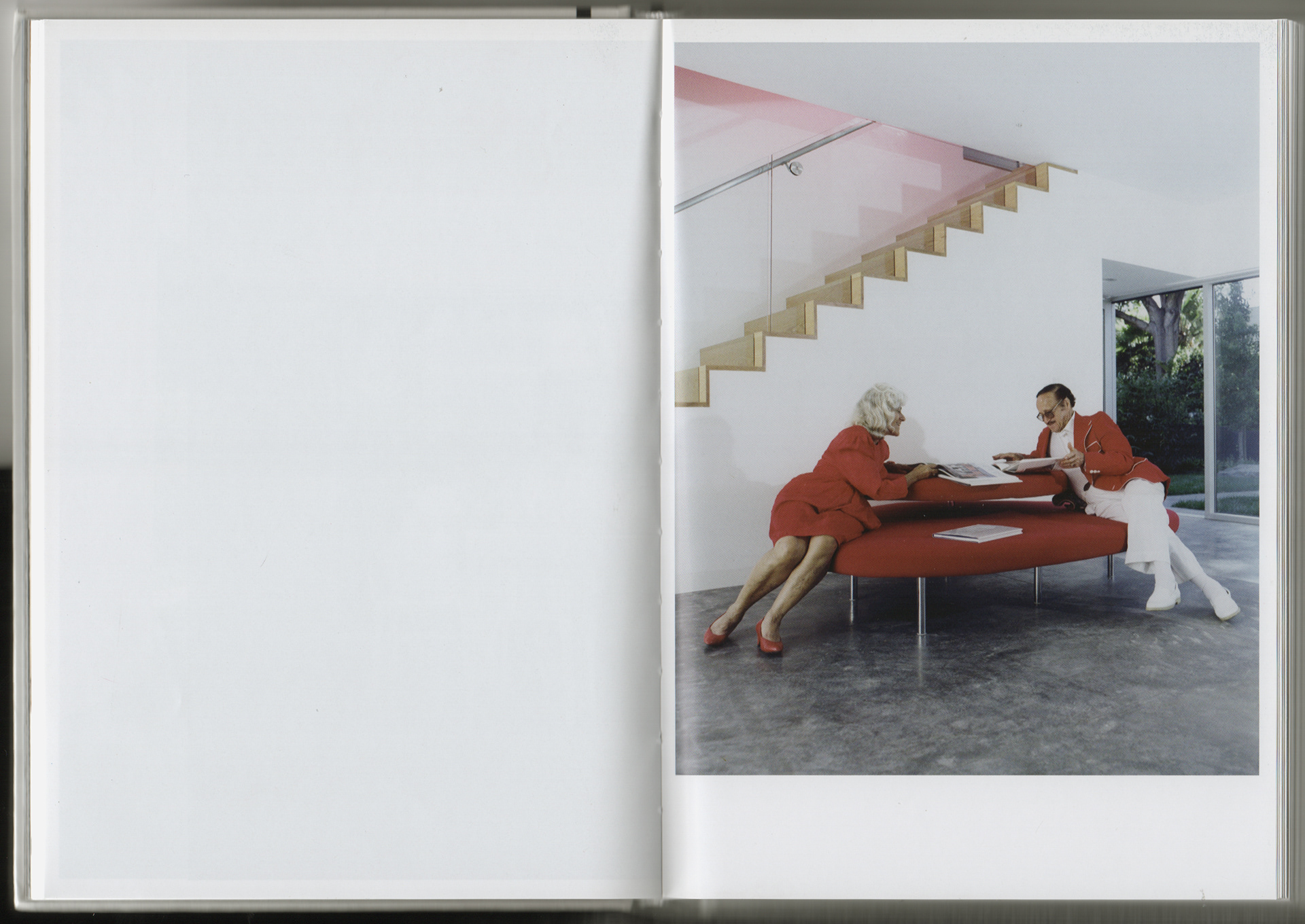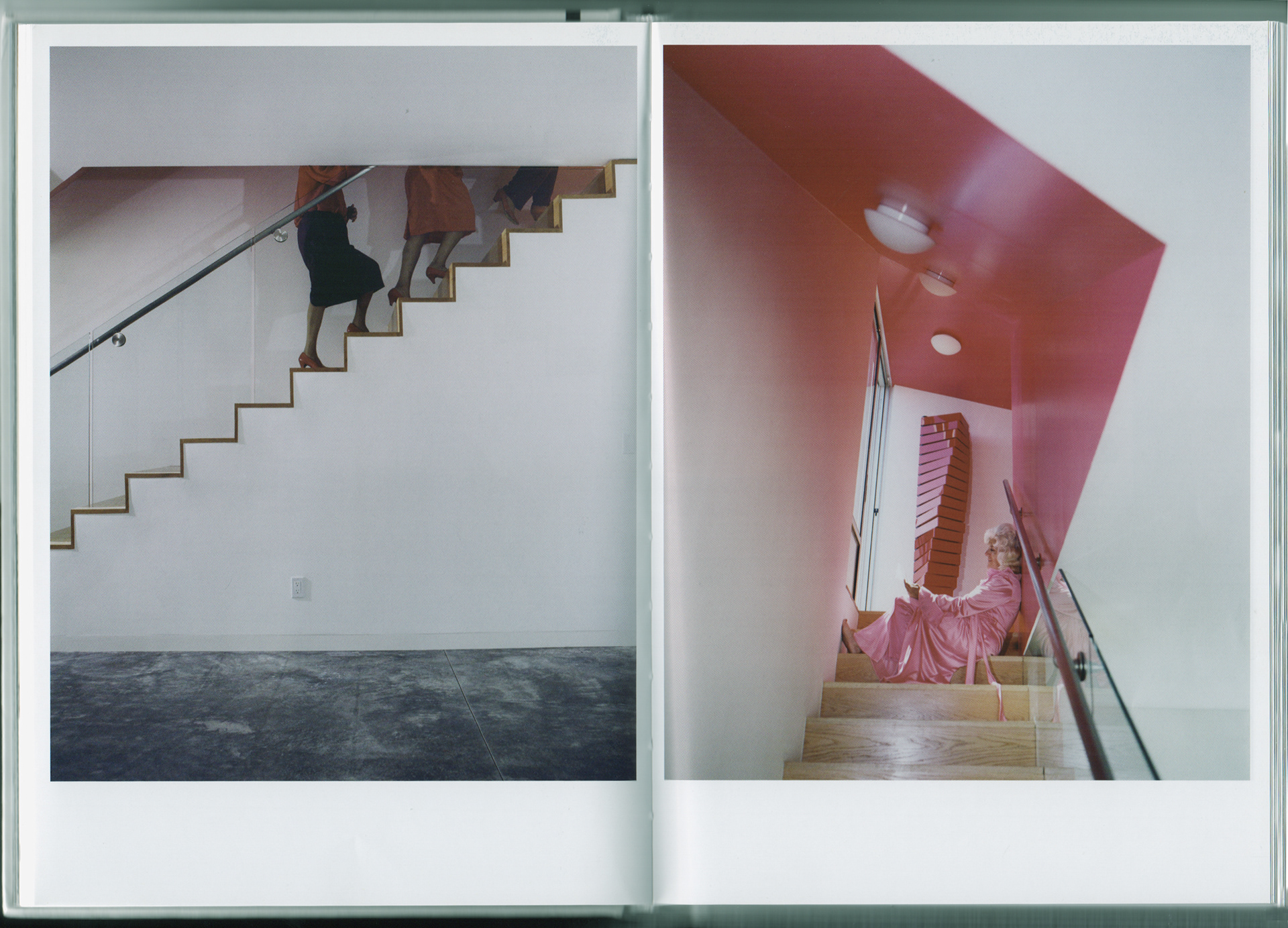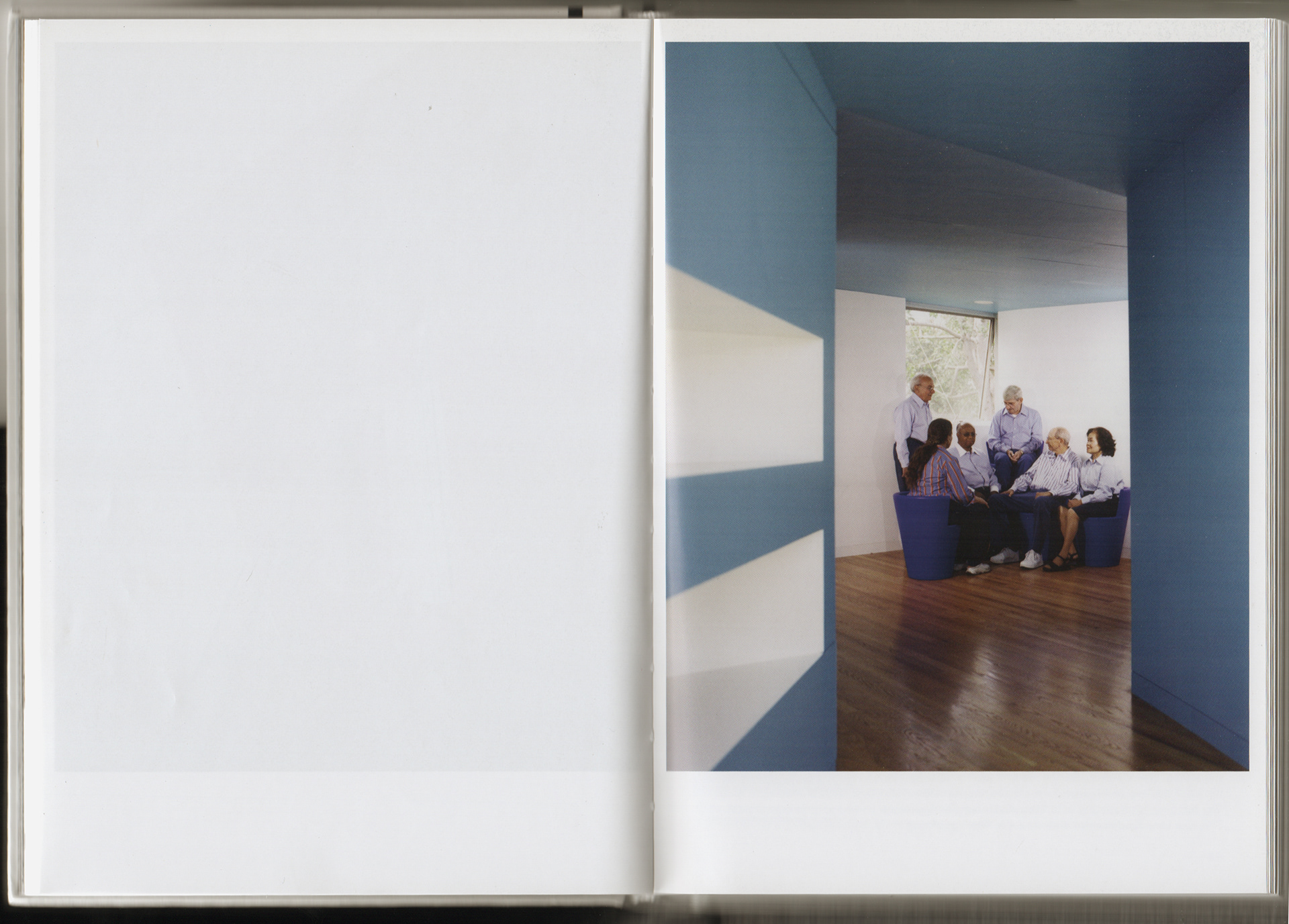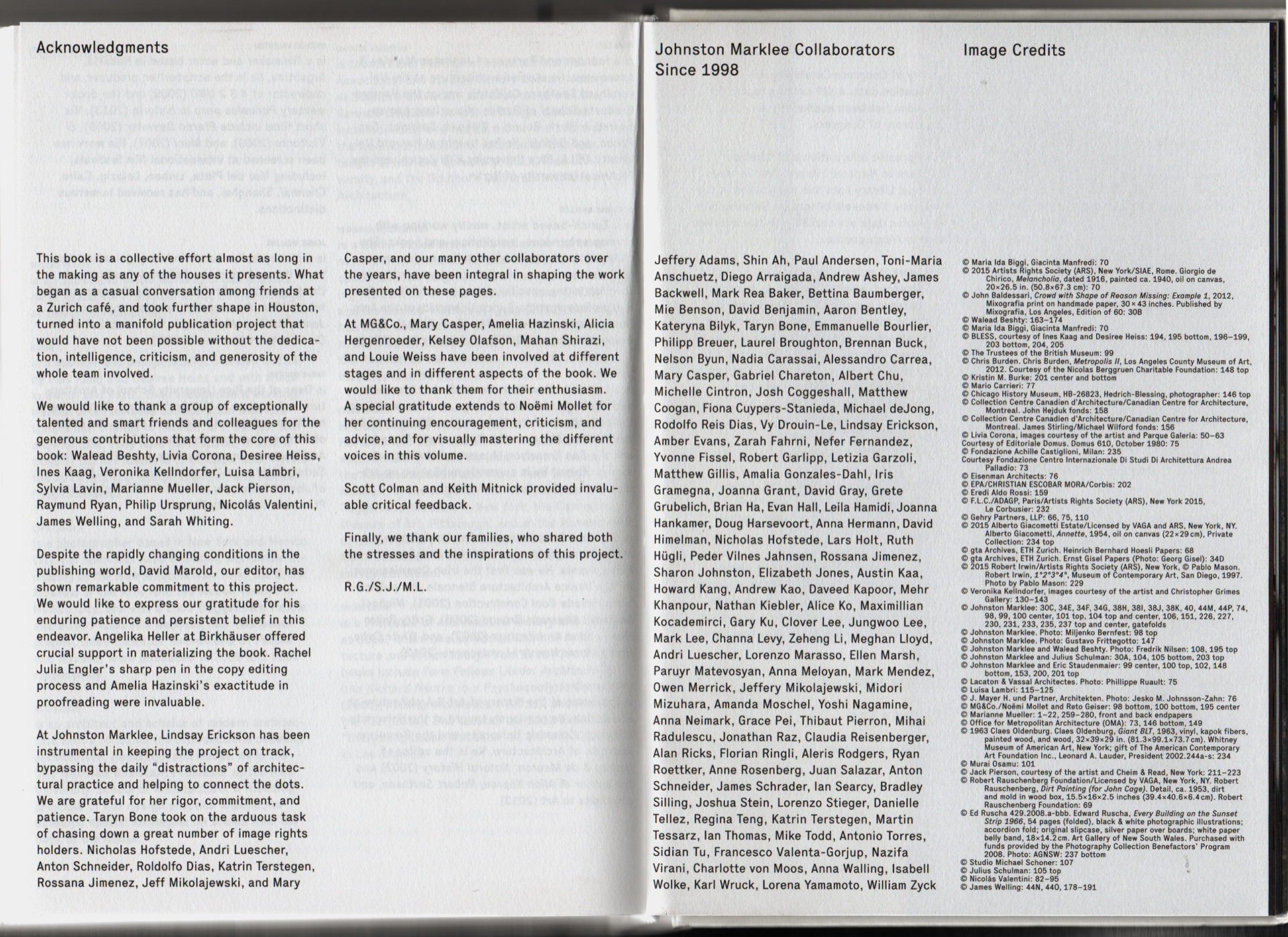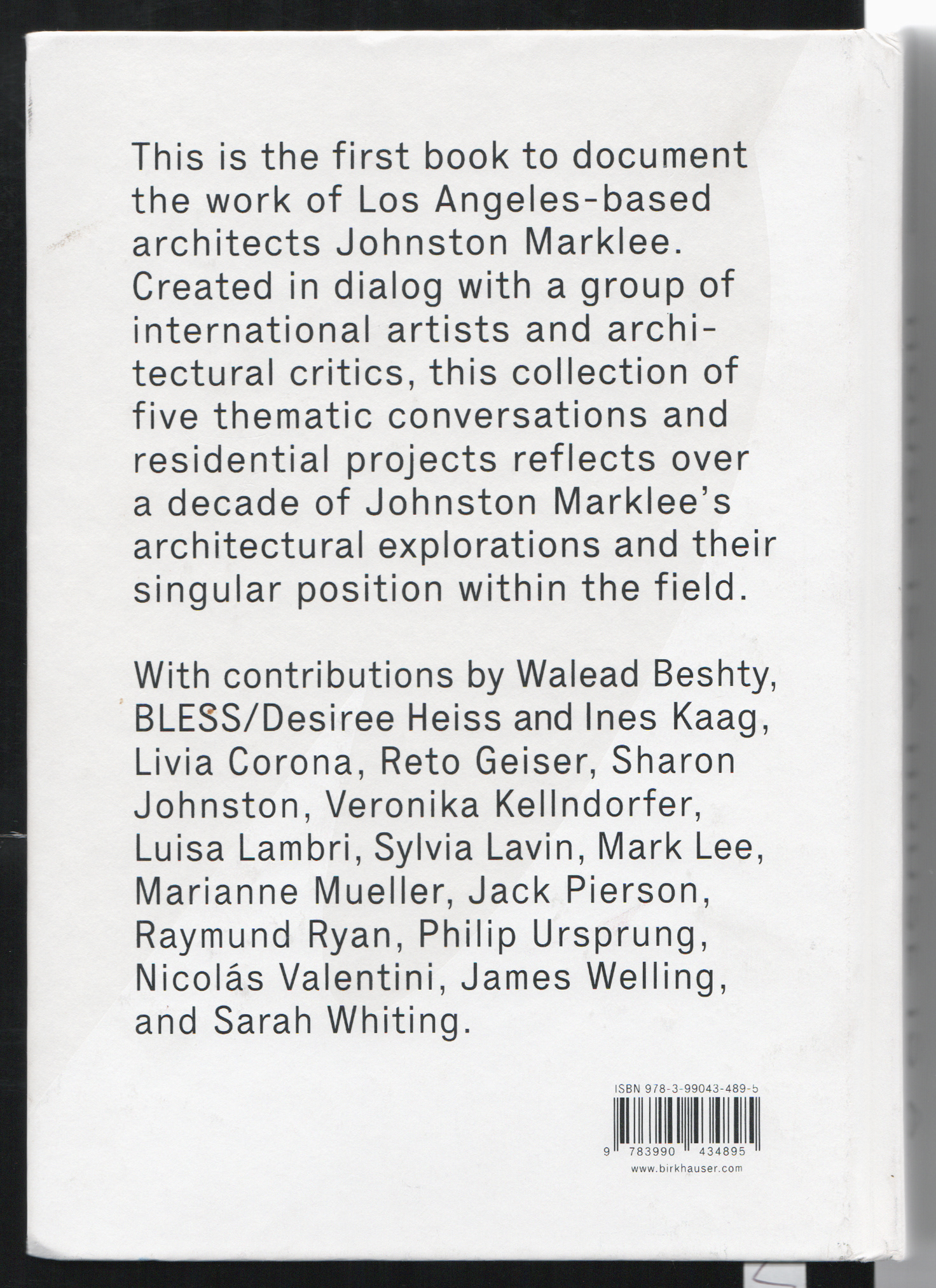 RM / GOETHE INSTITUT MEXIKO
-  MEXIBILITY. WE ARE IN THE CITY, WE CANNOT LEAVE - FEBRUARY 2018
Edited with text by Friedrich von Borries, Moritz Ahlert. Text by Airen, et al. Published by RM/GOETHE INSTITUT MEXIKO
"We are in the city, we cannot leave," wrote Octavio Paz. "The city we all dream, that restlessly changes while we dream it." Mexico City is this immense city, without limits or borders, without beginning or end, without center or periphery, in constant change. Almost everything in Mexico City appears to be connected to mobility: the people, the things, the thoughts are always in movement. Mobility plays a role everywhere in the city, extending far beyond the mere passage from A to B, a mobility that appeared to be deeply rooted in the essence of the city. "The city that wakes every hundred years […] doesn't recognize itself and goes back to sleep."* 
Mexibility is an artistic research, intervention, and exhibition project on mobility in Mexico City curated by Friedrich von Borries and Moritz Ahlert. Mobility is not just conceived of as physical movement in the city, it also encompasses historical, social, economic, and ecological phenomena. Throughout the Dual Year of Germany in Mexico seven artists from Germany have been investigating these topics and created interventions with local partners in Mexico. A concluding exhibition in Casa del Lago, co-curated by Victor Palacios, brought all of these interventions together with art works by Mexican and German artists, opening up important associative spaces with respect to mobility. Another important component of the project are the cartographies created by Moritz Ahlert. Maps are instruments of navigation and conquest, surveillance and investigation. Here, they do not appear as repositories of hegemonic knowledge but speculative instruments that oscillate between objective measurability and artistic interpretation. 
Interventions, exhibition and publication have been realized with contributions by, amongst others, Armin Linke, Sebastian Quack, Folke Köbberling & Arturo Hernández, Christoph Faulhaber, Miguel Monroy, Marjetica Potrč & Design for the Living World, Michael Sailstorfer, Marcela Armas, Karin Sander, Tobias Zielony, Joshua Jobb, Moris, Isabelle Schad and Jesko Fezer & Public Design Support. 
The publication Mexibility, We are in the City, we cannot leave (Editorial RM) comprises all these different perspectives and complements them with essays and by, among others, Martha Schteingart, Diane Davis or Juan Villoro as well as photo series by, for example, Pablo López Luz, Livia Corona and PJ Rountree.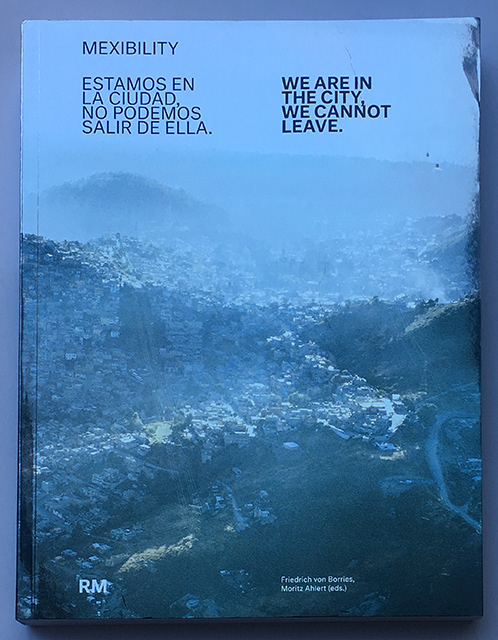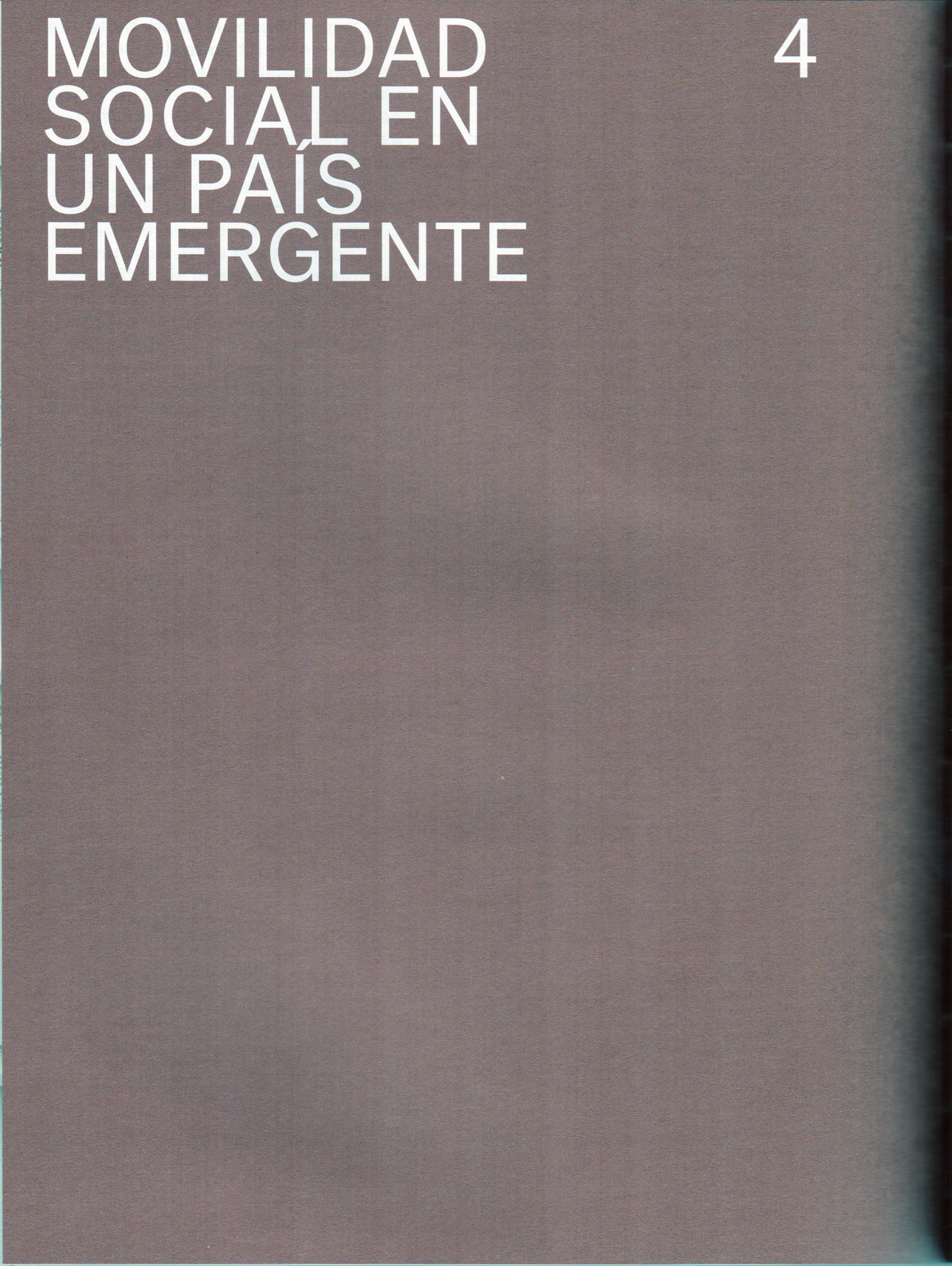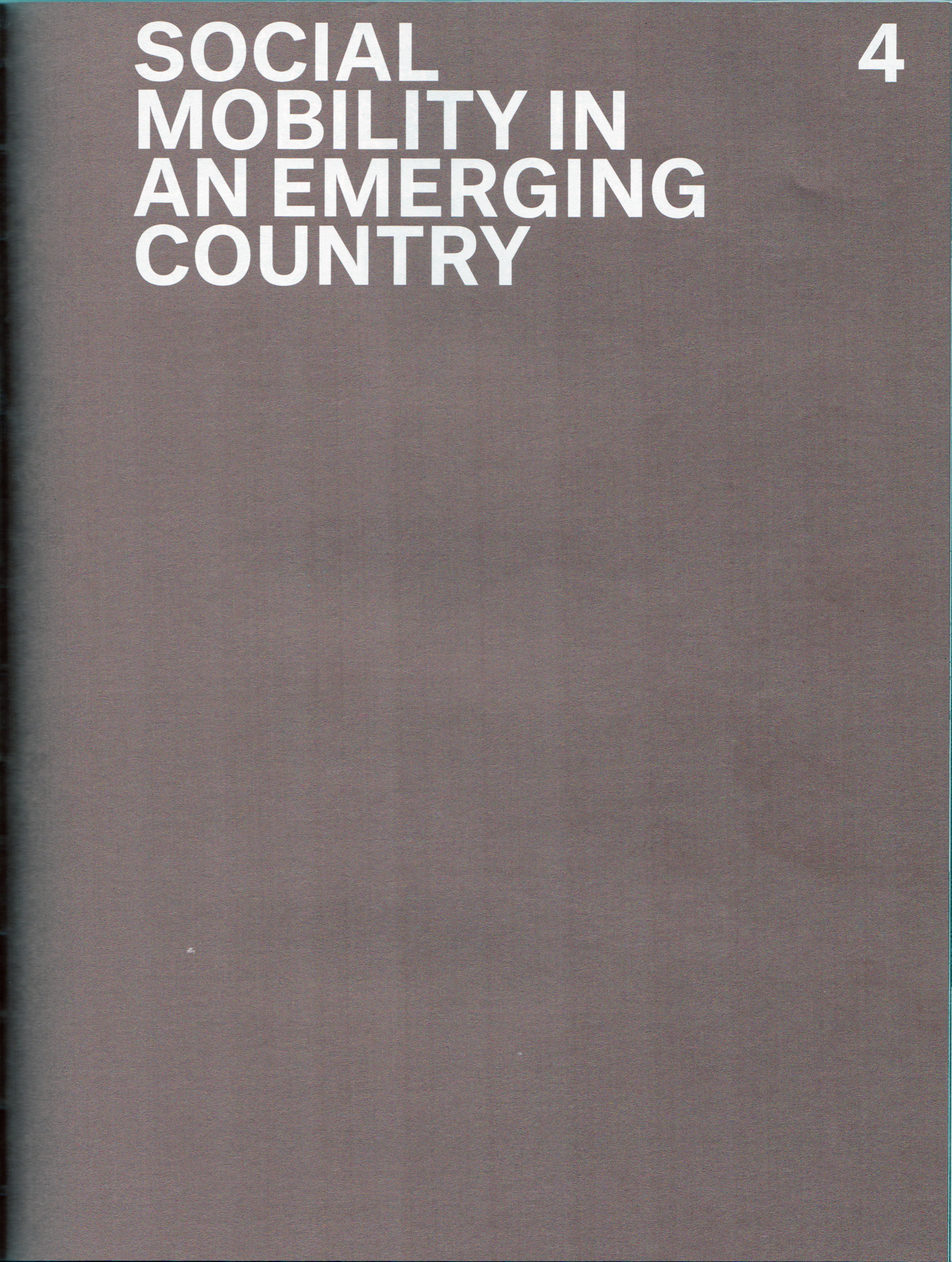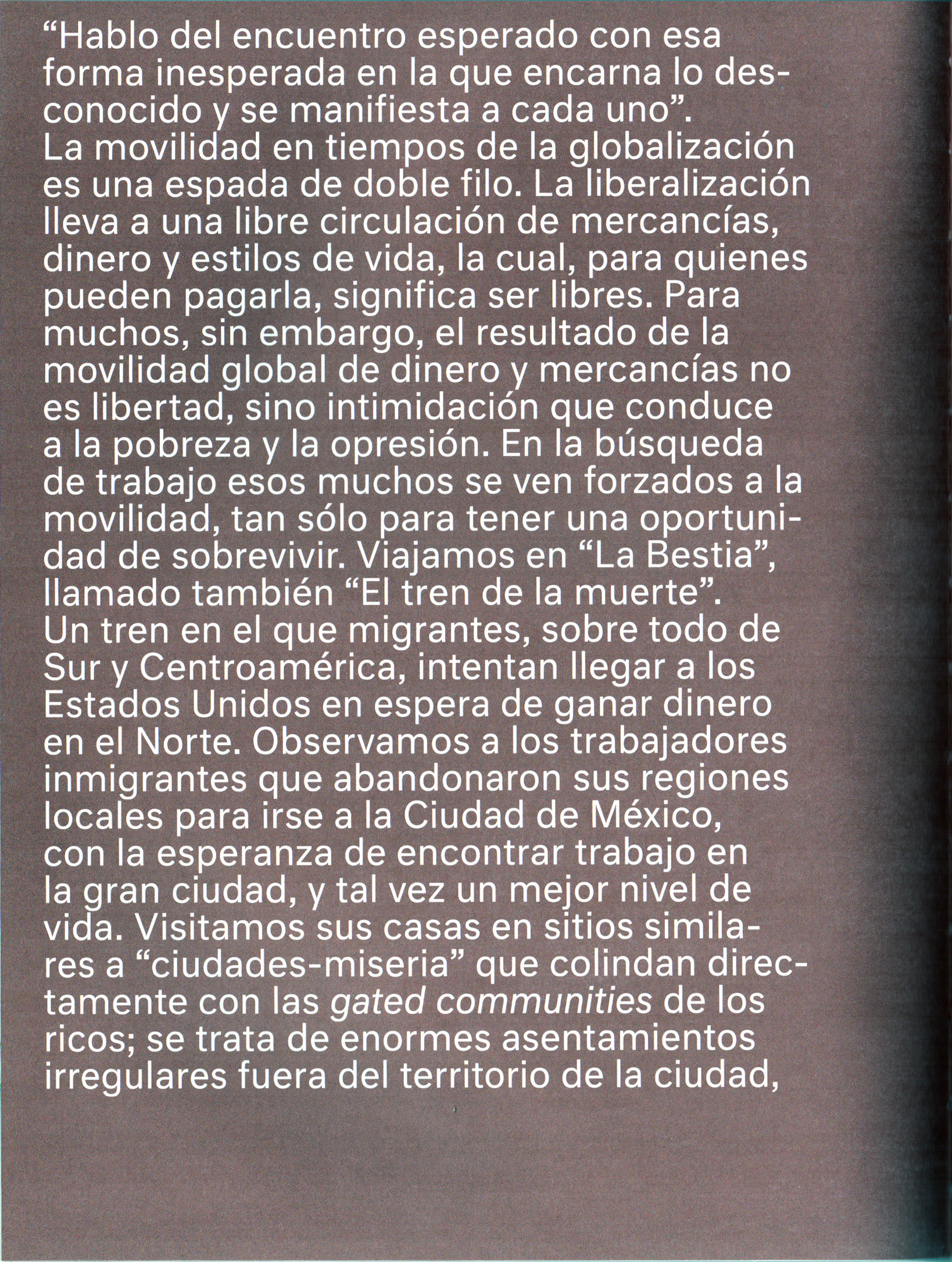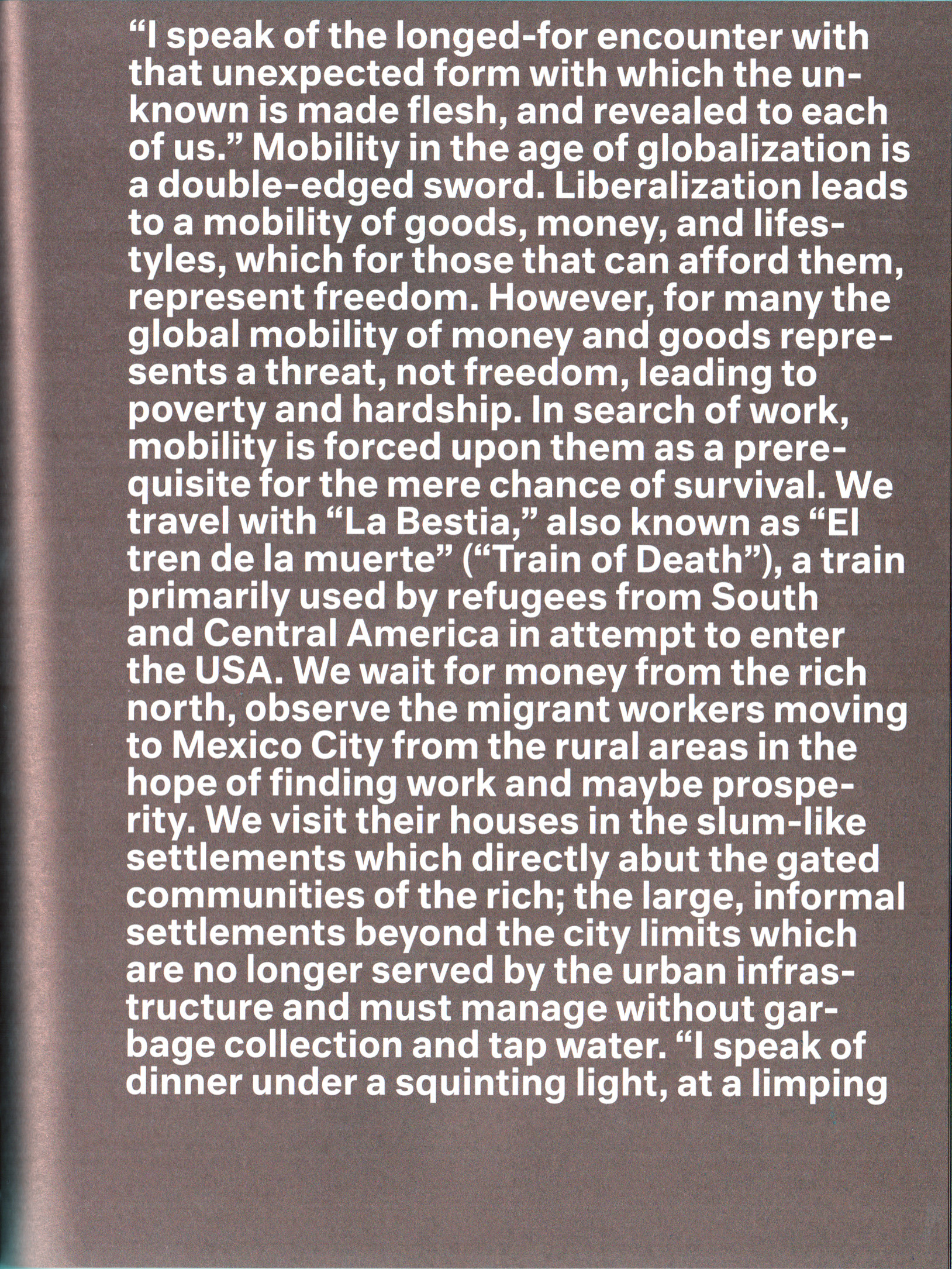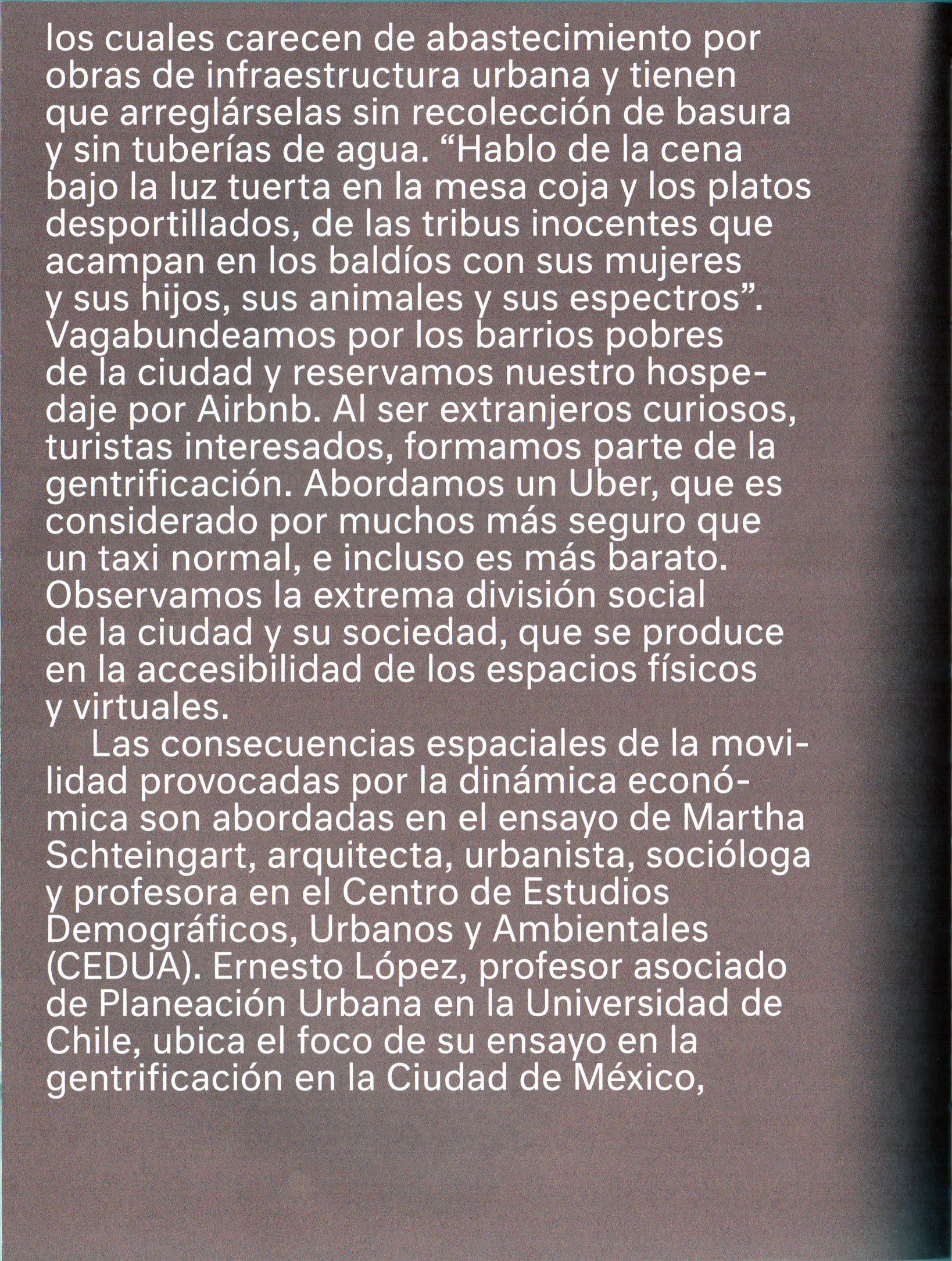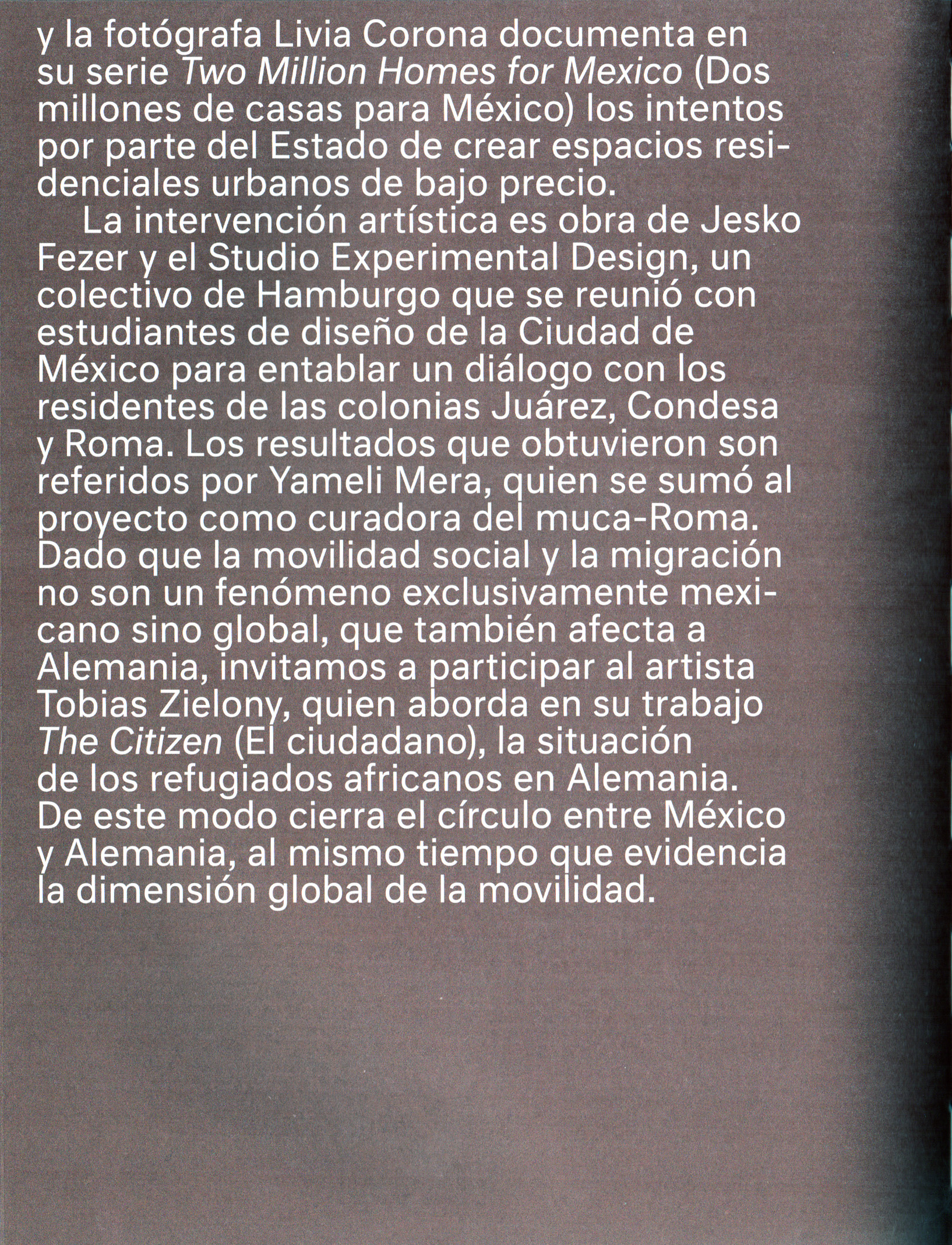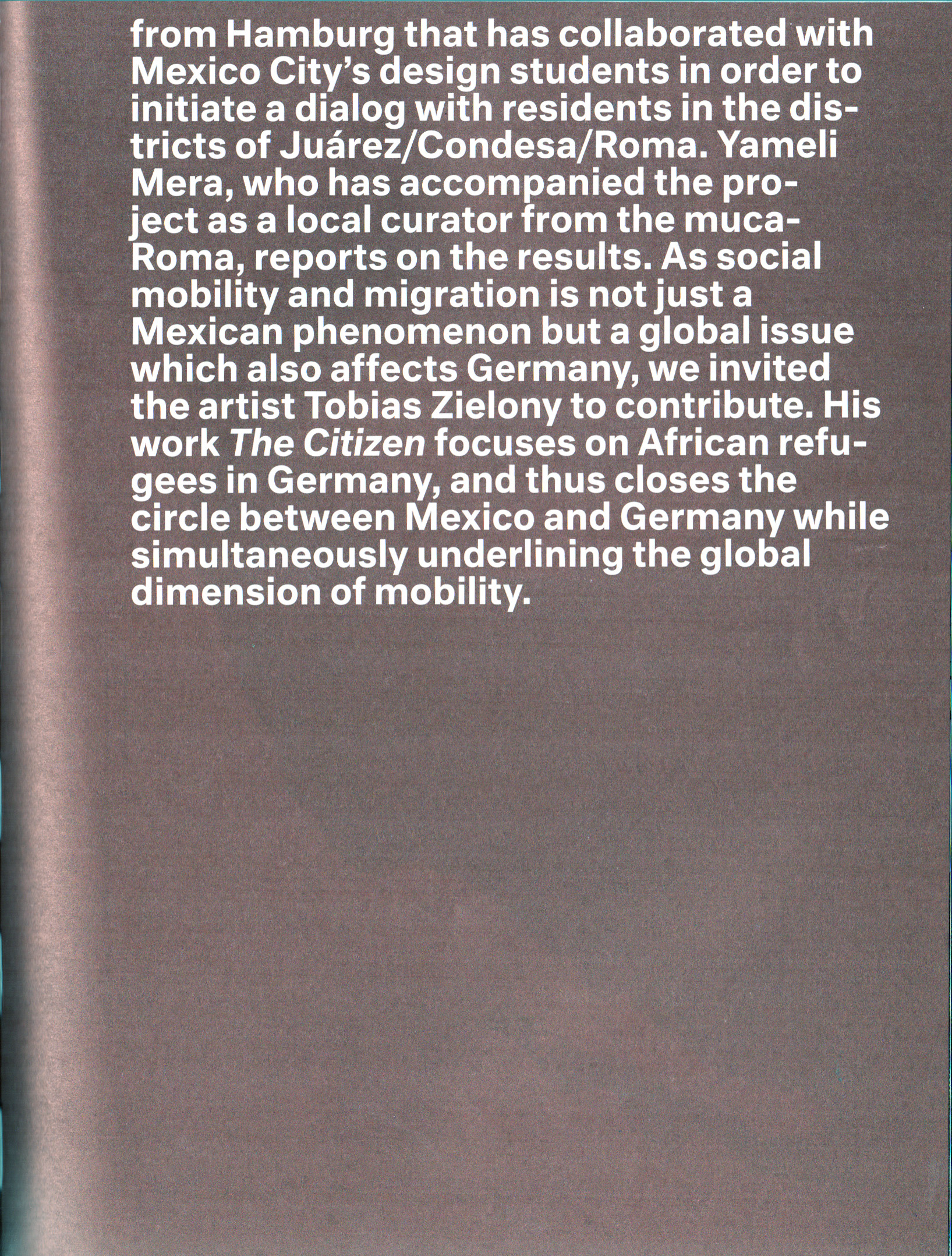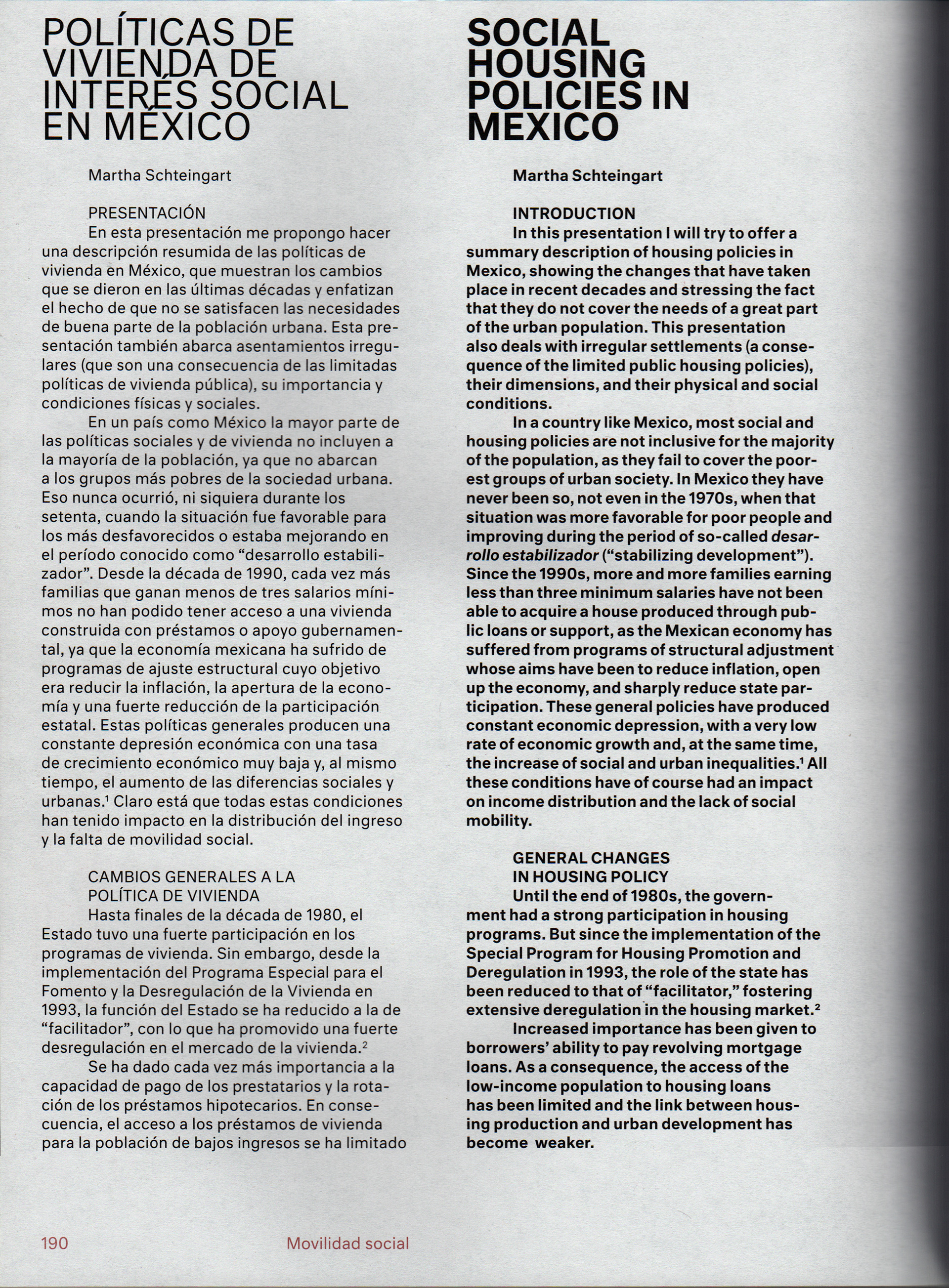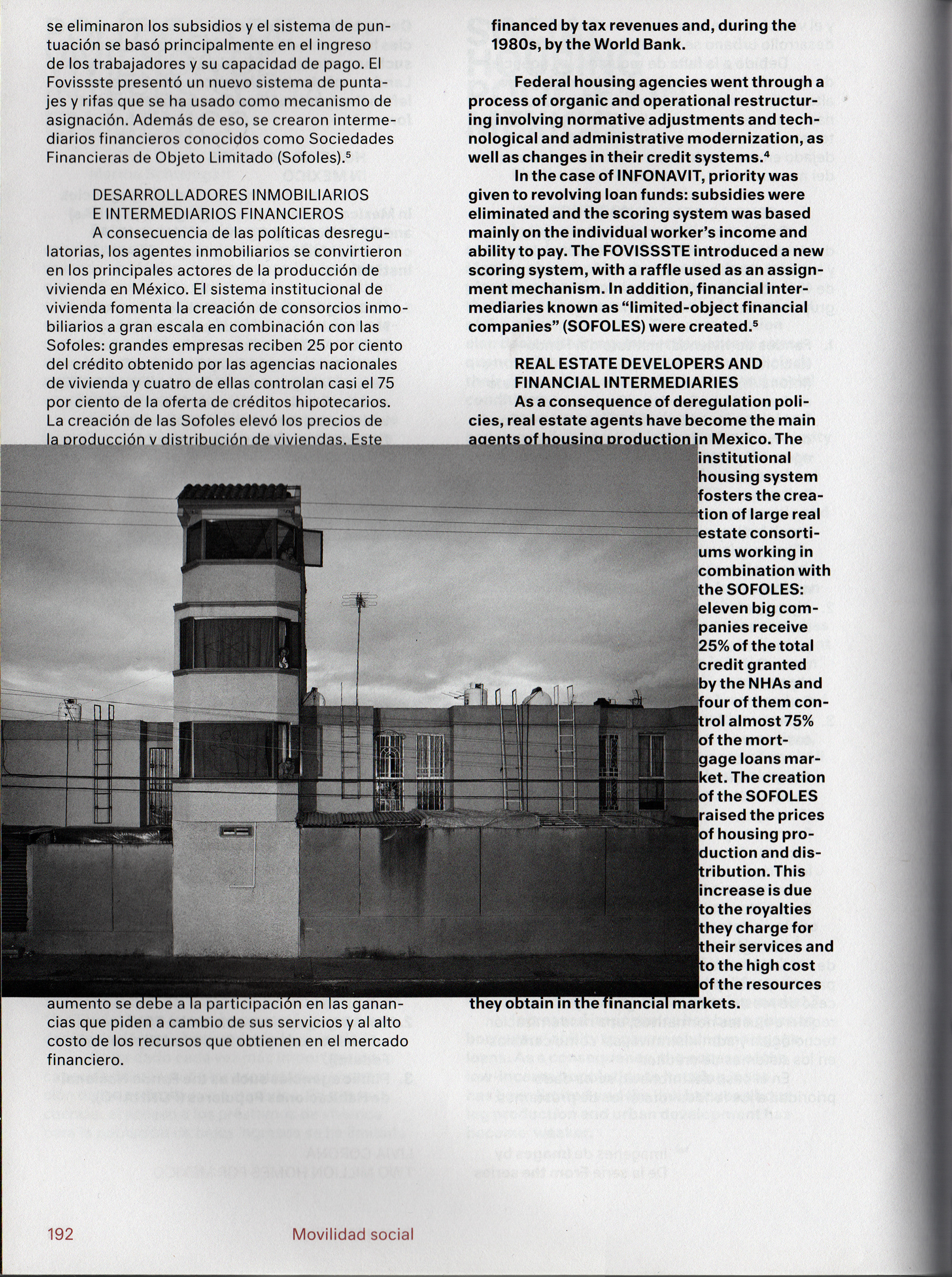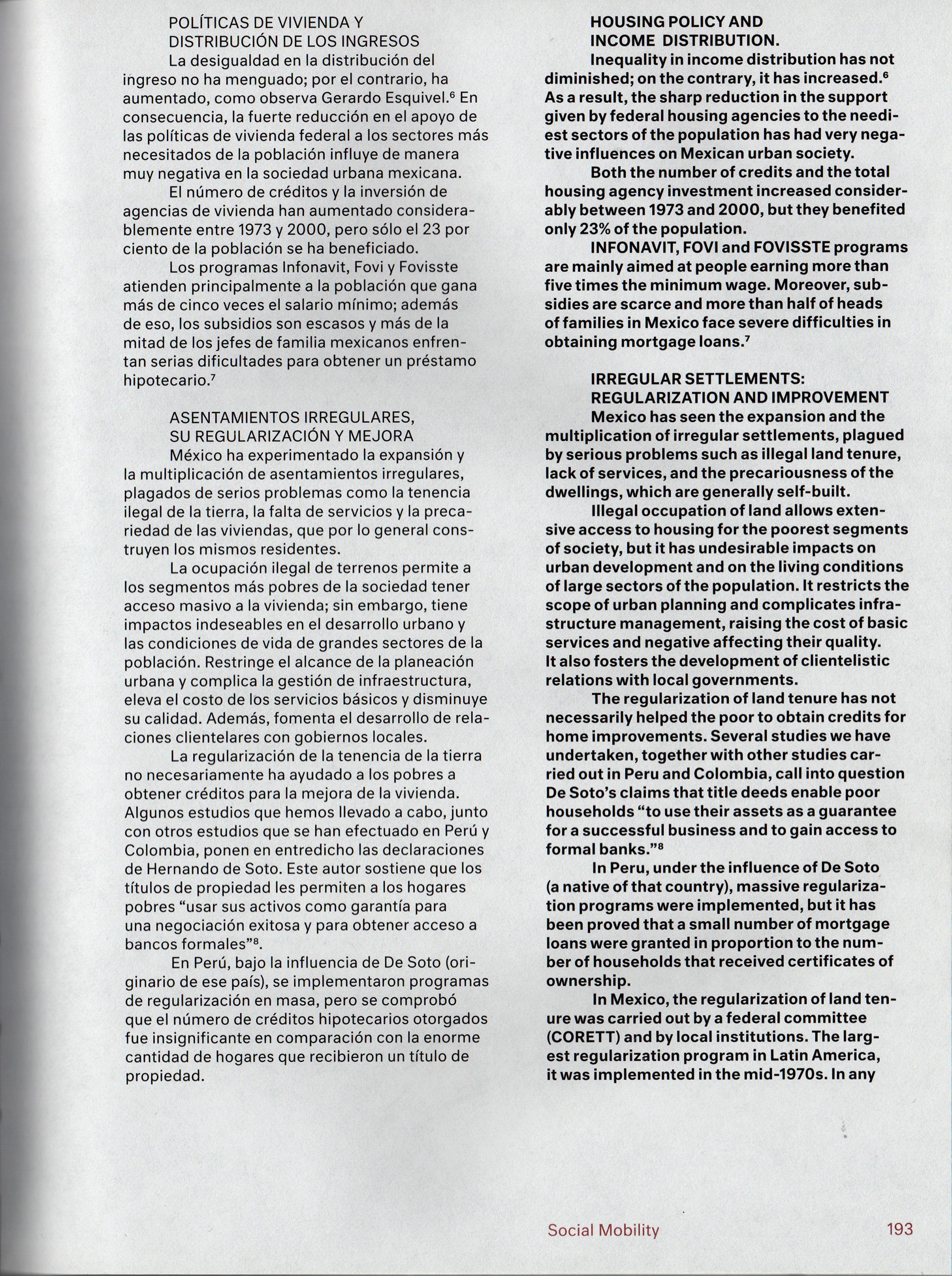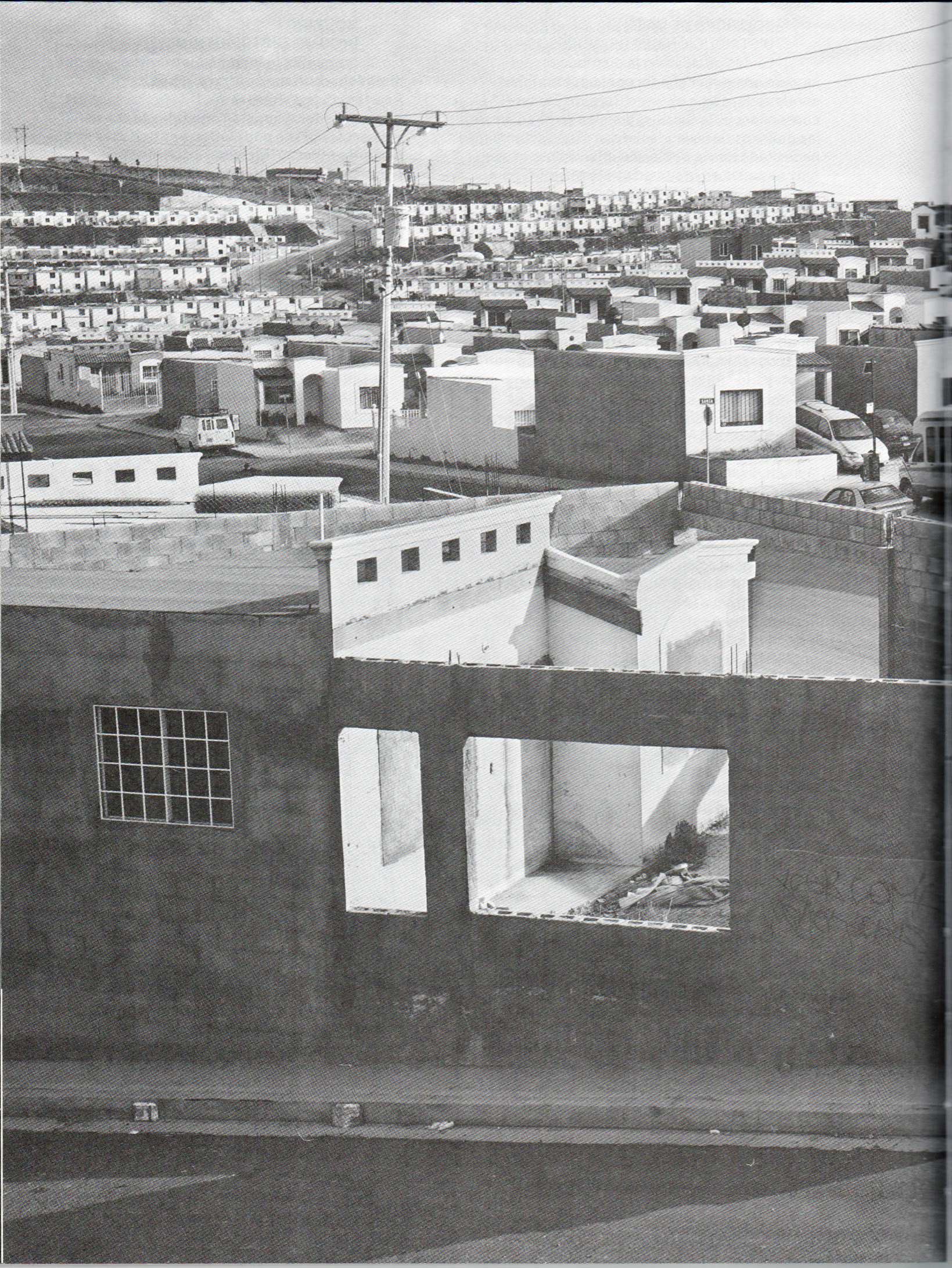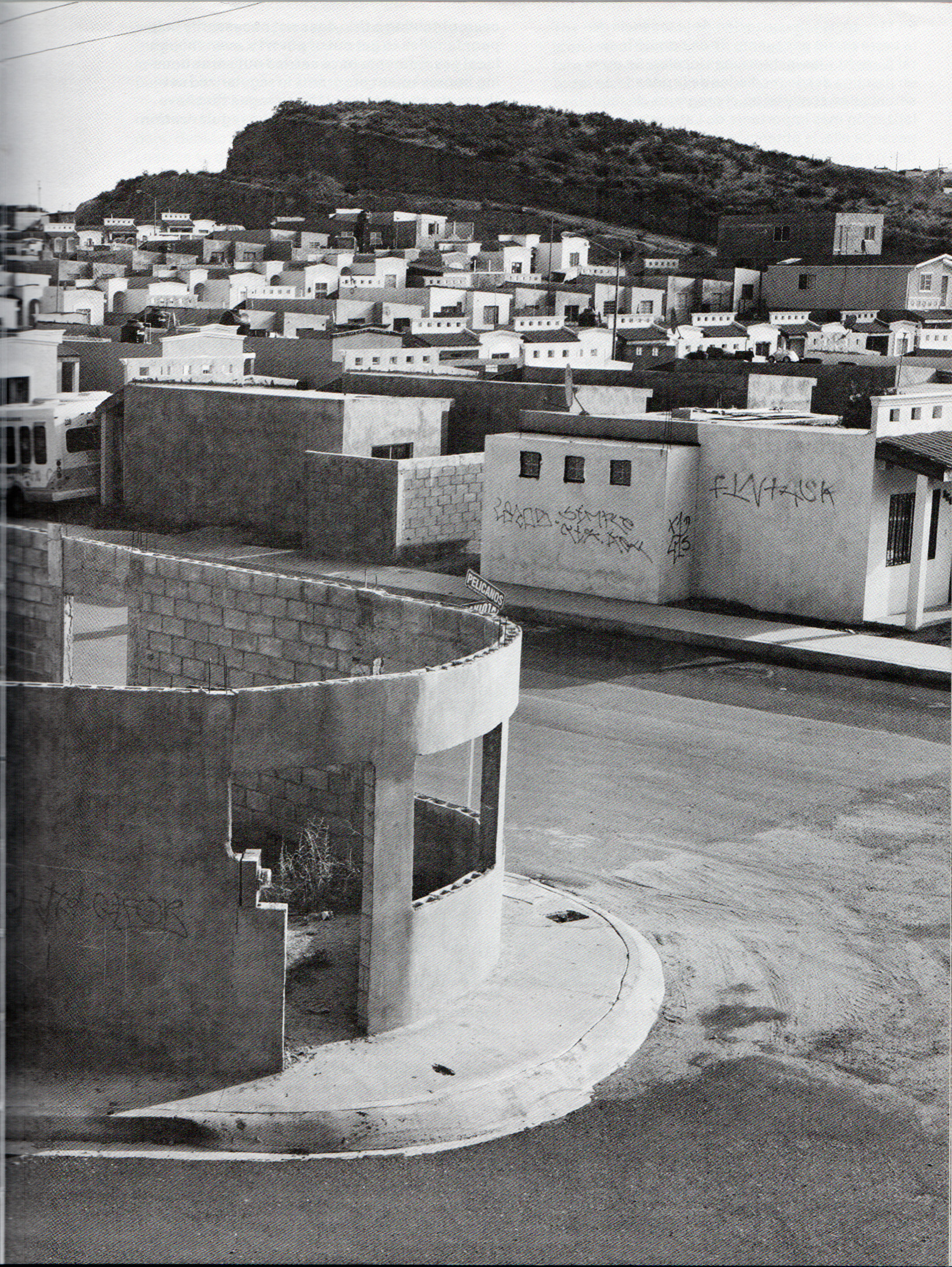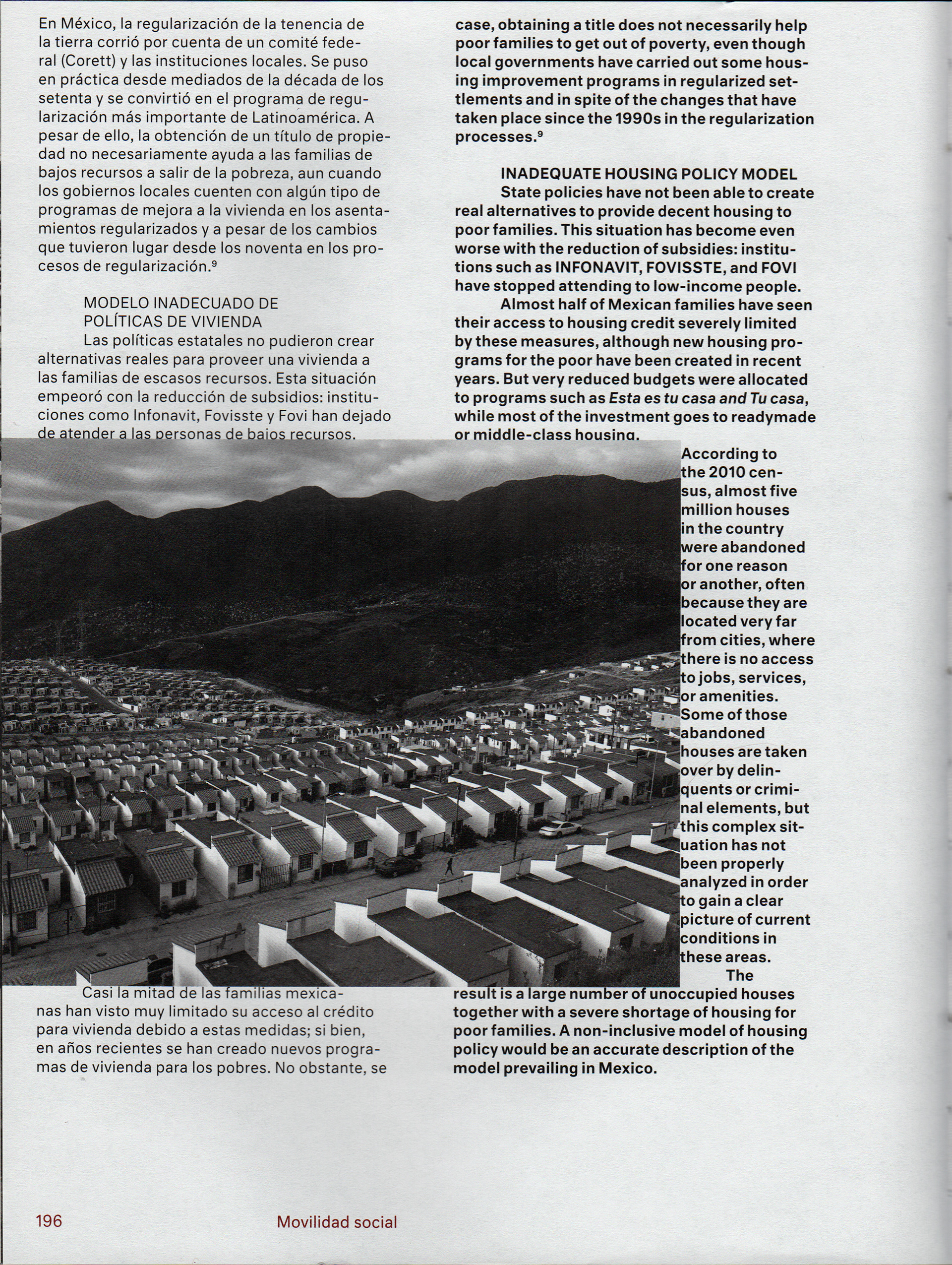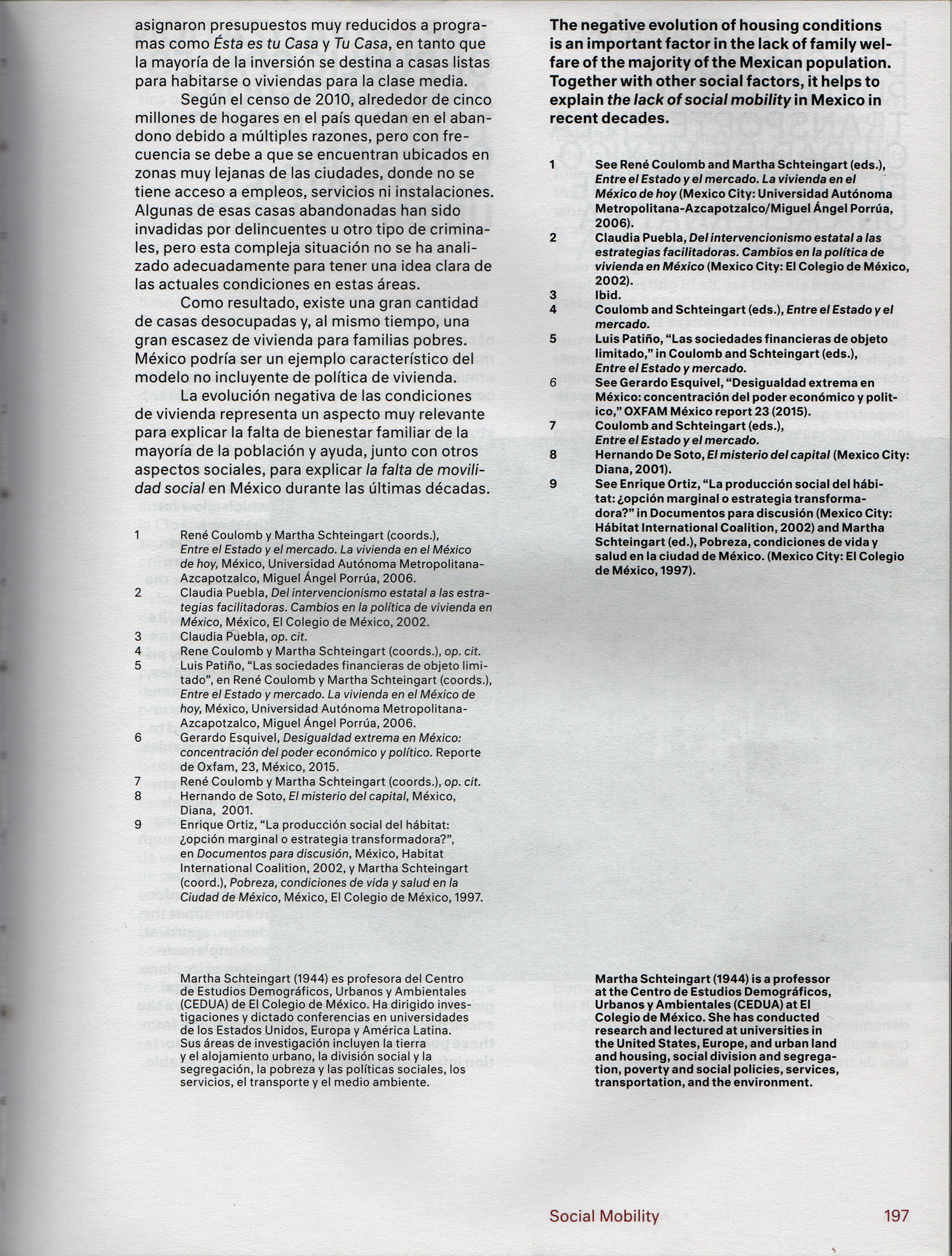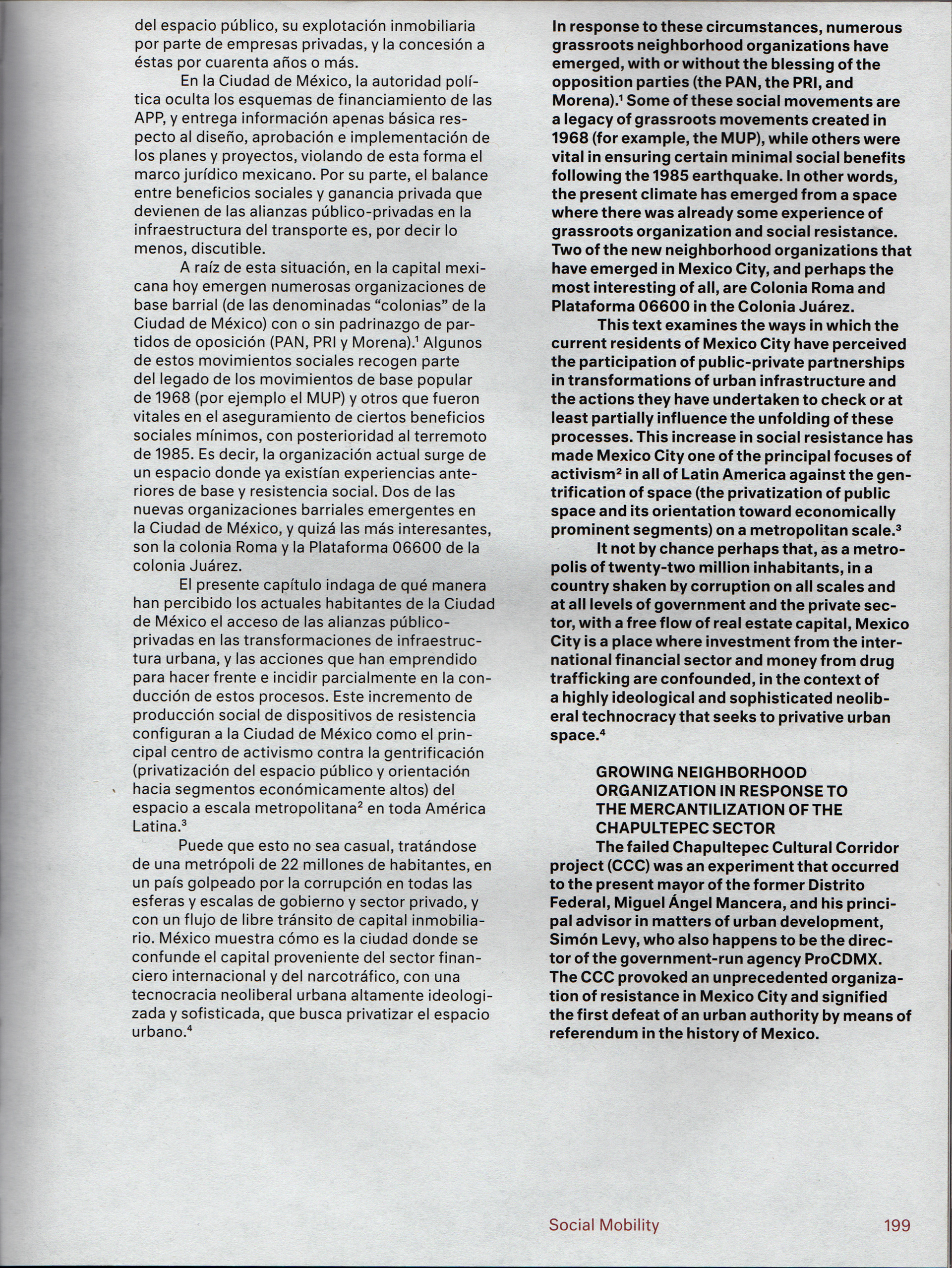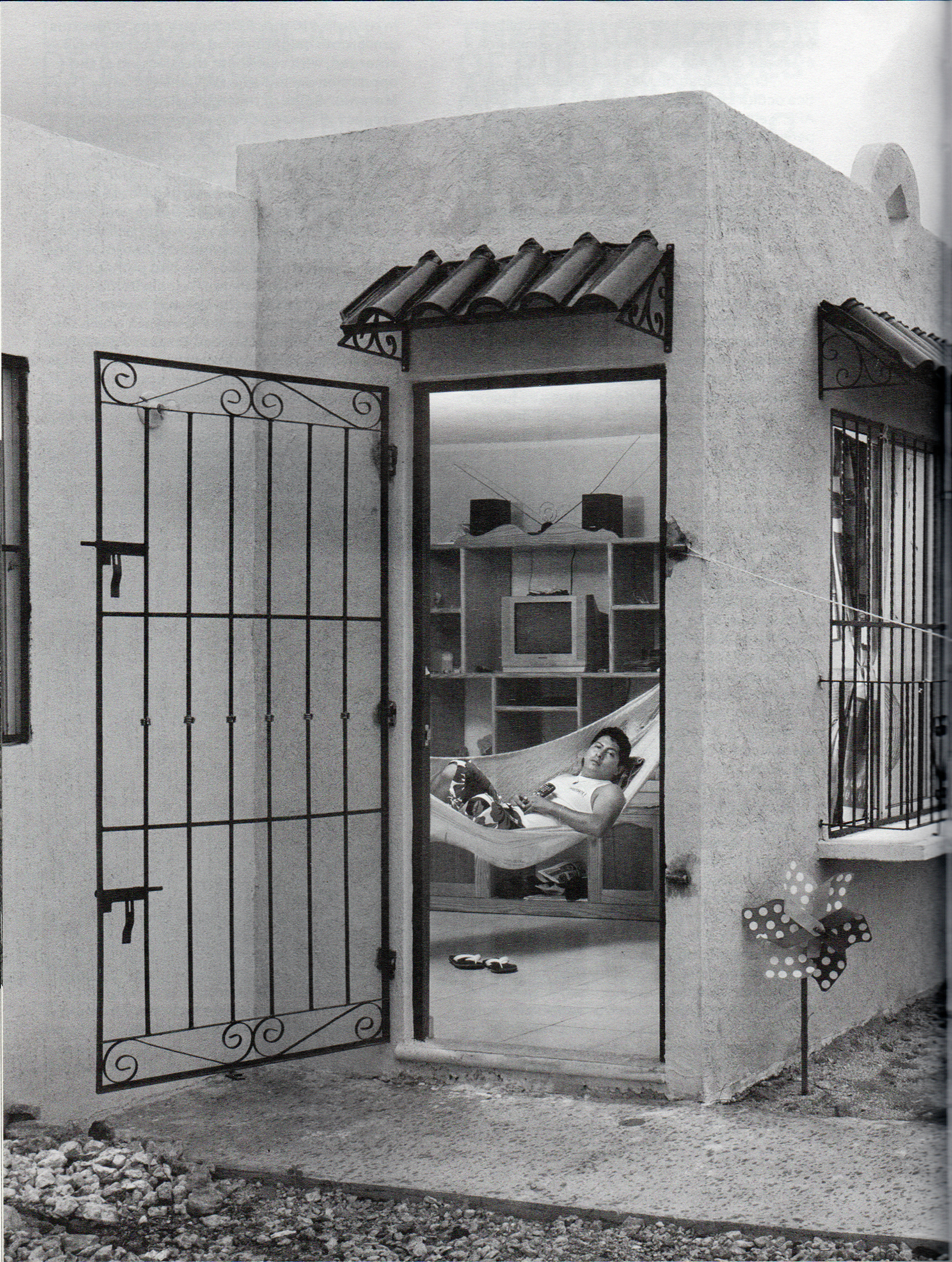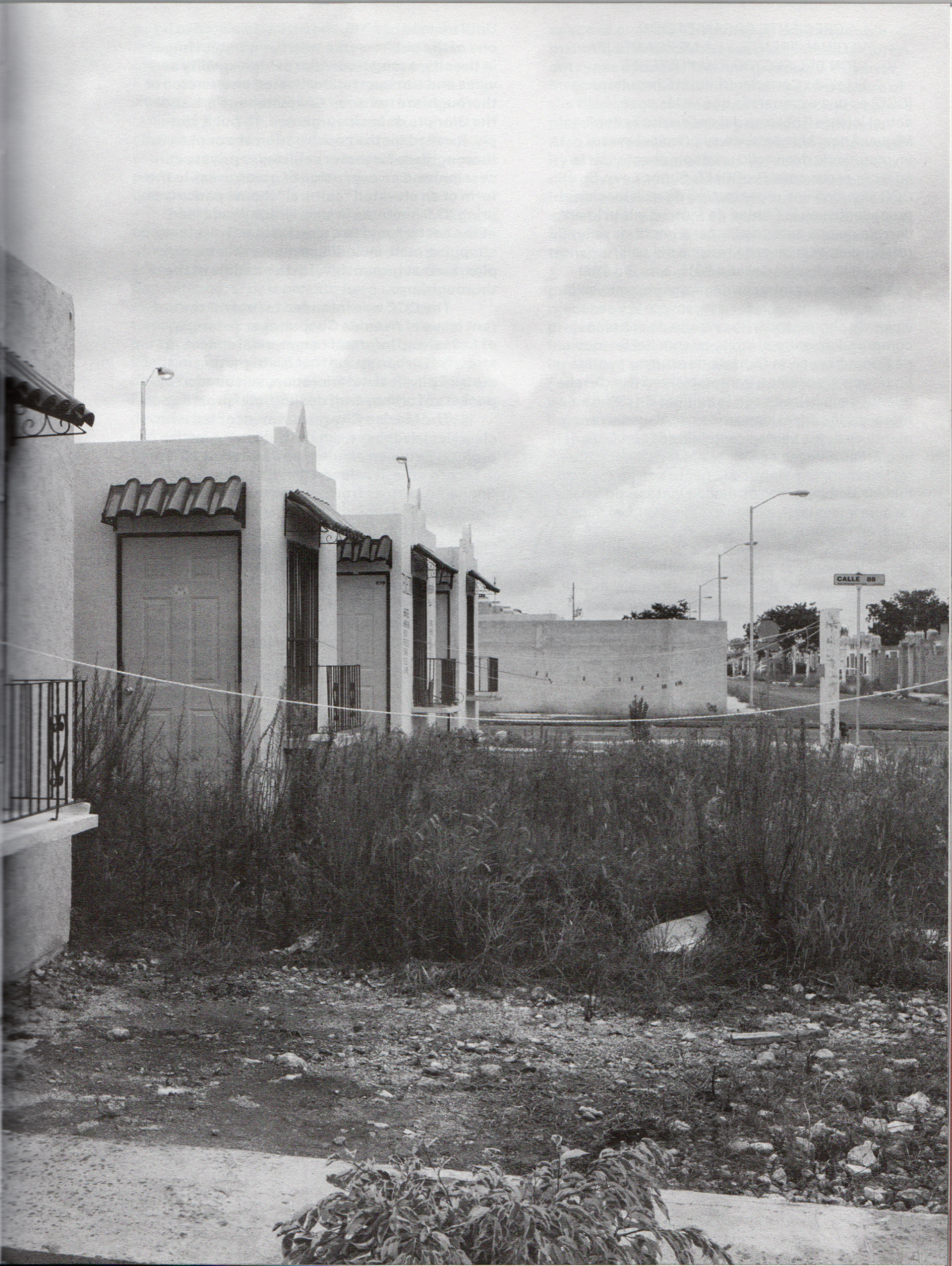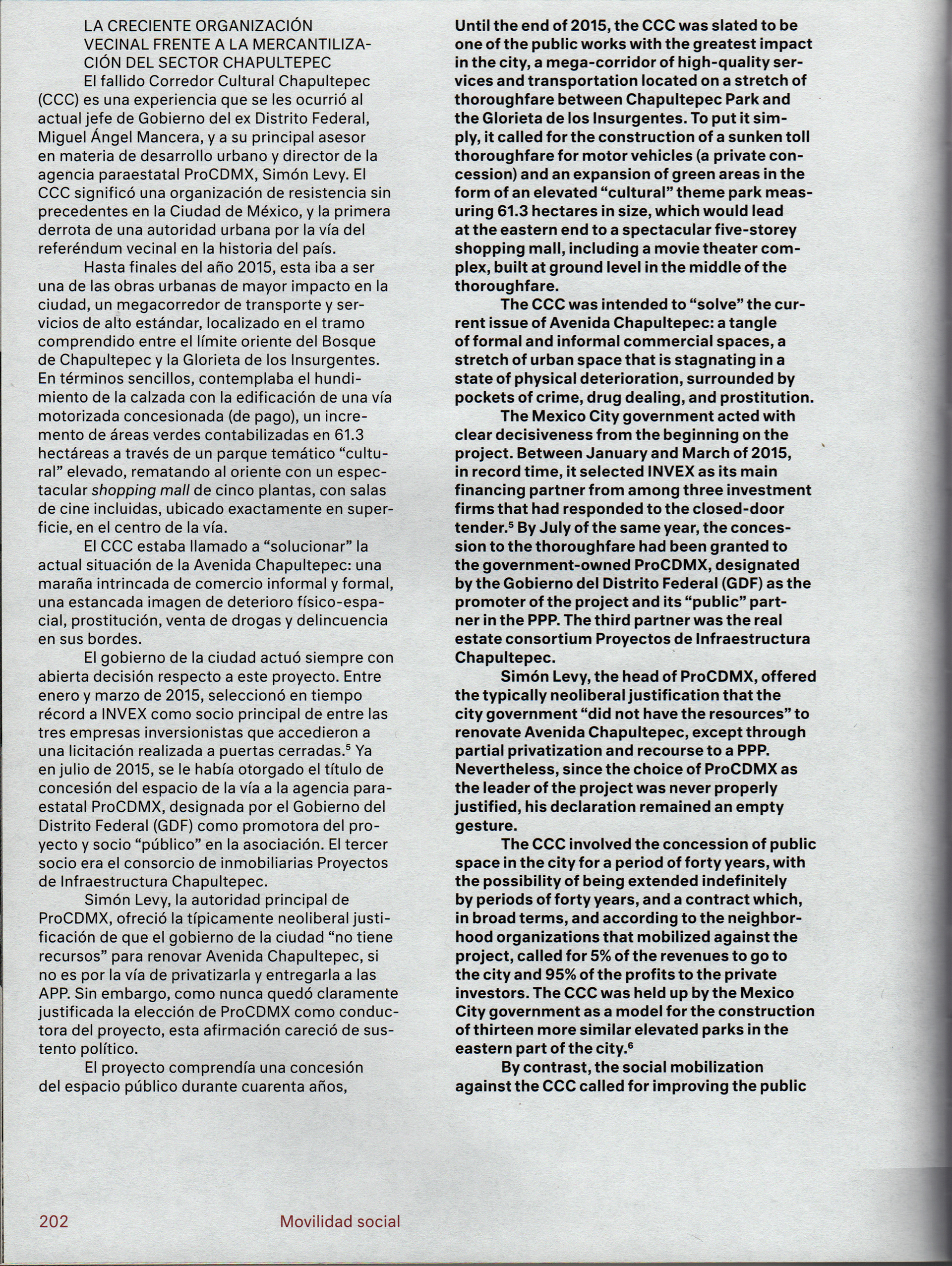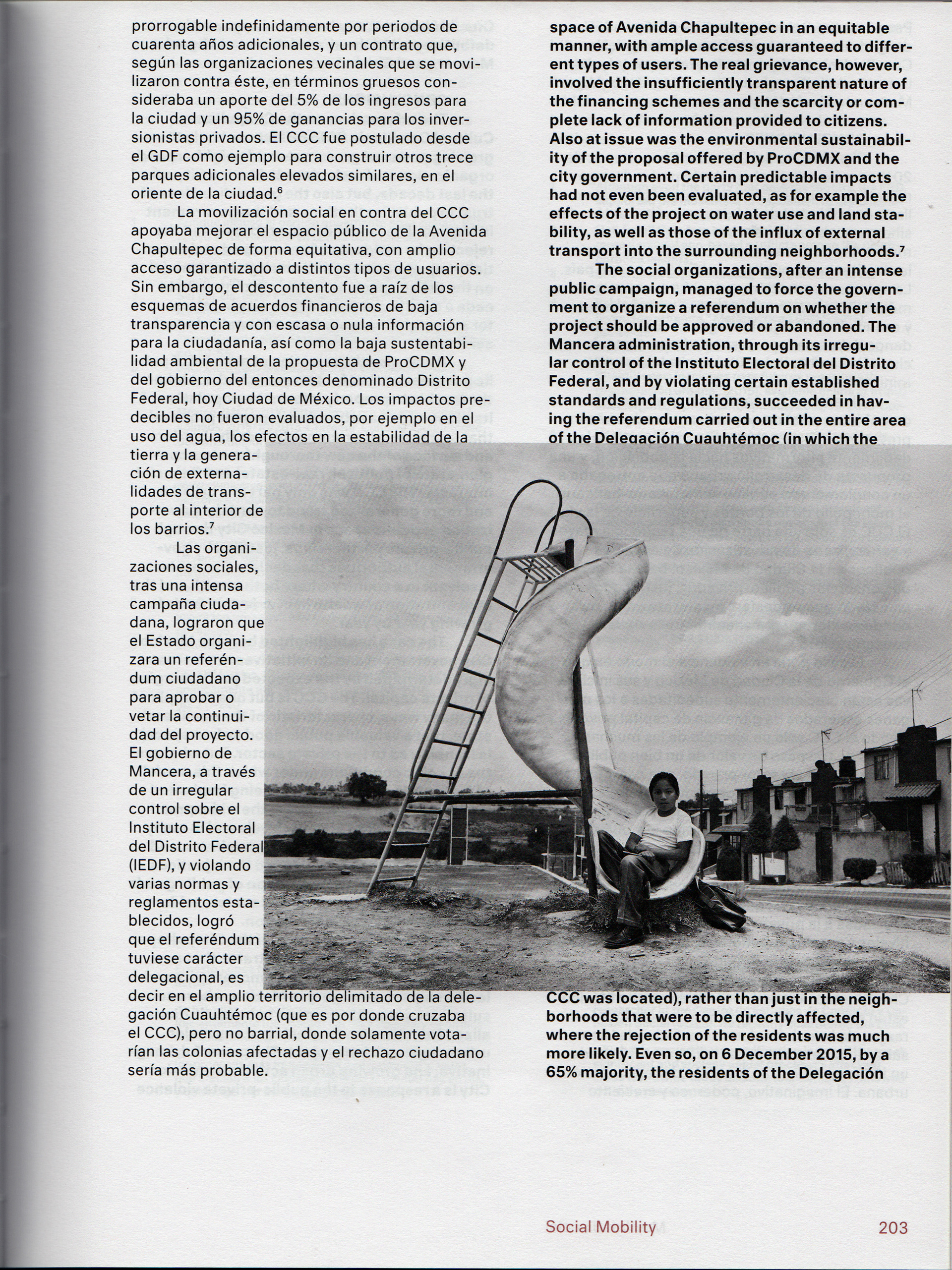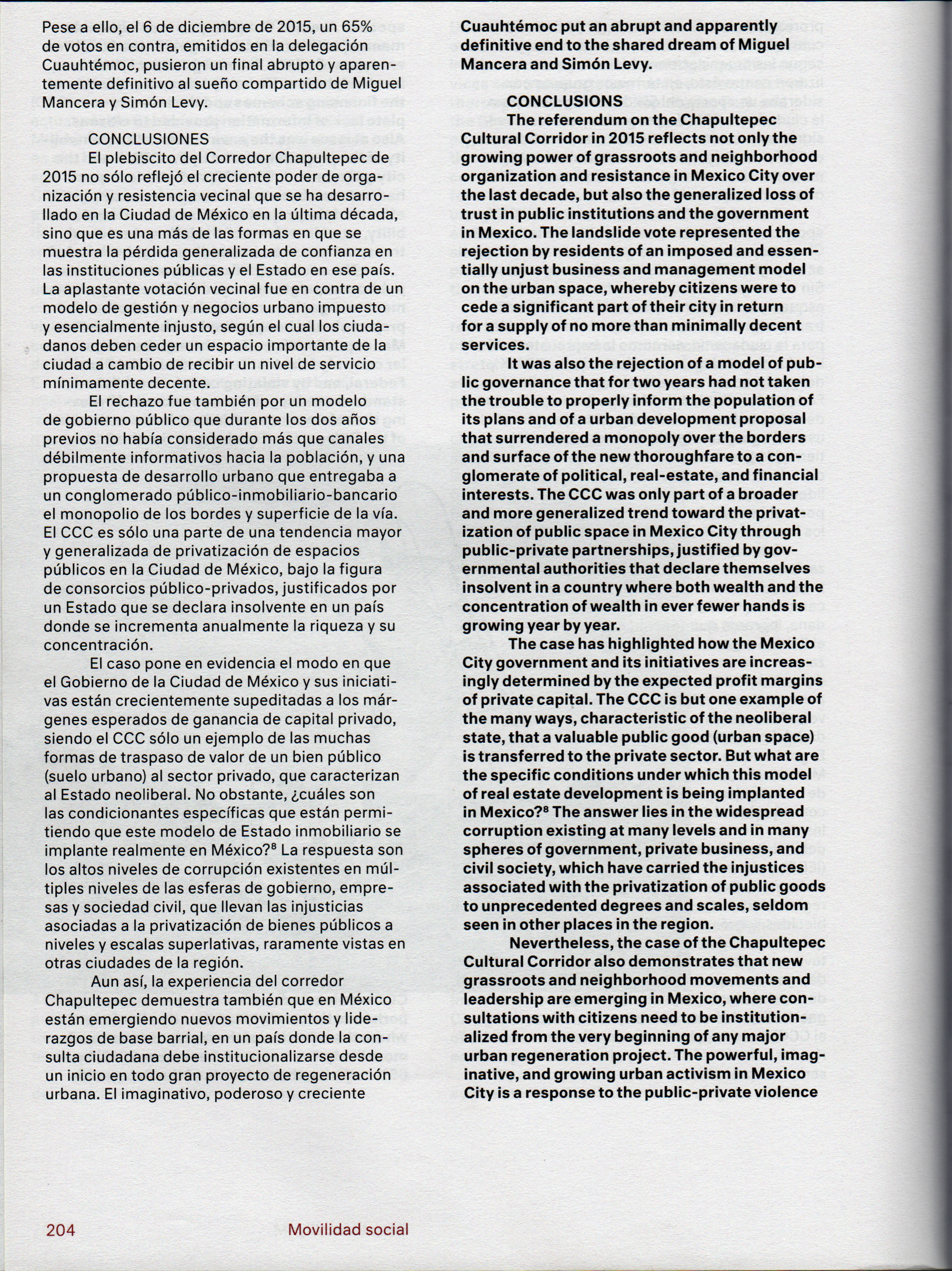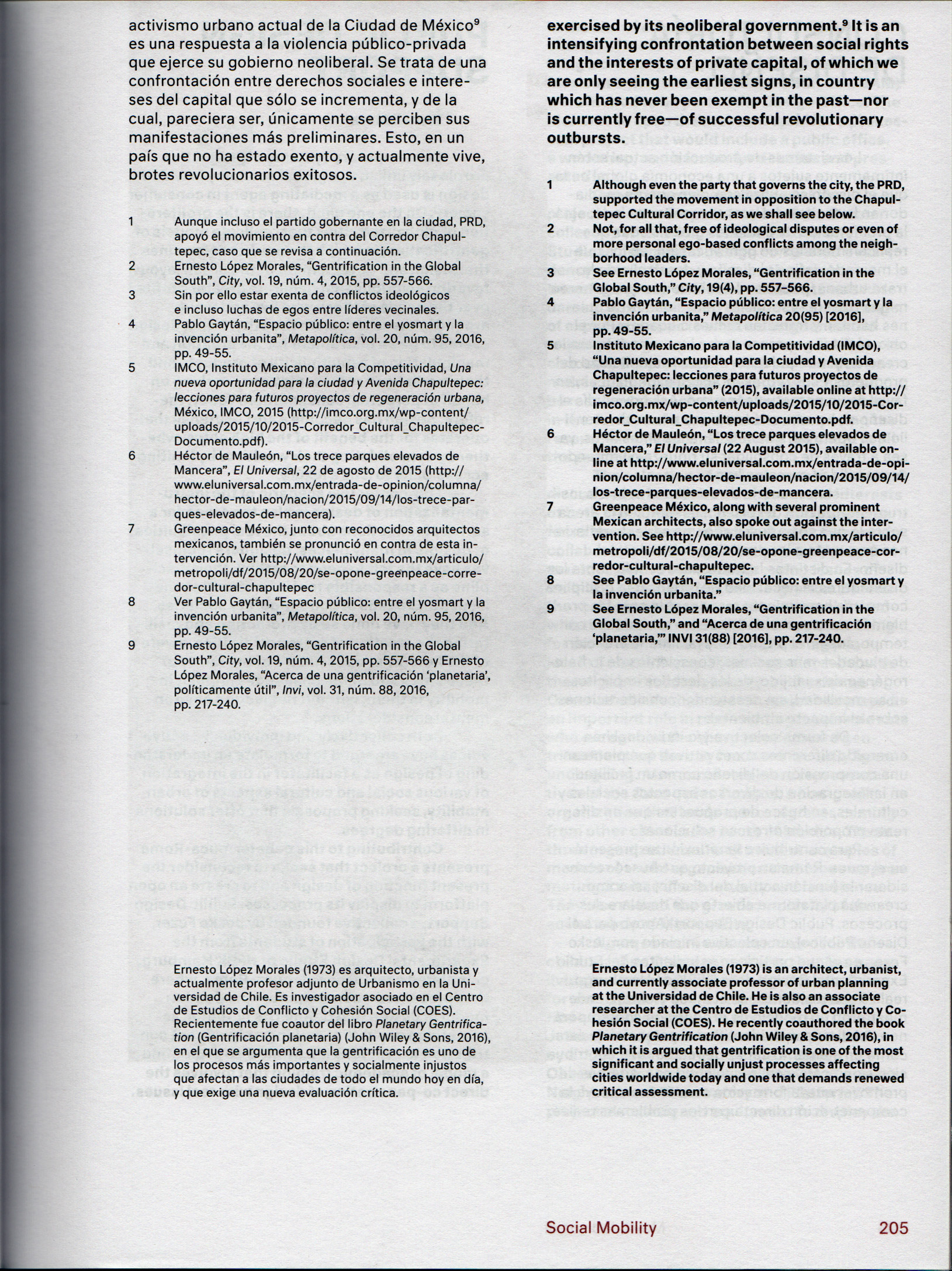 GALERÍA DE LA RAZA 
- EXISTE LO QUE TIENE NOMBRE: CONTEMPORARY PHOTOGRAPHY IN MEXICO
- 2015
Curated by Javer Ramírez Limón and Sergio de la Torre. Published in 2015.
SF Camerawork and Galería de la Raza are pleased to present Existe lo que tiene nombre: Contemporary Photography in Mexico. Organized by San Francisco-based curator Sergio De La Torre and Tijuana-based curator Javier Ramírez Limón, the exhibition will be on view at SF Camerawork from April 2 through May 23, 2015. A 200-page catalog will accompany the exhibition. Comprised of over 50 photographic and video works produced within the past decade, this is the US debut for many of the exhibiting artists.
The title of the exhibition, Existe lo que tiene nombre, comes from a conversation with the artist Jazzibe Santos, whose photographic project documents her grandmother's household of labeled objects. Ranging from humorous to disturbing, personal to ambiguous, Santos' photographs, along with those of the 22 artists featured in this exhibition, are indicative of the current state of contemporary photographic practices in Mexico.
De La Torre and Limón propose that, since the establishment of the Centro de la Imagen in Mexico City in 1996, photography in Mexico has undergone radical changes. Along with the conceptual expansion of photography spurred by the Centro, a combination of globalization, the advent of the Internet, and the subsequent accessibility of information, have led to a loss of specificity that characterized Mexican photography in historical terms. New concerns have risen, and photographic practices have specifically moved from an anthropological approach to a preoccupation with representation and its cultural resonances.
LIST OF ARTISTS
Adela Goldbard, Aglea Cortés, Alejandra Laviada, Alejandro Cartagena, Alfredo Káram, Bruno Ruiz, Carlos Iván Hernández, Colectivo Estética Unisex, Daniela Edburg, David Vera, Fernando Brito, Iván Manríquez, Jazzibe Santos, Jimena Camou, Juan Carlos Coppel, Livia Corona, Mariela Sancari, Mauricio Alejo, Melba Arellano, Oswaldo Ruiz, Pablo López Luz, Roberto Molina Tondopó, and Yvonne Venegas.
This exhibition is funded by the San Francisco Arts Commission and the Andy Warhol Foundation for the Visual Arts.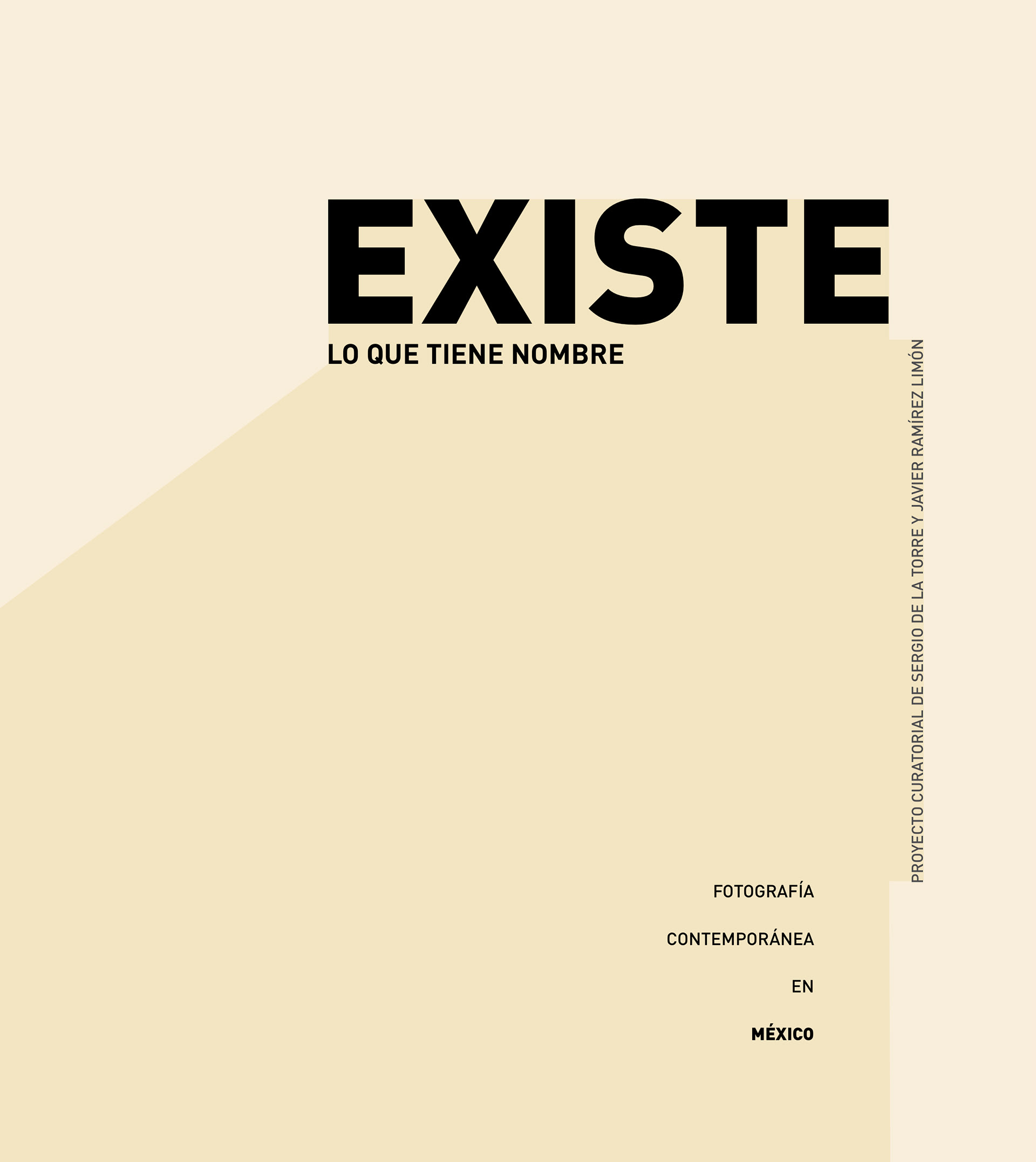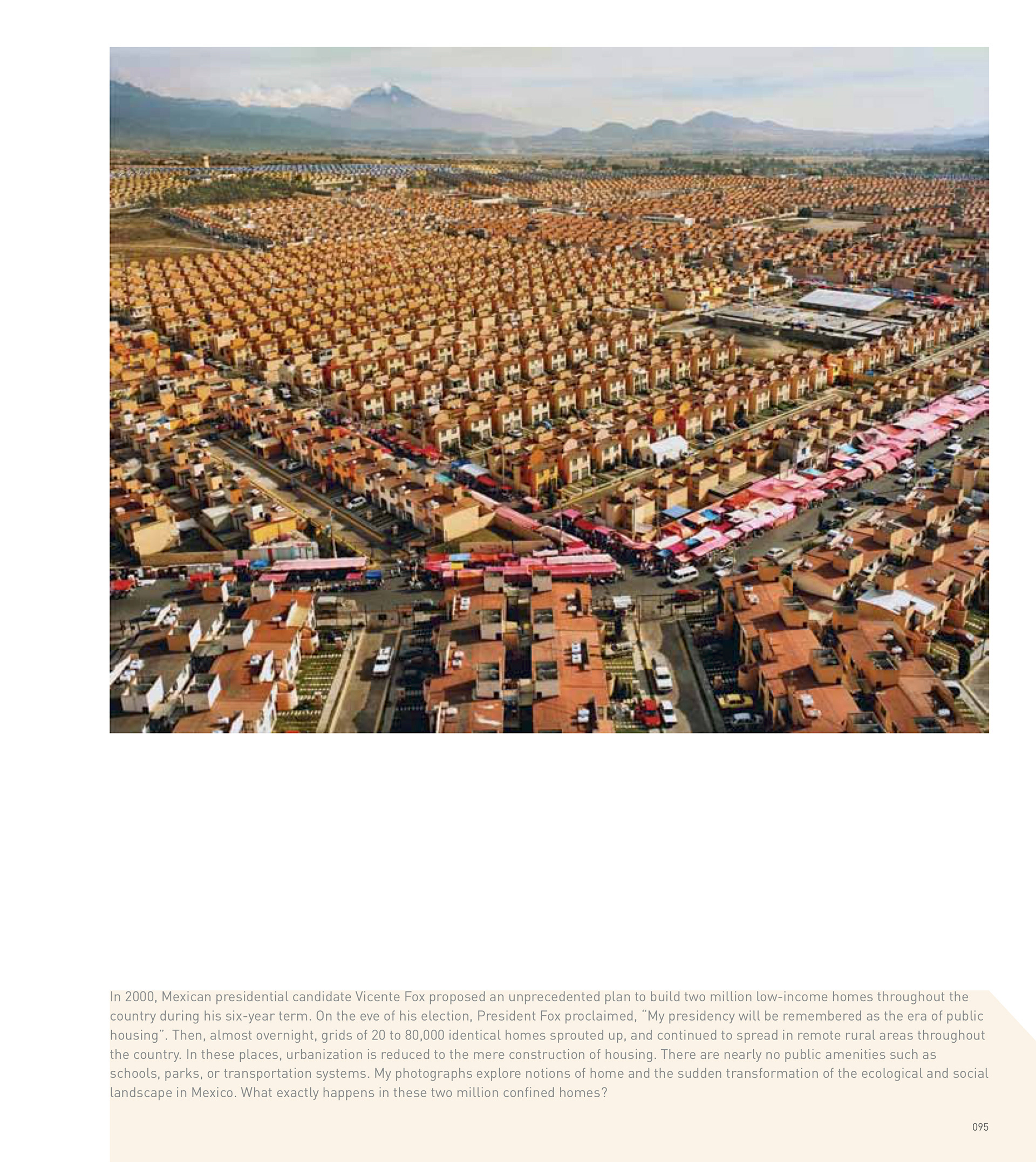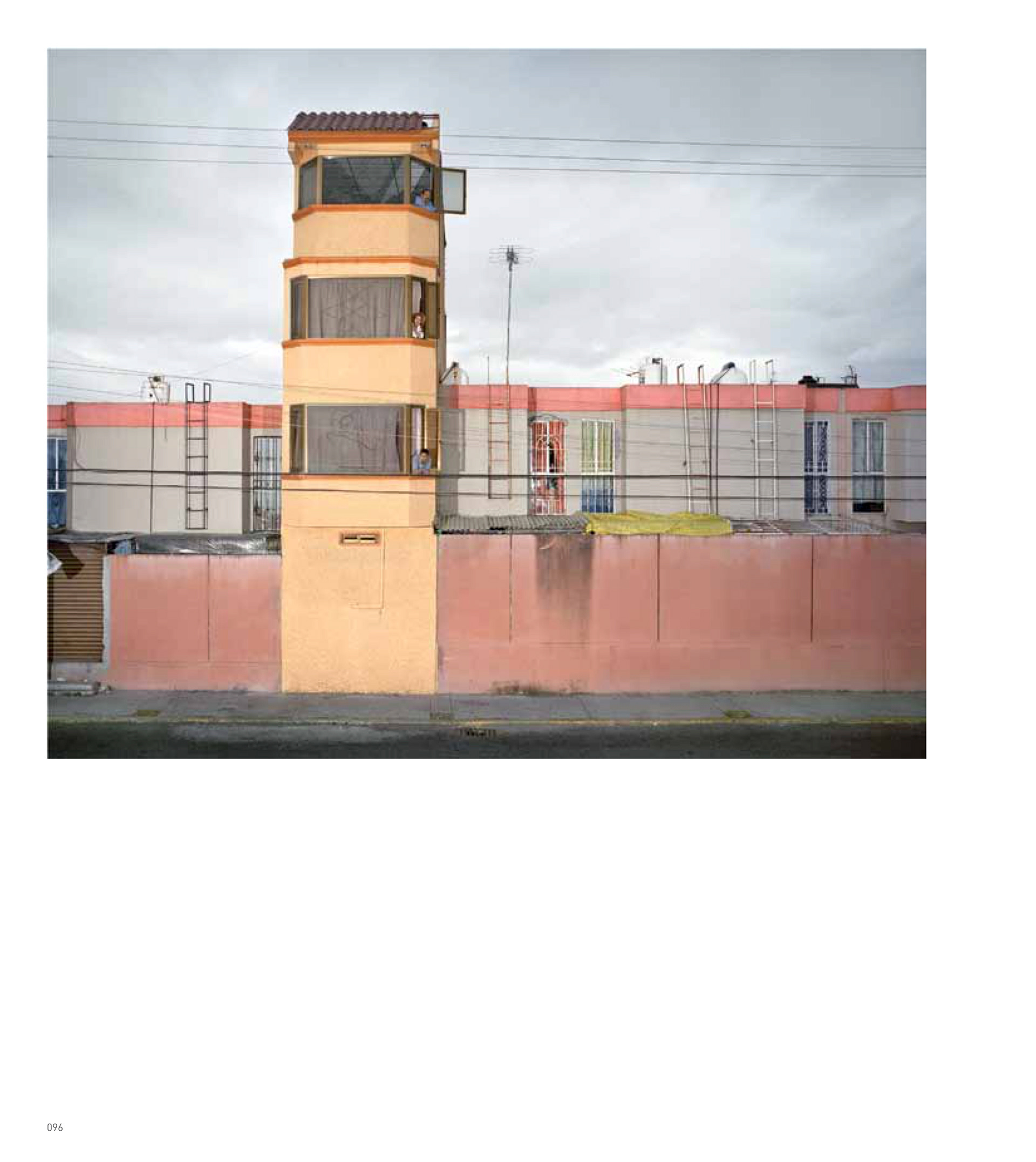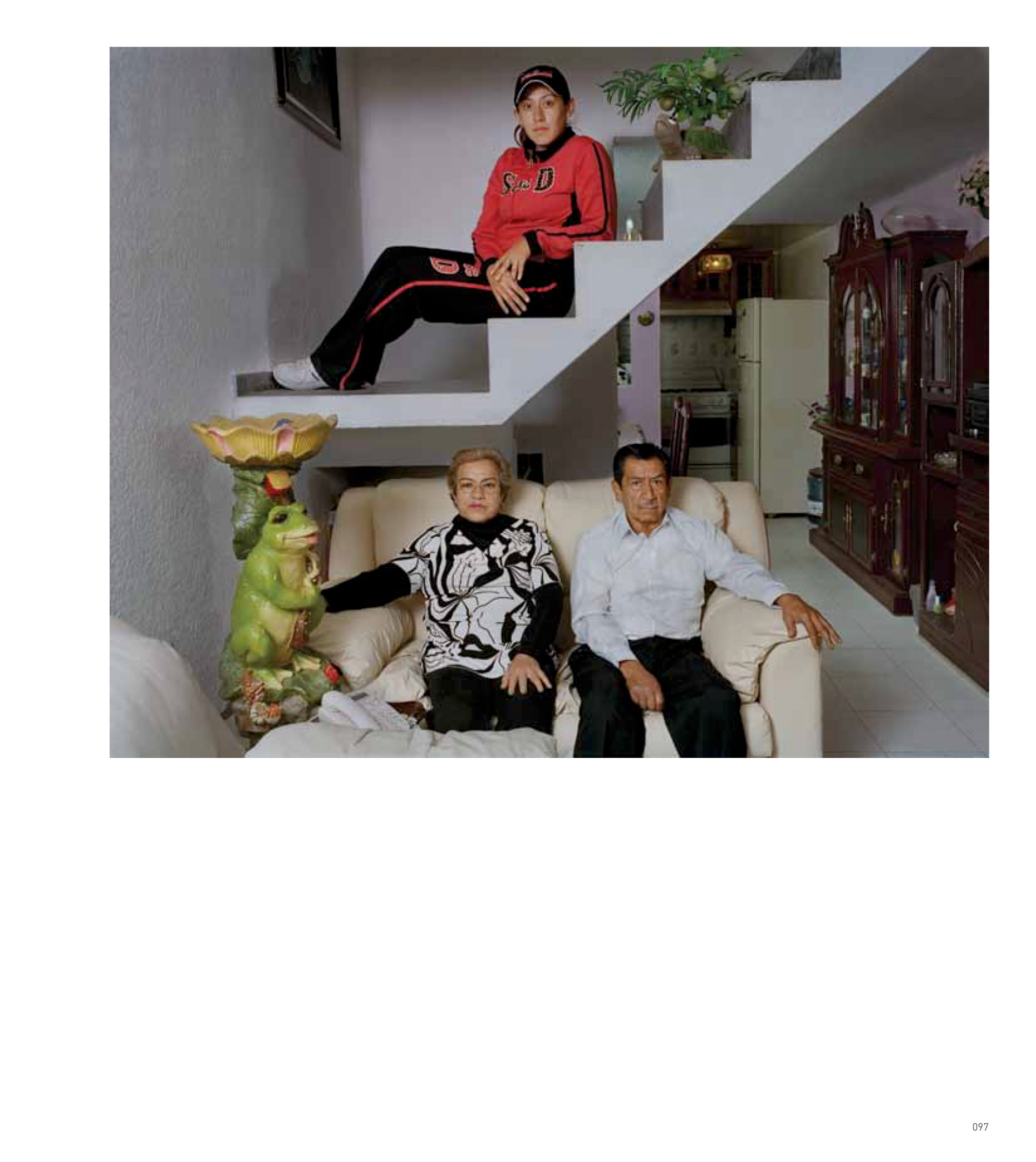 RM/SPAIN USA FOUNDATION
- COTIDIANO LATINO/US - 2014
Cotidiano: Latino/US is the exhibition catalogue to the accompanying traveling exhibition of the same name, and features 12 contemporary Latin American photographers (mostly working out of the States). Ranging from campy photos of soap opera stars, abstractions on the Los Angeles landscape, to Dulce Pinzon's comically heartbreaking portraits of New York laborers as superheroes, the book brings together a great number of photographic styles and genres. 
This publication questions stereotypes and evaluates a Latino reality that has evolved, mutated, regenerated and reinvented itself since its origins. Focused on portraiture, Cotidiano presents a new American vision through Latino eyes.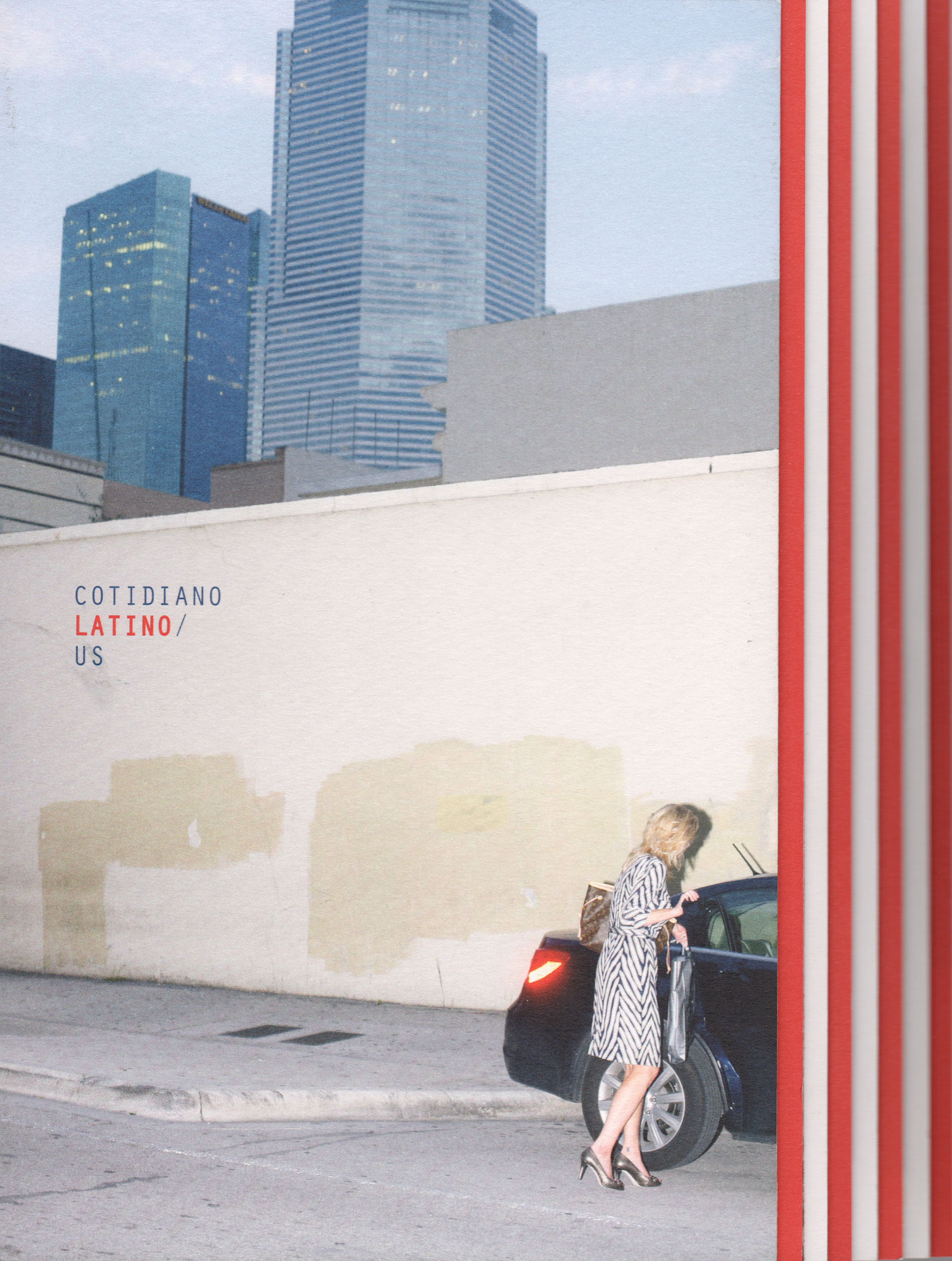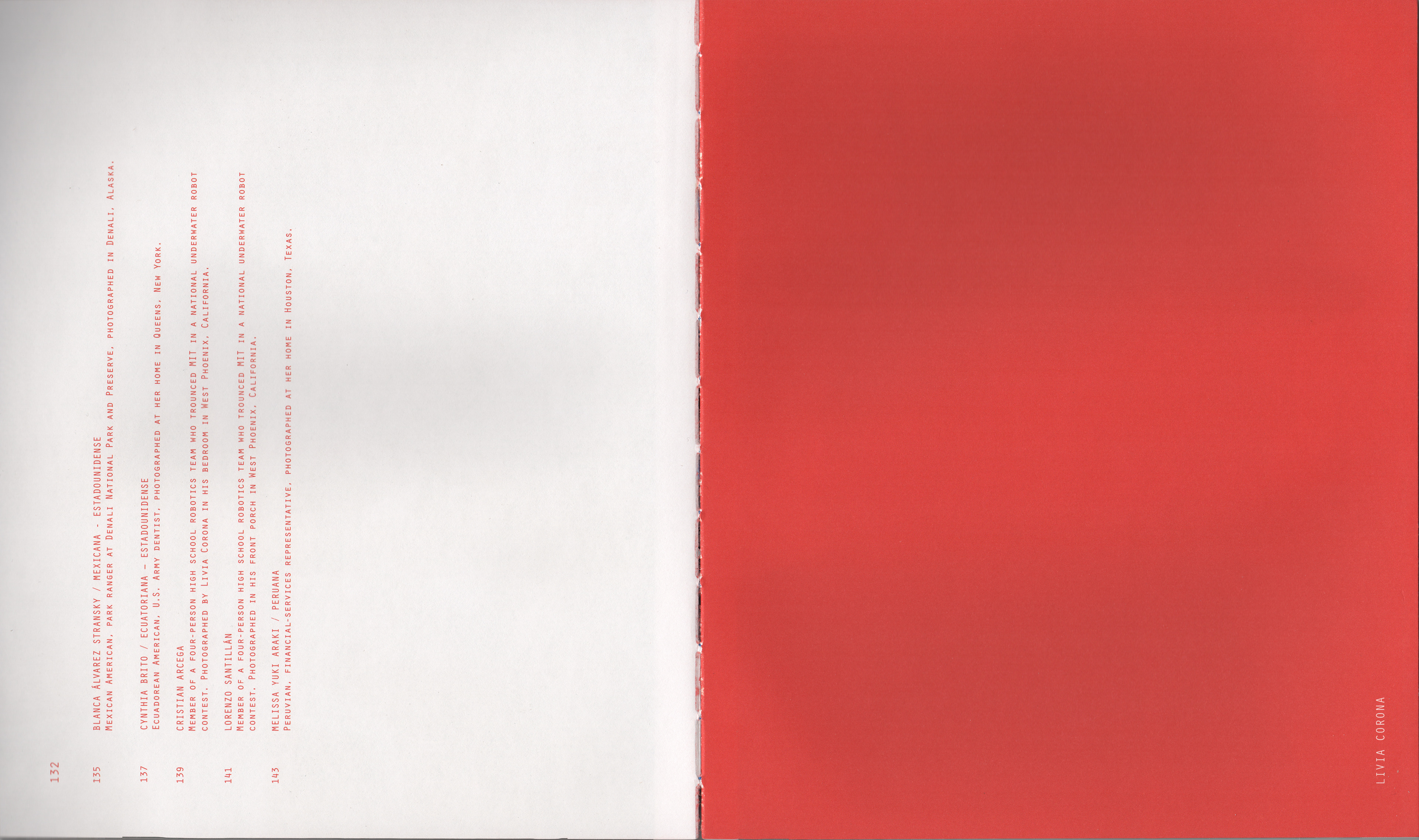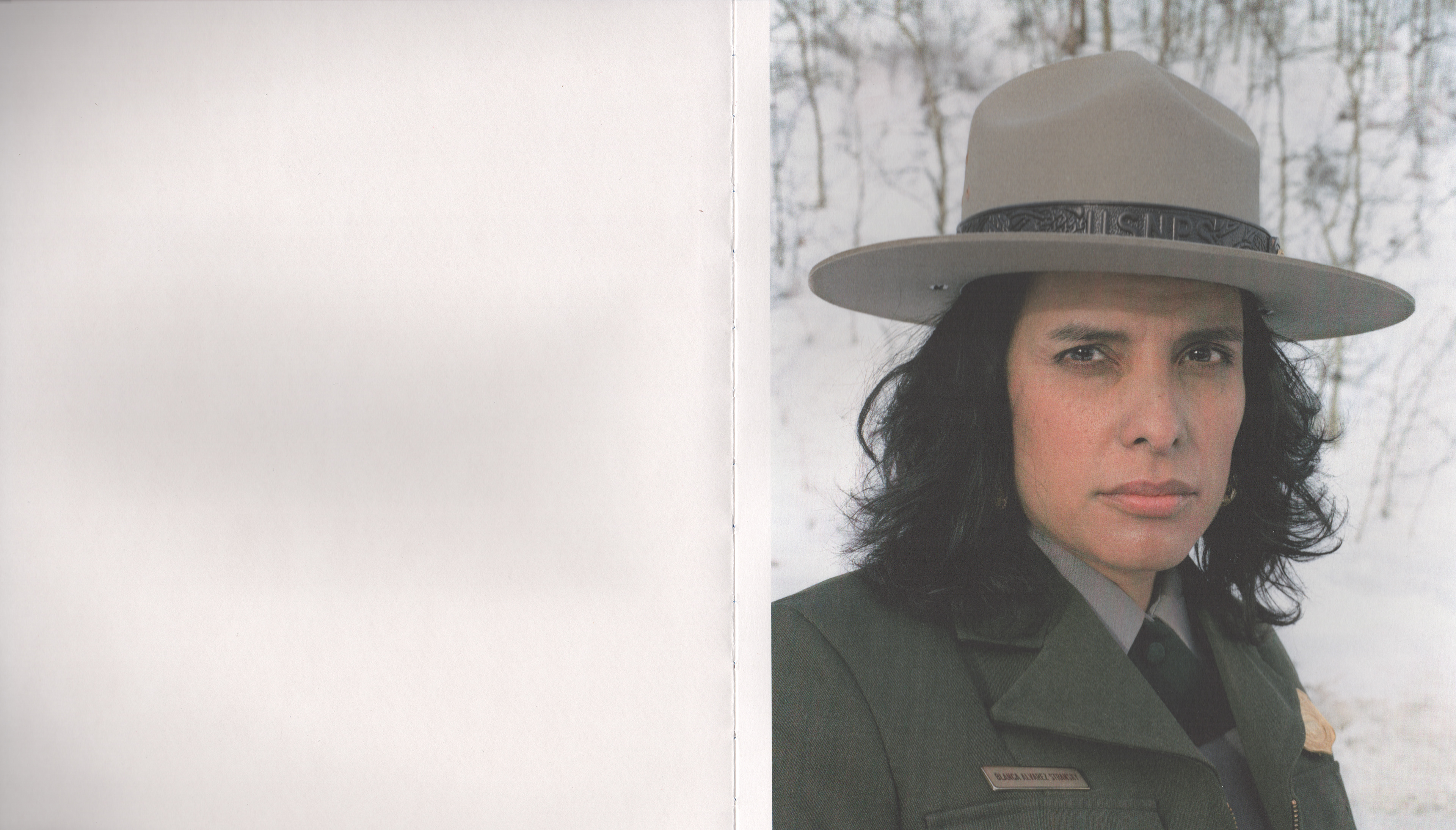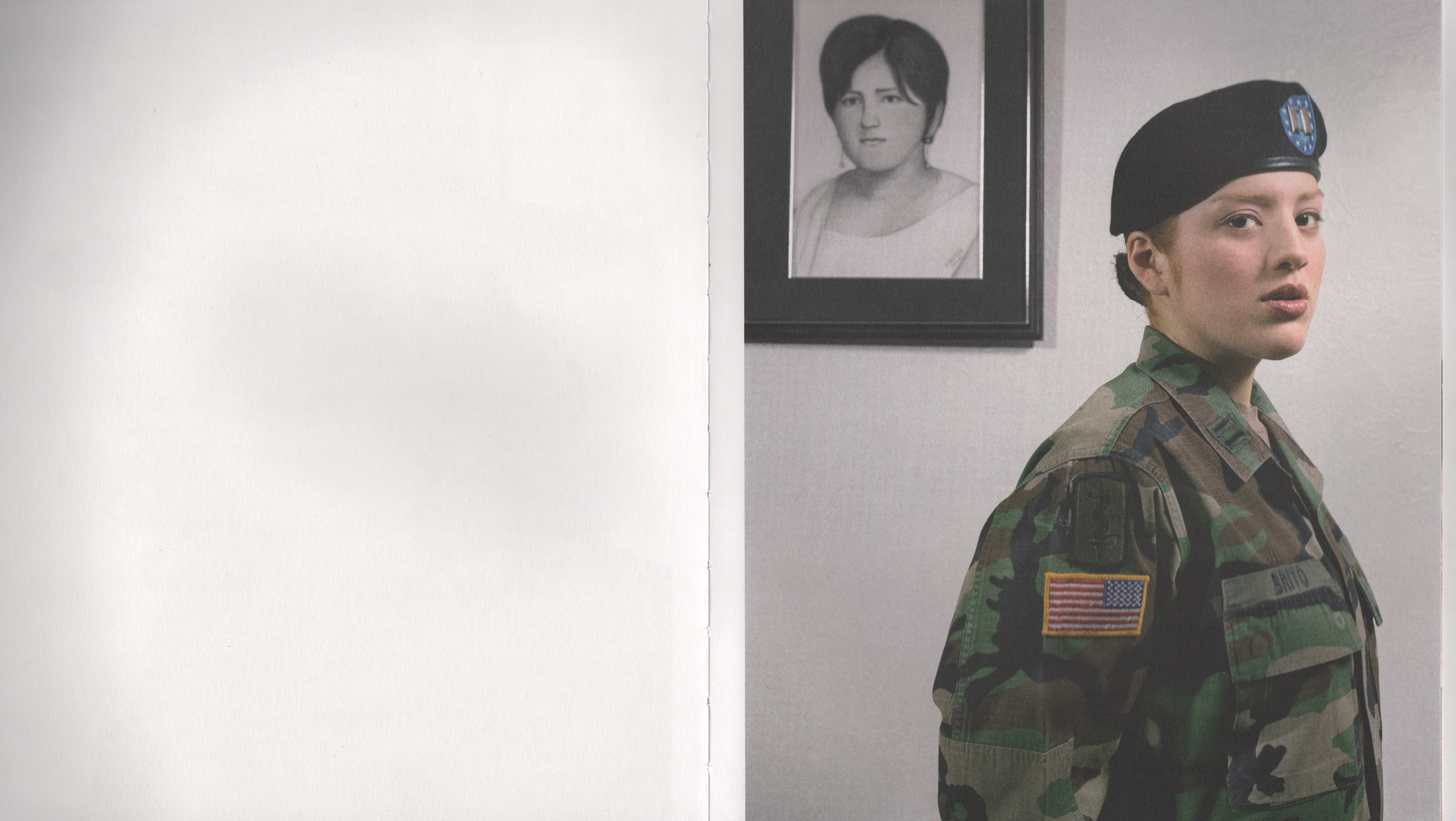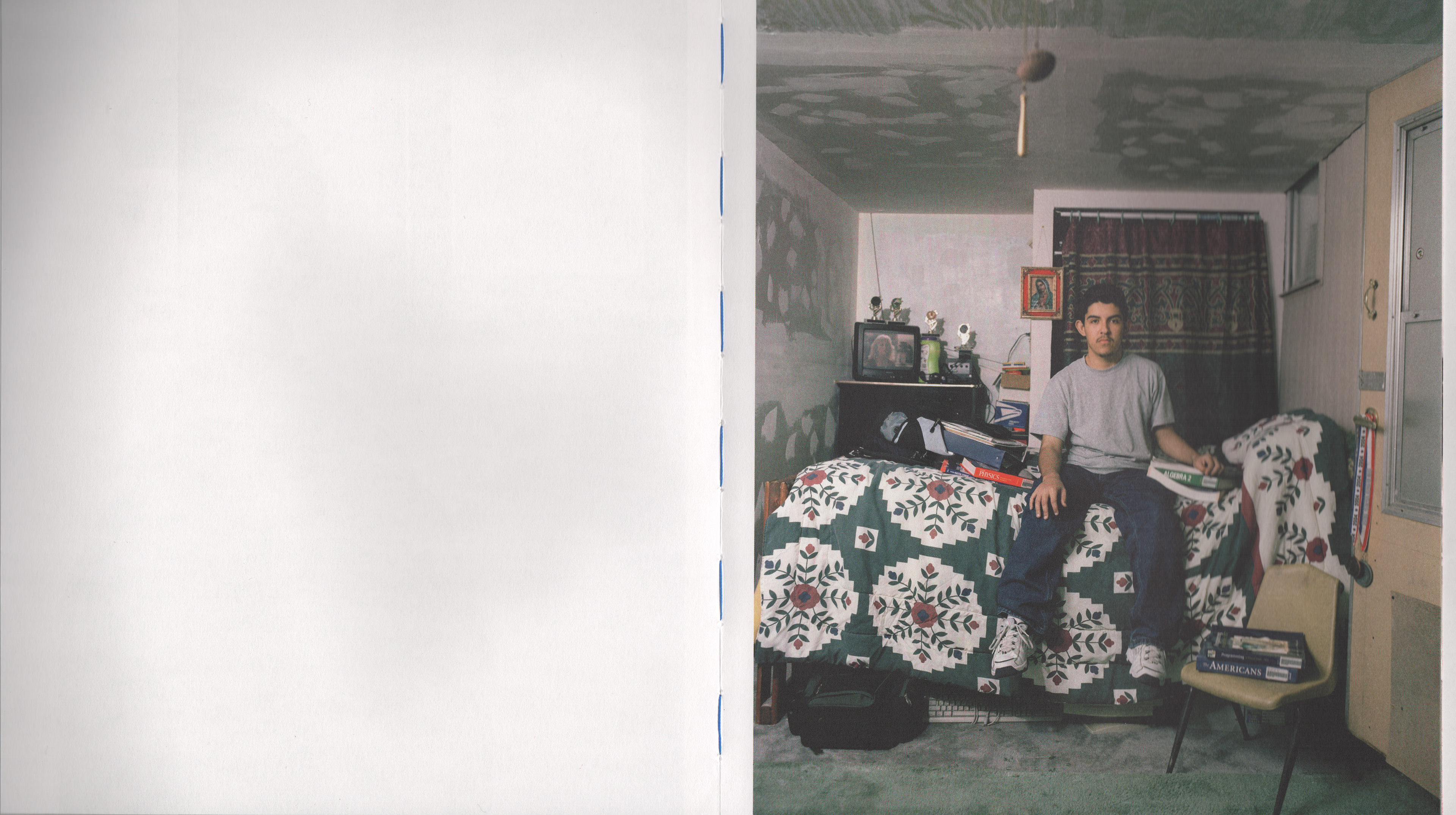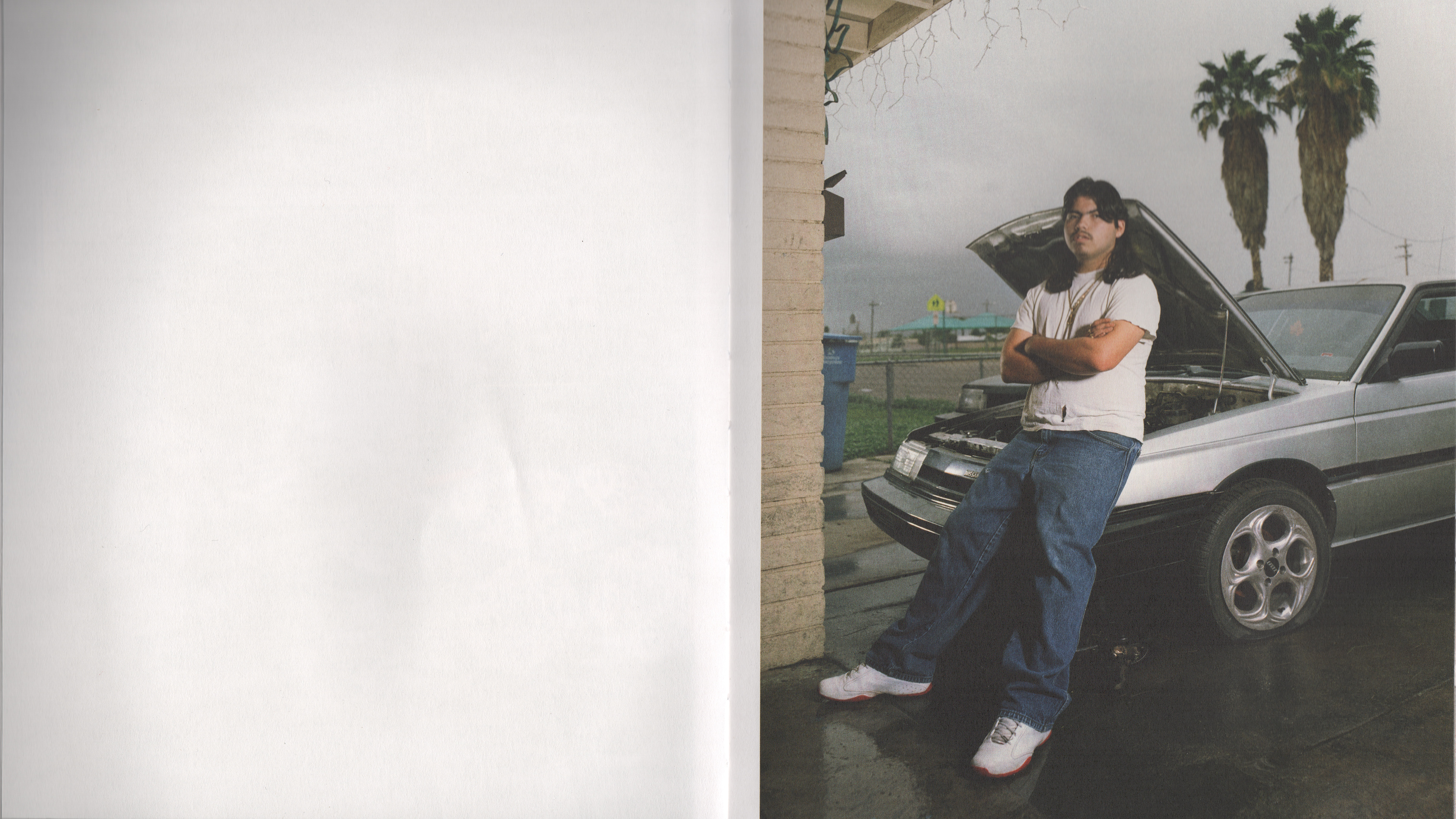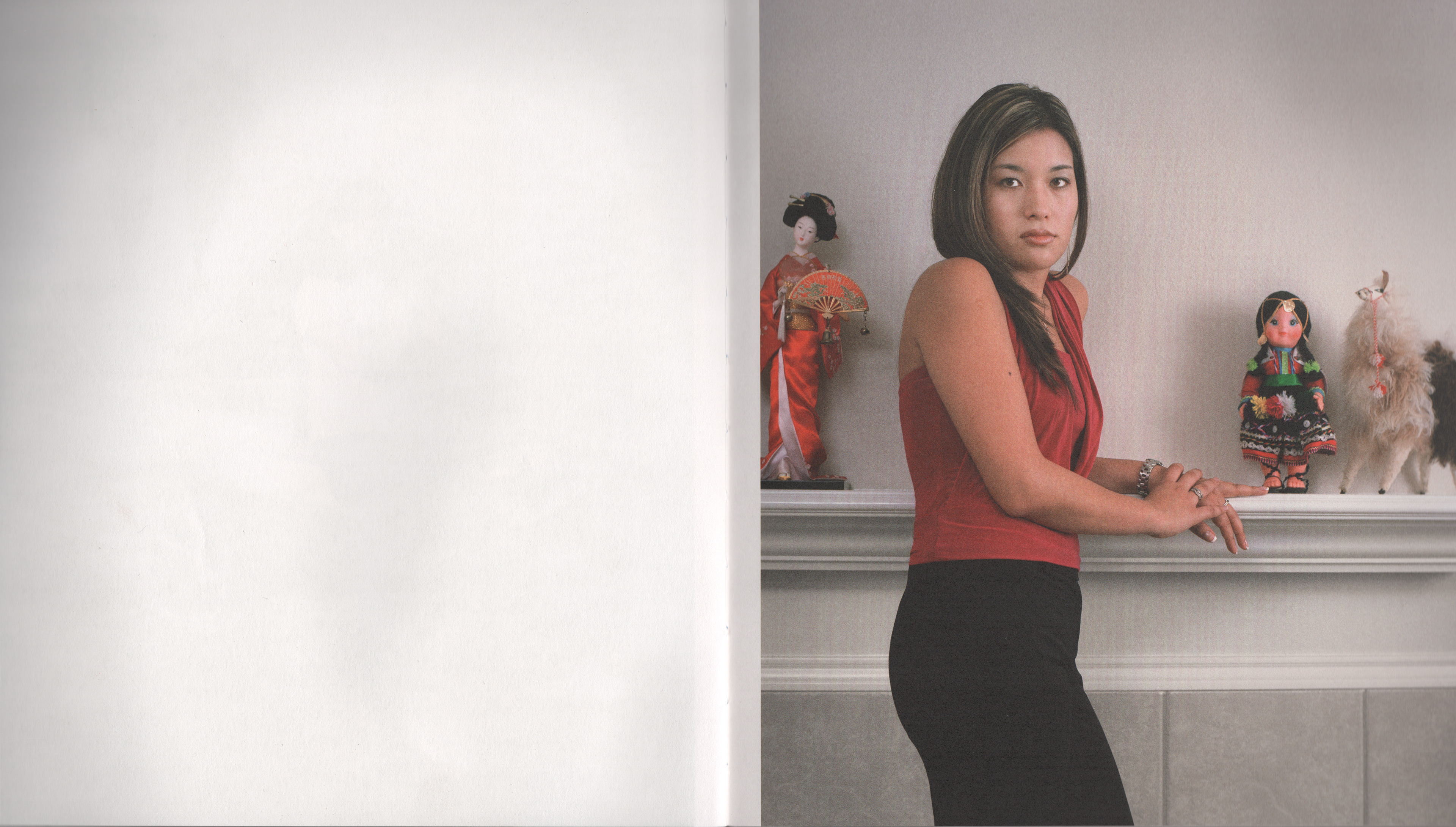 PRIX PICTET
- GROWTH - 2013
The paradoxical theme of 
Growth
 proved to be a rich source of inspiration to the artists and nominators of the third cycle of the Prix Pictet. Over 450 nominated artists submitted many outstanding images that communicated powerful messages about the devastating impact of unsustainable human enterprise. After much debate the independent jury shortlisted twelve artists from eight different countries.
In shortlisting these photographers, inevitably some remarkable individual images from other contributors were excluded. This book brings together these photographs and, in doing so, presents a haunting testament to the consequences of a headlong dash for growth. Taken together the showcased images constitute a compelling call for action. As Kofi Annan, the Prix Pictet's Honorary President has said, "
these images deepen our understanding of the changes taking place in our world, raise public awareness of the scale of the threat we face and the urgency of taking preventative action
."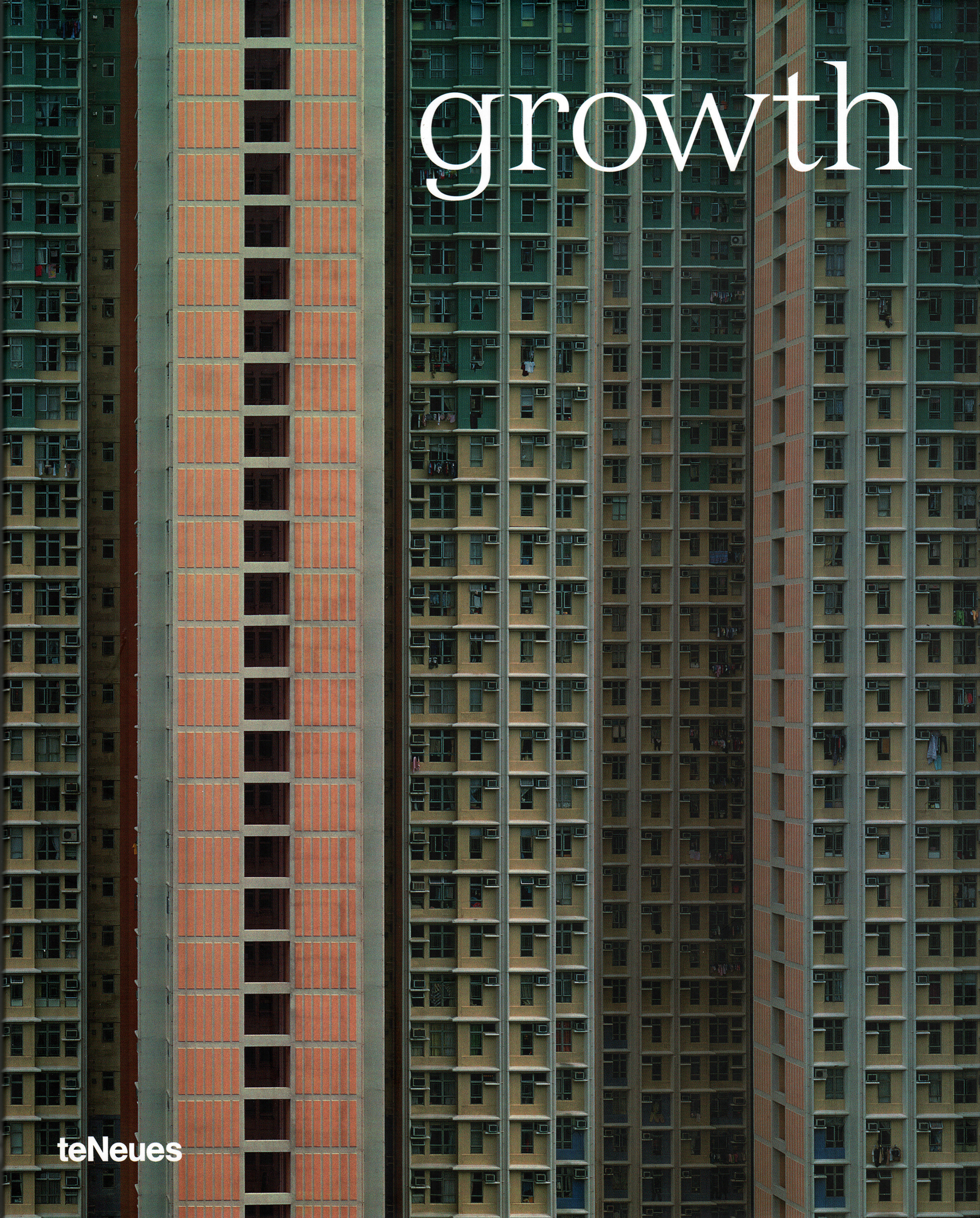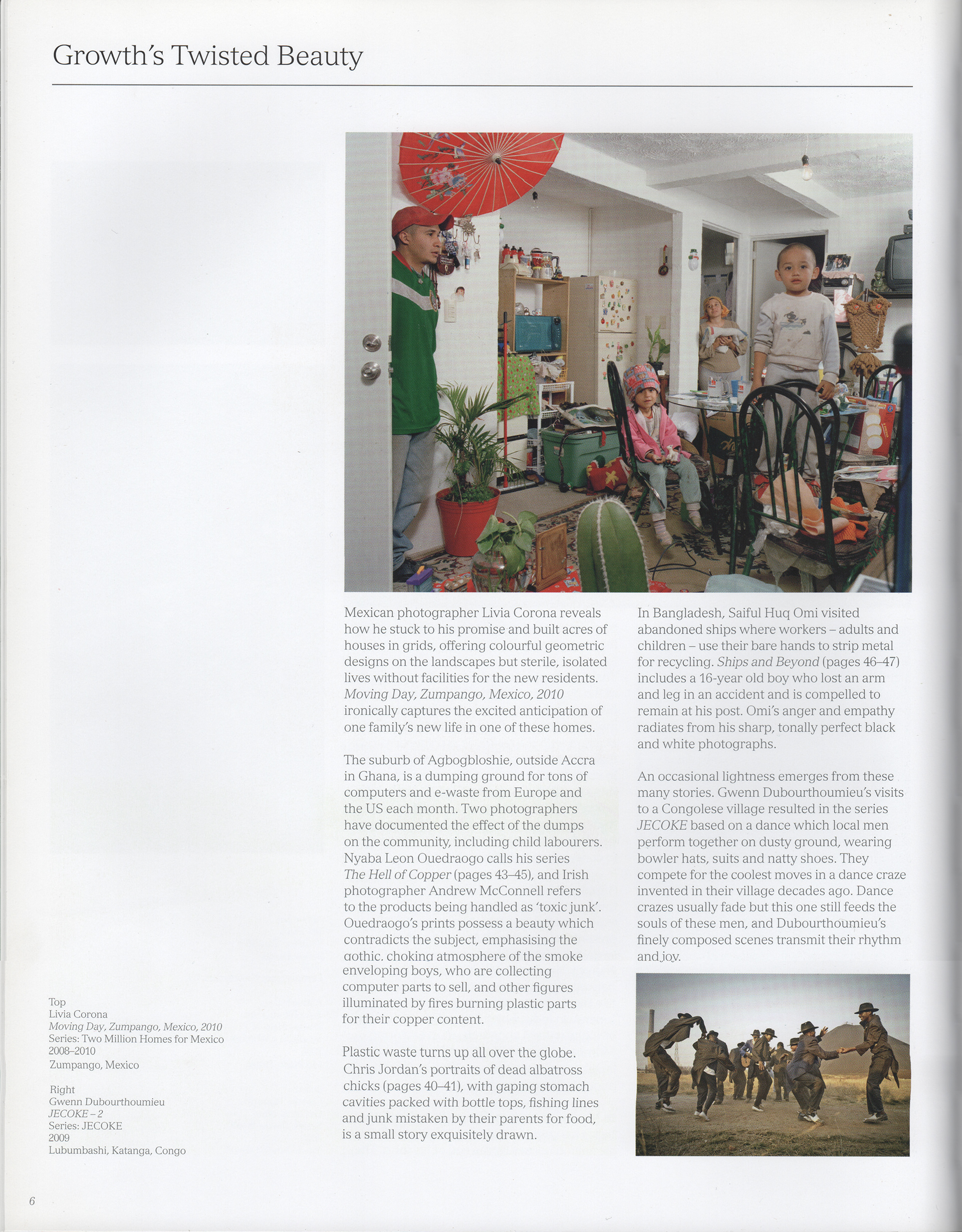 INSTITUT VALENCIA D'ART MODERN (IVAM)
- CIUDAD TOTAL - 2012
The exhibition 'Ciudad Total' tries to provoke a reflection on the momentous changes that cities have experienced in the last decades and that fundamentally modify our way of understand and live in cities, through five areas intimately interrelated: 'Cosmopolis' (ways of life in the big cities), 'Dense Topologies' (concentration and overpopulation), 'Alienated Spaces' (production and consumption), 'Fluid Places' (mobility and speed) and' Virtual Worlds' (the imaginary in the creation of the virtual city).
This exhibition brings together a selection of works, including photographs, sculptures, installations and screenings of artists and filmmakers from around the world, make urban construction and the experiences of the city, its objective central.
Across the world, the process of population concentration has accelerated large metropolises that cannot be considered as mere cities in the conventional meaning of the term. The last report of the United Nations on the "State of World Population" points out that currently more than fifty percent of the world's population lives in cities, many of them inhabited by several tens of millions of inhabitants, especially in the called "third world". Thus, we see that archipelago of cities-regions of high technological capacity with an absolutely decisive influence on the world scene. 
We're talking about huge crowds of people in physical spaces, called cities, which no longer have any centralized structure or concentrated, but that are intensely interconnected in a complex polyhedron that constitutes the metropolitan life of this beginning of the millennium. Many of these new metropolises will be articulated as scattered nuclei  along transport routes and services (such as airports, centers shopping centers, theme parks, business centers ...), large agglomerations unevenly distributed and diffusely organized by all the world geography.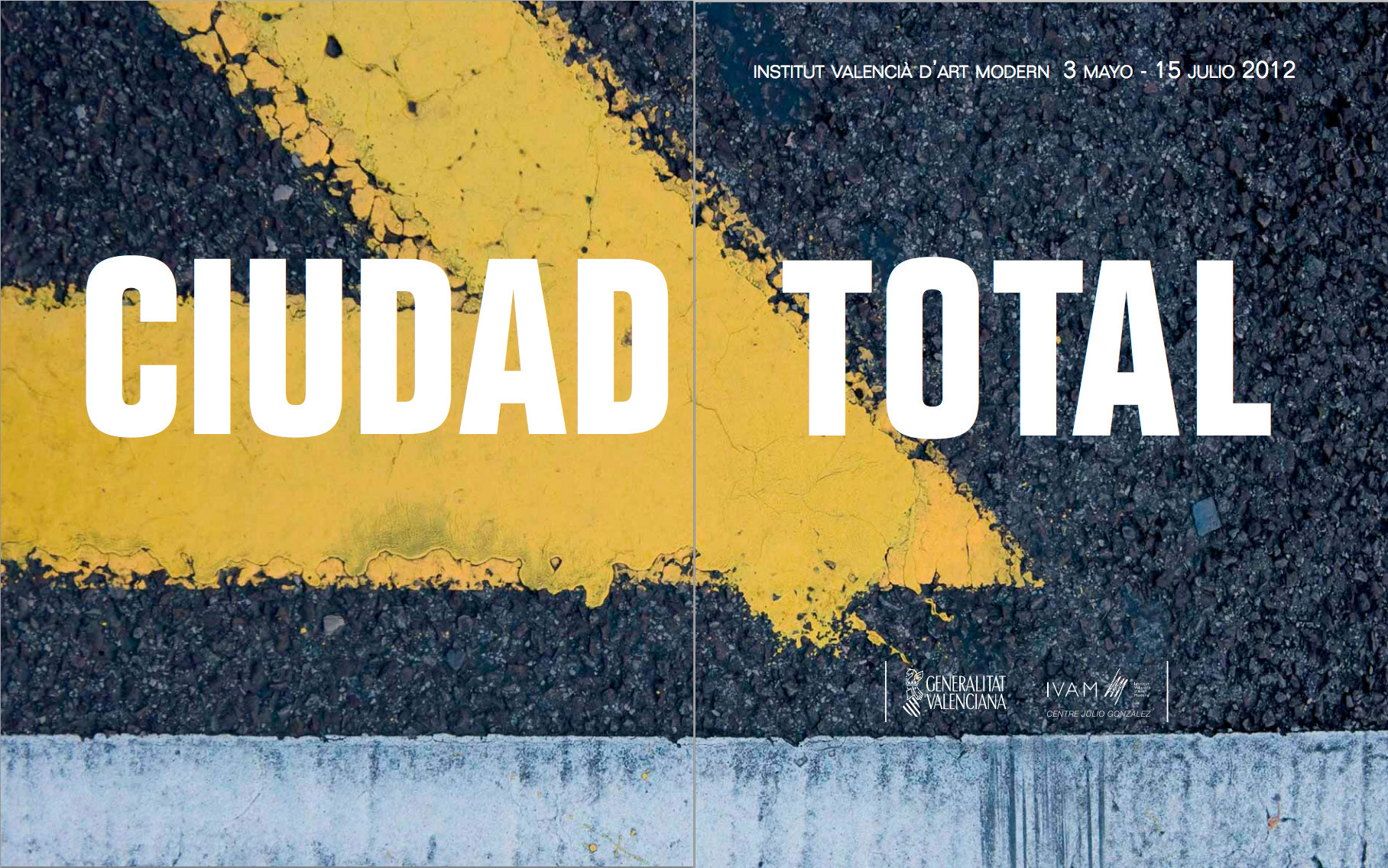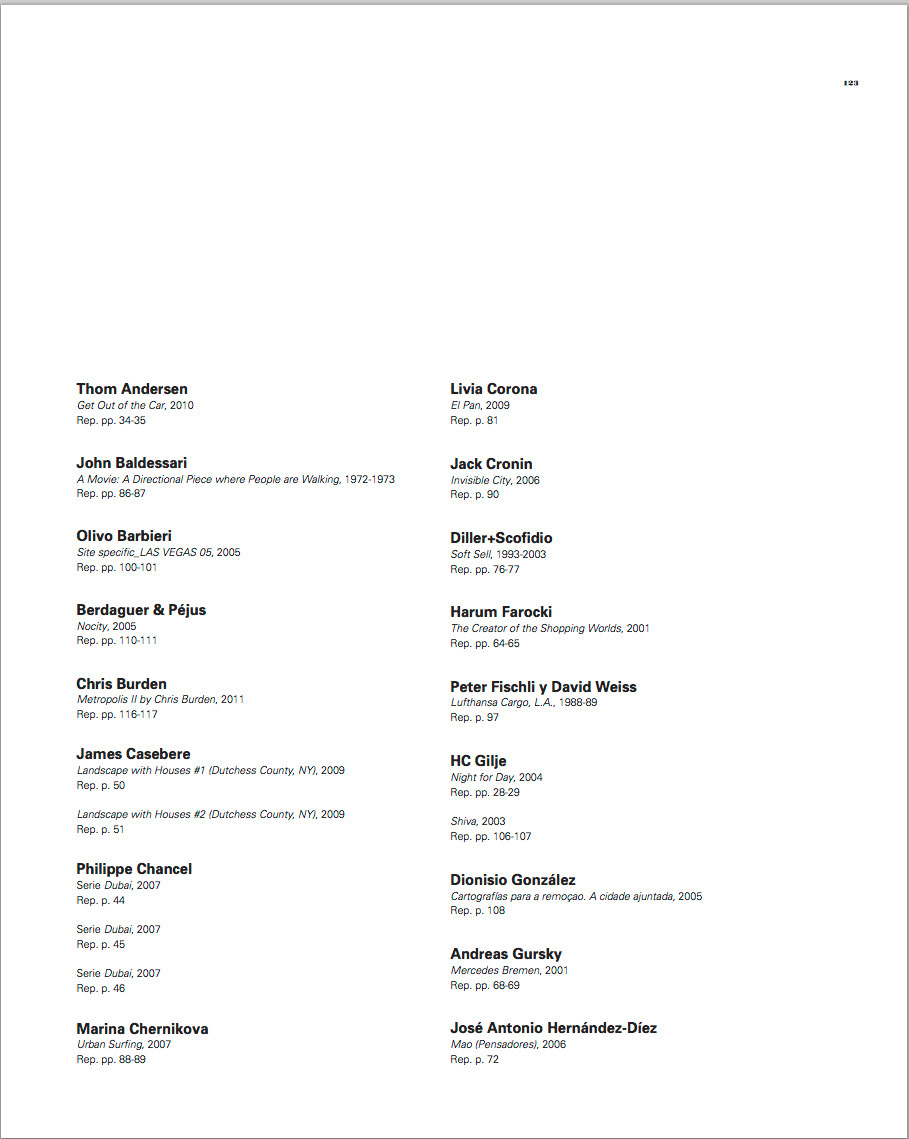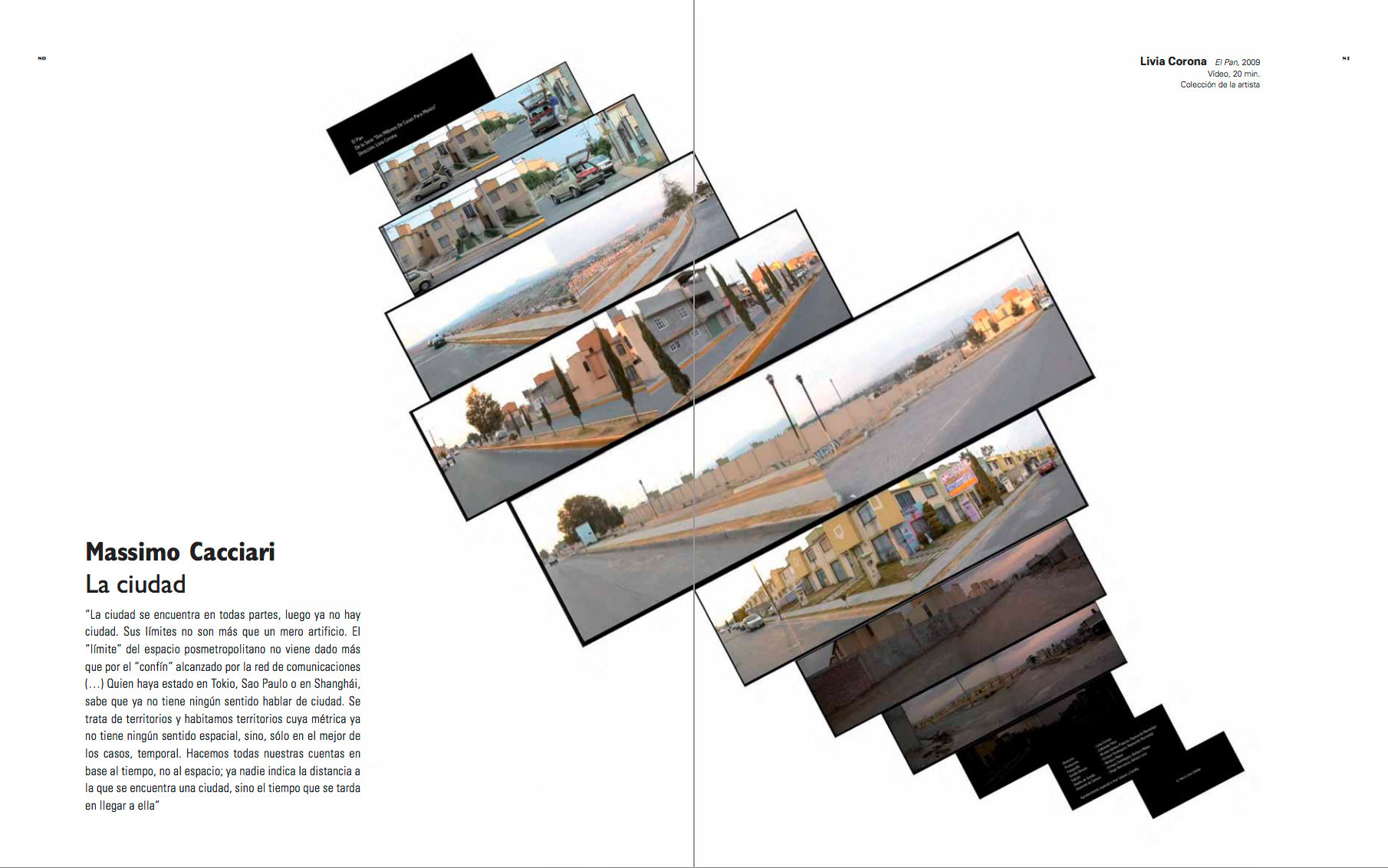 CONACULTA
- MUJERES DETRÁS DE LA LENTE, 100 AÑOS DE CREACIÓN FOTOGRÁFICA EN MÉXICO 1910-2010 - 2012
In this text, García Krinsky narrates the participation of women behind the camera since the creation of the National School of Arts and Crafts for Young Ladies, an idea of ​​Benito Juárez, where photography classes were included. It speaks after several of them who acquired the trade in studies. Later, they would be present with their images in the Mexican Revolution -as is the case of Sara Castrejón- and in the postrevolución, as well as with the arrival of new looks with the Spanish Civil War and the Second World War. 
It will be around the 1970s, says the author, when there is a boom in photography and it is then that the names emerge that we hear about every day, from Mariana Yampolsky or Graciela Iturbide to those younger in their work. In her text, Eli Bartra recounts the movement of women in search of their rights, of feminism, and how all these struggles had an impact on the art world, while Blanca Ruiz addresses the issue by giving voice to some representatives of the photo in Mexico, such as Flor Garduño, Maya Goded, Lourdes Grobet and Ana Casas, among others.
The richness of the volume lies not only in the texts but also in the very large photographic portfolio that constitutes the majority of the book, with the reproduction of photographs taken by women ... over 100 years.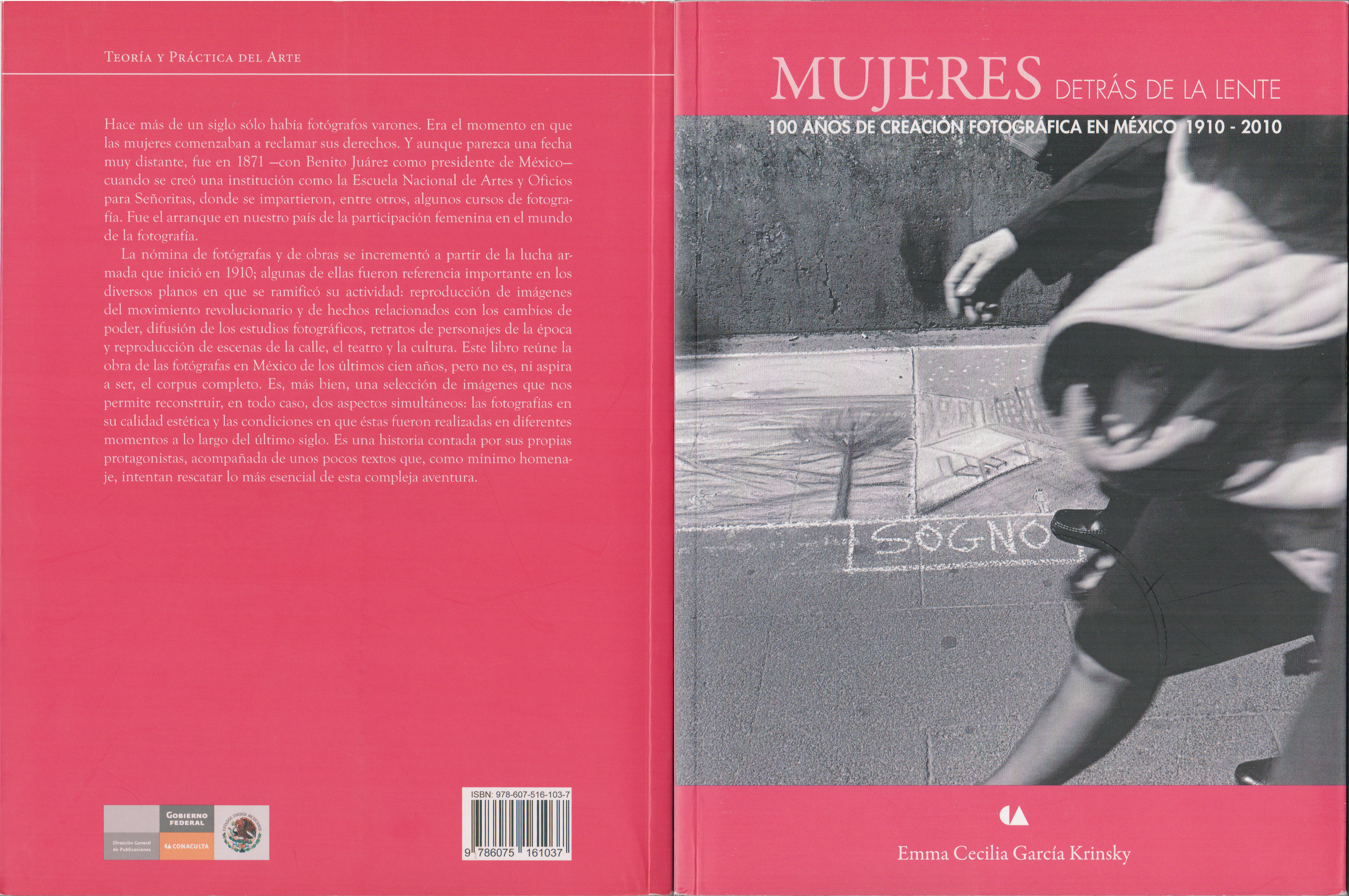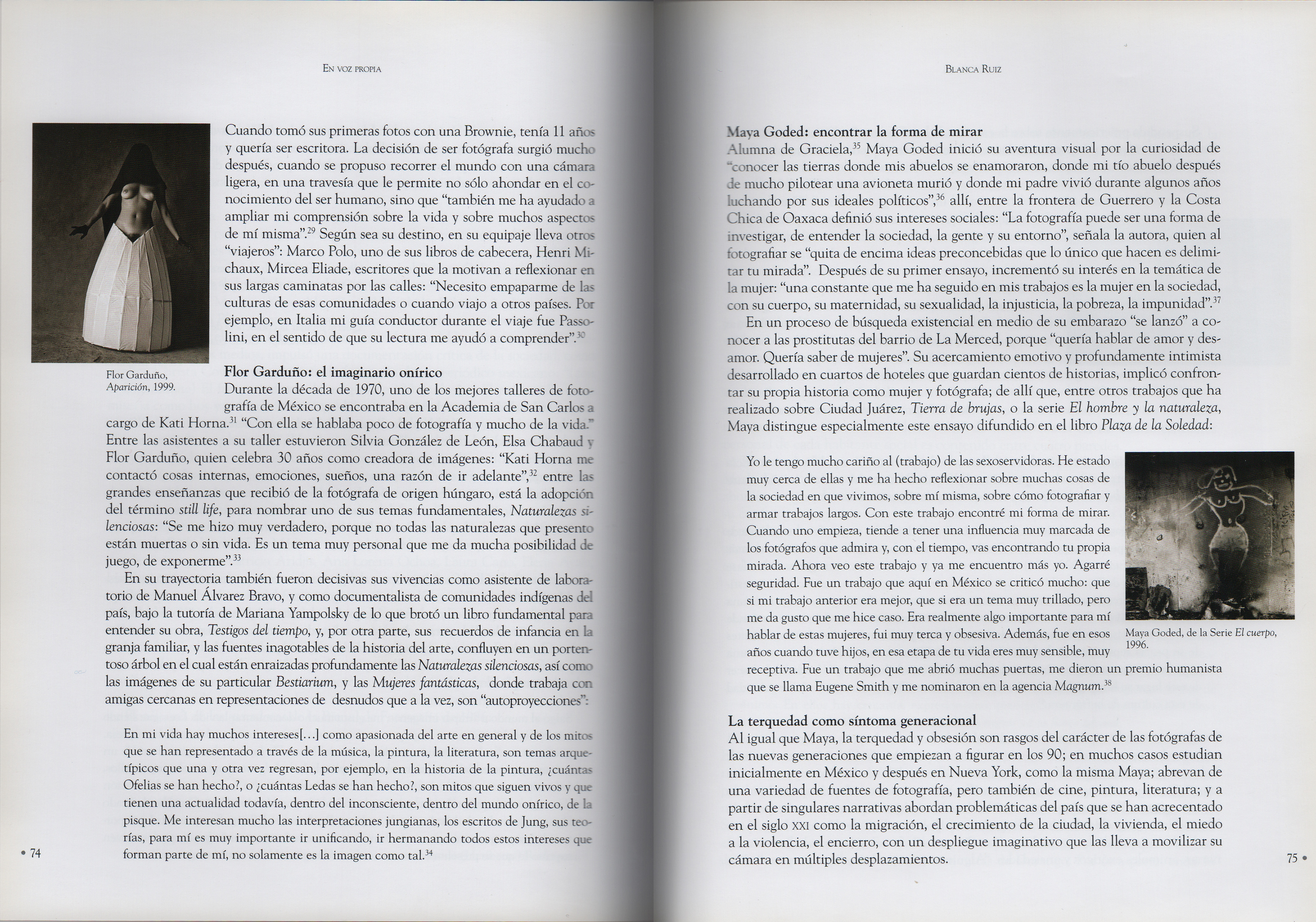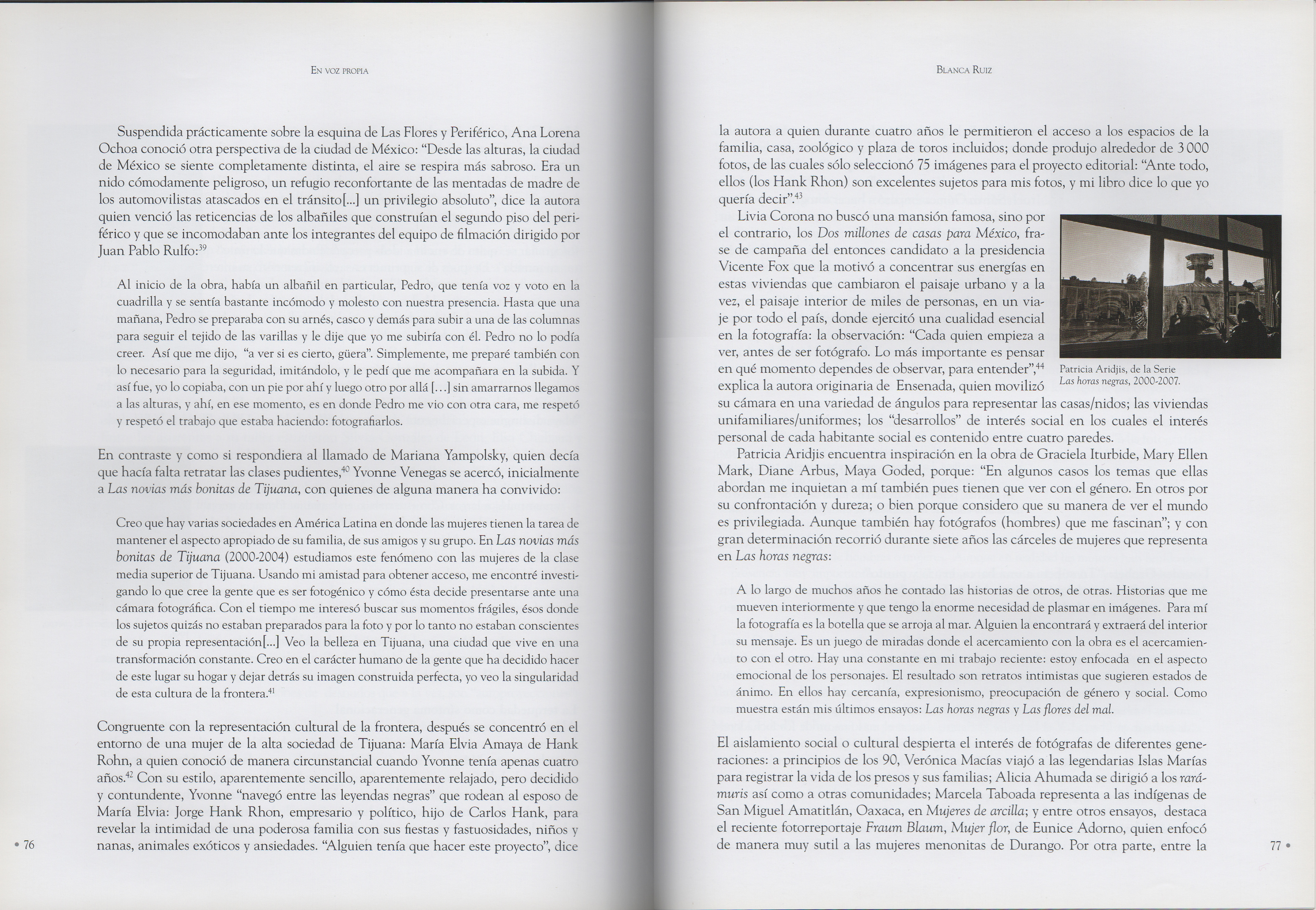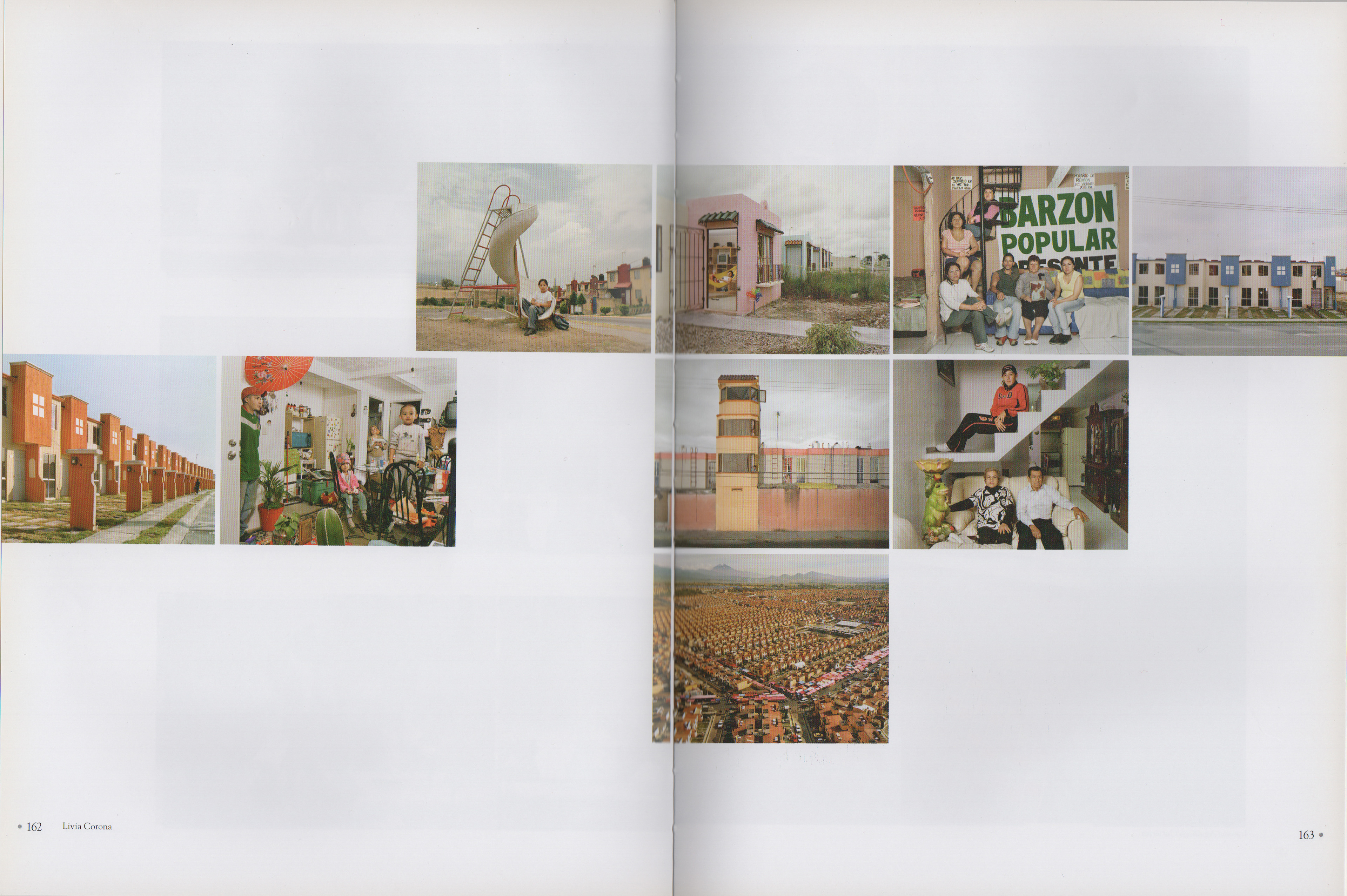 FEMSA - MARCO
- X BIENAL MONTERREY - 2012
After twenty years of recognizing, encouraging, strengthening, and promoting the artistic creation in Mexico, the Bienal Monterrey FEMSA celebrates its tenth endeavor at the Museo de Arte Contemporáneo de Monterrey (MARCO).

Instituted in 1992, the Bienal Monterrey FEMSA has become, through its efforts over the past twenty years, the most important visual arts competition in Mexico. Along the way, 8,640 artists have participated with 21,085 works.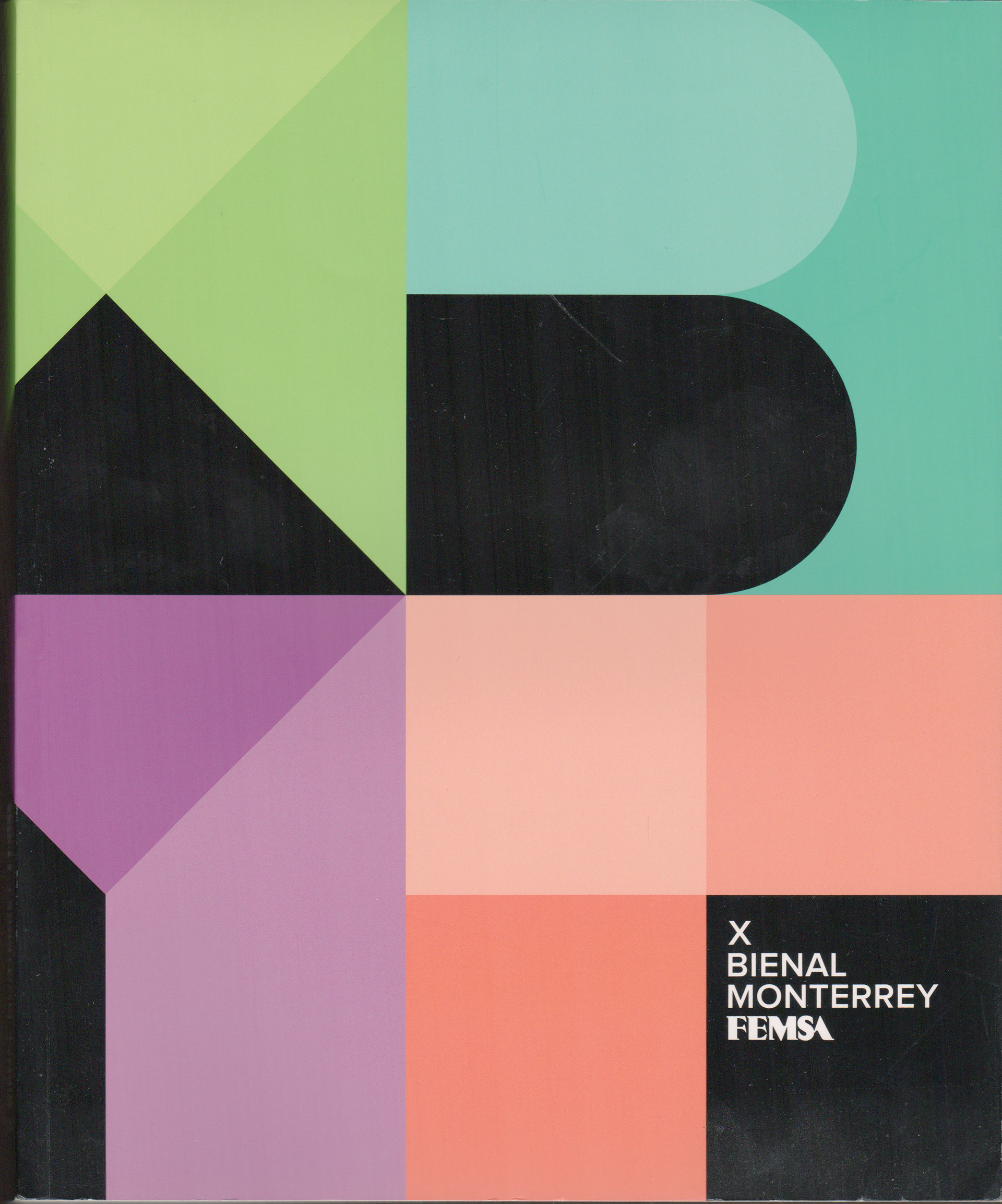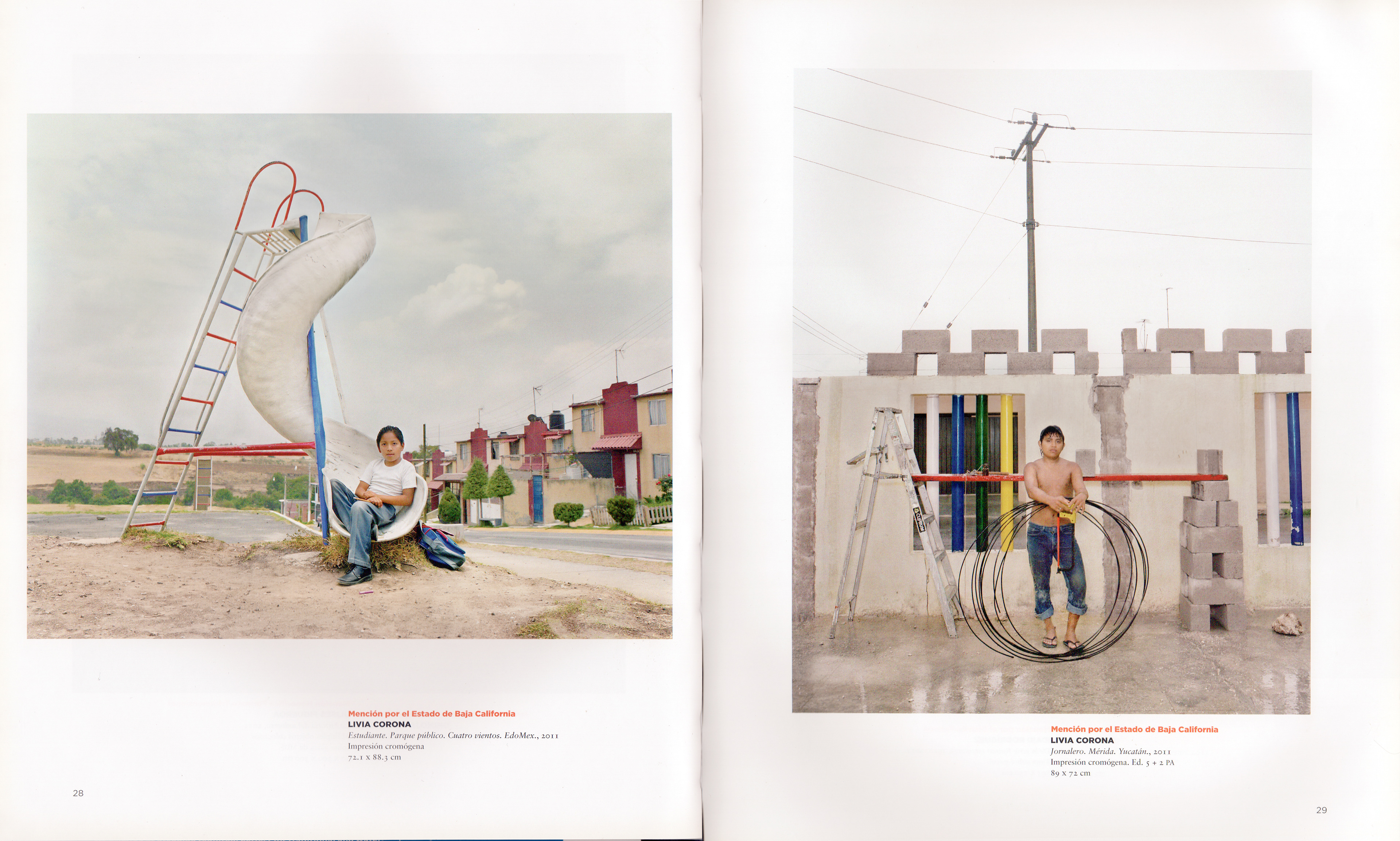 MOUNT HOLYOKE COLLEGE ART MUSEUM
 - WORLD DOCUMENTS - 2011
Curated by Anthony W. Lee.  Mount Holyoke College Art Museum
What are the questions facing the socially concerned photographer today? What would an exhibition of present-day documentary photography, aware of its own historical past and conscious of current social issues, look like now? What new strategies are there to address the obstacles and opportunities created by rapid media changes and intensified cross-cultural contact?
In answer to these questions, 
World Documents presents the work of some of the most compelling photographers on the current scene, juxtaposing their disparate ideas of documentary photography and familiarizing audiences with social issues facing different peoples of the world. Although some possess long distinguished oeuvres, while others are at mid-career, and still others are just emerging, they share a commitment to photography's social, ethical, and moral possibilities; they are attentive to the ebb and flow of social and political relationships on a worldwide scale; and they are mindful of the camera as a producer of meanings, not merely a passive recorder or witness of events. The exhibition presents notable or signature projects undertaken by the photographers in order to suggest what a documentary project can be like in an individual p
hotographer's hands, while also
permitting comparisons within and between the projects.
The photographers tackle key issues across the globe. Livia Corona focuses on new housing developments in Mexico; Binh Danh grapples with the history of torture and violence in Cambodia; Jason Francisco meditates on the condition of American Jews living in the diaspora; Julia Komissaroff documents the dramas for Palestinians living in conflict-scarred Jerusalem; Pok Chi Lau explores the legacy of the Cultural Revolution in post-Tiananmen China; Ken Light documents the plight of child laborers in India; Paul Weinberg investigates the persistence of older forms of spiritualism in post-apartheid South Africa; and Ouyang Xingkai follows the fortunes of the people living in a once bustling but increasingly withering river town in central China.
Exhibition curated by art historian, critic, and photographer Anthony W. Lee, Professor of Art History at Mount Holyoke College. Presented at Mount Holyoke College from 2 September to 18 December 2011.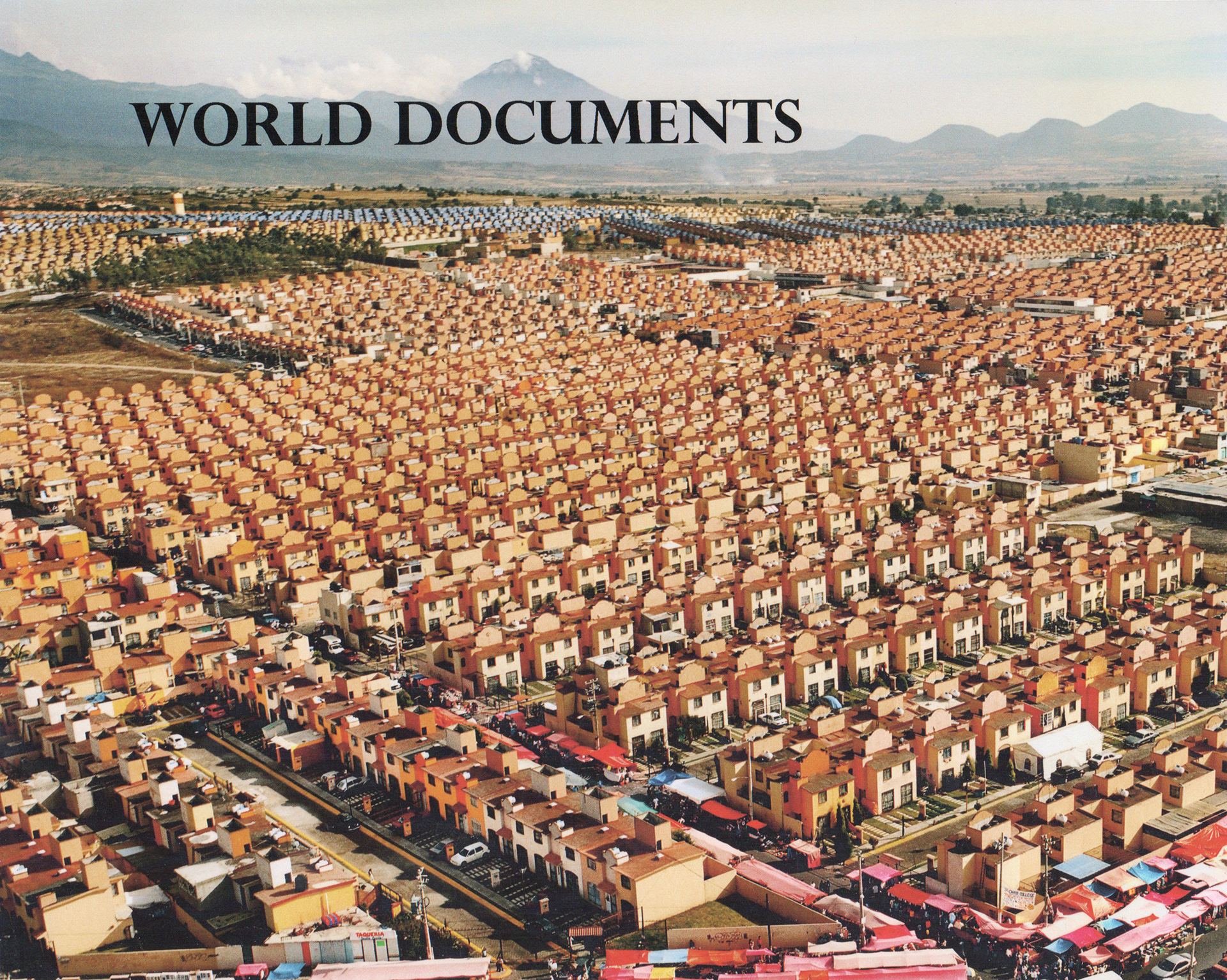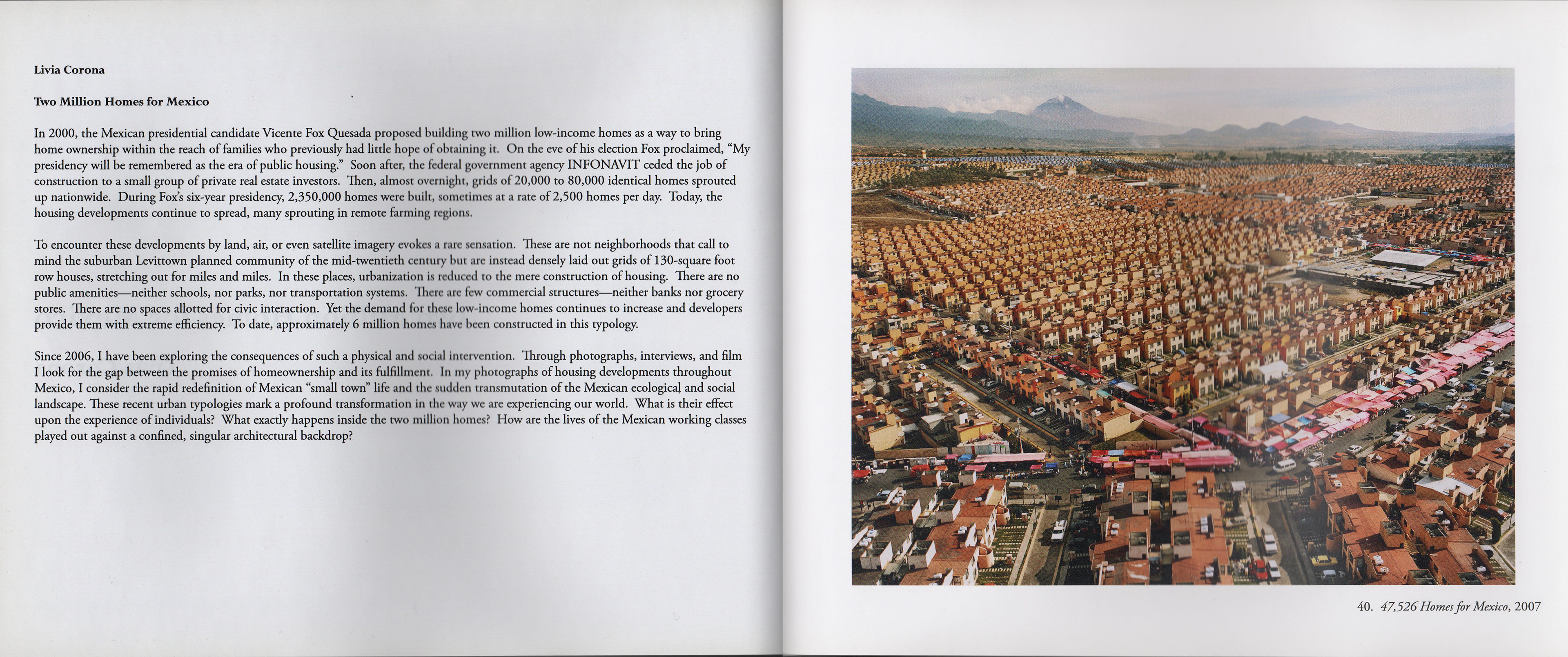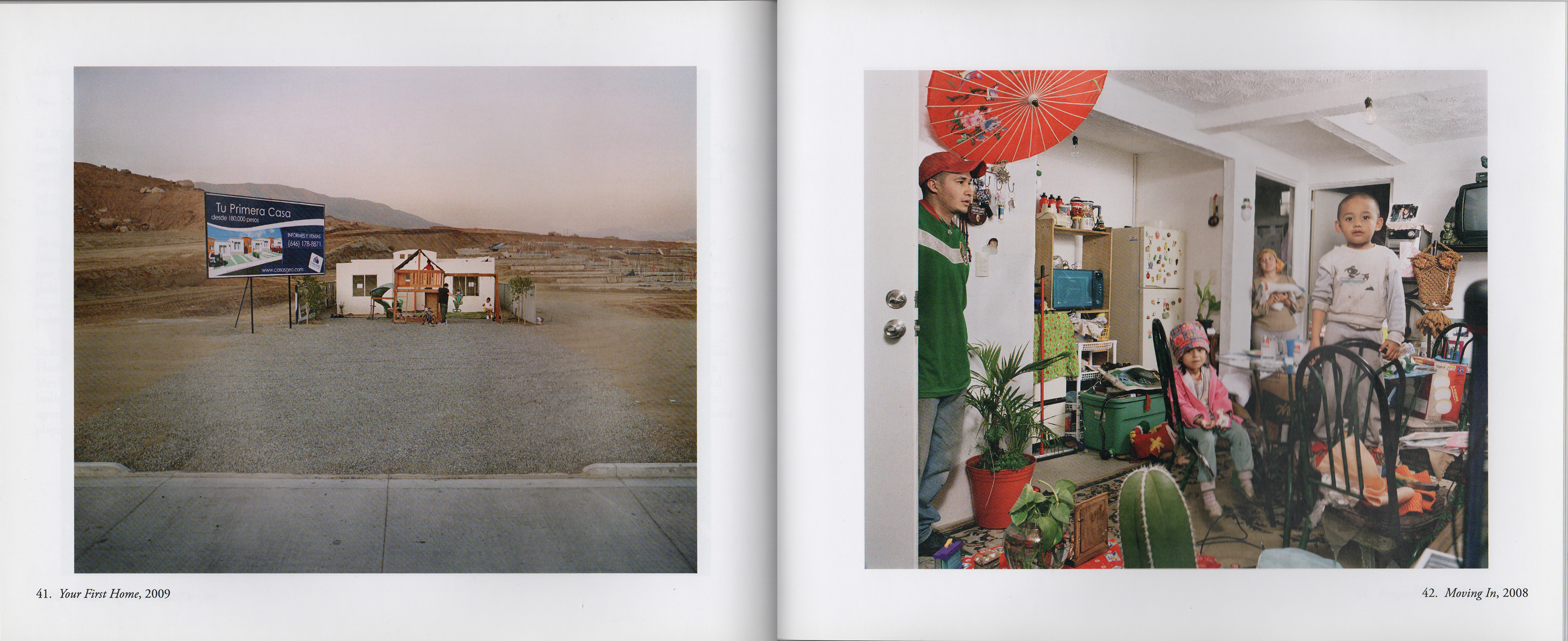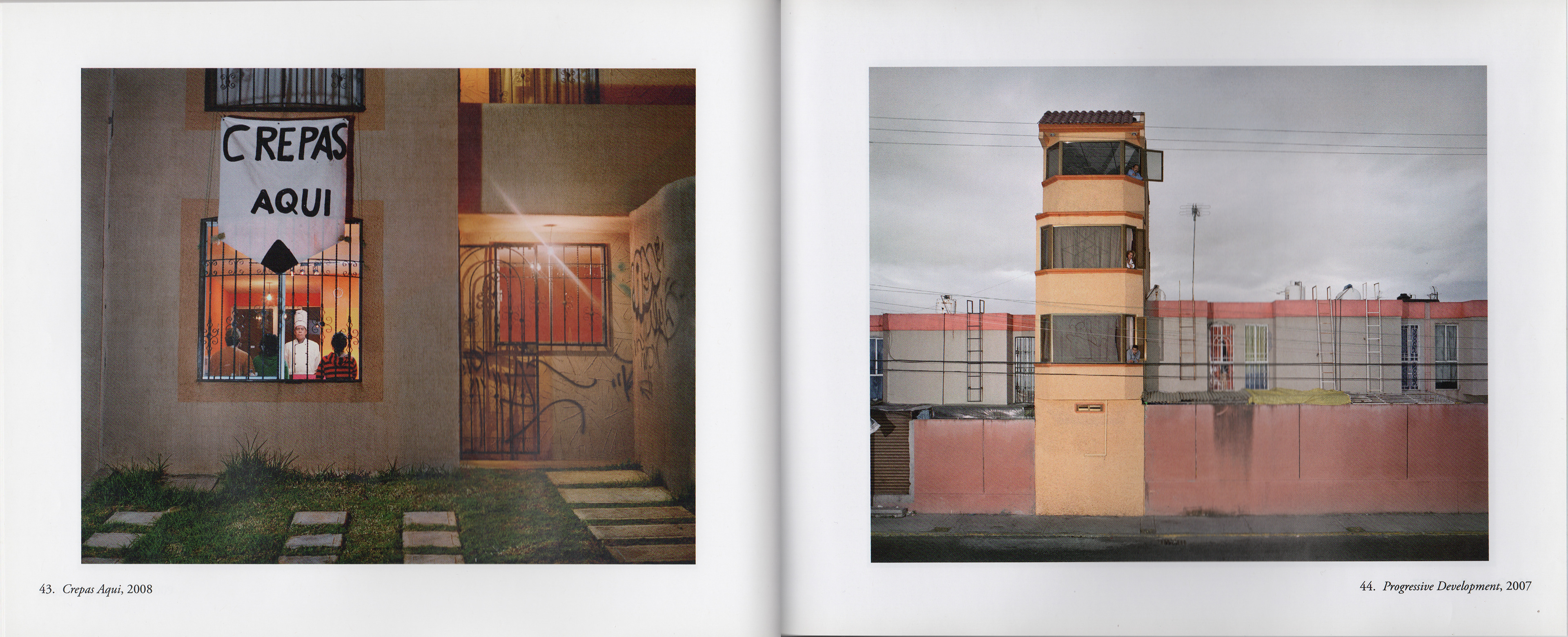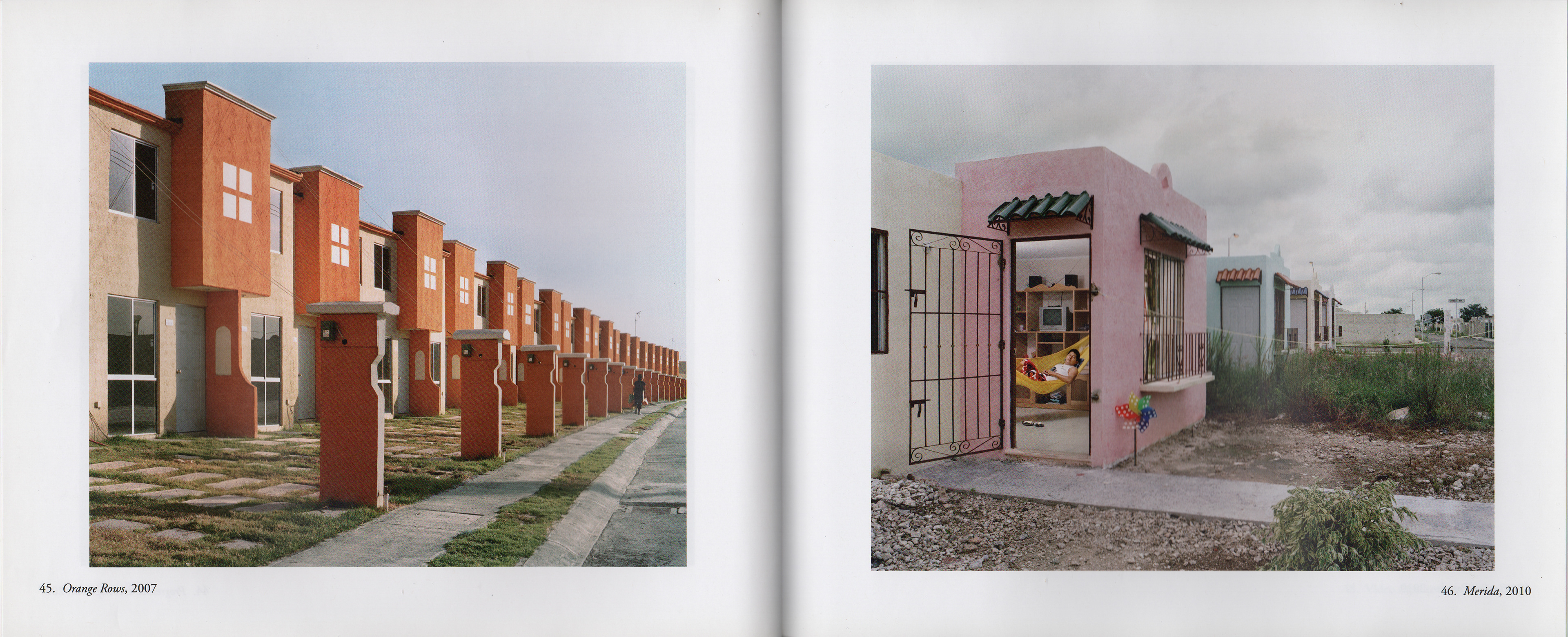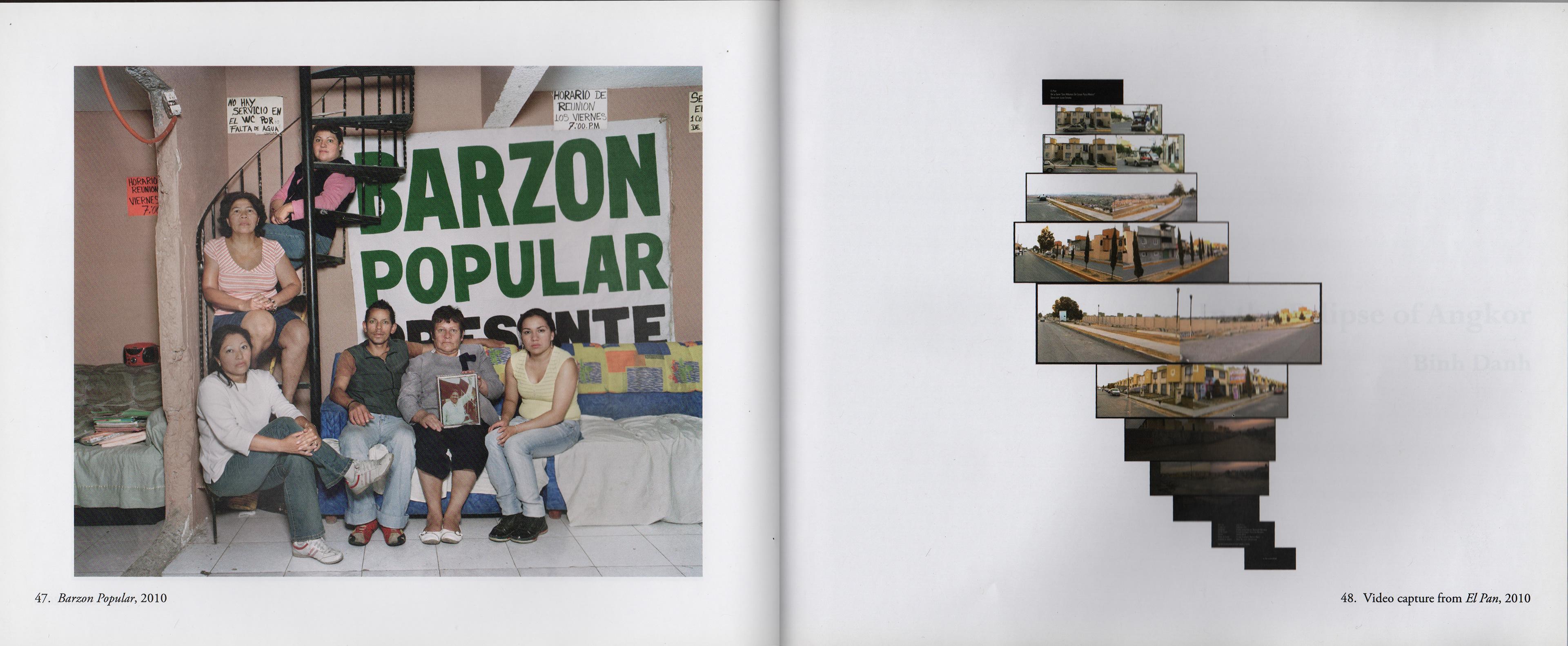 PHOTOESPAÑA
- DESCUBRIMIENTOS 2010
Descubrimientos 2010 is the new title of the PHEBooks collection, and offers a panoramic view of the most interesting aspects of the new photography. Every year, PHotoEspaña invites a group of experts to view the portfolios of new authors. This volume gathers a sample of the 110 artists selected in the XIII edition of the PHotoEspaña festival.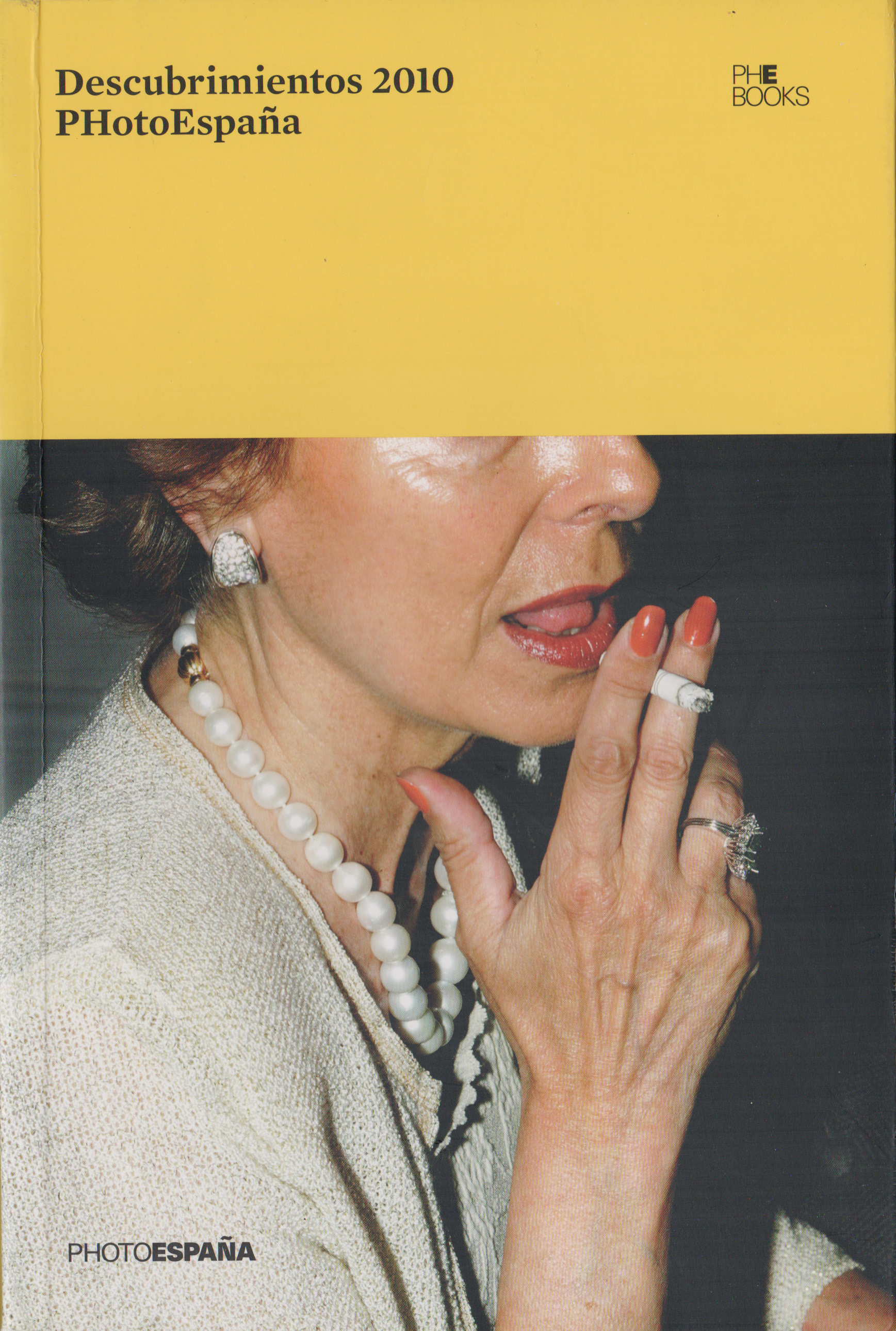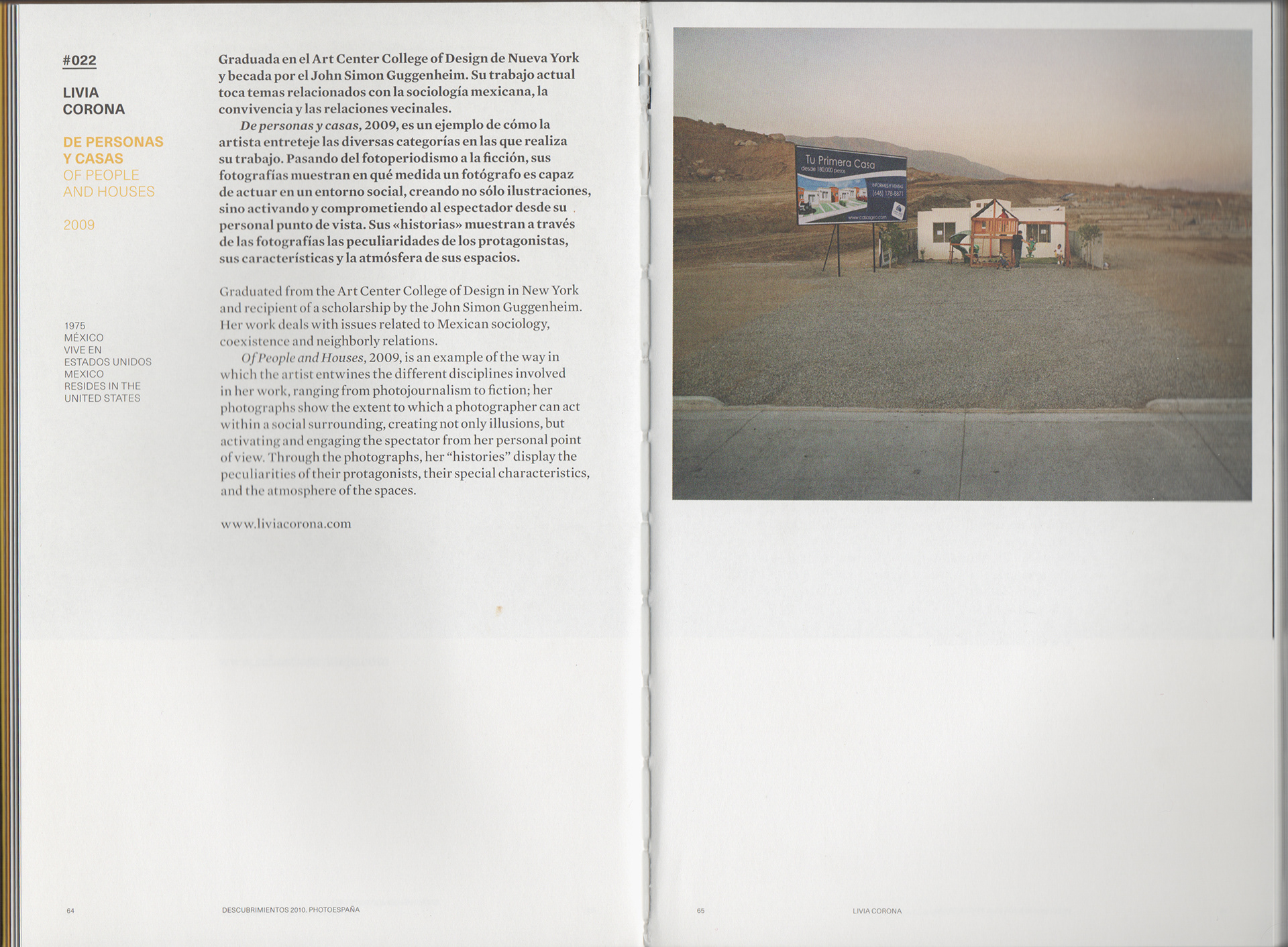 EFE24 NO. 1
- CUADERNO DE FOTOGRAFÍA BARRIOS_QUARTIERS - 2010
The first issue of EFE24 concerns 'the neighborhood'. It includes the photographs of Andreas Meischner, Andreas Till, Camille Hervouet, Carlos Luján, Christophe Maout, Daniel Barthmann, David Maisel, Federico Ferrari, Frederike Wetzels, Guido Castagnoli, Hector Velazquez, Hin Chua, Jan Fassbender Justin James Reed, Kevin Cooley, Livia Corona, Mark Mahaney, Matthew Genitempo, Mawashi Geri, Ralf Brück, Raoul Gatepin, Sandra Kuehnapfel, Xavier Ribas, Xiqi Yuwang, and the texts of Daniel Bühler (Photographer), Laura Vallés (Photographer and writer), Bopha Chhay (Writer), Mark Bembekoff (Independent Commissioner) and Andrea Algueró (Co-editor/Artist)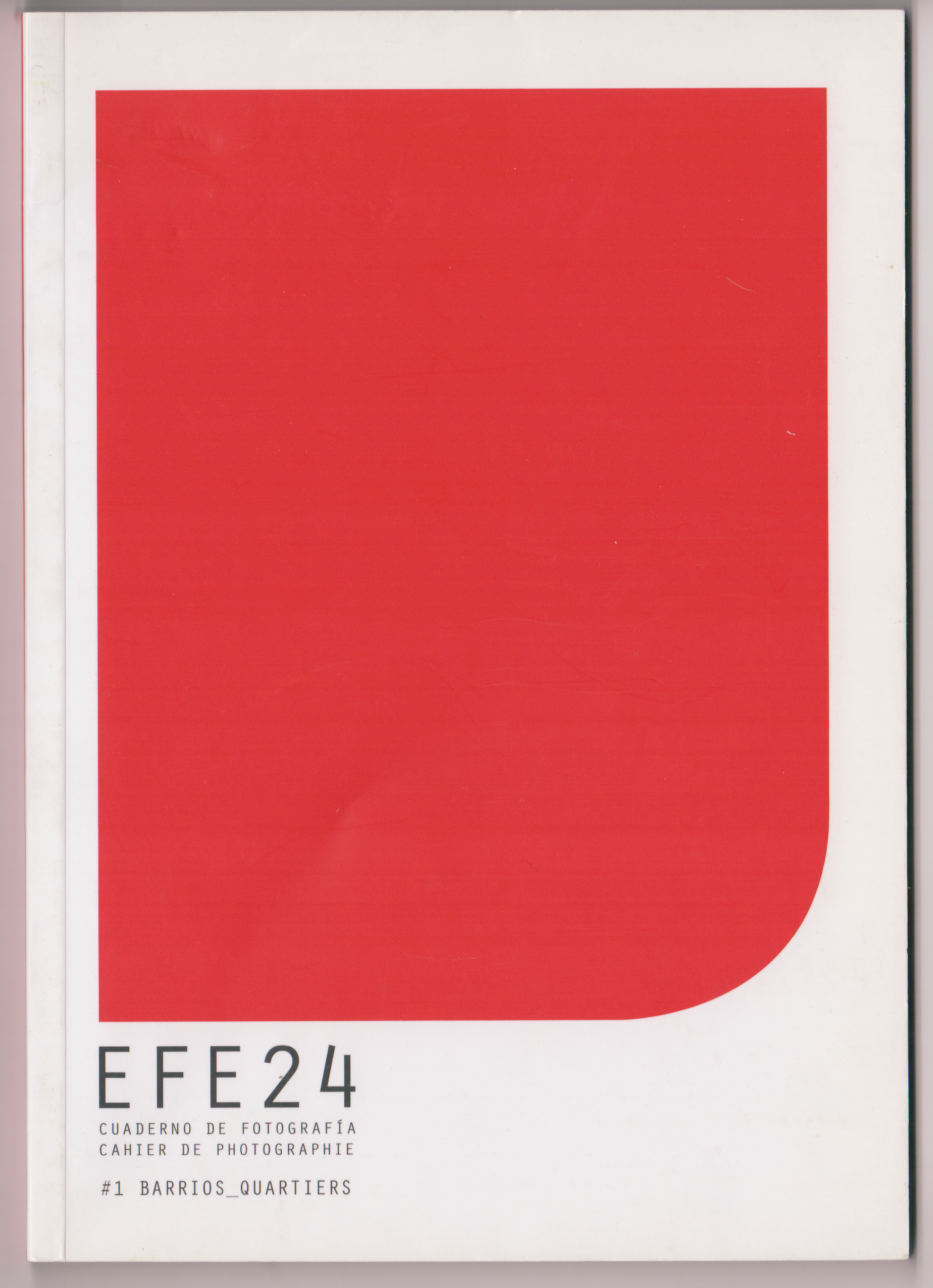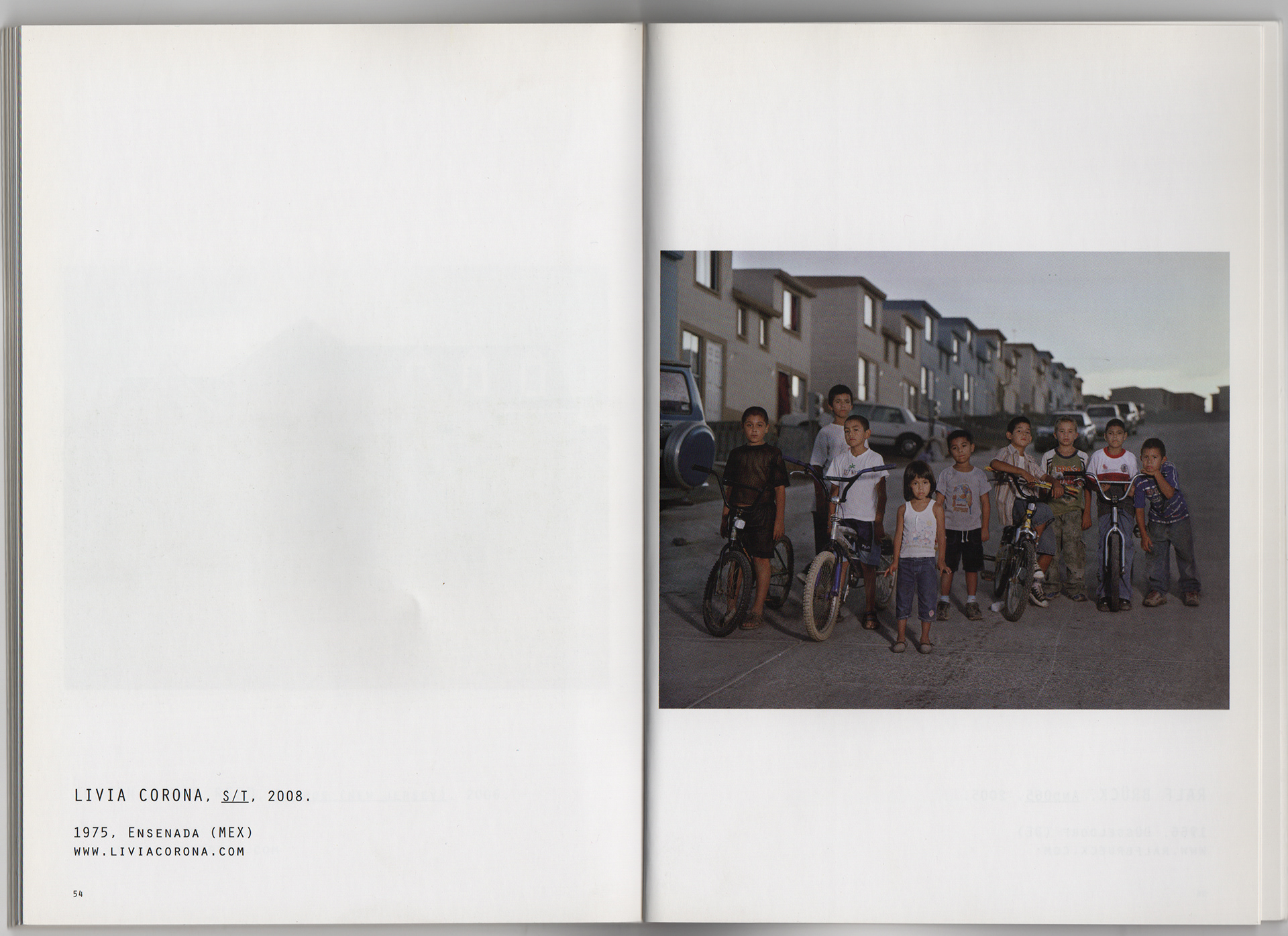 JOVIS
- CITÁMBULOS MEXICO CITY,  JOURNEY TO THE MEXICAN MEGALOPOLIS - 2009
Edited by Ana Álvarez, Fionn Petch, Christian von Wissel, Valentina Rojas Loa, Kristien Ring.
Mexico City, one of the most populous and dense conurbations in the world, faces some of our most daunting contemporary architectural challenges. This unique, incisive volume invites readers on a journey through the everyday life of the city. Not only are its citizens called upon to demonstrate both spontaneity and creativity in order to deal with the city's innumerable problems in this time of growth and globalization, but architects and town planners must also respond, with innovative and unusual strategies, to the challenges of the hyperconcentrated city. Citámbulos--which enumerates urban phenomena that are not characteristic of Mexico City alone, while at the same time raising questions about the future of megacities all over the world--compiles the expertise of artists, urban planners and architects, including Alberto Millán, Carlos Ranc, Rodrigo Remolina and Gabriela Sánchez.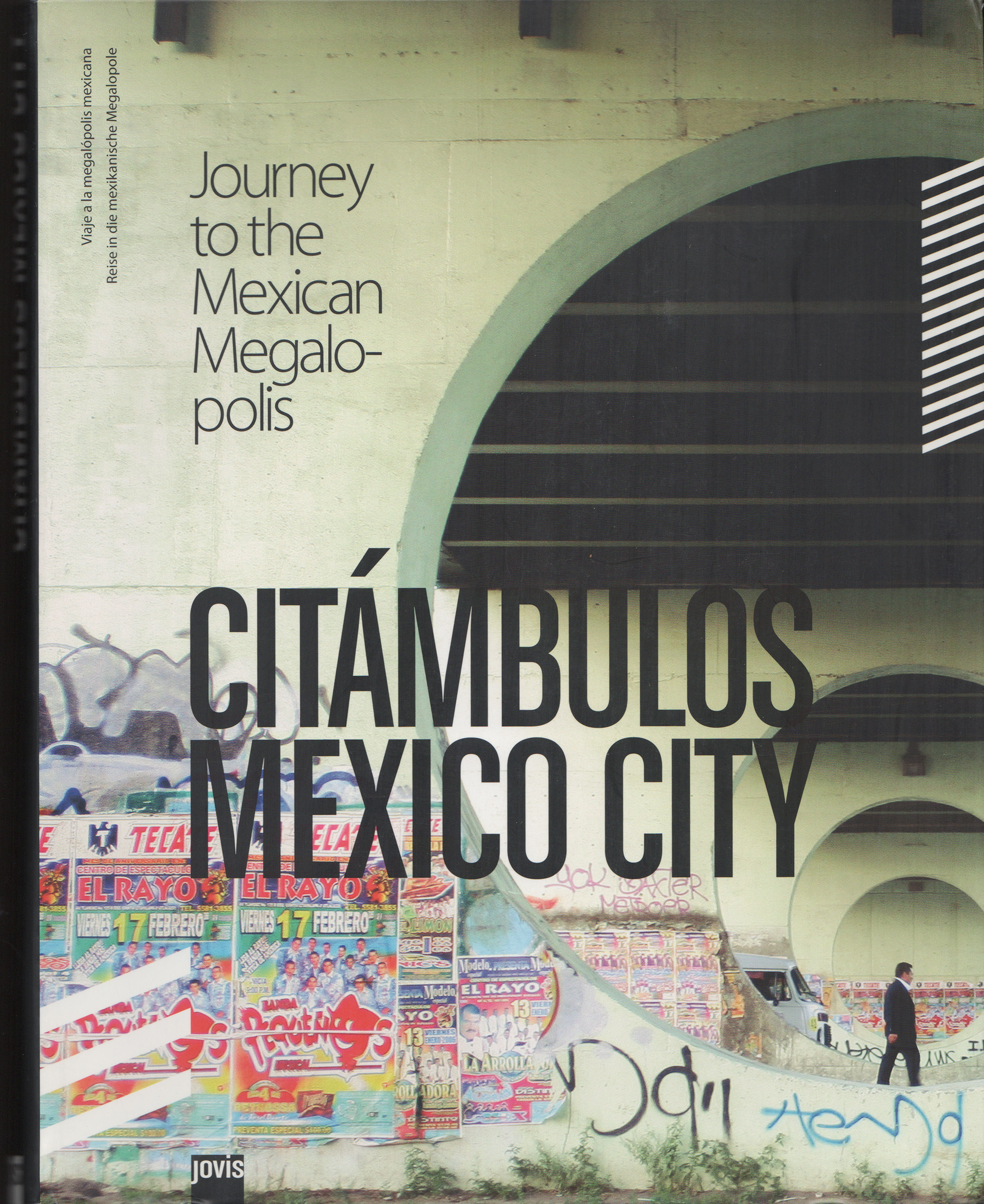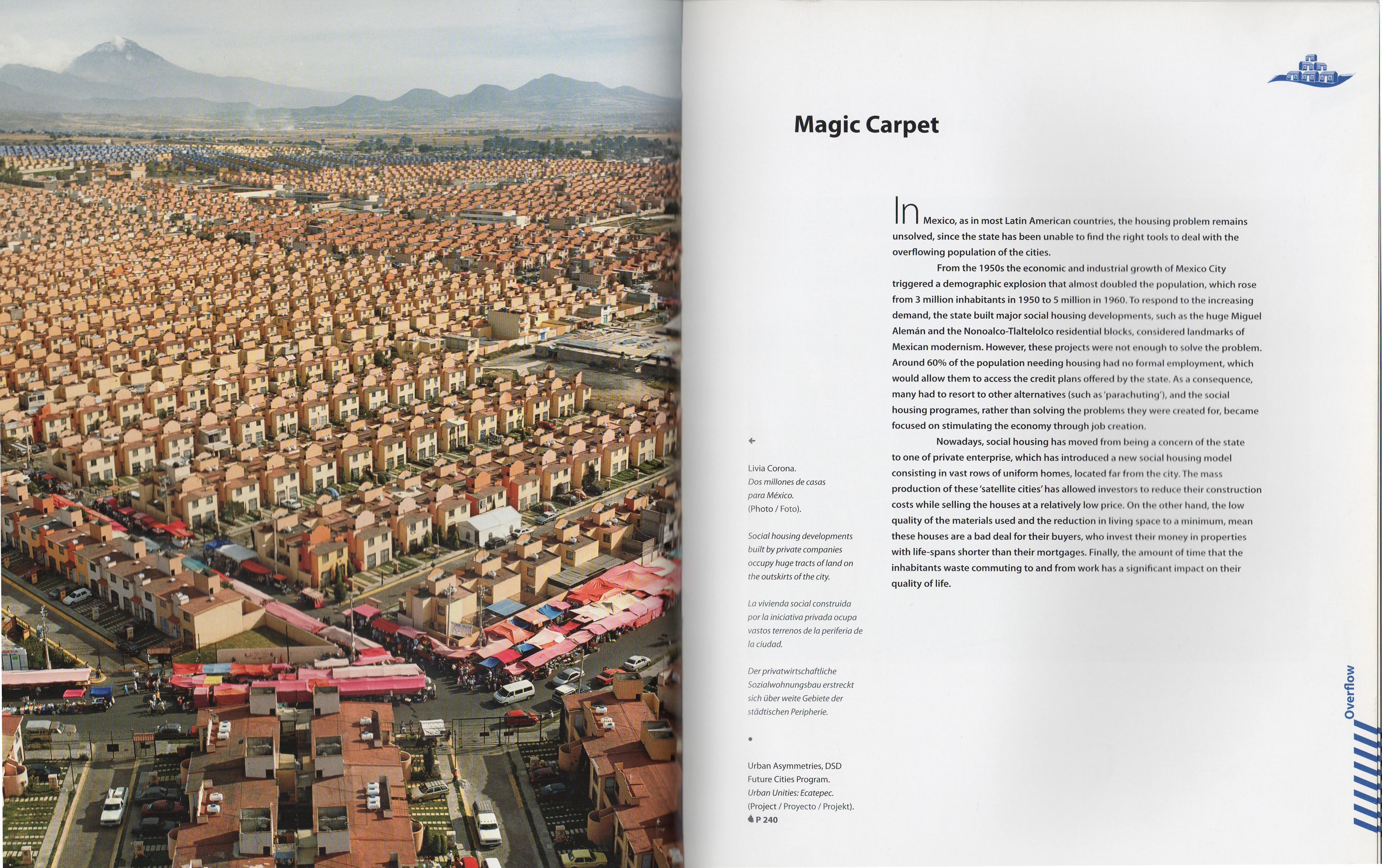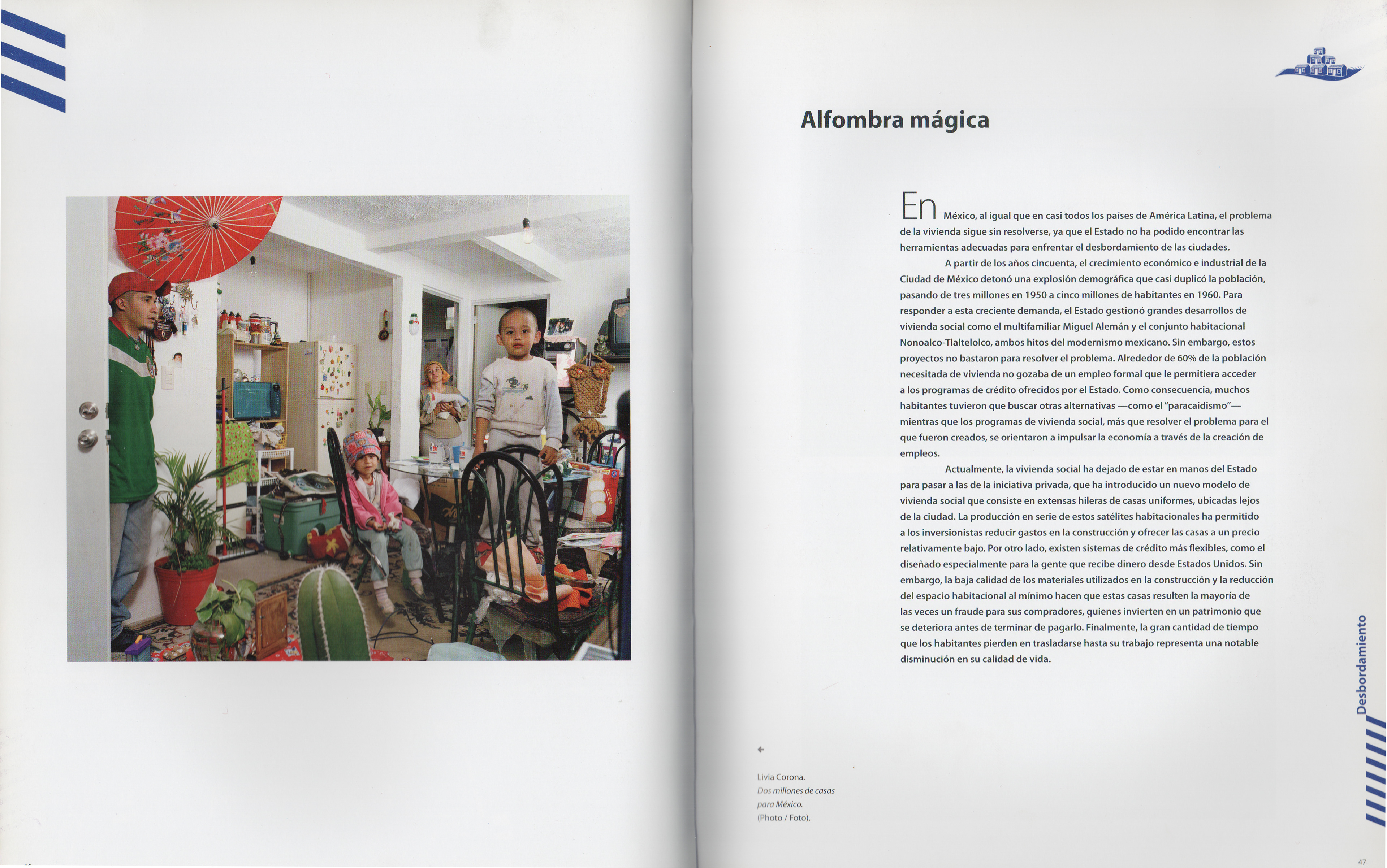 REAL PHOTOGRAPHY AWARD
- 2008
This catalogue celebrates the launch of the biennial REAL Photography Award in a tribute to Nature, Development and Architecture. Artists from all over the world were invited to submit their photographic interpretation of these themes. An international jury with members that have earned their spuris in modern art, architecture and photography has selected 30 nominees from a stunning variety of contemporary work sent in from all corners of the globe. this has resulted in an outstanding selection of high calibre, exceptional quality and thoughtful photographs, which have been published in this catalogue.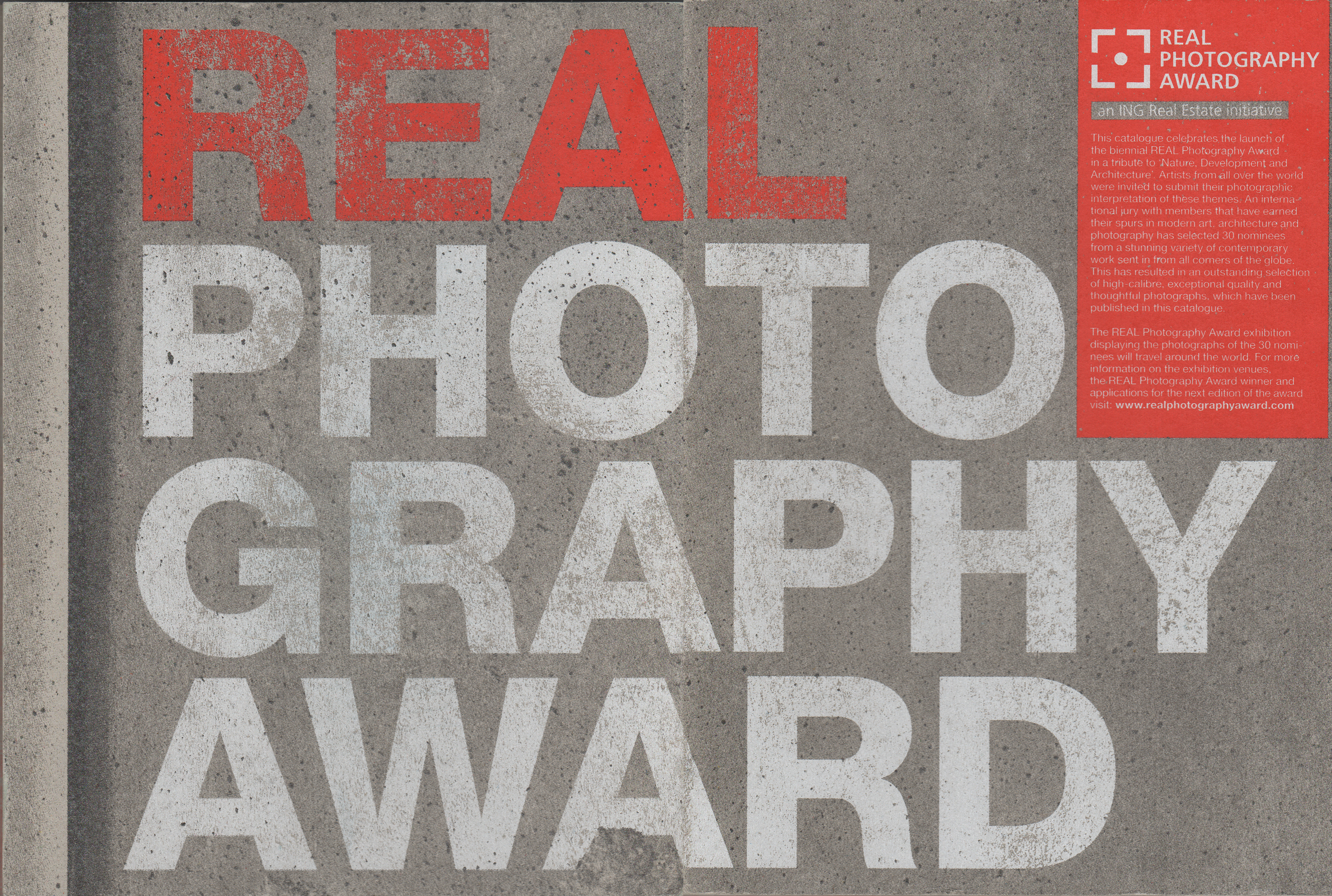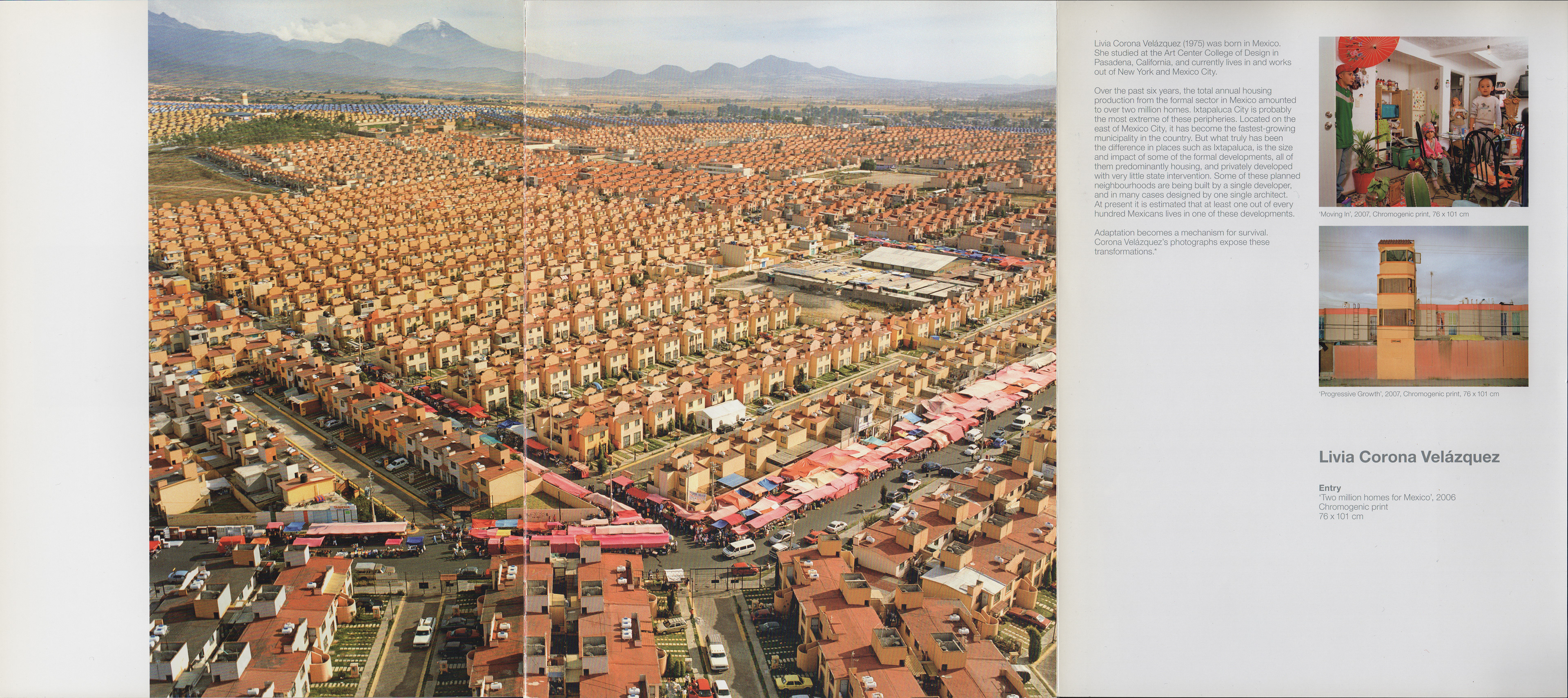 CENTRO DE LA IMAGEN
-
XIII BIENAL DE FOTOGRAFÍA - VOL 1 - 2008
The
XIII Bienal de Fotografía
was enriched with samples made in collaboration with international projects such as the FotoFest, PhotoPoland festivals and the Art Gallery of Ontario. In it, different curatorial, investigative, promotional and educational programs interacted, whose importance and impact were balanced with those of the contest. 
The samples that formed part of this Biennial integrate the contents of a catalog consisting of two volumes: the first of them, presents the complete work of the 25 selected of the contest with their respective descriptive texts and curricular synthesis of each author. It also contains black and white and color photographs and texts by Alejandro Castellanos and Juan Antonio Molina.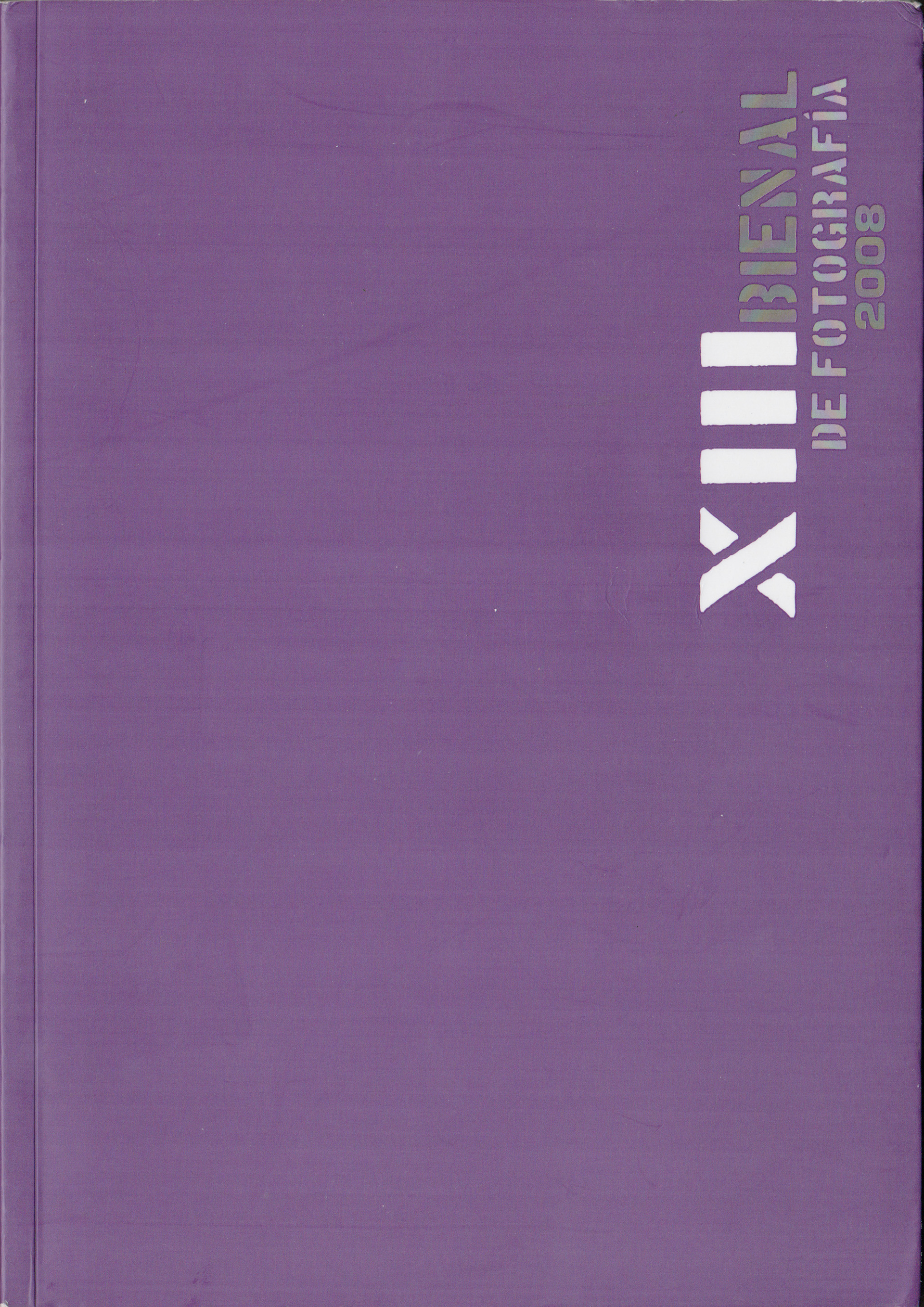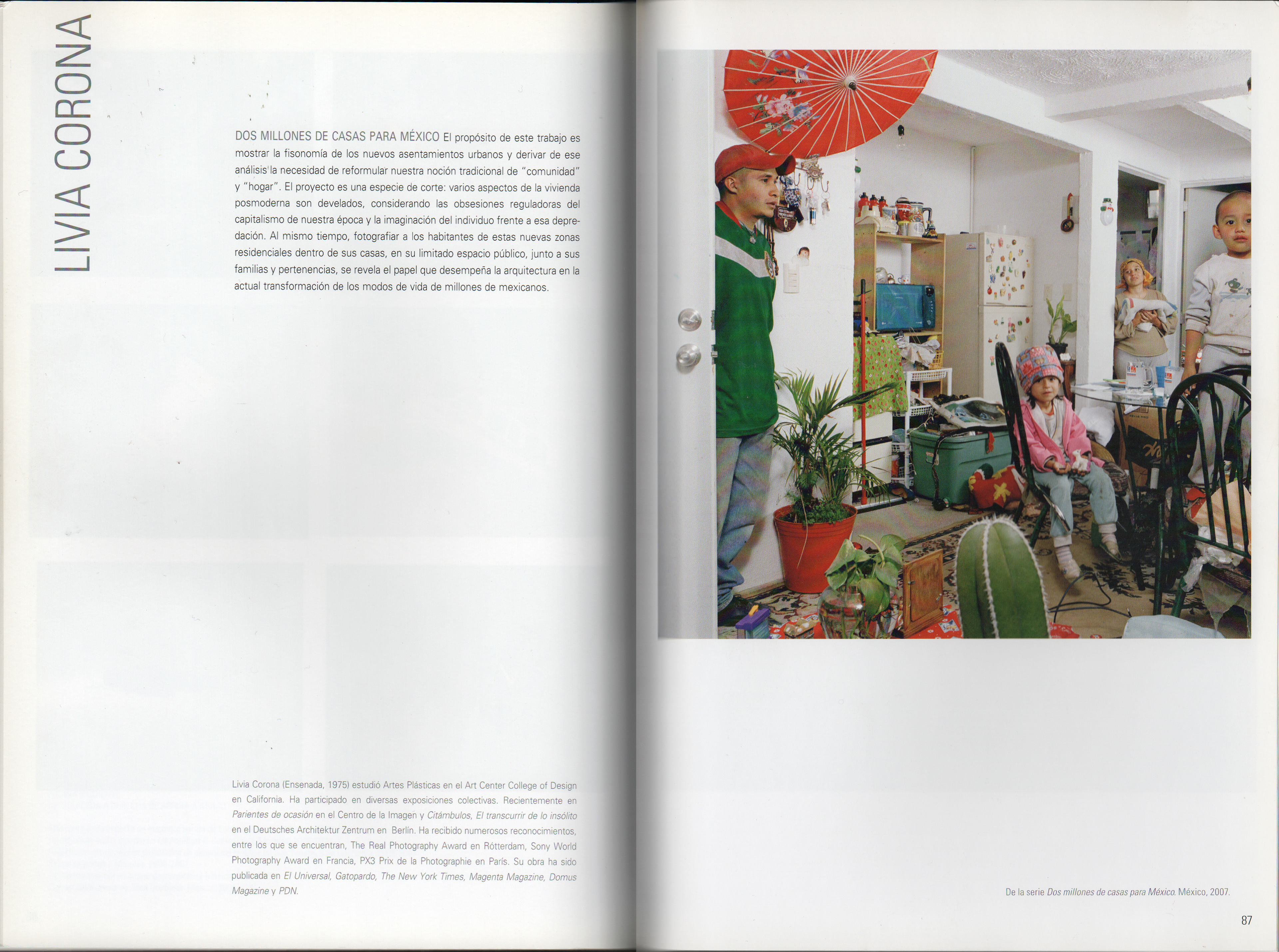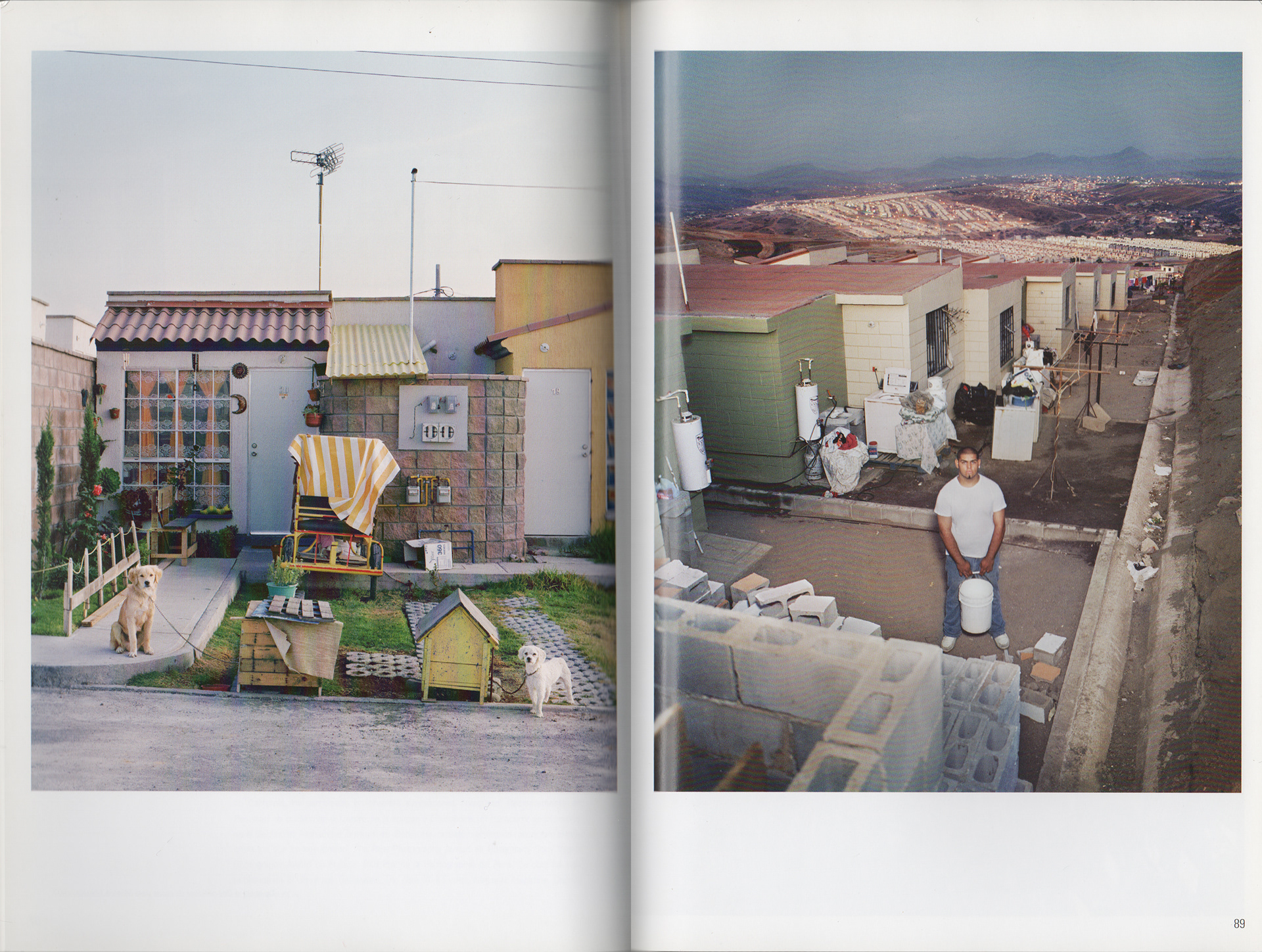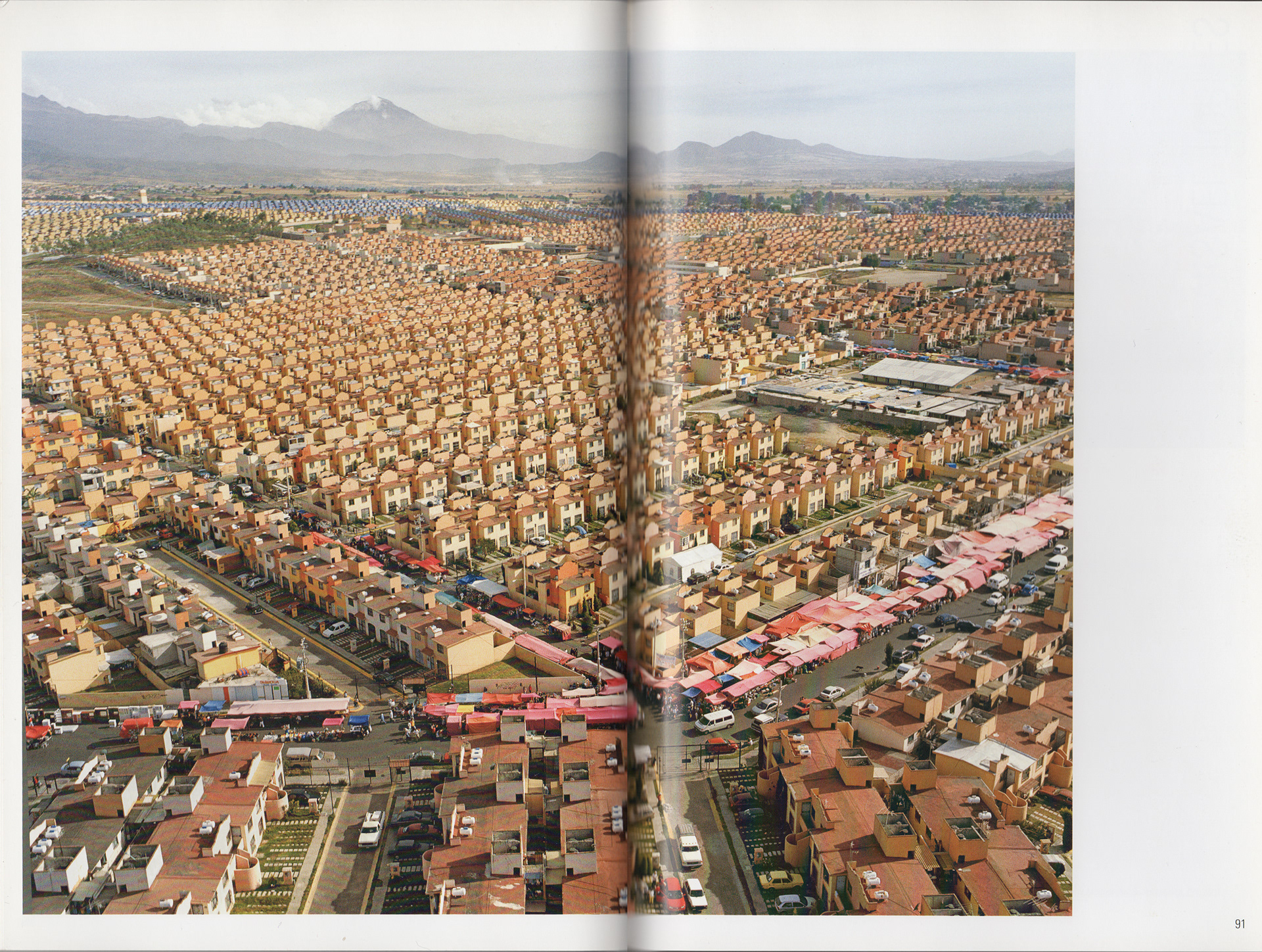 CENTRO DE LA IMAGEN
- X
III BIENAL DE FOTOGRAFÍA 2008 - VOL 2 - 2008
This volume integrates the international projects that accompanied this Biennial: Discoveries of the Meeting Place of the Fotofest festival; the work of the Polish artist Konrad Pustola and the work of two Mexican photographers and two Canadians selected in the The Grange Prize competition. And the nationals:
Orden Abierto
, the exhibition of the results of the 2007 Contemporary Photography Seminar of the Centro de la Imagen that participates for the first time in a biennial, and
Materia Grata
, curatorial project that gathers diverse works belonging to the collections of the Centro de la Imagen.
It also includes the museographic views of the acquisition prizes, honorable mentions and public prize. An edition of the materials generated in the Forum
En Tiempo Real
  in which the winners of the acquisition prize, honorable mentions and representatives of FotoFest and The Grange Prize participated. It also contains black and white and color photographs, texts by Alejandro Castellanos, Juan Antonio Molina, Wendy Watriss and Frederick Baldwin, Gerardo Ochoa Sandy, jury minutes, descriptive texts of the participant work and curricular synthesis of the selected ones.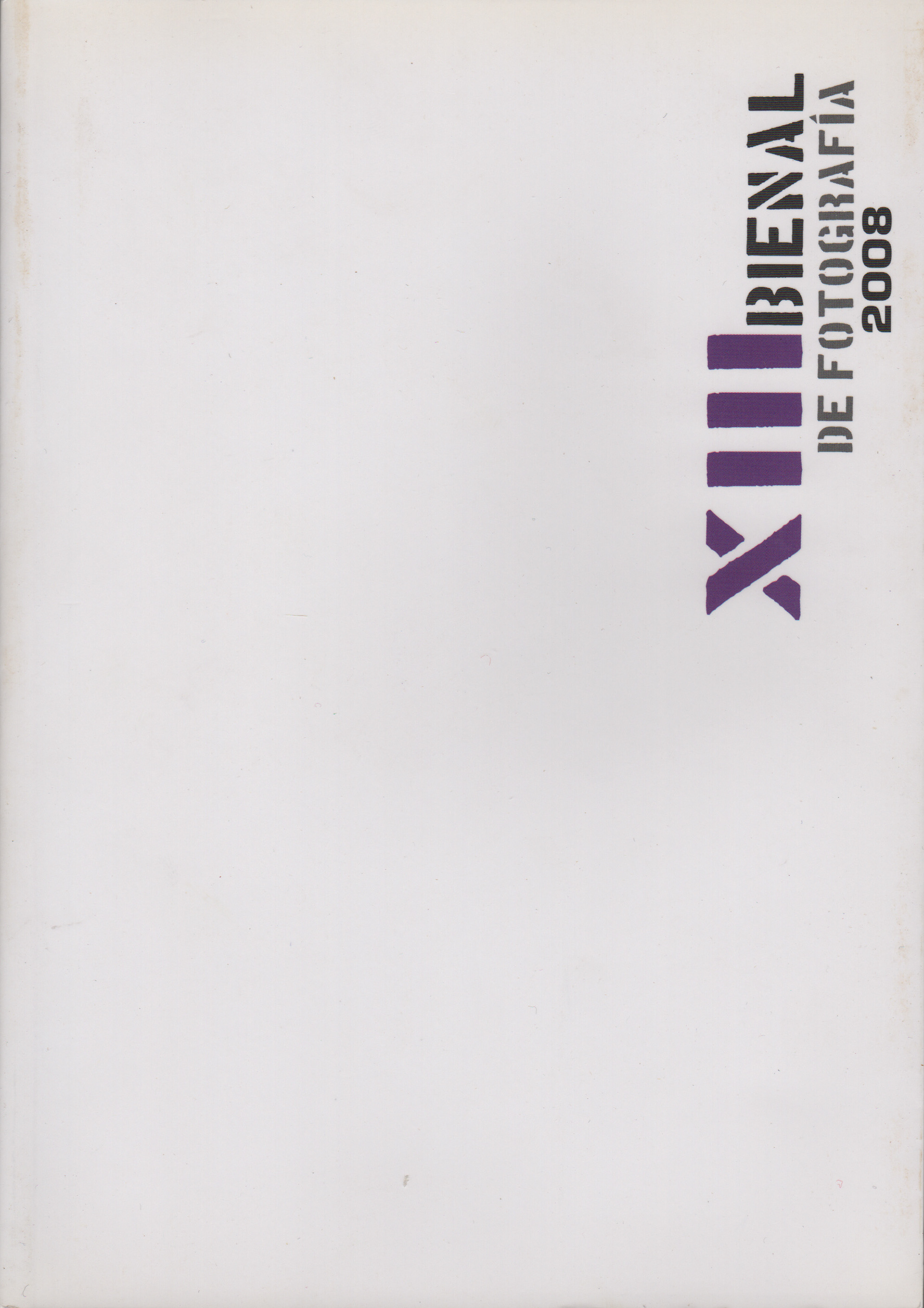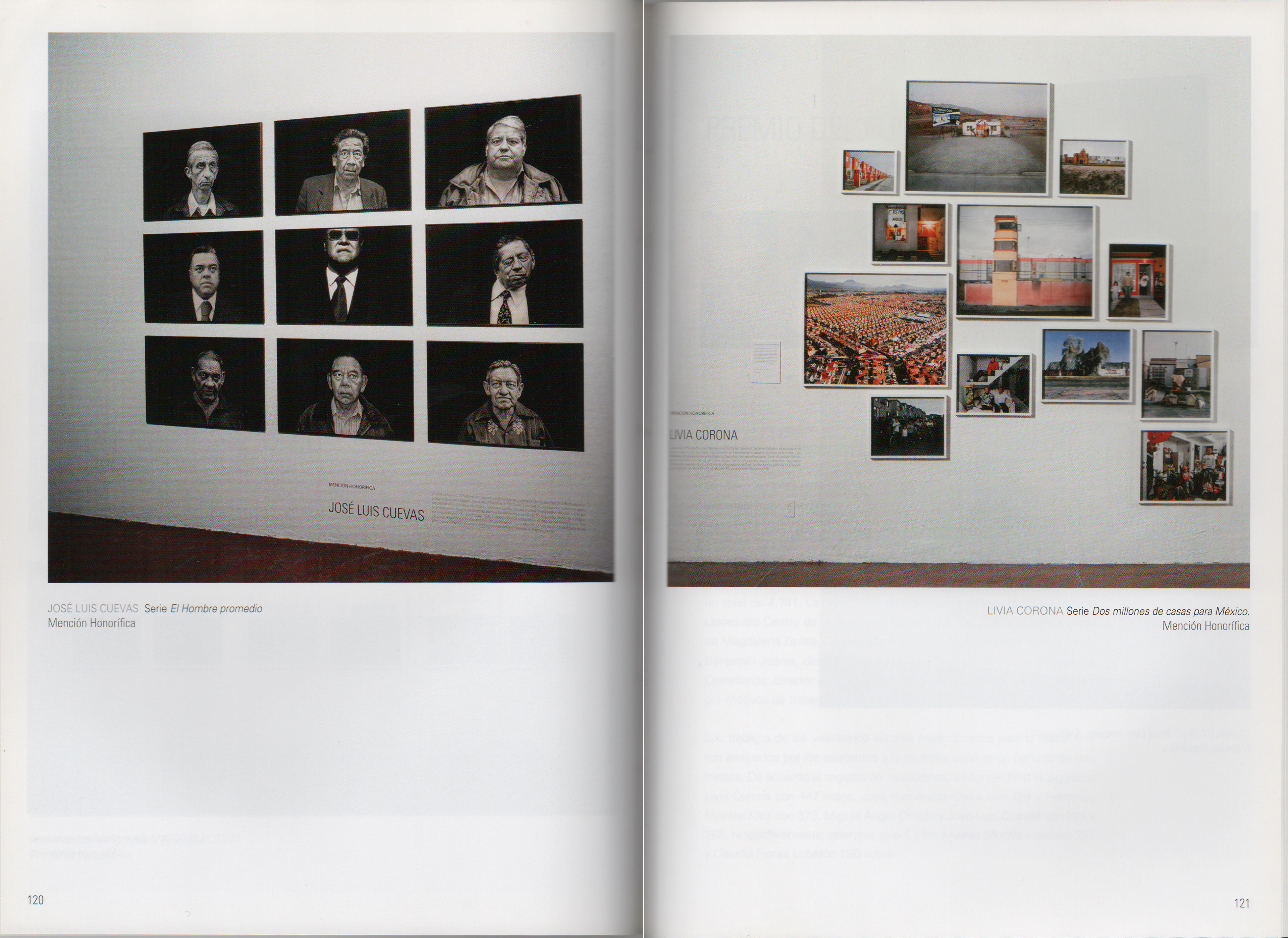 CENTRO CULTURAL TIJUANA
- PARIENTES DE OCASIÓN - 2007
Parientes de Ocasión is a photographic exhibition that starts from a general idea: that of bringing together artists, photographers and photojournalists who, due to a series of conventions, do not meet. These conventions have tried to be justified by theoretical issues or group interests.
Based on a photographic image is, in itself, a representation, artists, photographers and photojournalists are gathered in this exhibition not only to celebrate their differences, but to talk about possible affinities and similarities. They all originate or reside in northwestern Mexico, in the cities of Ensenada, Tijuana and San Diego.
The assembly, under the curatorship of Javier Ramírez Limón, shows the diverse manifestations of visual creators and graphic reporters of the region.
Composed by artwork from Omar Martinez, Tizoc Santibanez, Sergio de la Torre, Aldo Guerra, Yuri Manrique, Julio Orozco, Camilo Ontiveros, Elsa Medina, Alejandro Cossio, Ingrid Hernandez, Livia Corona, David Maung, Alicia Tsuchiya, Yvonne Venegas and Tania Candiani.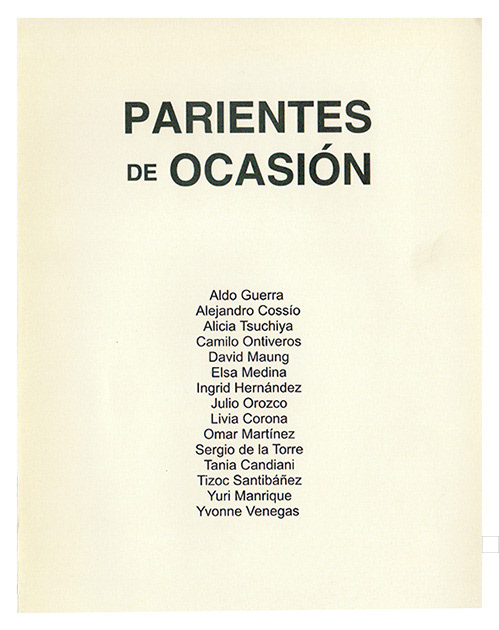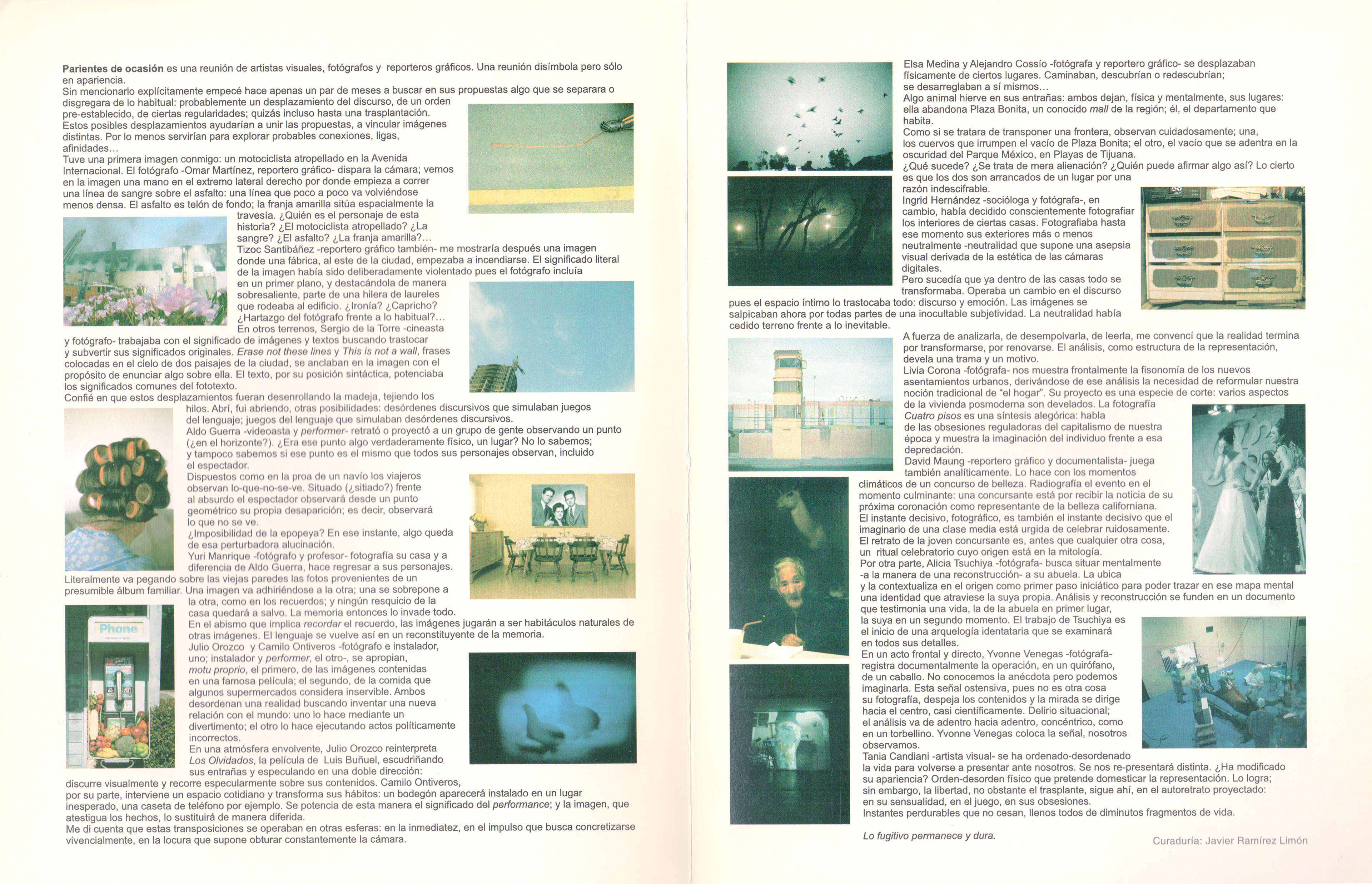 VITRA DESIGN MUSEUM
- OPEN HOUSE: ARCHITECTURE AND TECHNOLOGY FOR INTELLIGENT LIVING - 2006
The miniaturization and networking of computer processors as well as the digitalization and wireless transmission of data are opening up new possibilities for domestic environments. But what consequences will this have on residential architecture? Emerging architectural firms were invited to develop visionary answers to this question. Their extraordinary architectural visions are presented in detail for the first time in this publication. The essays are supplemented by a section providing comprehensive, graphically attractive data on demographic and technical developments that will shape our living environments in the near future.